In March 2017, we published spy images of the next-generation Polo which was followed by a video released by Volkswagen showing the Polo in camouflage, testing in South Africa. The latest spy images show the new Polo virtually undisguised testing on a secret road. Built on the MQB-platform that underpins the Golf, it is longer, wider (thus bigger) and much more sophisticated than the current car… and we expect it to make its debut on the local market early in 2018.
Latest Update 09/06/2017
After 42 years and 14 million cars sold, Volkswagen has announced when it will be revealing the new Polo. The date will be 16 June 2017, at 11 AM CEST / 9 AM GMT at an event in Berlin, Germany. To whet our appetites, Volkswagen released this playlist of YouTube videos, culminating in a teaser outline image of the new Polo.
Here's What We Know So Far
Last year we spotted disguised next-generation Volkswagen Polo and GTI derivatives undergoing testing in Germany and expected the new range to debut at the recent Geneva Show, but now it seems that the Polo will make its debut before the Frankfurt Motor Show (although some media publications say official photos and specifications will be available as soon as June, around the time when the hatchback will go into production in Uitenhage for the European market).
The next Polo rides on the smallest version of the flexible MQB platform (AO), which underpins a number of compact products in the Volkswagen/Audi family. By virtue of its larger dimensions, the notably lower newcomer (claimed to be up to 200 mm longer, which will make it lengthier than the Golf 4) is, significantly, much more spacious inside, yet it's about 70 kg lighter than the current car.
Given the recent (overseas) introductions of the Ford Fiesta and Kia Rio, both of which feature improved interior finishes and infotainment functions, the Polo will need to have a substantially upmarket cabin to remain at the top of its segment in terms of interior quality…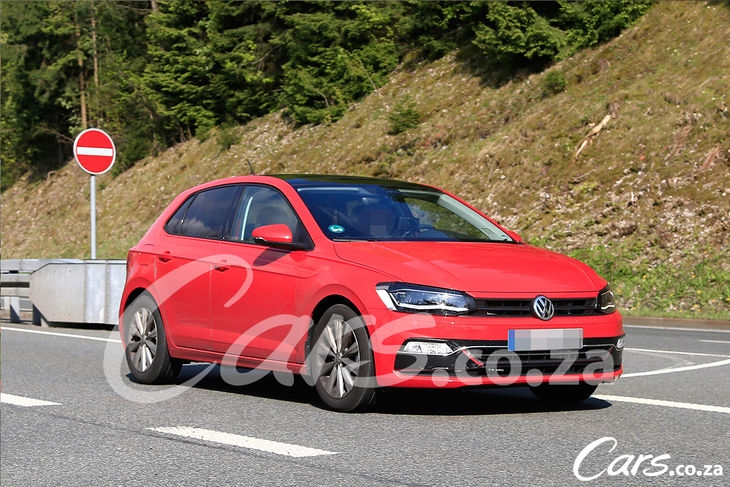 The latest spy images of the new Polo show a more purposeful front-end. Image credit: S. Baldauf/SB-Medien
To that end, there will be a soft-touch dashboard fascia, strategic padding and expensive-looking trim elements, and front seats sourced from the facelifted Golf, a British publication suggested.
Active Info Display (Volkswagen's all-digital instrument cluster), a new generation of touchscreen infotainment systems, Park Pilot automatic parking and keyless entry will be optional, plus it is not inconceivable that electronically controlled adaptive suspension could be available too.
As far as the engine lineup is concerned, on the turbo petrol side, there will be a 1.0-litre TSI (available in various states of tune), while the 1.2-litre TSI engine could be replaced by the Golf's 1.5-litre unit (with cylinder shutdown technology, still under consideration for South Africa). In Europe, the 1.5-litre TDI turbodiesel will be superseded by a 1.6-litre TDI unit (local models are currently 1.4-litre units).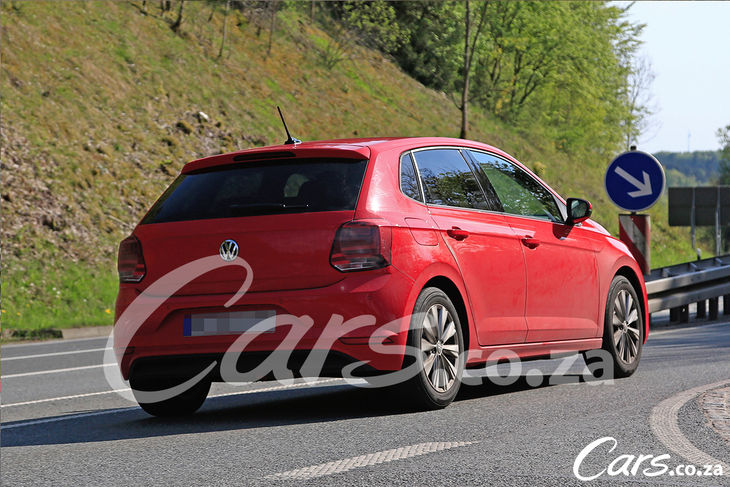 The new taillights clusters are partially disguised and the new Polo is expected to feature a larger loading bay than its predecessor. Image credit: S. Baldauf/SB-Medien
Meanwhile, the Polo GTI derivative will be powered by 147 kW 2.0-litre TSI lifted straight from the Golf GTI. Transmission options for the range will comprise 5- and 6-speed manual gearboxes, with a 7-speed dual-clutch transmission available on high-spec versions.
In South Africa, Volkswagen South Africa recently introduced a Volkswagen Polo 1.0 TSI R-Line derivative as the current range enters its run-out phase. It remains to be seen whether the Vivo range will be replaced by a product based on a scaled back current-generation Polo, but it seems highly likely.
Related content:
Volkswagen Polo 1.0 TSI R-Line (2017) First Drive
Volkswagen Polo CitiVivo (2017) Specs & Pricing
Volkswagen Polo Vivo Storm in SA - Specs and Pricing
Volkswagen Polo Beats Pricing in SA
Top 5 Cool Facts: Next Ford Fiesta (2017)
Kia Rio (2017) First Drive
Facelifted Renault Clio (2016) First Drive
Want to buy a Polo?