The facelifted Toyota Yaris, now called the Yaris Pulse, has arrived in South Africa with a new 1.5-litre engine and updated exterior and interior styling! We drove the Yaris Pulse in Cape Town this week... herewith our first impressions of Toyota's facelifted compact hatchback offering.
The Yaris is up against some stiff competition in the B-segment with rivals such as the Volkswagen Polo, Ford Fiesta, Hyundai i20, Renault Clio and Kia Rio providing a competitive backdrop in the local market. Now carrying the Yaris Pulse nameplate to signify a fresh identity, the facelifted Yaris introduces a new 1.5-litre petrol engine along with a visual makeover to enhance the vehicle's appeal.
A new heart for Yaris Pulse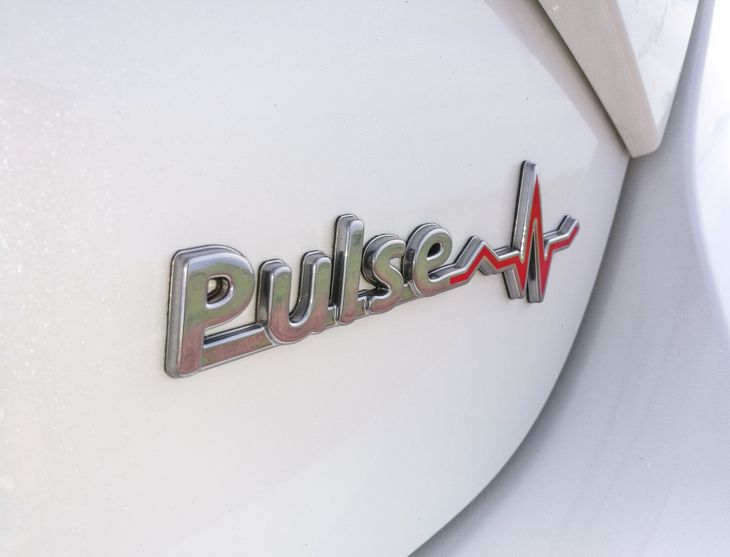 The Yaris Pulse welcomes a new 1.5-litre engine that boasts improved performance and efficiency.
In addition to the familiar 51 kW/95 Nm entry-level 1.0-litre, 3-cylinder engine mated with a 5-speed manual transmission, the majority of Yaris Pulse derivatives are now powered by a 1.5-litre petrol engine that develops 82 kW and 136 Nm of torque. This engine not only offers 12% more power (and, therefore, improved performance), but it's also up to 12% more efficient than the previous 1.3-litre engine it replaces, Toyota claims. The new engine is available with either a 6-speed manual transmission or a CVT, depending on your preference.

Toyota claims a fuel consumption figure of 5.0 L/100 km for both the 1.0-litre and 1.5-litre engine with manual transmissions, while the CVT derivative is claimed to consume 4.8 L/100 km.
Meanwhile, the Yaris Pulse Hybrid sits atop the range and Toyota's engineers are said to have improved its ride quality with the fitment of new engine mounts, roll restrictor, front driveshafts and subframe, while also adjusting the shock absorbers and power steering to improve ride comfort and steering precision. The Yaris Pulse Hybrid offers 74 kW and 111 Nm of torque with a claimed fuel consumption of 3.6 L/100 km.
Furthermore, Toyota has also added a high-spec Pulse Plus CVT derivative to the range, which benefits from added features such as additional airbags (curtain and driver knee airbag), projector headlamps, cruise control and a unique upholstery design. Vehicle Stability Control (VSC) is now standard across the range along with ABS with EBD, Brake Assist and Hill Assist.
New look for Yaris Pulse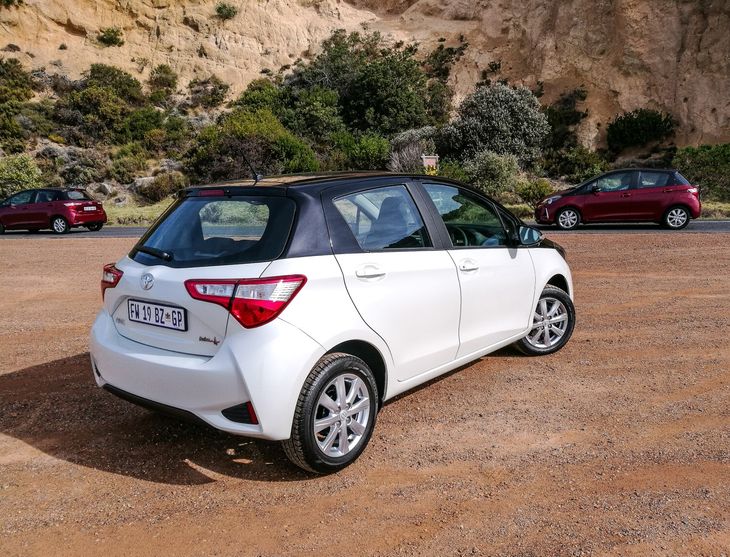 Updated styling gives the Yaris Pulse a more modern look and an improved interior look and feel will make it easy to live with on a daily basis.
The Yaris Pulse benefits from a redesigned front bumper that, along with the trapezoidal grille, gives the car a wider, more purposeful stance. The headlights and fog-light surrounds have also been updated to give the Japanese hatch a more modern appearance, while the rear-end benefits from a restyled rear bumper, tailgate and light clusters.
As for the interior, the Yaris Pulse features new upholstery, colours and trim details. The instrumentation and controls have also been updated to reflect improved tactile quality. A new-look 3-spoke, leather-wrapped, multifunction steering wheel with piano black inserts adds to the overall appeal inside the cabin. The air vents now feature a new propeller-style design and the controls and switches on the centre console have also been improved.
What's the Yaris Pulse like to drive?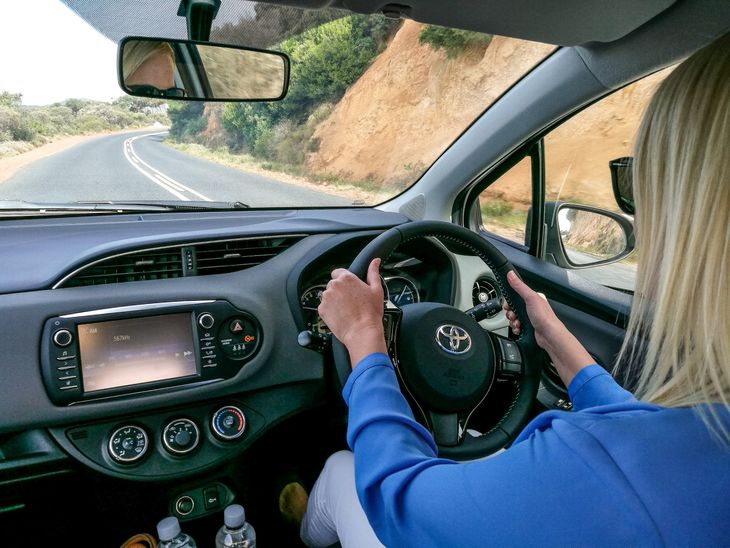 The Yaris Pulse offers good ride quality and surefooted handling while the engine delivers punchy performance.
The launch route started at Cape Town International Airport and we drove the 1.5-litre Yaris Pulse manual. We headed out along the N2 towards Somerset West and the additional power of the 1.5-litre engine was instantly noticeable. With a kerb weight of around 1 045 kg, the Yaris Pulse is quite light and with this new engine, it felt refreshingly punchy and eager to press on.
At highway speeds, engine-, wind- and road noises are adequately suppressed. The 6-speed transmission is smooth to operate, but you do have to gear down if you need to execute a quick overtaking manoeuvre. Tractability under normal driving conditions is reasonable, however and the Yaris Pulse has no problem keeping up with faster-moving traffic on the highway. In the corners, the Yaris Pulse felt composed and surprisingly agile with seemingly high levels of grip. Ride quality was good; road imperfections are absorbed with little effort.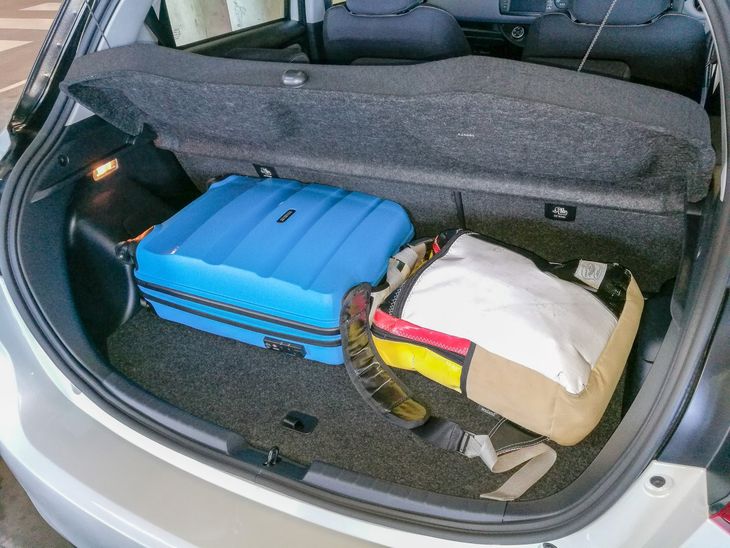 The luggage bay is on the small side at 286 litres, but the 60:40 split rear seats do fold down to open up more space.
We made our way around the Cape Peninsula and decided to spend some time on the back seat to get a sense of rear passenger space. We found rear leg-, head- and shoulder room to be quite adequate. The luggage bay, at 286 litres, is admittedly quite small, but the rear seats can fold down in a 60:40 configuration to access more space for loading bulkier items.
We also had the chance to drive the Yaris Pulse Plus derivative. As mentioned previously, this derivative benefits from nice-to-have features such as cruise control and high-density headlights. Featuring a continuously variable transmission (CVT), the Yaris Pulse Plus will appeal to customers looking for a fuss-free motoring experience. This derivative also boasts steering mounted paddle shifts that allow the driver to manipulate the 7 "simulated gears" to get the most out of the engine when it's required. Only under harder acceleration does the typical CVT drone become apparent, but for the most part, the CVT performs unobtrusively and it offers a pleasant, relaxed driving experience.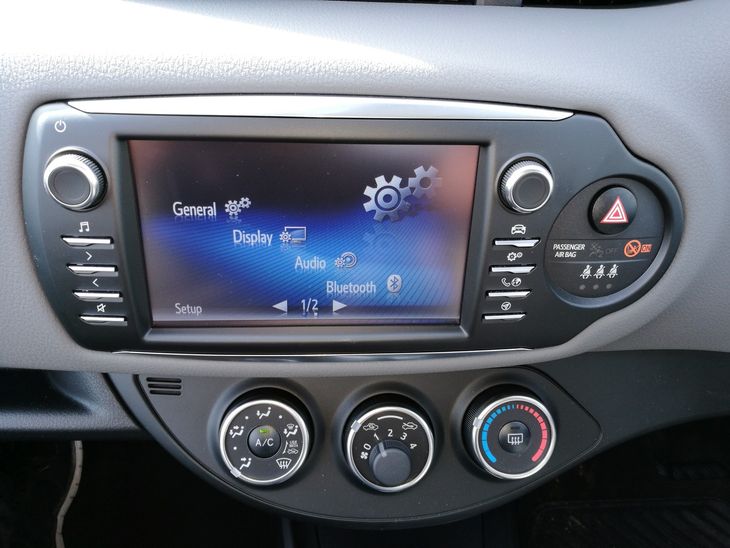 A basic touchscreen infotainment system with Bluetooth is fitted and is easy to operate.
Summary
With its updated styling and new 1.5-litre engine, the Yaris Pulse is noticeably more refined and offers better performance than its predecessor. Furthermore, the Yaris Pulse is well-priced against its key rivals and in theory, at least, should find favour with buyers seeking value and peace-of-mind motoring.
We will have the Toyota Yaris Pulse on test soon, so look out for a thorough evaluation in the near future.
Toyota Yaris Pulse - Price in South Africa
1.0 Pulse M/T R199 000
1.5 Pulse M/T R228 700
1.5 Pulse CVT R241 400
1.5 Pulse Plus CVT R249 600
1.5 Hybrid CVT R307 200
The Toyota Yaris Pulse is sold with a 3-year/100 000 km warranty and a 3-year/45 000 km service plan, but the 1.5 Hybrid CVT has a 4-year/60 000 km plan.
Related Content
Toyota Yaris Pulse (2017) Specs & Price
Toyota Adds 2-tone Paint Option To Yaris Line-up
Hyundai i20 1.4 Sport (2016) Review
Opel Corsa 1.0T Enjoy (2015) Review
Peugeot 208 GT Line (2016) Review
Spy Shots: Volkswagen Polo for 2018 (Video)
Want to buy a Toyota Yaris?