The next generation of Kia's popular Rio compact hatchback will be launched in South Africa in the second half of the year. But what's it like? Egmont Sippel travelled Down Under to drive the Korean manufacturer's hatchback. Herewith his findings...
Surprise, surprise!
And I'm not referencing Kia's well-established "The Power to Surprise" marketing slogan. In the lobby of Melbourne's Grand Hyatt hotel, there it was: the new, 4th generation Kia Rio in all its glory, filled to the brim in a squared-off shape that stretched the metal long and wide into all four upper corners of the car.
Gone was the cute playfulness and wedged sportiness of the third-generation model, replaced by a mature presentation much better aligned to the sobriety of top-end design.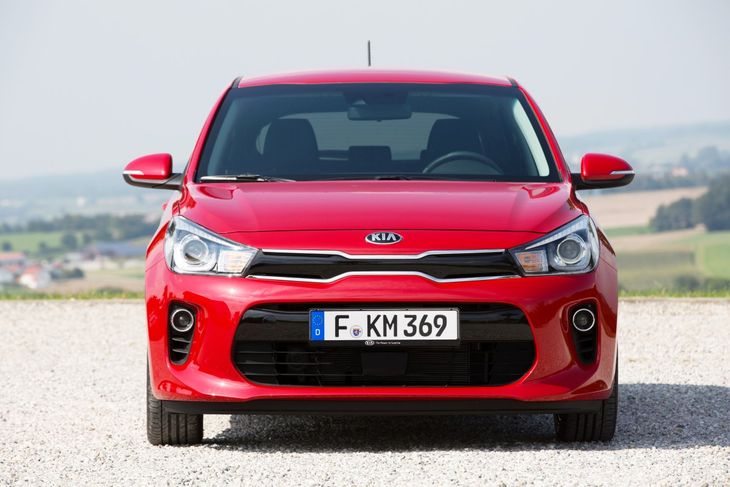 Unlike its predecessor, the new Rio does not project a cute, playful and sporty look, but rather a mature upmarket grandeur, quite uncommon among B-segment cars.
Does the design appeal?
Well, yes and no.
Yes, because the new Rio is clearly cementing the perception of Kia as a mass market manufacturer already delivering entry-level premium at competitive pricing; the design exudes class and modernity.
And no, because the new Rio is quite conservative, if thoroughly modern, what with a slim-line "tiger nose" grille, the latter in gloss black on upper-specced models, which also boast U-shaped LED daytime running lights.
Yet, the surprise goes further than just a conservative design, for the new Rio also establishes a broader family link to the latest Hyundai i20.
Both cars are characterised by straight lines, smooth surfaces, squared-out corners, wedge-shaped headlights and horizontal tail lights (carrying a triple arrow motif on the Kia; the Hyundai's leaner rear clusters, surprise, surprise, displaying a somewhat curvier and sportier swank than the Kia's fatter lenses.
Flat horizontal rear clusters are a signature Peter Schreyer design cue, of course, Schreyer having been fond of this layout ever since his days at Audi (where he contributed to the original TT), before he became design chief at Kia, in 2006, and also Hyundai, in 2013.
Maturity then, has its price – but not when it comes to size, practicality, convenience, connectivity, dynamics and safety, all of which have been improved on Rio 4.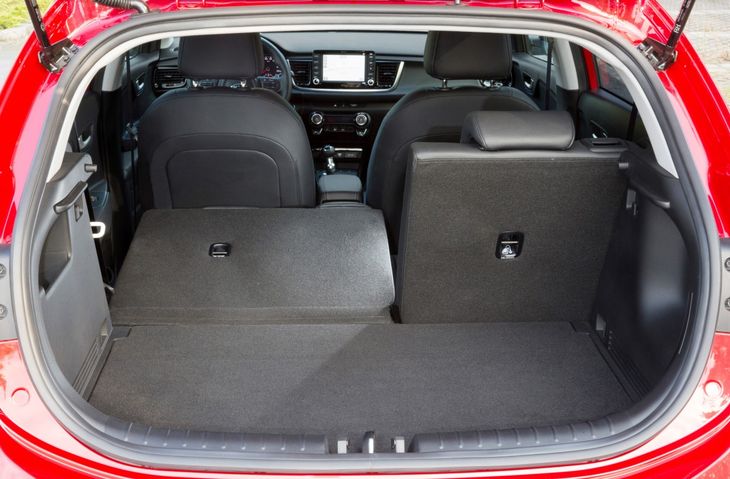 The new Rio is only 15 mm longer than its predecessor, but the interior features much better space utilisation.
Sizing up the Rio
The new car is 15 mm longer than its predecessor, with 10 of that 15 mm nestling between the wheels, the rest having been added to the front overhang.
Lowering the roof by 5 mm results in overall dimensions of 4065 mm playing 1450 mm playing (a width of) 1725 mm, yielding a well-proportioned design with straight shutlines on the rear doors, to create a certain air about the car's metal carrying ability, underpinned by a truly balanced and confident stance.
Ditto for a high shoulder line and thinner, yet strong, C-pillars, carrying a more upright rear screen; it oozes classic big car strength and confidence.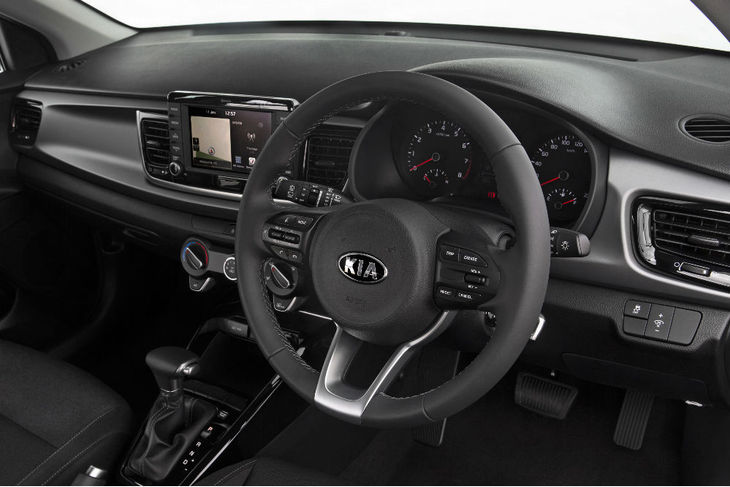 A selection of black materials and trim give the Rio's cabin a businesslike ambience. Note the tablet-like touchscreen interface.
Better space utilisation
The Rio cabin boasts an altogether new look, with much better space utilisation than before.
The instrument panel remains classic Schreyer, as it was in his Audi days: simple, neat, clear and easy to read red-on-white instrumentation – but the rest hopefully signifies a permanent departure from Kia's traditionally rounded and bulky dash fascias protruding into the cabin.
The new look is not only dominated by straight lines running the width of the dash, but also by horizontal vents (instead of vertical ones) adding further visual width which is emphasized, on upper-specced models, by a slightly concave faux aluminium strip filling the space between the dash's floating 7-inch touchscreen and the passenger door.
Interior trim seems to be offered in the classic Schreyer idiom of all black, or shades thereof. Gloss black trim adorns upper-specced models only, but the aluminium-look trimmed infotainment screen is a standard item and brings some big visual relief from the blackness.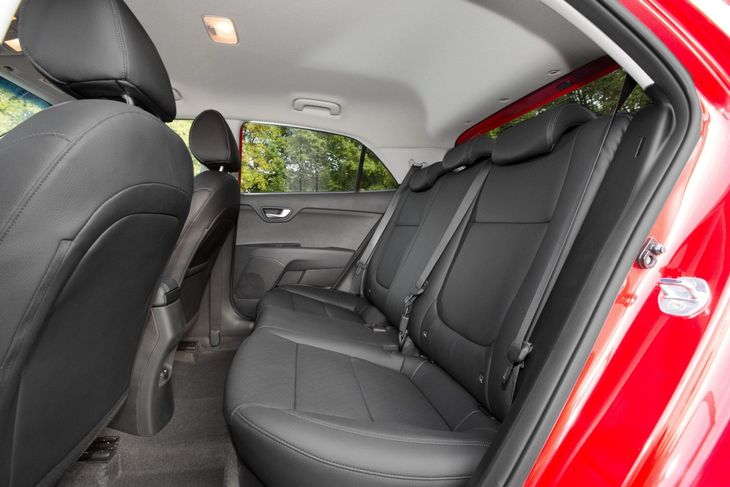 Kia also claims more head, shoulder and legroom, all around, than what's available in a Polo or Fiesta.
More overall comfort, shoulder room
An increased wheelbase is not the only factor contributing to a more spacious new cabin. Schreyer and his designers have also done some very clever work in terms of packaging and sculpting, with deep cut-outs in especially the front doors creating extra shoulder room and ample operating space/rest platforms for the outside arms of front occupants.
The foot well, with a decent footrest, also affords lots of freedom for the feet and knees to take up natural positions, without interference from the outside panels or, indeed, the gearbox console – or door speakers, another packaging sin committed by so many manufacturers.
The Rio boasts another clever little feature at the base of the centre console, namely an open double-decker storage tray (the upper deck ideal for mobile phones and the like), whilst the overhead console includes a fold-out pocket for sunglasses of all shapes and sizes.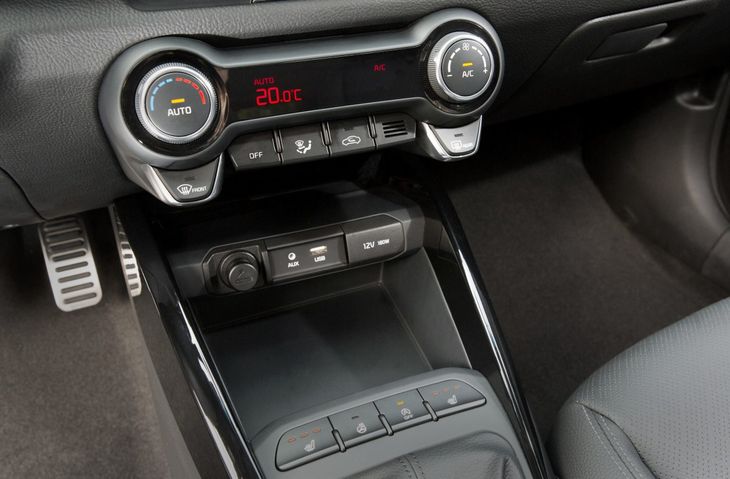 The upper part of the double-decker storage tray in the centre console is ideal for storing keys and 'phones.
All four doors have also been fitted with a bottle holder (1.5-litre at the front, 0.5-litre at the rear), yet the focus on practicality extends to visibility as well, with thinner C-pillars, in front of which the side windows sport new quarter lights.
Further north, door mirrors have been moved up to the base of the A-pillars, to help minimize the size of a driver's blind spots, while a lower window line around the cabin enhances all-round visibility.
The boot, with a two-tier luggage board, has also been increased (by 37 liters) to 325 liters; the fuel tank has grown (by 2 liters) to 45.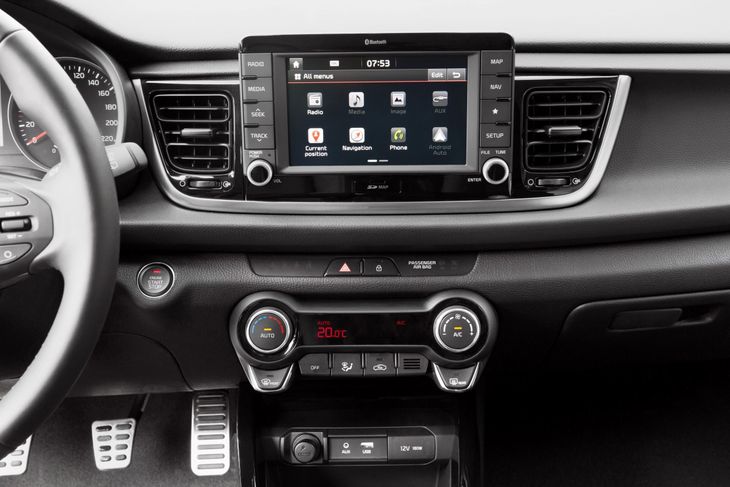 It remains to be seen which spec touchscreen will be availed to the SA market, but it could be Carplay and Android Auto compatible.
Convenience and connectivity
Although the Rio's local specification has yet to be confirmed, keyless entry, rain-sensing windscreen wipers, automatic headlamps, cruise control, a heated steering wheel, rear parking sensors and a rear view camera are all on the new Rio's options list in Australia, where top-specced models feature sat nav as well.
At dash centre is the permanently fixed 7-inch infotainment touchscreen infotainment system linked to a 6-speaker audio setup.The Android Auto connectivity system works with Android phones running 5.0 (Lollipop) or higher. Android Auto connects to the user's phone and lets them access smartphone functions and apps (such as voice-guided Google Maps, plus hands-free calls and texts) plus Google Play streaming via the in-car infotainment system.
Apple CarPlay (for iPhone 5 or newer) includes Apple Maps, calls and text dictation, and supports other audio apps that the user may have downloaded to an iPhone, such as music streaming or audiobook services.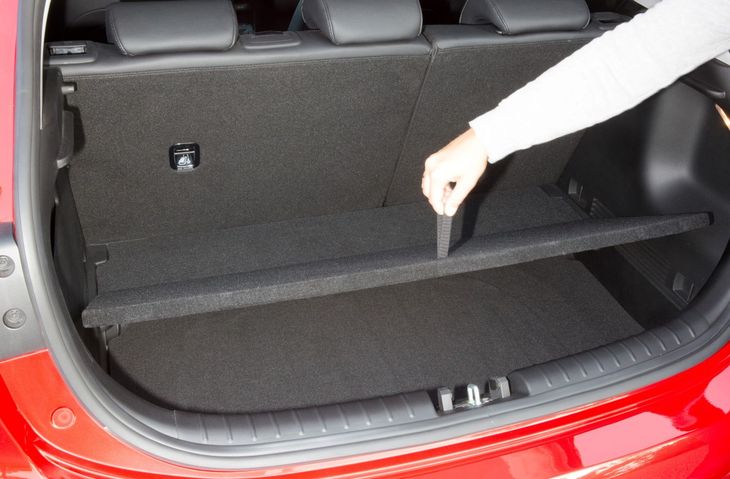 A hidden storage compartment under the luggage board is ideal for storing valuable or fragile cargo.
The new Rio is also the first B-segment car to be equipped with USB ports in both the front and rear cabins.
Legroom in the rear won't overwhelm anybody, but it will seat drivers up to 1.75 meters comfortably behind themselves. Speaking of which: driver seats are 6-way manually adjustable and the Rio offers three levels of front heated seats.
Kia also claims more head, shoulder and legroom, all around, than what's available in a Volkswagen Polo or Ford Fiesta, for example.
Safety specification
According to Kia, the new Rio will be one of the safest cars in its class, boasting comprehensive active and passive safety features like six airbags, child locks, ABS brakes, EBD brake force distribution, EBA emergency brake assist, DSC dynamic stability control, VSM vehicle stability management, Hill Start Assist, a reverse-view camera with dynamic parking guidelines, reverse parking sensors, three child restraint anchor points and five three-point seat belts, most of this as standard across the range, at least in Australia.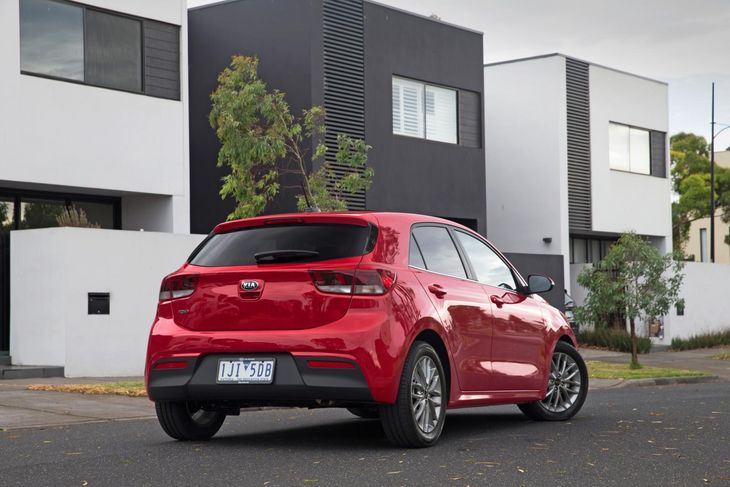 The metal ridge between the Rio's slimline taillamps is the quickest way to distinguish the new car from its predecessor.
Top-end models will add LED daytime running lights and projector front fog lights, and at the top of the range the Rio will offer an electro-chromatic rear view mirror with auto dimming, front collision assist, lane departure warning and cornering brake control.
A full 51% (compared to the previous model's 30%) of the bodyshell is made from lightweight Advanced High Strength Steel (AHSS) which is part of a wider effort by Kia to achieve a 5% reduction in the average weight of new car bodies by 2020, as compared to 2014.
The distribution of AHSS is also such that the weight of the car decreases towards the rear.
Drivetrains, suspension, steering and wheels
The automotive world's Golden Rule is not to do it all at once; just don't design and build a completely new car from the floor up (unless you are Porsche, of course, who did precisely this with the new Panamera).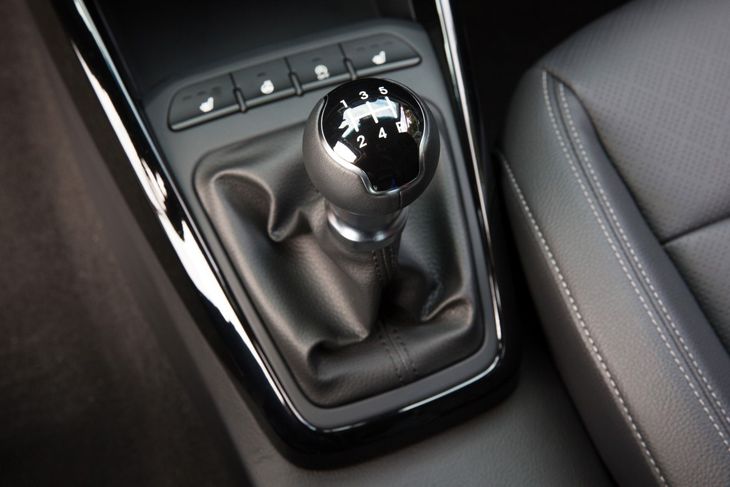 Although the current range's 1.2- and 1.4-litre petrol motors are likely to be retained, the 1.0-litre turbo could be an interesting addition.
Mechanically, though, an important car like the new Rio will naturally be updated somewhere along the line, in this case with a brand-new 1.0-liter turbo GDI petrol engine delivering 75 or 90 kW, depending on the state of tune. Should the 1.0 litre not be availed on the local market, it is fair to expect that the current engine line-up will be carried over (1.2 and 1.4-litre petrol units, which we know); ditto for gearboxes (5 and 6-speed manuals, plus a 4-speed auto) which are, incidentally, mounted 28 mm further forwards for more cabin space and better safety.
In Australia, we only drove the 1.4 auto, which leaves little to report (good engine, good box, at least when pegged to Aussie speed limits).
The stiffer body shell, though, enabled chassis engineers to develop a slightly more compliant suspension set-up (MacPherson strut fronts, torsion beam rear) which probably still is a little bit too firm for our road conditions.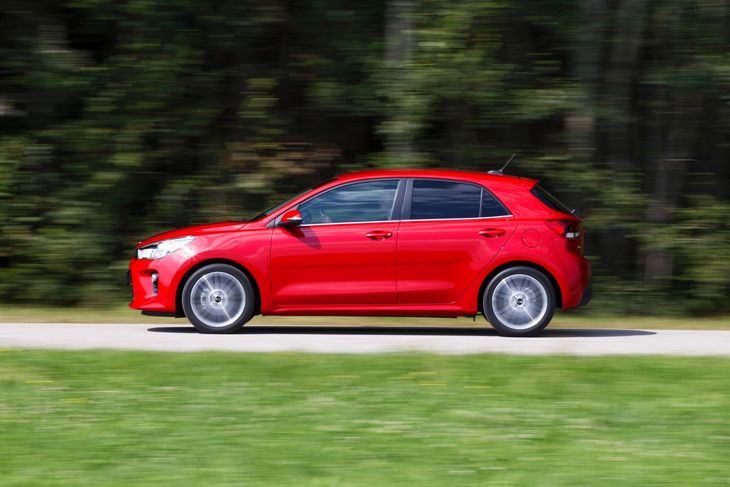 Good NVH and a more pliant suspension setup helps to make the Rio driving experience a pleasurable affair.
This nevertheless results in great body control; the new Rio settles quickly back into its stride on the odd occasion that the car has been unsettled by meaner road imperfections. New insulation material with double insulation between the car's front and dash also kept engine and tyre roar to quite acceptable levels, although Australian roads are generally in a very good condition.
The occasional rear axle thump could be heard, but suspension knock is generally quite low on a car that's supposed to be robust, rather than sophisticated; NVH levels are class leading.
The biggest surprise came via the steering wheel, however. The roads Down Under are virtually dead straight and even if it wasn't, strict speed limits would have prohibited any kind of spirited driving to test dynamics.
But even at low speeds it is abundantly clear that Kia has made massive progress with the steering's weighting, the overly light tiller of yesteryear now hopefully a thing of the past.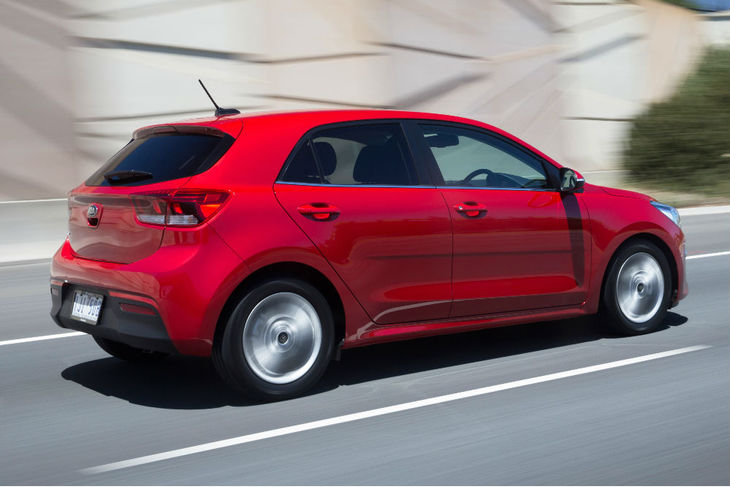 The well-weighted steering wheel is a marked improvement over the previous Rio's anodyne power steering setup.
Summary
It's not possible to properly test a car's dynamics under Australian conditions, but the new Rio promises much in the way of well-weighted steering and good body control, at least up to 110 kph. The ride might be a notch too firm, but it's never jittery or bumpy.
The engine and gearbox combo (1.4-liter, 4-speed auto) is a well-known entity with pleasant performance, but the mill to look for is the upcoming 1.0-liter petrol turbo.
Styling is neat and conservative, lending a mature, grown-up look to the car. Proportions and stance are spot on, and the somewhat blunt front end eventually starts to grow on the eye.
Packaging, space and equipment is superb and build quality seems to be exemplary; the new Rio felt solid and sturdy through-out, as evidenced best by the way the doors close, what with a proper Volkswagenesque thunk, instead of a tinny clatter.
Unsurprisingly, then, a great effort, Rio 4, unless you expect an immediate drivetrain upgrade or previous-Rio styling pizzaz.
The new one looks great in red, though..
Watch a promotional video of the new Kia Rio:
Related content:
2017 Kia Picanto: Official Images Released
Hyundai i20 Range Expands in SA
Facelifted Renault Clio (2016) First Drive
Peugeot 208 GT Line (2016) Review
Toyota Yaris facelift (2017) in SA soon
Interested in buying a Kia Rio?