Regular Cars.co.za contributor, Calvin Fisher, recently found himself lapping Kyalami Grand Prix Circuit at the helm of the newest, sleekest Range Rover of them all – the Velar. Revel in his experience below...
Remember when your flavours of Range Rover extended to just two, ye olde original and then the footballer de rigueur, the Sport? Since then, Land Rover have seen fit to install a stylish junior into the fray with the (footballers wives' de rigueur) Evoque, as well as giving its larger siblings a successor each. But if your Evoque is too compact, the full-fat Range Rover too utilitarian and the Sport too... sportsy, then perhaps you're in need of something a bit more luxurious. Because apparently that's been lacking across the Range Rover catalogue?
Enter the Velar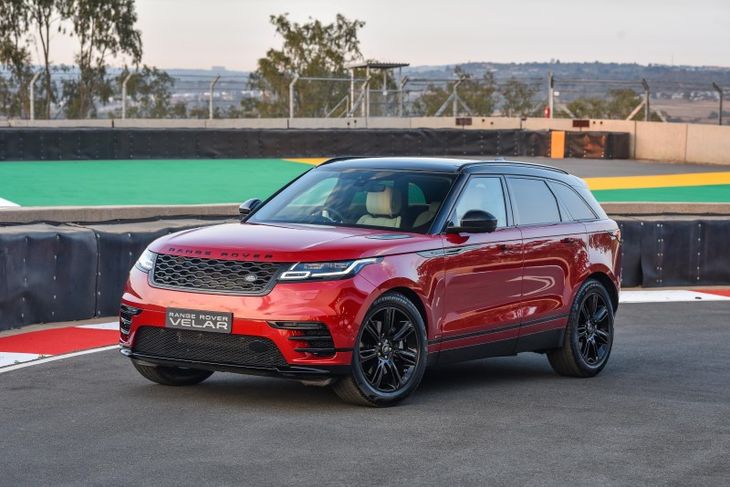 Luxurious and capable, the Range Rover Velar is a stylish SUV that will be available in SA late in 2017.
This is it, achingly posh and slipperier than you'd have thought possible in an SUV, an embodiment of Range Rover's next generation of technology and indeed aesthetic. It is, in a word, elegant. Big. But elegant. And with great lashings of road presence too – a mish-mash of modernism and minimalism, a polished gem with an all-terrain stance. The Velar has been designed on a blank canvas, and by blank canvas I mean lightweight aluminium used almost exclusively to keep the kerb weight down. That makes for a more efficient SUV with car-like dynamics. And that's good because I'm at South Africa's premier racing circuit, Kyalami.
In a fashion similar to the rest of the range, you can get your new Range Rover Velar in S, SR and HSE and for as cheaply as sub-million with the base car's R947 700 sticker price. The one we were sat in hovered around R1.4 million, an HSE unit that came standard with four-corner air suspension. It also came blessed with a Meridian Surround Sound entertainment system, adaptive cruise control and queue assist, Navigation Pro and a raft of other features and systems. Yet despite the barrage of technology on board, what was shocking to note was the Velar's defiance of them all to deliver the cleanest, most devoid of buttonry and switchgear cabin we've seen in years.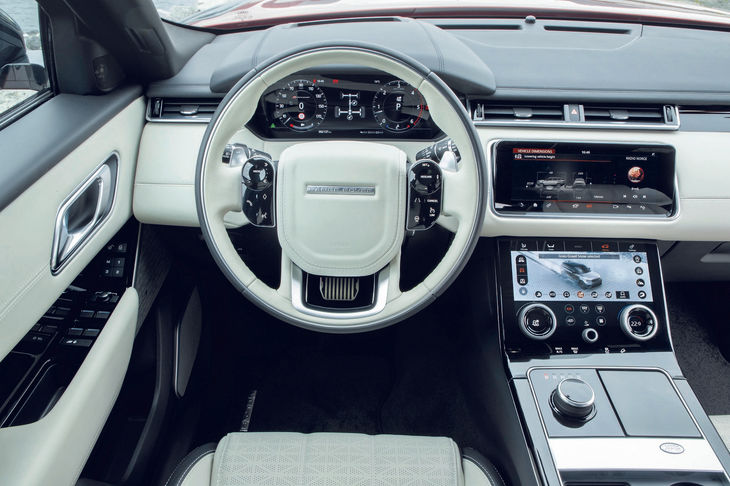 The Velar's interior is modern and mostly devoid of buttons and switches and a Touch Pro Duo infotainment system controls most functions.
Forget rocker dials, knobs, rollers and switches - you'll barely use a thumb in the Velar. Instead, the bulk of the controls have been relegated to a digital plane (Touch Pro Duo infotainment system) across two 10-inch high-definition screens, and the only remaining analogue-alike experience is the HVAC controls, a futuristic ring that seems to hover over the glass beneath it, on which the temperatures are displayed. Cabin materials include suede cloth, and in Dapple Grey, it's a premium alternative to leather. I have no idea what that means if I'm honest but it sure resembled cow hide, so job well done! Every surface in the Velar is a tactile pleasure. It is pure artistry. As is what lies under that clamshell bonnet.
Having a go in it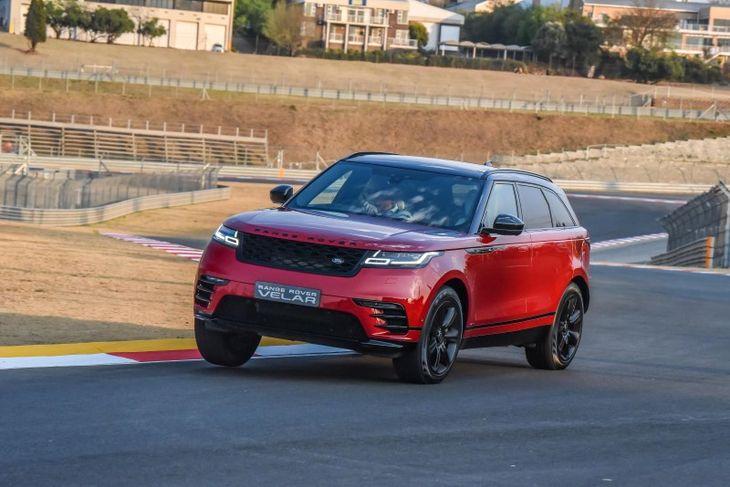 This Velar 3.0 V6 HSE offers up 280 kW and 450 Nm of torque, enough to sprint to 100 kph in 5.7 seconds.
I pointed the red hood down the pit straight, my aspirations aimed at several laps of Kyalami's pristine asphalt powered by the R-Dynamic Velar HSE's supercharged 3.0-litre V6 and its full reserves of 280kW and 450Nm at the disposal of my right foot. I bury it into the footwell which promises a zero to 100 kph sprint in a sprightly 5.7 seconds and should I keep my foot there, the brochure says I'll eventually run out of puff at around 257kph. Not bad for a heavy SUV, albeit the sleekest one I can remember ever seeing.
You know that old saying, a big car that shrinks around you and feels small? That doesn't happen here, the Velar feels burly, substantial and meaty, so naturally, it gets a soundtrack to match – rorty and booming, a noise developed alongside the sister marque's Jaguar F-Types I'm sure. In fact, much of its DNA is shared with the larger F-Pace but don't get stuck on that detail, they're very different machines inside and out. Remember, Donald Trump shares DNA with his daughter Ivanka, and they're not too similar either, are they?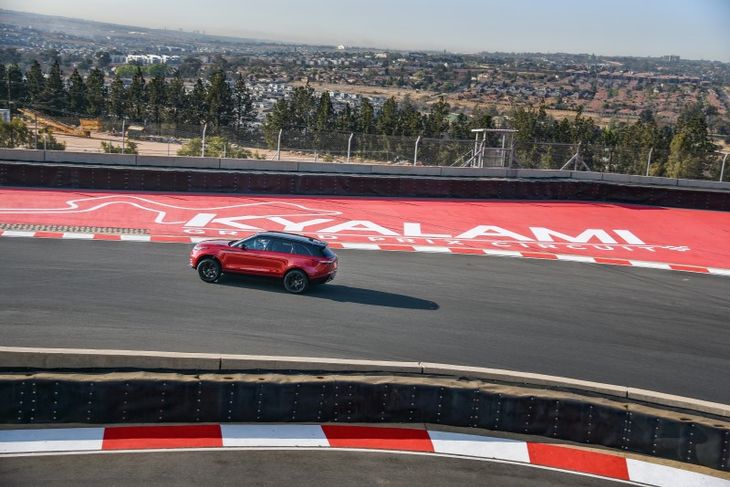 The Velar tamed Kyalami with confidence and poise.

I blasted my way onto the main straight, straddled the centre line of the circuit and spied turn one. There's quite a bit of elevation here as I make my way to the right of the track to line myself up for the left-hander, scrub off some speed with the pedal on the left, roll on half an armful of steering then climb back on the throttle. It's a fairly stiff chassis with double wishbones up front and a multi-link at the rear, you feel the weight shift but far less than you'd expect from a Rangie. Progress is linear, both laterally and of course in a straight line, as I flatten the throttle and begin the next climb, followed by a left, right, left. Kyalami is a demanding circuit and the Velar is making a doddle of it.
It's no race car and has no pretence of the sort, so I enjoy the rest of my lap time, well aware that this is just an example of what it's capable of on an ideal stretch of tarmac. With a cool-down lap completed, I park it in the garages and afford myself a moment to reflect on the Velar. I can't help but be reminded of the genesis of the Evoque all over again, but minus all the drama. When that car was birthed, it was immediately praised for its style but spurned by 4x4 purists for being little more than a fashion accessory, despite its gravelly capabilities. This is different – no less a stylistic high-water mark but also quietly confident in its pedigree as a Range Rover. A real Range Rover. Not a junior. This feels unanimous. The Velar is nothing less than the Range Rover brand refined to a resplendent glow. And nothing more than a potential future icon.
Watch the Velar tackle Kyalami in the video below!

Want to buy a Range Rover?
Find a new or used Range Rover on Cars.co.za
Related Content
Range Rover Velar (2017) International Launch Review
7 Rivals the Range Rover Velar Needs to Beat
World Car of Year (2017) Jaguar F-PACE [Review]
Pedalling an F-Pace: a cyclist's jaunt to Oudtshoorn
Mercedes-AMG GLE63 AMG (2016) Review
Mercedes-AMG GLE 43 (2017) Quick Review
Spy Shots: BMW X5 M vs Mercedes-AMG GLE63
Spy Shots: 2018 Mercedes-Benz GLE
BMW X5 M/X6 M Black Fire Edition Headed for SA
BMW X5 xDrive25d (2016) Review
Volvo XC60 (2017) Launch Review Video
Volvo XC60: 5 Things You Should Know
'Li'l brother' Volvo XC60 debuts
Alfa Romeo Stelvio: Order Books Open in SA
Alfa Romeo Stelvio (2017) International First Drive
Alfa Romeo Stelvio SUV Revealed (Updated)
Maserati Levante: Italy's Super SUV