Land Rover calls its new executive SUV – the Velar, which will be launched in South Africa before the end of 2017 (full price list below) – the most road-biased car it has made. So does this rival to the BMW X4, Jaguar F-Pace, Mercedes-Benz GLC Coupe and Porsche Macan still feel like a proper part of the Range Rover family? Matt Prior investigates
What is that nagging feeling? That little suspicion that not everything's quite as clear cut as it should be?
I don't know. Because, on the face of it, everything up here in this imperious cabin is very straightforward. There was a gap in the Range Rover line-up, see, and it is now filled. The Range Rover range started with the Evoque and then, via a large leap, went to the Range Rover Sport before naturally culminating with the Range Rover. This new Velar sits in that large space between the Evoque and the Sport.
Mechanically, then, this 4.8m-long car is more 'Sport-minus' than 'Evoque-plus'. It's not as full of fat as the Sport, sure, but it does sit on a longitudinal-engined, aluminium platform – the same one as Jaguar's XE, XF and F-Pace, incidentally – rather than the transverse-engined set-up of the Evoque.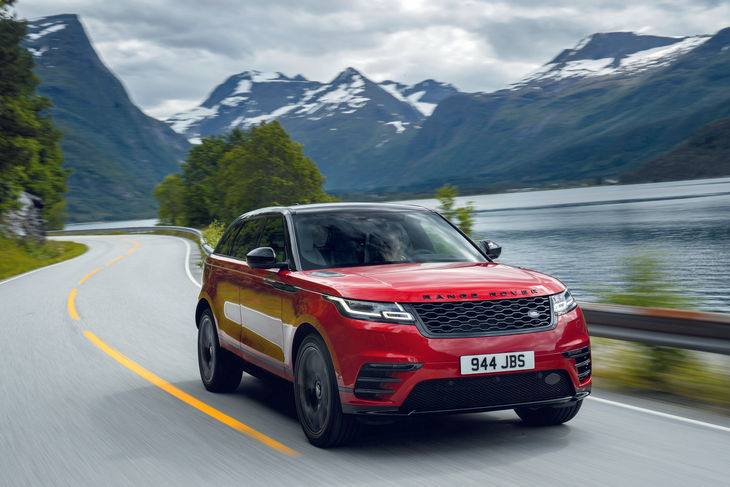 Range Rover's latest player, the Velar, filling the gap between Evoque and Sport, just.
The nitty gritty
The Velar's chassis contains more aluminium than any of the Jaguars', mind. It's bigger than them all, too, and – fairly obviously – it is more off-road focused. But, fundamentally, that's where it starts.
The Velar, then, ends up with an 81% aluminium body, with some steel under the boot floor, where it doesn't hurt that it brings the weight distribution rearwards (albeit there's a composite tailgate to maintain a low centre of gravity), and some magnesium under the bonnet to conversely, lighten the front end. Consequently, the claimed kerb weight for all versions, barring the biggest diesel, is less than 1 900kg.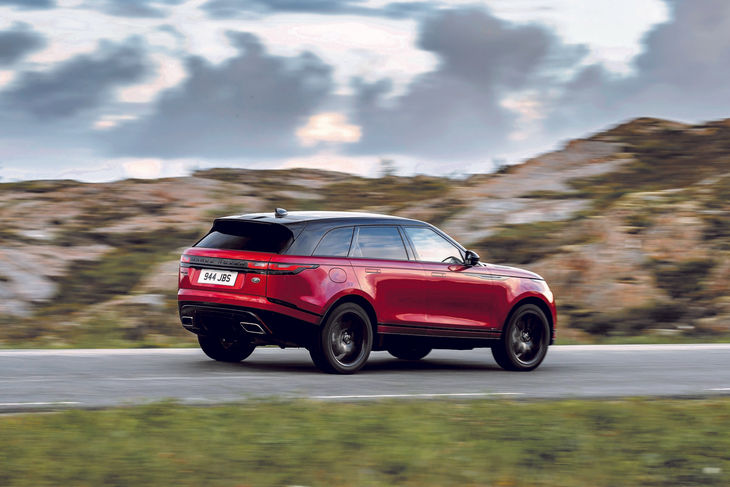 Heavy use of aluminium has meant that the Velar tips the scales at just under 2-tonnes. In Range Rover terms, that's light.
In the same way that the Jaguar models on this platform have double wishbones at the front and an integral link set-up at the back – which is like multi-link but with additional, lateral-rigidity-increasing components – so too does the Velar. Think of the Velar as a semi-skimmed Range Rover, then, to the Sport's full fat and the RR's gold top. (The Evoque is... what? Kinda non-dairy?)
If you want it less figuratively, compared with the Sport, the Velar's towing limit is 2 500 kg, not 3 500 kg, and it doesn't get a low-ratio transfer case. Of its six engine options, four are 2.0 four-cylinder engines, the other two V6s; and the four-pots, as standard, get coil springs. Air springing, which Land Rover uses to great effect to increase off-road capability on big models, is standard on V6s and optional on the fours.
Voluptuous interior
Some of those things will inhibit the Velar off road – we'll come to that – but that might not matter because Land Rover says this is the most dynamically focused Range Rover yet. We'll come to that too. But first, inside. Where, because it's a Range Rover, there is a big, lateral slab across the dashboard; a leather-bound butcher's block that has been a feature item on Range Rovers ever since Rover met BMW.
Now, as then, it's meant to feel yacht-inspired; broad and powerful, but light and luxurious, a structural horizontal beam with vertical supports running through it. It's the feature that really established a Range Rover's interior as one to send postcards home about; one, surely, benchmarked by, among others, Volvo when creating the new XC90.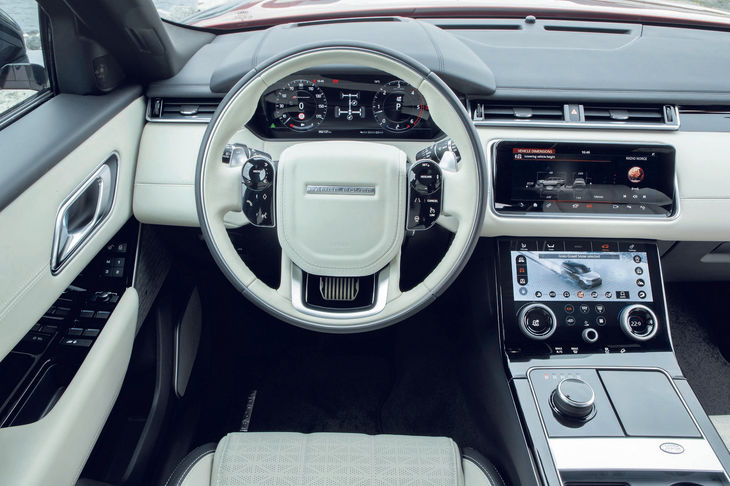 The Velar's interior is a fully digital affair, but for the first time, it's truly as good as the competition.
But there are two things about the addenda surrounding it this time. First is the Velar's perceived material quality. On the face of it, things are great: the leather is good – Jaguar Land Rover (JLR) talks about using the same high-end stitching and fabrics as top models – but it flatters to deceive in places. Not everything can be leather, and on lower bits of the cabin, there are harder plastics, some scratchy, which seatbelt buckles have already given a hard time.
Some of the metalised plastics don't convince you well enough that they're not plastics, aside from providing an authentic, overly harsh glare in bright sunlight. Compared with, say, a Porsche Macan, the Velar is visually a lot more arresting. But while dark, rubbery plastics are boring, they're not blinding, either.
I'm probably nitpicking, mind. But it strikes me that Volvo does it better. And the XC90, in terms of airiness and finish, is probably the Velar's closest benchmark. It's also a car that, like the Velar, has a predominantly touchscreen infotainment system. But here's point two of note about the Velar: this thing now has a proper one. There is a fully digital instrument panel, with two, large, hi-res touchscreen panels on the dash. Even the steering wheel buttons are digitally highlighted.
And all of it is good. For the first time, I think JLR can turn around and say it has caught up with everybody else. Except? Well, except the lower panel is by your knee. It deals with systems you'll use less frequently but, honestly, that's too far away from where you should be looking.

The Velar has a 673-litre boot but spec a full-size spare wheel and you start to lose a few hundred of those.
The rest of the interior? Well, it mimics, in its way, the F-Pace, in that it offers a large boot, at the expense of some rear leg room. And there's nothing wrong with that. There's loads of room in the front: the seats are big, there are slidey armrests, that sort of thing. I wouldn't mind if the steering wheel reached a bit closer to me, but it is a good wheel. And there's enough room in the back. I'm 5ft 10in and could sit behind my own driving position quite comfortably. Besides which, you get quite a lot more boot space this way (673 litres versus a Macan's 500, if you're interested). However, as standard, I don't like the idea of a Range Rover, even a lefull-fat one, having a space- saving rather than full-sized spare. This is an off-roader, after all.
Drivetrains
All models – 132 kW diesel, 177 kW diesel and 221 kW V6 diesel (tested here), plus 184 kW petrol, 221 kW V6 petrol and 280 kW V6 petrol – drive through an eight-speed automatic gearbox. There are two versions of that, depending on the torque they have to cope with.
All models are all-wheel drive, too, but not in the traditional permanent Land Rover sense (nor even the newer Evoque sense). Instead, because the Velar comes from the same fundamentally rear-driven platform as Jaguars, it's normally a rear-biased car, with a chain drive to transfer torque to the front when it needs it. There's Land Rover's Terrain Response system and you can raise the air suspension, but you can't lock a centre differential, you can't choose 50/50 power split, and although the electronics might do those for you, it's their will, not yours. There is, too, the option of a limited- slip rear differential, likely to make it feel keener on the road and give better traction on it.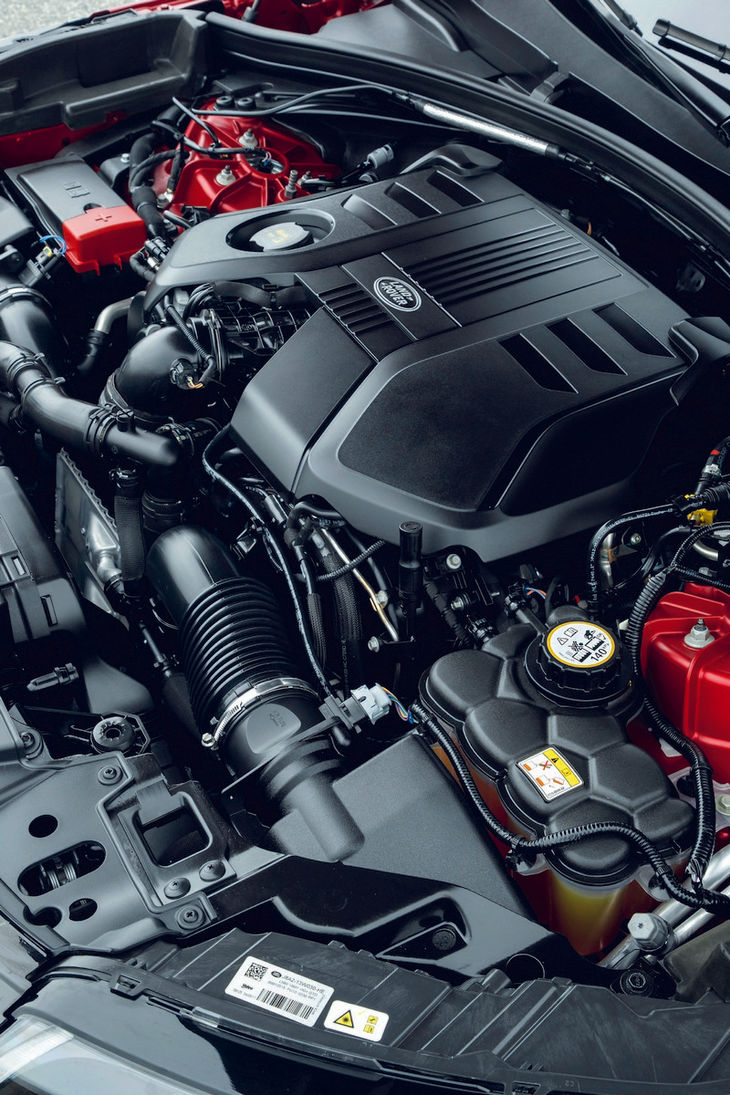 The full range of petrol and diesel Ingenium engines are on offer in the Velar, lots of power and lots torque too.
When it does come to off-road ability, it's probably whether the Velar's 2 500kg towing limit is up to Pony Club towing that's more relevant than the 213 mm (coil springs) or 251 mm (air springs) ground clearance, or the 24 deg approach, 27 deg departure and 20 deg breakover angles. Or the 600 mm (coil) or 650 mm (air) wade depth. Despite no low-ratio 'box, mind, ultimately what limits the Velar off road is what usually limits an off-roader: tyre choice and ground clearances. Plus you might not like to damage the aluminium body.
It's got the look
Maybe you thought I wasn't going to mention it. I don't always, what with beauty being so subjective. But you can't not, can you? The Velar looks like the very personification of a concept car, to me. The real thing. Like it just stepped out of a salon. And the finish feels every inch a pucker Range Rover. What an astonishingly good-looking car.
Anyway, as well as being too pretty to damage, the Velar is, I'm told, also the most road-focused Land Rover product yet. So although it's worth knowing if it'll get you to your shoot (it will), what's important is how it goes down the road.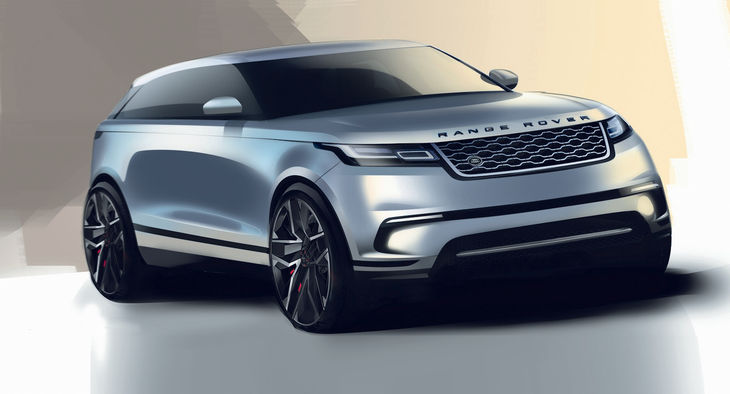 The Velar looks surprisingly similar to the concept sketch, something that happens less than you think.
There's a notable sense of relief when a JLR engineer asks you whether it feels like a Range Rover, and you say "yes", because I suppose there was a concern it'd feel too much like a Jaguar. It doesn't.
Now, a couple of caveats. I've only tried two V6s, the higher-powered petrol and the higher-powered diesel, and they both get air springing, which is not available on an F-Pace. So maybe a four-pot on coil springs will be more Jag-ish, but there's plenty of evidence to think not.
How does it drive?
The idea, despite the suggestion that this is a dynamically adept car for a Land Rover badge, is that it has a level of refinement that nothing with a Leaper on the front will match. I think they've done that. Ditto nothing with a Porsche badge matches it; nor with an Audi one. At least, not in Q5 terms, although the Velar's price is such that you might consider a Q7. And an XC90's lack of engine refinement removes itself from this conversation too.
But, no, it's the Velar's refinement, rather than its agility, that is the more prevalent. The steering is light and easy, and the ride, once you're up to any kind of speed, nudges lumps and bumps aside comfortably. At low speeds, things aren't quite so clever, as a result of the 21-inch (or 22-inch on the petrol model I tried) wheels that suit the Velar's looks so well. What, when you're moving, is a barely audible thump turns into a proper whack.
There's some body movement to go with the isolation, inevitably, but that suits what feels like, to me, a car of decent hush. Another caveat: the roads in Norway, spectacular though they make these pictures, offer you no more than 50 mph. And some are abrasive, so there's some road noise, to the extent that a test in the UK will be essential before a definitive verdict is reached.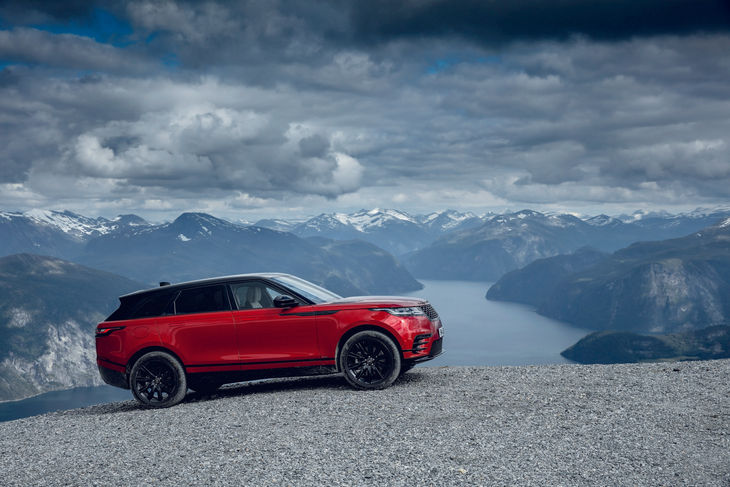 No low-range transfer case in the Velar but multiple electronic modes and Terrain Response 2 are expected to compensate somewhat.
But the engine is merely a distant thrum. The gearshift changes smoothly. And Land Rover's people say that they have put a lot of effort, plus materials and costs, into creating a space that's more isolated than any of the cars whose basis the Velar shares.
I think that's important. Look, it's easy to get a bit tied down in platforms and architectures and whatnot, and it can be quite silly, really. After all, what is any car if not a collection of metals and plastics to a given size? Everyone hangs things from common systems. But it's important that an SUV with a hefty price tag feels in no way related to a compact executive saloon that's cheaper.
And it doesn't. At least, in no way does the Velar feel like any other JLR model any more than a Macan or an XC90 feels like another car from their respective ranges or groups. It feels like a Range Rover. Looks like one. Sounds like and is as refined as one. So why the little nagging doubt? The four-star rating that feels solid, but not outstanding.

Final thoughts
One day after driving it, I'm still not sure; for which, reader, I apologise. Perhaps the 80 kph roads were to blame. Perhaps it was some of those interior touches, which make the Velar feel less complete than its design suggests inside. Or, and this is equally likely, that it's the two models I've driven – an R-Dynamic HSE diesel and a 280 kW petrol in First Edition trim, which cost R1.2 million and R1.5 million respectively.
And at that money, for all the glitz, for all the showroom appeal, I'd rather sit myself in the even more refined, even more capable, Range Rover Sport. Style is great and all, but a Range Rover is about substance. There's enough of it lower down the range. But up here, Range Rover is pushing the boundaries of this platform's qualities. Yet these are trims and prices to where loads of buyers will flock. I guess they're paying for less tangible things, and I guess you can't blame Land Rover for letting them.
Range Rover Velar local pricing
The Range Rover Velar will make landfall in SA during the fourth quarter of 2017. Local pricing has been released and for the first time, our local cars carry the same specification as the equivalent models in the UK. That means everything available there is also available on South African cars. Interestingly, buyers are no longer locked in to buying certain optional features when they upgrade trim levels. This means you can take a base spec Velar and pick exactly what you want in it.
Velar

Base

S

SE

HSE

2.0 diesel 132kW (D180)

R947 700

R1 028 600

R1 077 900

R1 172 400

2.0 diesel 177kW (D240)

R1 010 400

R1 091 300

R1 140 600

R1 235 100

2.0 petrol 184kW (P250)

R947 700

R1 028 600

R1 077 900

R1 172 400

3.0 diesel 221kW (D300)

R1 089 000

R1 169 800

R1 219 100

R1 313 700

3.0 petrol 280kW (P380)

R1 099 400

R1 180 300

R1 229 600

R1 324 100

Velar R-Dynamic

Base

S

SE

HSE

2.0 diesel 132kW (D180)

R980 500

R1 061 300

R1 110 600

R1 205 200

2.0 diesel 177kW (D240)

R1 043 200

R1 124 000

R1 173 300

R1 267 900

2.0 petrol 184kW (P250)

R980 500

R1 061 300

R1 110 600

R1 205 200

3.0 diesel 221kW (D300)

R1 121 800

R1 202 600

R1 251 900

R1 346 400

3.0 petrol 280kW (P380)

R1 132 200

R1 213 100

R1 262 400

R1 356 900

Velar First Edition

3.0 diesel 221kW (D300)

R1 529 300

3.0 petrol 280kW (P380)

R1 539 800
Related content
Update: New Range Rover Velar SUV Revealed
Range Rover Evoque Convertible (2017) Quick Review
Range Rover SVAutobiography Dynamic Introduced
2015 Range Rover and Range Rover Sport Introduced With More Power and New Tech (Video)