The rollout of Mercedes-AMG 43 engines has extended to Mercedes-Benz's premium SUV model, the GLE, where it slots in under the V8-engined GLE500 and GLE 63 derivatives. With an asking price of R1.2 million, is this performance GLE derivative not where your money is best spent?
We like: Brutal engine makes all the right noises, spacious and luxurious SUV.
We don't like: Starting to age, wobbly chassis, expensive.
Alternatives
Volvo XC90 T8 has enough power to match the Benz but lacks the aural theatrics. The Volvo is altogether the better car.
Jaguar F-Pace S is slightly smaller but has a chassis that can better deal with the power. If you're after a real sports SUV than this is a better choice.
Jeep Grand Cherokee SRT is huge, comfortable and makes mad sounds from its V8 engine. It's keenly priced for what you get but lacks that ultimate luxury that the Benz can give you.
Compare the specs of the Merc to the Volvo and the Jaguar here
Facts & Figures
Price: R1 206 700 (May 2017)
Engine: 3.0-litre V6 biturbo
Transmission: 9-speed automatic
Power: 270 kW
Torque: 520 Nm
Fuel consumption: 8.6 L/100 km
0-100 kph: 5.7 seconds
Top speed: 250 kph
What is it?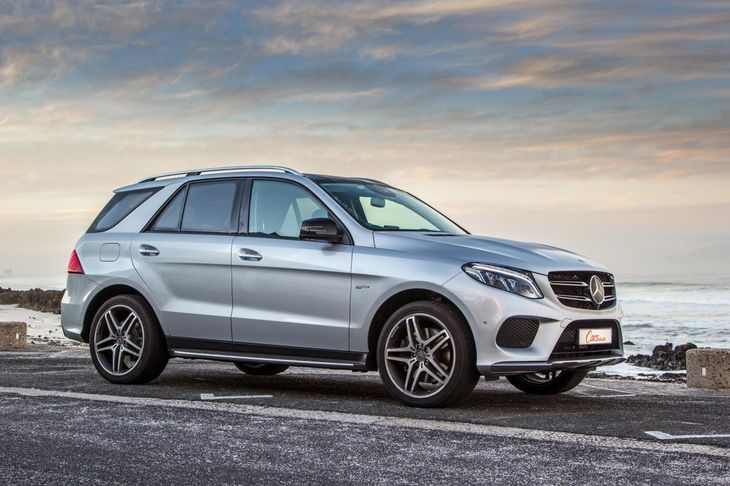 The GLE 43 AMG gets full AMG treatment to the bumper and wheels. Under the skin, the suspension, steering and brakes are all tuned too.
The GLE 43 AMG appears to be a ploy by Mercedes-AMG to confuse us with yet more model names. Look back into our review archives and you'll come across a GLE450 AMG, with the exact same power outputs as this 43 AMG. What's the difference? This gets the full AMG treatment rather than just an AMG badge. That means you get 20-inch AMG wheels as standard, bespoke door sills and skid plates and an entirely upgraded AMG bodykit. Then, AMG updates the steering, brakes and suspension setting to give its newcomer a performance bent.
The good
The engine: With 270 kW, 520 Nm of torque and all-wheel-drive, it's got grunt that not many can match. Because it's been sent to the AMG factory, it also growls, barks and backfires every time you shift gears or back off the throttle. There is a relatively quiet (comfort) mode for those times when you want to sneak home quietly or cruise along the freeway in peace.
The 3.0-litre V6 biturbo unit has almost no lag from standstill. It's on the boil from the instant you ask the throttle for action. The only thing that slows it down is the 9-speed gearbox that sometimes has to make extra downshifts to get to its optimum gear. It revs cleanly and acts as a veritable hammer when you get into the sweet range above 3 000 rpm. Fuel consumption is claimed at 8.6L/100 km, but if you have a habit of exploring its aural pleasures you're going to see some much higher figures. Our 2-week test culminated in a figure of 11.5L/100 km.
Space and luxury: As a passenger, the GLE's front seats are body-hugging and trimmed in sumptuous leather. You won't be disappointed if it's fine-style driving you're after, because the GLE's interior gets AMG touches such as special stitching and cabin signatures that give it a distinctly premium feel. The luggage bay is spacious too and the electric tailgate makes life easier, especially since it can be remotely opened and closed with the key fob.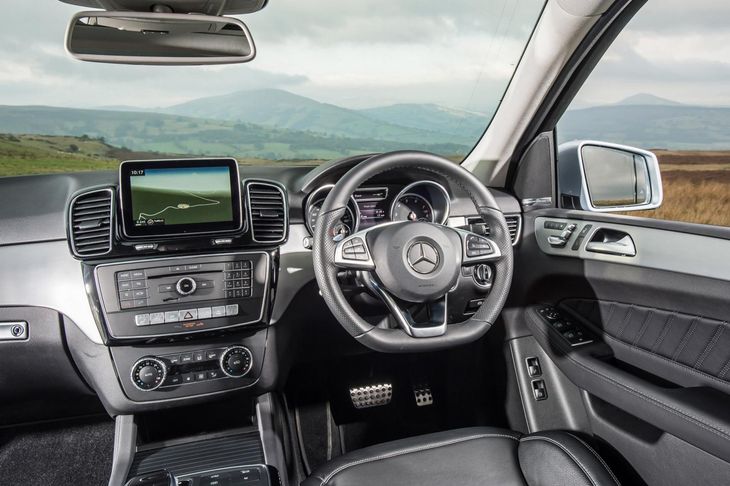 The cabin is a luxurious and spacious place to command the GLE from.
The bad
Ageing chassis: The GLE might sound like it's a new SUV, with its new name, but it's essentially an update of the ML, which dates back to 2012. Despite multiple modes within the cabin to adjust the air suspension setup, they don't do the job of composing the big SUV in corners or under braking and hard acceleration. Any form of chassis articulation such as turning onto a pavement sends creaks down the length of the chassis. It doesn't feel as taught or as rigid as some of the latest SUVs we've sampled.
You're very aware of its size when driving a narrow, bendy road. There's over 2-tonnes to move about and those sort of cornering physics are hard to overcome, even for the AMG wizards stationed in Affalterbach. Despite the chassis' shortfalls, it is good on a dirt road, riding out bumps comfortably and smoothing out corrugations.

The underpinnings of the GLE are starting to feel a bit old compared to newer rivals.
Tumble and turn seats: There is a downside to having those comfortable and cosseting seats in the rear, and that means when you fold the seatbacks down, they don't fold flat at all. In fact, they sit at a 45-degree angle so are almost no help at all when you try to load long objects into the rear. Mercedes' solution is the tumble and turn technique, meaning it's a hassle to lift the bottom part of the seat out and then fold the seatback down. It extends the loadbay, but it's not entirely flat and it exposes some of the leather to whatever you want to pack in.
Verdict
Thanks to some visual upgrades, the baby AMG GLE derivative certainly looks the part on the road, garnering attention with its mean bodykit and snarling V6 engine. The engine is the highlight of the car, it provides a thrilling acceleration experience and has a brilliant sidekick act provided by the oompah band of quadruple AMG exhaust tips.
The brilliant engine isn't enough to camouflage the GLE's ageing chassis and practicality shortcomings, however. What's more, the GLE 43 AMG doesn't hide its heft well and feels less sure-footed than newer rivals.
Fortunately for Benz, it won't be the driving experience that sells this car, but surfeit exterior appeal and badge snobbery that count for much in this market. In that sense, a big Benz with an AMG badge on the back makes all the right status statements. At R1.2 million, compared with its much more expensive V8 stablemates, it's a veritable bargain.
Related content:
Spy Shots: 2018 Mercedes-Benz GLE
Mercedes-Benz GLE450 AMG Coupe (2015) Review
Drag Race: BMW X6 M vs Mercedes-AMG GLE63 S Coupe
Interested in buying a Mercedes-Benz GLE?
Click here to find a new/used example on Cars.co.za
Perhaps you're interested in the pre-facelift version, called the ML?