It seems an outrageous challenge: to create the "Maserati of SUVs" – a vehicle that is as sporty and luxurious as it is versatile. The turbodiesel-engined Levante is the first derivative of Maserati's new model to be launched in South Africa... Cars.co.za Consumer Awards guest judge, Eddie Kalili, drove the newcomer in Dubai to find out whether the Modenese marque has hit the mark.
In its pomp, Dubai was a byword for supreme luxury... a Gulf city dedicated to the worship of all things expensive, bespoke and utterly opulent. And even though its economy has slowed in recent years (it has been overtaken by its Arab neighbours with deeper oil reserves), there are still ostentatious glimmers of the outrageous wealth that once was.
Our hotel, for example – where we spent three nights as guests of Maserati for the launch of its first-ever SUV, the Levante – is one of only two in the world designed by none other than fashion icon Giorgio Armani. The Armani Hotel in the Burj Khalifa is a truly luxurious place to lay one's head – the perfect setting to launch Maserati's first foray into SUV territory.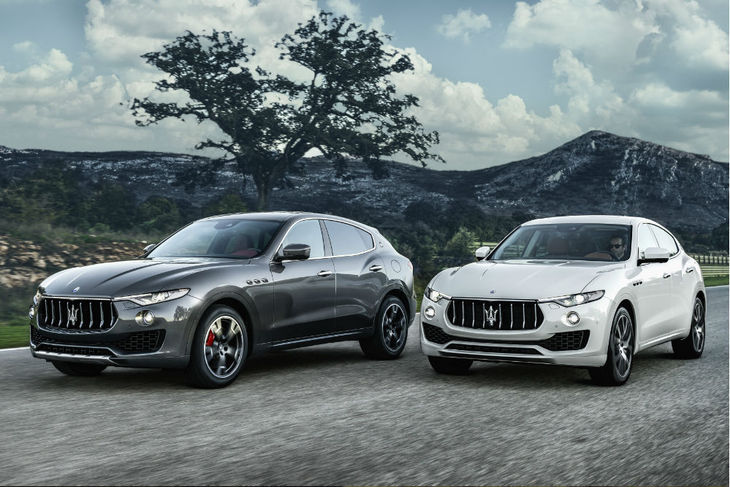 The Levante offers oodles of "let me past" presence thanks to its elaborate grille and "sinister" slim headlights.
Another premium marque joins the SUV fray
The SUV/crossover segment has seen tremendous growth in recent years and even luxury car manufacturers have seen it fit to also find a niche in the segment, by launching products that will appeal to well-heeled drivers who want space and versatility from their luxury vehicles, should they decide to venture off the beaten boulevard. Porsche was certainly ahead of its time with the Cayenne... 2016 saw the local launches of Bentley Bentayga, Maserati Levante and Jaguar F-Pace and globally, the Lamborghini Urus, Rolls-Royce Cullinan and crossover-flavoured Aston Martin DBX are in the pipeline...
Over dinner at At.Mosphere, one of the highest restaurants in the world located on the 122nd floor of the Burj Khalifa, Umberto Cini, Maserati's Managing Director of General Overseas Markets, explains that the brief for the Levante was "to create a car that would be the most luxurious SUV on the roads". Well, Bentley may have something to say about that, but as a performance SUV, the Levante proved a truly sumptuous vehicle with a well-hewn interior and spirited performance.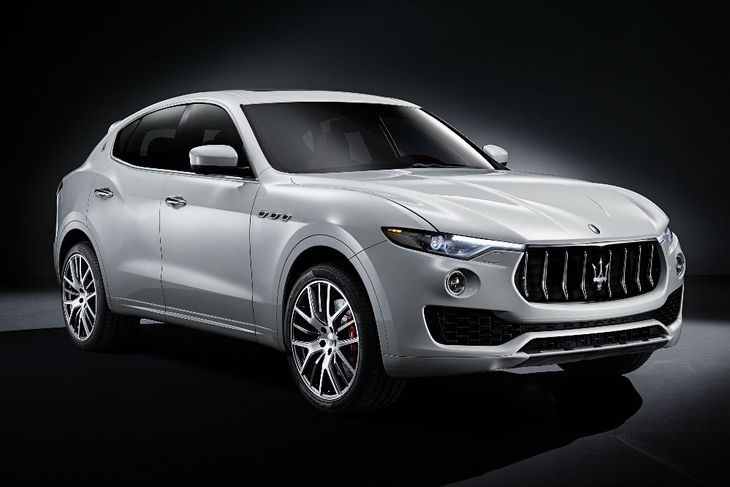 The trio of vents in the front fenders is a design cue carried over from Maserati's Quattroporte first class sedan.
Its off-road capabilities were discovered by accident, apparently, while the Levante was undergoing testing on the desert-like outskirts of Dubai. While running up to 12 hours in sweltering temperatures of up to 52 °C the (pre-production) Levante test unit's engine never overheated and suffered no mechanical maladies whatsoever... Maserati engineers, realising they had the start of a truly capable SUV, went back to the drawing board to add more versatility to Levante. Well, that's the story...
Lowest centre of gravity in its class
The result? A performance SUV that Maserati claims has a perfect 50/50 weight distribution and the lowest centre of gravity in its class. It offers multiple driving modes and an adaptive suspension that can adjust the vehicle's ride height by a range of 85 mm so that it can ostensibly tackle just about anything the bundu and gilded boulevards in Dubai could throw at it.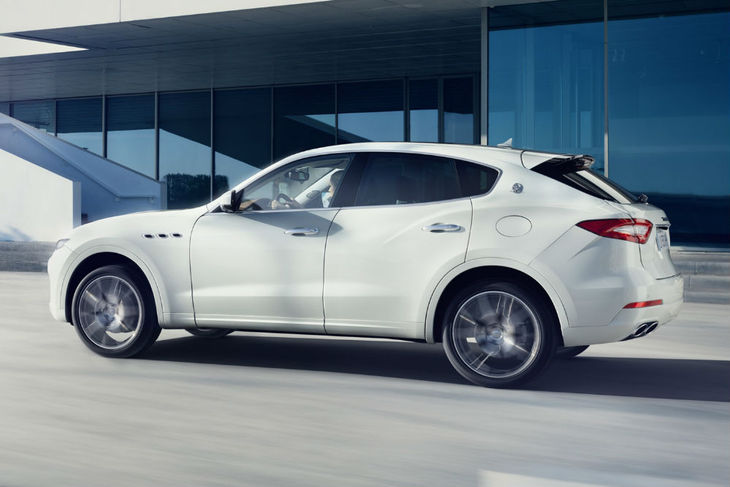 Aided by a 50/50 weight distribution, low centre of gravity and adaptive suspension, the Levante is wieldy to drive.
Propulsion comes courtesy of an intelligent Q4 all-wheel drive system (with a default rear-biased setup), while a limited slip differential (LSD) automatically directs power to the wheels with the best traction (depending on the type of terrain the Levante is traversing, of course). There are 4 driving modes: in Normal, 90% of power goes to the rear and 10% to the front; Off-Road mode has an 80/20 split (for better road-holding at the front) and the Eco Mode setting is self-explanatory.
Multiple suspension modes
Meanwhile, the Levante's suspension has 6 respective modes: in Sport Mode 1, it will drop by 20 mm and, in Sport 2, by 35 mm at speeds above 170 kph. Parking mode is 45 mm higher than normal (to avoid unfortunate scrapes with kerbs and sloped driveways), while Off-Road 1 and Off-Road 2 modes raise the vehicle by 25 mm and 40 mm above Normal mode.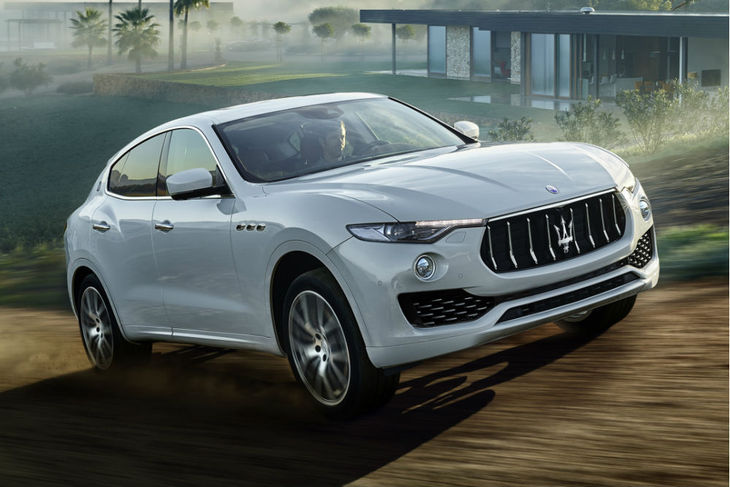 The dynamic AWD system and adaptive suspension, which offers multiple ride heights, aid off-road prowess.
All this makes the Levante as agile on a racecourse as it is capable in a desert. We went for a spin around Dubai Aerodrome track, an FIA-sanctioned 5.39 km motorsport circuit outside of town. We sampled the 3.0-litre V6 turbodiesel engine that's currently the only one available in South Africa, with Maserati hinting at a pair of twin-turbo V6 engines producing 257 kW and 316 kW, reportedly capable of 0 to 100 kph in 6.0 and 5.2 seconds, will be launched soon.
The Diesel, whose engine produces 202 kW of power and maximum torque of 600 Nm and mated with an 8-speed ZF-sourced automatic transmission, proved to be exceptionally nimble on a track – an admirable feat considering its heft (the Levante is approximately 5.0 m long, 1.9 m wide and 1.6 m high). Not only is the Maserati said to be capable of accelerating from standstill to 100 kph in 6.9 seconds, going on to reach a top speed of 230 kph, but it takes corners with, shall we say "a feline grace" that many would believe could only be achieved by a certain British manufacturer's premium SUV...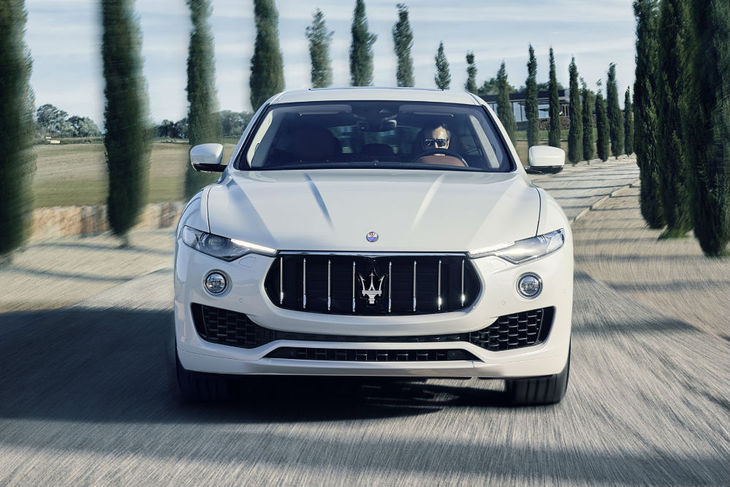 The Levante Diesel sets the scene for the introduction of a pair of turbopetrol derivatives in the near future.
On the road, it promises to deliver a claimed fuel economy of 7.2 litres/100 km, and while the engine's general demeanour is more than satisfying, the peak torque (600 Nm) avails overtaking punch to make the Levante an enjoyable highway cruiser.
So far, so good...
We headed out to the desert just outside Dubai, a 30-minute drive that proved to be frustrating due to Dubai officialdom's exuberant love for speed cameras – there is one located every 3 kilometres! But the slow slog was worth it when we hit the dunes. After deflating the Levante's tyres a little, to increase their surface area and aid traction in the sand, we set off.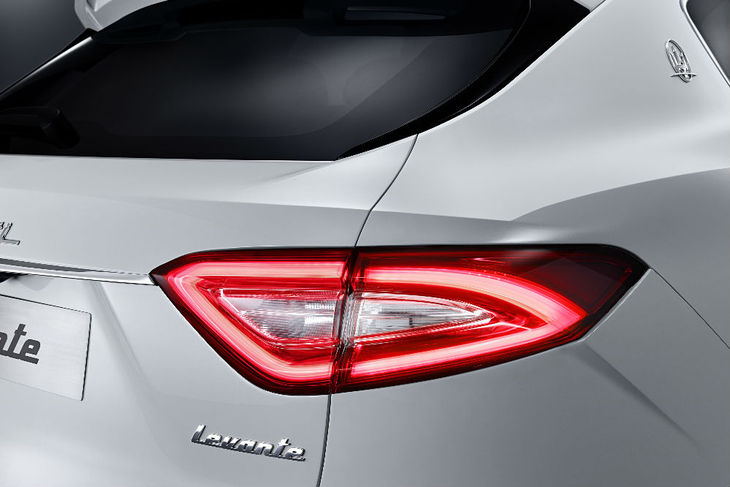 If the Levante's taillight cluster looks familiar, it is because it closely resembled that of the Ghibli sedan.
The increased ride height afforded by Off-Road mode makes the Levante particularly adept at negotiating sand dunes, and, once again, the torque makes its presence felt... the Maserati makes quick work of the dunes, where the sand can shift rapidly before your eyes. It almost seems as if only a lack of driver skill for off-roading could slow you down...
There's no mistaking the capabilities of the Levante, but what really sets it apart is the luxury in which you are enveloped.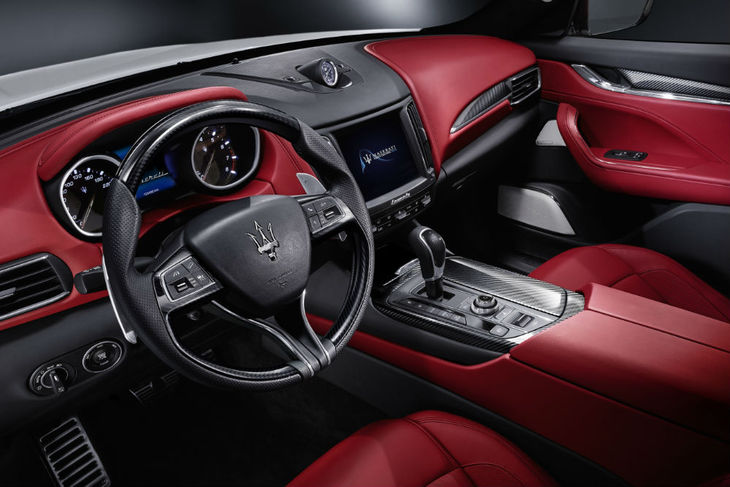 Lavish 2-tone leather upholstery, ornate fixtures and carbon-fibre look trim give the cabin a big sense of occasion.
Signature Maserati interior
Inside, the Levante is every bit a Maserati with a well-hewn interior with stunning attention to detail. If you take the optional Ermenegildo Zegna 100% Italian silk, your vehicle's seats will not only be exquisitely trimmed in leather and silk – the Italian design house will also give you enough of its fabric to make up 4 suits... how is that for exclusivity?
No self-respecting luxury car these days would be without the usual amenities such as an 8.4 inch high-resolution Maserati Touch Control infotainment system, plenty of USB connectivity and digital storage capacity.
Levante has a claimed boot capacity of 580 litres (with rear seats that fold down for utility space), making it a viable family vehicle too (although personally, I wouldn't dare set my sticky-fingered 3-year-old loose in this plush interior).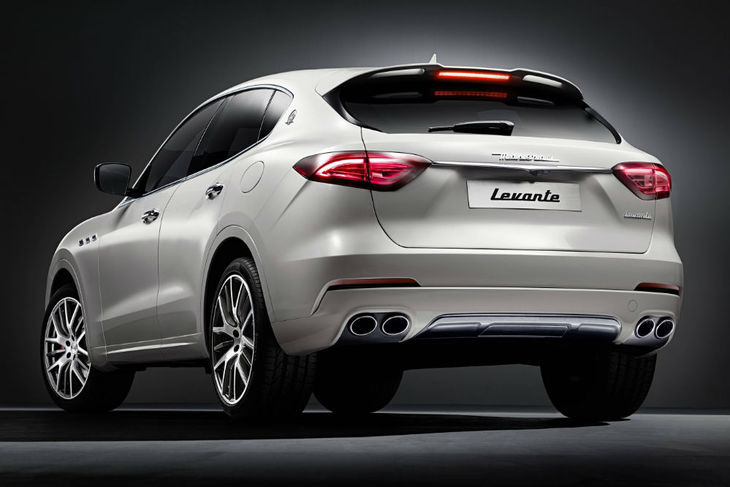 An elegant quartet of exhaust tips helps the Levante to produce its signature soulful, urgent exhaust note.
Summary
Yet, for all its all-road ability, on-road refinement, luxurious cabin and practicality, my favourite feature of the Levante is the deep beautiful sound of its engine. Turbodiesel motors aren't generally known for being sonorous, but the deep rumble that is interspersed with evocative crackles and pops (created by placing little baffles in the exhaust) underlines something that cannot easily be described and explained to those unfamiliar with the Trident marque's products: its sheer Maserati-ness.
When you consider that the beautiful symphony is emitted by an eye-catching prestige road machine that is more than the sum of its capabilities, you get a truly special SUV – the Maserati of SUVs, if you will. Having said that, exclusivity (as ever) comes at a price; the Levante Diesel costs R1 649 000, which doesn't position it at the top-end of the performance SUV price bracket, but makes it more expensive than established, similarly-engined rivals on the market, such as the F-Pace 30d AWD S (R1.33 million), the Cayenne S Diesel (R1.39 million) and even the mighty BMW X6 M50d (R1,5 million).
However, it's unlikely any of those rivals (there are others too) will make as tasteful a style statement that the Levante does.
Watch a promotional clip for the Maserati Levante below:
Related articles:
Maserati Quattroporte Receives Midlife Facelift
Maserati Ghibli S (2016) Review
Mercedes-AMG GLE63 AMG (2016) Review
Drag Race: BMW X6 M vs Mercedes-AMG GLE63 S Coupe
Drag Race: BMW X6M50d vs Range Rover Sport SDV8
Bentley Bentayga (2016) First Drive
Spy Shots: Rolls-Royce Cullinan SUV
DBX crossover: Aston Martin will build it!
Interested in buying a Maserati?