Alfa Romeo's highly anticipated Stelvio sports SUV will arrive in South Africa in the fourth quarter of 2017 and we recently headed to Alfa's test track in Italy for a drive. Let it be known, the Stelvio doesn't disappoint...
Alfa Romeo is making a big comeback and the hot-blooded Giulia sedan is due for launch in South Africa early in March 2017. Watch this space! But that's not all because Alfa Romeo will also be launching its new Stelvio sports SUV.. Does the Stelvio have what it takes to compete in this growing segment? We headed to Italy to give the Stelvio a poke and to learn more about this attractive offering ahead of its arrival in South Africa. Let's dig in...
What is it?
The Alfa Romeo Stelvio has a big boot with rear seats that conveniently split in a 40:20:40 configuration. It has sensible black plastic wheel arch lips, a power tailgate, multiple cup holders, several shopping hooks and… 206 kW, which is quite generous for a high-riding five-seater family car.
This certainly isn't the first time that Alfa Romeo has set about building a more practical vehicle – it made a rugged, Jeep-like 4x4 called the Matta in the early '50s - but what its Canadian boss Reid Bigland underlines is that 'the Stelvio is an Alfa Romeo first, and an SUV second.' And as any car enthusiast knows, that should mean a recipe to include excellent handling, feelsome steering and a tunefully characterful soundtrack. To this end, chief engineer Roberto Fedeli points out that Alfa Romeo consulted a couple of musicians (of rock, blues and pop leanings rather than orchestral, rap or trance, apparently) to create a backing track in harmony with the rest of the car in the interests of bestowing a 'coherent character' on the car.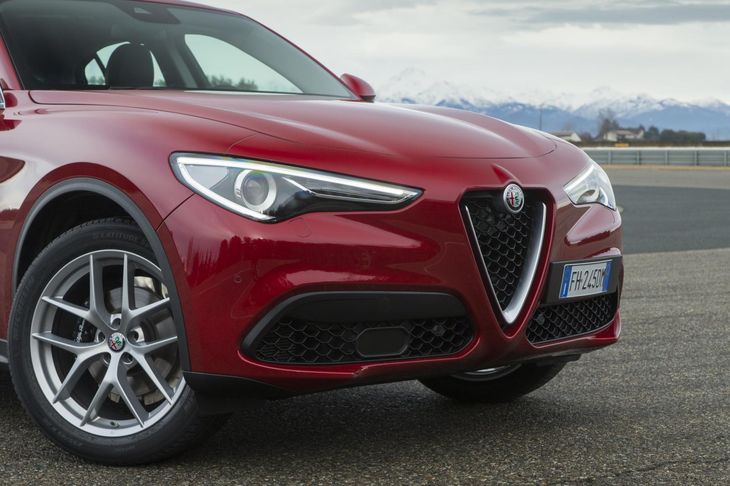 Stelvio is positioned as a sports SUV, a segment currently filled by the Jaguar F-Pace and Porsche Macan
That character is built on the so-called 'Georgio' platform that forms the building block of the Giulia sedan, Fedeli pointing out that the Stelvio was developed at much the same time in a 'cluster' of models that will grow from this architecture. Bigland reminds us that Georgio was developed as a premium architecture and that by debuting the 375 kW Giulia Quadrifoglio first it was possible to develop high-cost items like a lightweight carbon fibre prop shaft that also appears below the floors of all the mainstream Giulias, and the Stelvio besides. Had the less potent versions been developed first, he explains, the finance department would have vetoed such functional indulgences.
The Stelvio is rich in lightweight aluminium too, the doors, bonnet and tailgate are all alloy, as is the suspension and its sub-frames. The result is a mid-size, four-wheel drive crossover that weighs in at 1 659 kg with fluids: impressively competitive heft even against the equivalent predominantly aluminium 1 775 kg Jaguar F-Pace. The body is also exceptionally rigid, a vital requirement both of a keen-handling car and a crossover with off-road capabilities. It's presumably no Land Rover – there are no terrain settings to choose from – but there is a hill-descent facility and a heated steering wheel for sub-zero adventuring.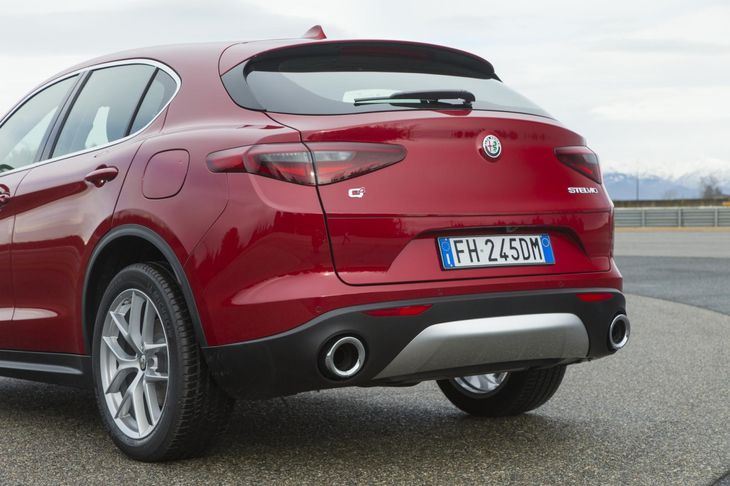 Integrated exhaust pipes and an automated tailgate are just a few of the premium touches the Stelvio offers.
Mostly, though, the Stelvio's innards have been arranged to provide an entertainingly diverting drive, to which end Fedeli and colleagues established an unusual dynamic goal. Which was to reproduce the handling of the Giulia in a car whose driving position – or H-point, in industry-speak – is 190 mm higher. And that includes replicating the Giulia's low-roll cornering habits. No trick roll-resisting devices are employed, Fedeli confirming that this goal has been achieved with stiffer springs and anti-roll bars. To which the obvious next question is: 'what about the ride?' Specially developed dampers are the apparent solution, and on the petrol and diesel versions driven here, of the non-electronic variety.
What's it like?
There's little chance of finding out how effectively Alfa's ambitious approach to the Stelvio's chassis tuning works at FCA's Balocco test track, most of which is as smooth as a fresh-shaved cheek. Rest assured by the fact that the Stelvio has been tested on roads in South Africa, Wales, Scotland and England. But for this car more than most, it'll take a local drive to determine what the ride is really like.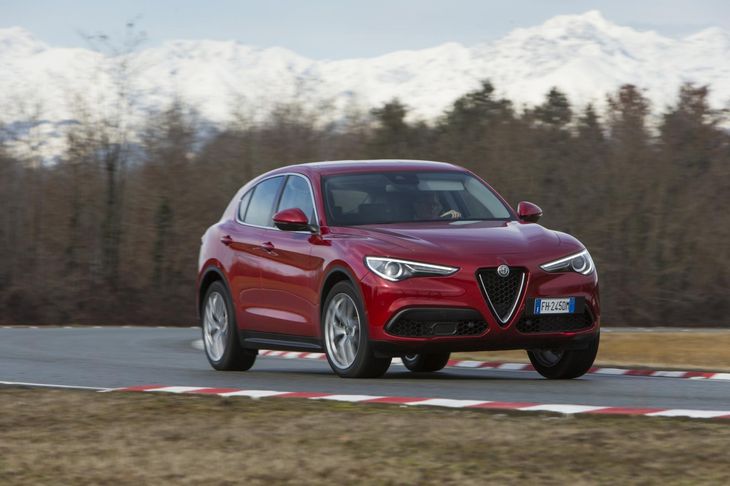 Driven on track, it's hard to tell how well the suspension will cope with everyday use, but it's certainly impressive when pushed.
There is, however, plenty of scope for testing the Stelvio's thrust. The 2.0-litre turbo not only delivers an enticingly generous 206 kW, but also 400 Nm of torque, and you can feel the full strength of this from 2 250 rpm if you floor the throttle from idle in a low gear. The Multiair four-pot is smooth, although what you notice most is the mild rort issued across most of the rev range. It's certainly not loud – that would get irritating within miles – and it's not as sweet as you'll hear from an old Alfa 75 Twin Spark, for example, but it's assertive enough to give the engine a characterful voice. It also encourages you to drive the Stelvio with zest, especially as the chassis is at least as eager.
The steering's swift-acting ratio is exactly the same as the Giulia's, and at low to brisk speeds on Balocco's dampened tracks, the Stelvio changes direction with a crisp immediacy that's heightened by the promised lack of roll. What you feel at the rim is more resistance than outright feel, but it's accurate and consistent at least. It's not long before you forget your distance from the road below, and begin to drive the Stelvio with the verve of its lower-riding Giulia brother.
The Stelvio is fundamentally rear-wheel drive, like the Giulia, with 100 percent of the engine's effort channelled to the rear axle – for which a mechanical limited-slip differential is optionally available – unless traction issues require a contribution from the clutch-controlled front axle. How much time does this take? 'Nothing,' is the slightly unbelievable answer from Fedeli with a smile. But on the track, the Q4 system responds briskly enough to avoid feeling clunky. Up to 50 percent of the torque can be redirected to the front wheels, matching the Stelvio's ideal 50:50 weight distribution. There's plenty of urge to direct, too, the 206 kW petrol launching the Alfa to 100 kph in 5.7 seconds – usefully faster than the latest Golf GTI – the diesel managing this in 6.6 seconds.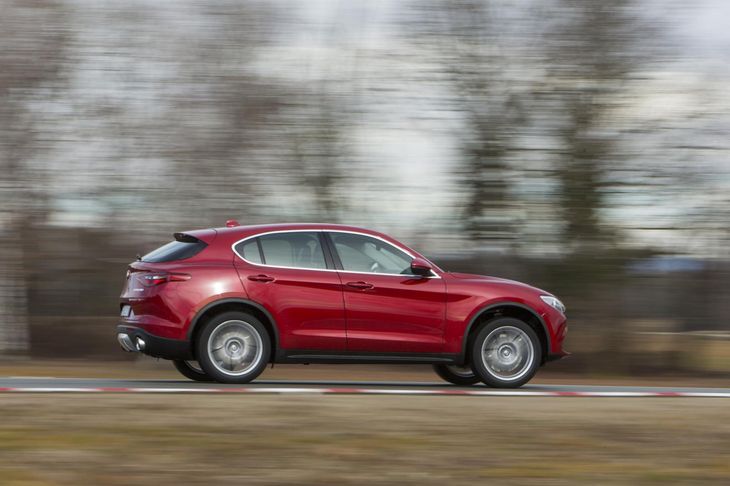 It's 100 percent rear-wheel drive until torque is needed at the front, then it can send 50 percent to the front instantaneously.
Balocco's slightly slithery Tarmac provides a decent chance for exploration of the effectiveness of this hardware, tight low-speed corners soon revealing the amusing discovering that the Stelvio's quite substantial rear-end can be poked decisively sideways. That's if you're in the dynamic setting of Alfa's familiar DNA driving modes, which allows some slippage but not enough to spike your heart rate. The ESP can't be completely killed, which is a good thing given that it's also quite easy to make the Stelvio's front tyres slide towards understeer. As we know, tracks can often be highly deceptive, so it will take a twisting, bump-scattered road – or indeed, the Stelvio Pass – to discover what this Alfa's really like. So far, though, it's more than promising.
And so to seat folding, boot space and the mundane necessities of family car life. The Stelvio manages two fair wins with decent rear room and a long, uniformly shaped boot, although it might have been wider had its sides not been packed with components-unknown behind carpeted trim panels. The rear seats can be semi-released from the tailgate end, but only semi- because the backrests don't drop down once their catches are released, making this facility rather pointless. The backrests fall fairly flat however, and the tailgate is powered on all versions.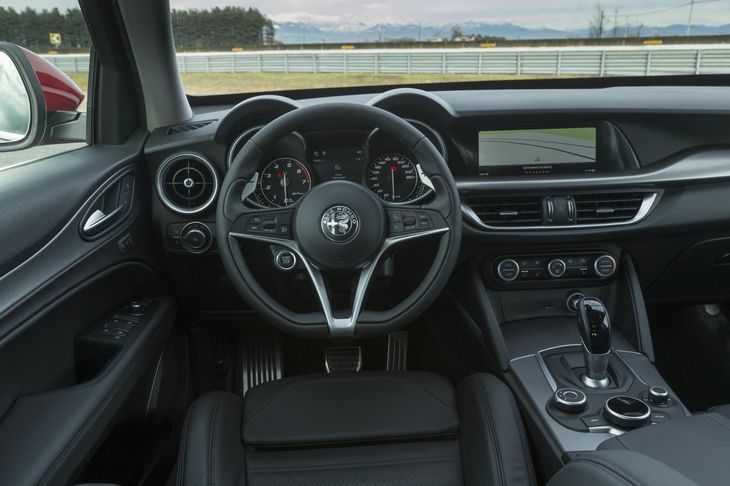 Interior looks plush, as it does on the new Giulia. Soft touch materials and brushed aluminium dominate the cabin
Should I buy one?
Our early-build test had one or two frustrating bugs, among them wind noise that roared too obviously and a driver's seat with no tilt facility. But, on the flip side, further positives included the Stelvio's robust aura, the high quality of much of the interior trim, a particularly tactile steering wheel - with a perfectly positioned starter button - and the enjoyment of driving an SUV with a bit of verve.
The Stelvio faces stiff competition from a renewed Audi Q5, the Porsche Macan and Jaguar F-Pace, but it certainly deserves short-listing if its turns out to be as impressive on the road as it is on the track.
Estimated price and details
Expect estimated starting prices in the region of R700 000 for the Stelvio.
On sale: Fourth quarter 2017
Engine: 1995cc 4-cyl, turbopetrol
Power: 206 kW at 5 250 rpm
Torque: 400 Nm at 2 250 rpm
Gearbox: 8-speed automatic
Kerb weight: 1 660 kg
0-100 kph: 5.7 sec
Top speed: 270 kph
Economy: 7.0 L/100 km
Also read
Spotted in SA: Alfa Romeo SUV & new Fiats
[Updated] Alfa Romeo Giulia Quadrifoglio (2016) First Drive
Jaguar F-PACE 30d AWD R-Sport (2016) Review