The Range Rover Evoque Convertible is the first of its kind in South Africa. Well, okay, if you discount the very utilitarian Jeep Wrangler, this derivative can lay claim to being our market's only convertible SUV. Does this eccentric Rangey make any sense? We put it to the test to find out.
We like: Jaw-dropping looks, still capable as an offroad vehicle, has all the luxury features from the Range Rover arsenal
We don't like: Expensive, heavy fuel consumption, flawed ride quality, cramped rear legroom
Alternatives
The Range Rover Evoque Convertible has no direct rivals, but if you want the full cabriolet experience for similar money, then we'd recommend you consider the Mercedes-AMG SLC 43 (for a spirited roadster experience) and BMW 440i Convertible (if you'd like to have a sporty drive combined with nominal rear seating).
Compare the specs of the Evoque Convertible to the Mercedes-AMG SLC43 and BMW 4-Series.
Facts & Figures
Price: R1 031 634 (May 2017)
Engine: 2.0-litre Turbopetrol
Transmission: 9-speed automatic
Power: 177 kW
Torque: 340 Nm
Fuel consumption: 8.6 L/100 km
0-100 kph: 7.0 seconds
Top speed: 209 kph
Believe it or not, the Evoque Convertible is not the first ever convertible version of a unibodied SUV. That honour, unfortunately, belongs to the Nissan Murano CrossCabriolet. Spend 2 minutes researching overseas reviews of that product and you'll read dire descriptions such as "atrocious", "woeful" and "hopeless". Yes, the Nissan was an outrageous, expensive flop.
The sad lore of the CrossCabriolet suggests that it is either brave or foolhardy for a company to attempt to produce a car that combines 2 very specific, seemingly divergent, purposes. However, that was exactly what Range Rover did with the Evoque Convertible, which seems to offer open-top appeal while retaining the luxury, practicality and capability of an SUV.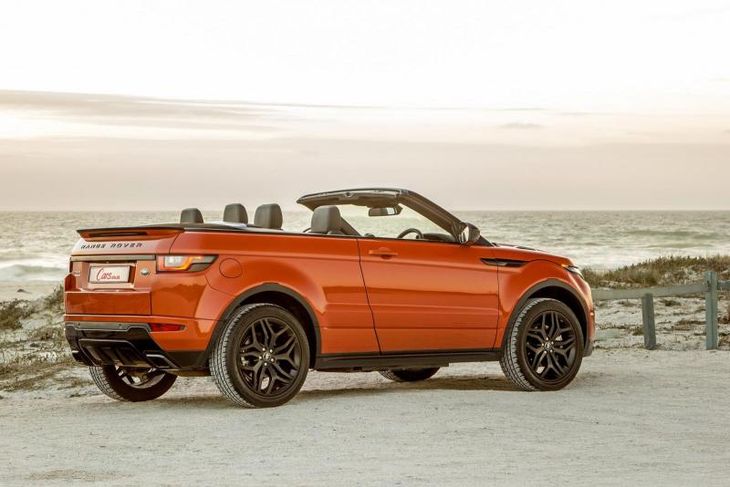 Styling is striking, head-turning and odd upon first glance. With the roof up there's a return to normality, but for best results keep it down.
The Good
Ravishing looks
Few test units have garnered as much attention as the Evoque Convertible. In this spec, complete with Dayglo Orange paint and gloss black wheels, it's very hard to miss and when the fabric top is down, onlookers stare at the Range Rover in amazement. Kerb appeal is off the charts: throngs of fascinated onlookers clamoured to get a closer look at the vehicle. There were some suggestions from observers that the chopped roof was an aftermarket conversion... very few of them readily accepted that this was a pukka standard production unit!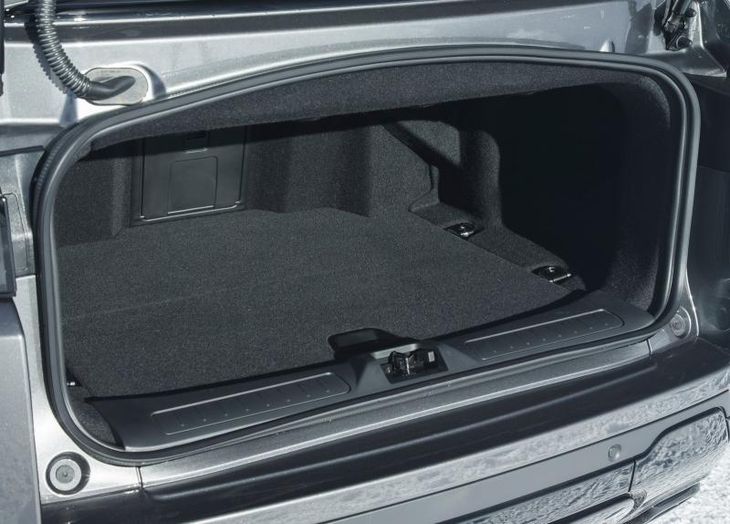 Boot size has been reduced to accommodate the roof mechanism. The rear seats don't fold down either.
Yes, it can go off-road
The Convertible name does not mean this Range Rover holds back in the off-road stakes. It features all-wheel drive and impressive approach, break over and departure angles of 19, 18 and 31 degrees, as well being able to wade through 500-mm deep water. The vehicle comes with Land Rover's Terrain Response system that offers modes like Grass/Gravel/Snow, Mud and Ruts, plus Sand; we put the Evoque Convertible through its paces at our local 4x4 track and it proved quite capable. Click here or watch the video at the end of the article.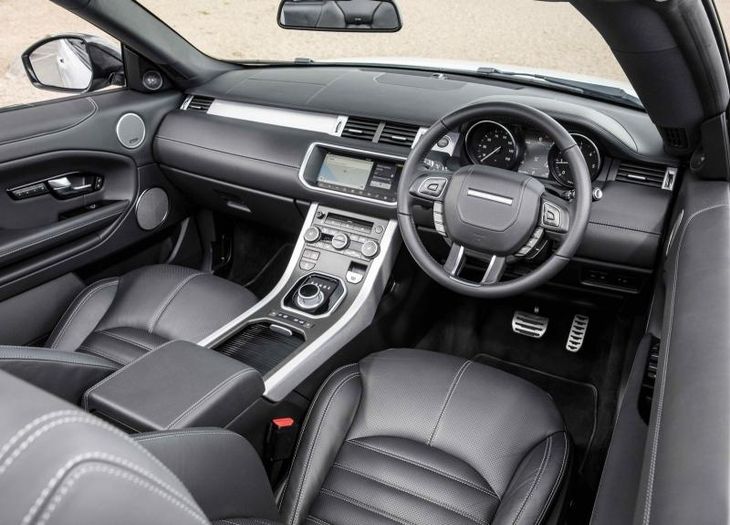 Forget the convertible aspect for a minute. This is business as usual for the Range Rover Evoque: luxury and quality galore.
The specification is exceptional
Range Rover offers its Evoque Convertible in HSE Dynamic specification, which means it is comprehensively equipped. Xenon headlights, In Control Touch Pro (with navigation) and a Meridian audio system are some of the notable adornments, but we'd be remiss not to mention the optional Tech Pack, which includes: driver assist plus, adaptive LED headlights, adaptive cruise control, and head-up display. Meanwhile, the leather-trimmed cabin is impressively finished and quality surfaces and luxury trim accents abound.
When you get into the vehicle, you'd be forgiven for forgetting that you're ensconced in something as outlandish as a convertible SUV. This Evoque is still a Range Rover – a quality offering in terms of cabin appeal, front passenger comfort and features. Rear legroom has been sacrificed in the vehicle's repackaging: the rear bench is only suitable for children.
The not so good
Indifferent ride quality
Despite its manufacturer's attempts to compensate for a loss of structural rigidity (due to the absence of a fixed roof), the Evoque emits trim rattles when it traverses uneven surfaces and resonances present themselves at higher speeds. Drive over a pothole or a rut in the road, and you'll hear creaks. The car also doesn't like to be driven hard; it's best suited to slower, more gentle drives. This is difficult for us to understand, because the 3- and 5-door Evoques offer good on-road composure, with refinement gently melded with a touch of dynamism.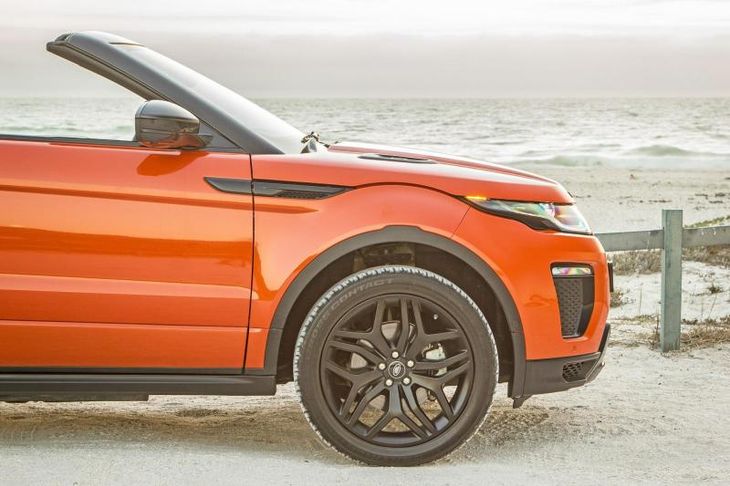 The lack of a solid roof means the car can rattle across poor roads. Stylish gloss black alloys add even more presence.
It's thirsty and less practical
There's only 1 engine in the range: a familiar 2.0-litre turbocharged 4-cylinder petrol motor with peak outputs of 177 kW and 340 Nm. However, the aforementioned under-the-skin reinforcement adds to the kerb weight and with 2 tonnes to lug around, the car isn't going to deliver the sporty drive we were hoping for. Still, Range Rover claims 7.0 seconds for the 0-100 kph sprint, but it felt closer to 8.5 seconds. However, we can understand why this engine was preferred to a turbodiesel, who wants to endure the sound/smell of the latter with the top down?
The biggest gripe we have with this motor is that it's not economical. Past experience with a similarly-engined Jaguar XF highlighted how thirsty this mill can be. It's claimed to return 8.6 L/100 km, but that's a highly unlikely figure. We could only manage around 12.0 L/100 km, but if you can afford to buy the beast, you can probably afford to feed it too... as they say.
Meanwhile, the boot space has been reduced in order to make space for the folding roof mechanism (it can be deployed and retracted in 18 and 21 seconds, respectively), but the loading space is deep enough to swallow a big suitcase loaded sideways.
Price and warranty
The Range Rover Evoque Convertible retails for R1 031 634, which includes a 3-year/100 000 km warranty and 5-year/100 000 km maintenance plan.
Verdict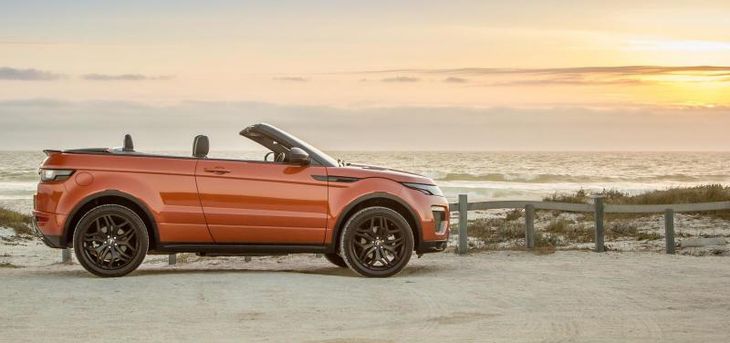 An Evoque Convertible in its natural habitat: at the beach and watching the sunset in style.
First and foremost, we applaud Jaguar Land Rover for being so bold as to produce the Evoque Convertible. It is certainly an oddball in terms of the brand's broader product offering, but if this Range Rover looks smart with the roof up, it's nothing short of breathtaking with its top down. While we initially scoffed at the idea of the Convertible, we came to like and appreciate the vehicle during its week-long tenure: its eccentricities are charming at best and subjective at worst. We knew it wasn't going to be perfect, but somehow, the car endeared itself to us.
The price raised a few eyebrows, especially because the package is so compromised, but in a rarefied market where the novelty factor and exclusive luxury are important, buyers who fall in love with the Evoque Contvertible will be quite prepared to pay for it... and live with its quirks. We've seen a few Evoque drop-tops in and around Cape Town, which underlines the fact that this low-volume car is very desirable. Indifferent ride quality, rattles and poor fuel consumption aside, you're still getting the badge appeal of a Range Rover, which is what many crave.
Watch Ciro de Siena put the Range Rover Evoque Convertible through its paces below:
Related content:
Range Rover Evoque Convertible (2016) First Drive
World Car of Year (2017) Jaguar F-PACE [Review]
Mercedes-AMG C63 S Cabriolet (2017) Quick Review
Mercedes-Benz SLC300 (2016) Review
Mini Cooper Convertible Auto (2016) Review
Ford Mustang 2.3 EcoBoost Convertible Automatic (2016) Review
Interested in buying a Range Rover Evoque?