To sportscar purists, the idea of a high-performance cabriolet is an anathema, but for those who want to make the maximum status statement and fill the air with expensive mechanical noise (while the winds wisps through their hair), the Mercedes-AMG C63 S ragtop strangely… makes sense.
We Like: It's an unapologetic head-turner, profound soundtrack, brutal performance
We Don't Like: Ride quality is firm (at best), compromised packaging
Alternatives:
The old foe: We've only sampled BMW's M3/M4 Competition Package in sedan guise, but can imagine that the so-equipped M4 Convertible would be a hoot, even if it's not the most dynamic member of the Bavarian sportscar family. The metal folding roof will be an advantage over the Benz's fabric setup, in some people's eyes.
For more sportscar cred: It may cost more than R100k more than the muscle-bound Benz, but the Porsche 911 Carrera S Cabriolet is closer, in terms of straight-line performance, to the C63 S than its cheaper Carrera sibling. Furthermore, a 911 leaves no-one in doubt of the car's sporting credentials.
The Yankee wildcard: The Ford Mustang 5.0 GT convertible auto is not in the same league in terms of technical sophistication, build integrity or dynamism, but seeing that it costs less than R1 million, you could still add a Ford-approved Stage 3 Roush kit, pushing power up to 500 kW, to get to the Benz's price. It should make a magnificent racket.
Compare the specifications of the Mercedes-AMG C63 S with those of the BMW M4 Convertible Competition Package and Porsche 911 Carrera S Cabriolet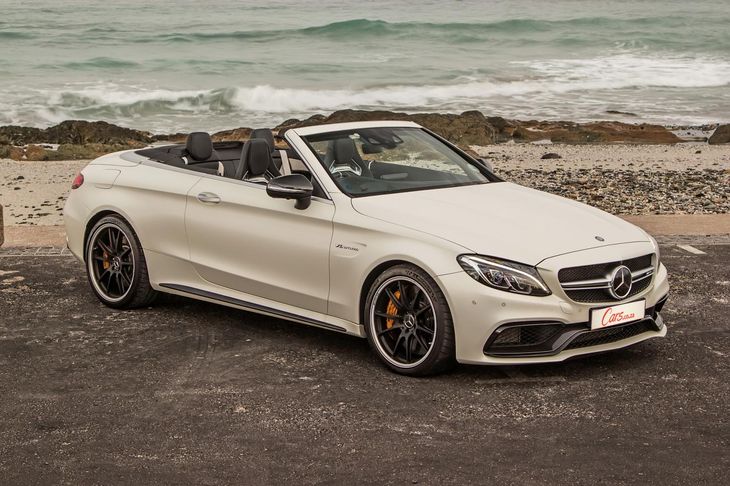 The AMG Exterior Carbon Package II adds a significant number of motorsport-inspired addenda and accents to the C63 S.
Facts & figures
Price: R1 586 672 (April 2017)
Engine: 4.0-litre V8 turbopetrol
Transmission: 7-speed automatic
Power: 375 kW
Torque: 700 Nm
Fuel Consumption: 9.3 L/100 km (claimed)
Top speed: 250 kph (280 kph with AMG Driver's Package)
0-100 kph: 4.1 sec
Read a previous review of the Mercedes-Benz C220d Cabriolet
The Good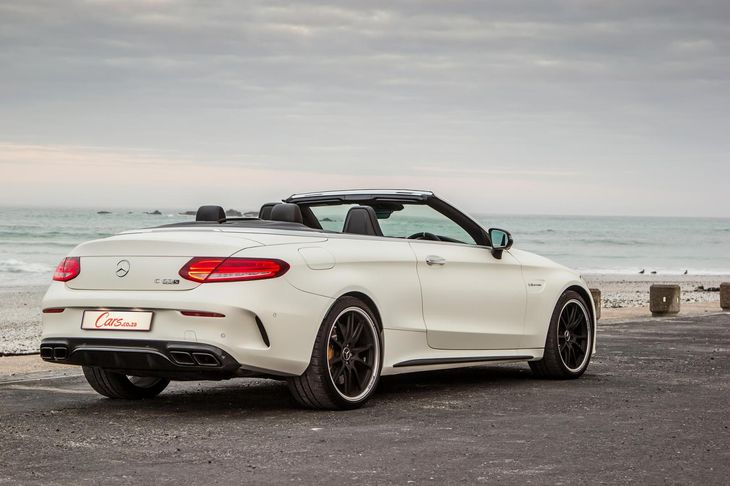 The AMG versions of the C-Class Cabriolet have especially broad rear arches, which make the car's stance very purposeful.
Boulevard bruiser looks
It's hard to believe that from the C-Class Cabriolet's elegant and supple lines Mercedes-AMG could fashion such a muscular performance derivative. Benz's Affalterbach-based performance division has ramped up the C63 S's kerb presence through the addition of purposefully sporty addenda; the fenders are elaborately flared to wrap the 19-/20-inch 10-spoke black alloys and the front apron, for example, features lashings of carbon fibre trim courtesy of the optional AMG Exterior Carbon Pack II, as do the side skirts, side mirrors and rear exhaust tip surrounds.
Yet, perhaps partly because of the resplendent pearlescent Magno White paint finish, which contrasts the carbon addenda tastefully, the C63 S looks just short of utterly ostentatious. To make the look even more impactful, those bronze-coloured brake calipers reveal the fitment of a carbon ceramic braking system, which provides additional, fade-resistant braking ability.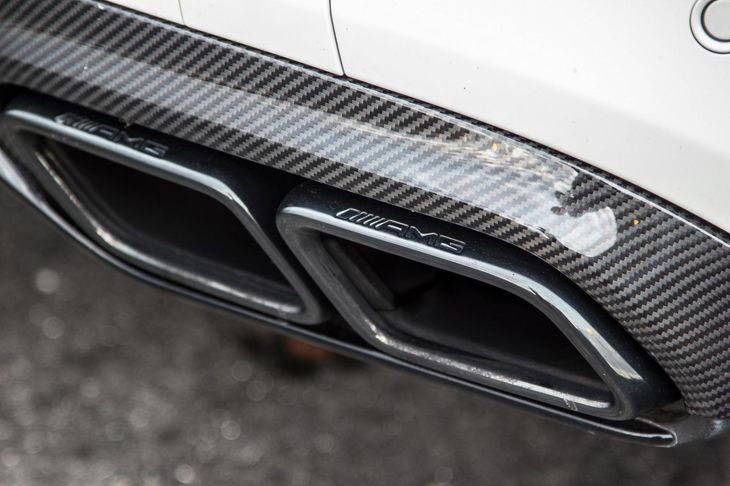 If you're going to go... The AMG Sports Exhaust system produces a variety of petrolhead-pleasing noises. It's a must-have option.
Much sound & fury
It's a good thing Mercedes-AMG specced the test unit with those high-performance discs, because courtesy of the twin-turbo 4.0-litre V8, tuned to produce peak outputs of 375 kW and 700 N.m of torque and the additionally specified AMG Driver's Package (which pushes the top speed up to a ludicrous 280 kph), immense stopping power is a necessity!
Zero to 100 kph comes up in a smidge over 4 secs (if road conditions allow for optimal acceleration) and suffice to say the Benz overtaking ability is normally ferocious and upon applications of full throttle, nothing short of brutal.
But for those who want to drink in the broody V8's burble with the top down as they drive through trendy/sociable spots round town, or desire an al fresco exhaust note experience where the 4-litre's throaty engine sound can be unleashed to reverberate freely, the AMG Performance exhaust will oblige. Featuring a trio of variably adjustable exhaust gas flaps, the exhaust system changes the sound of the motor to suit the selected drive program or can be made louder/softer at the press of a button.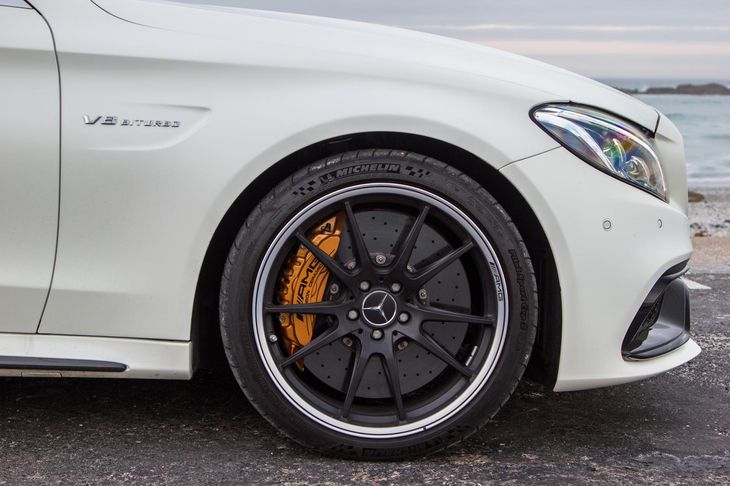 The carbon ceramic braking system seems overkill on an (albeit brawny) boulevard cruiser... but it's devastatingly effective at stopping the rapid Benz.
With apologies to a certain brandy manufacturer, the engine sounds "rich and rewarding" in Comfort and Sport modes, but in the Sport + and Race settings, the motor emits a racy double declutching effect and raucous pops on overrun, respectively. Of course, the latter modes heighten the throttle responses and make the shift patterns more abrupt/aggressive, which are impractical for general driving conditions, but thankfully the Individual mode allows such settings to be set to Comfort while the exhaust is set to "borderline obnoxiously loud".
To be fair, the exhaust settings are well matched to the respective modes; the C63 S functions well within its performance envelope (from demure to enraged and everything in between), but only up to a point – more about that later.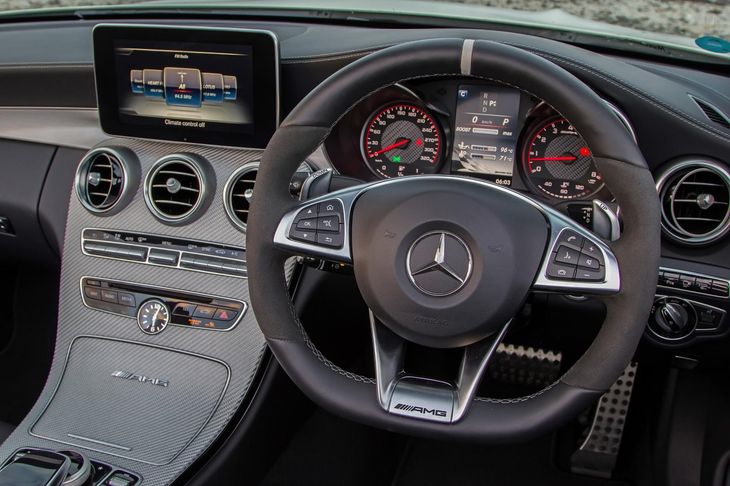 The C63 S' interior lacks little for sportiness, yet the shiny matt silver "glass-fibre look" fascia is an acquired taste.
A plethora of luxury features
As befitting the flagship derivative of the C-Class, not least a car costing just shy of R1.6 million (April 2017), the C63 S has a lavishly equipped interior, which, in the case of this test unit, was adorned with a stitched Nappa leather dashboard, AMG Performance seats, AMG matt silver fascia trim and a host of other extras, including 360-degree camera, head-up display, Distronic Plus radar-guided cruise control with corrective steering and heck, for good measure, a fragrance atomising function.
The sculpted AMG Performance seats, replete with ornate brushed metal accents, certainly looked the business and were supportive when occupants needed to be held in situ when the AMG tackled the twisties, but they forego the Airscarf climate control ventilation function and are perhaps too low and bucketlike for the purposes of providing optimal everyday driving comfort. The glass-fibre trim was also a little too blingy for some testers' tastes, but then again, the C63 S is a car for well-heeled extroverts who want maximum "wow factor"!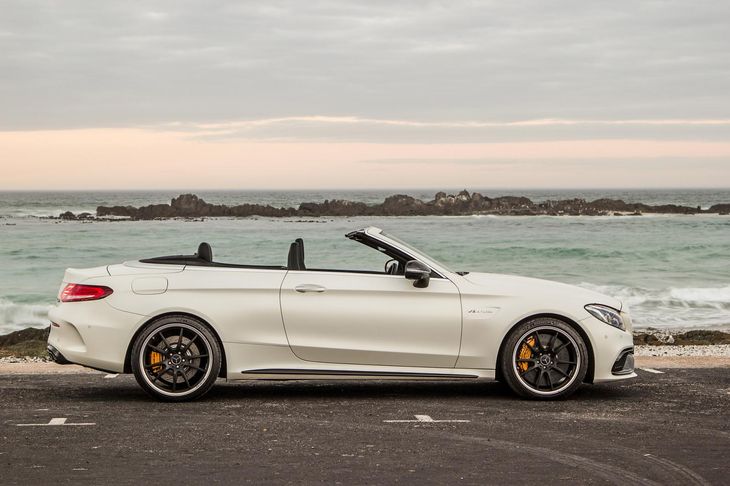 The C63 S' general ride quality is not a strength... but does its performance potential justify the compromise?
The not so good
Harsh ride
While many will argue, with some merit, that the C63 S is an overt sportscar (albeit one developed from a fashionable business class coupe) of which potential buyers will accept foibles such as a sporty ride quality, the fact remains that even in Comfort mode, the AMG's low-profile rubber and asphalt-kissing ride height contrive to highlight road imperfections with ridiculous ease.
Although the on-road demeanour of the C63S could never be accused of being crashy, the tightly-sprung suspension feels somewhat nervous on anything but moderately smooth tarmac; cats eyes and rumble strips, let alone pockmarks are best avoided. To balance that criticism, to the majority of buyers, even those who regard themselves as driving enthusiasts, the Benz handles better than most cabriolets would; how often ragtops are expected to carve up mountain passes is a moot point, however…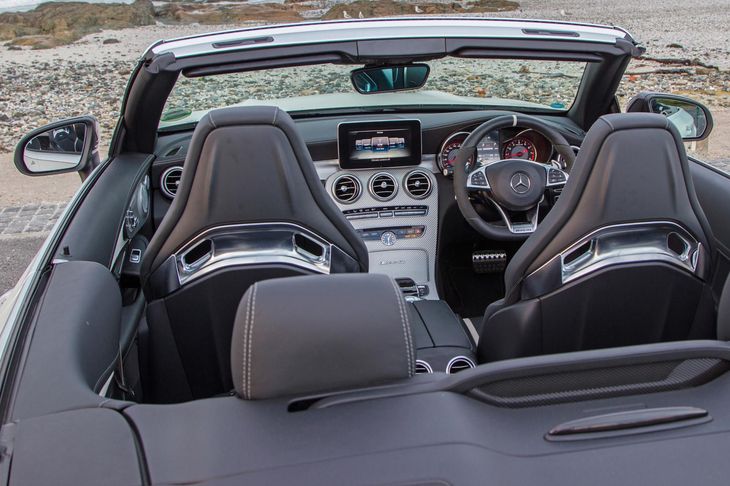 Rear legroom is tight, but bearable over short distances... if the front occupants are willing to sacrifice a bit of comfort, that is.
Compromised packaging
While the folding fabric roof takes up less boot space and adds less weight than an intricate glass and metal assembly (as offered on the rivalling BMW 4 Series Convertible) would, the C63 S is, in all likelihood, much less likely to be used on longer trips where it would need to accommodate four occupants and their luggage, than a sedan. Having said that, access to the rear bucket seats is tight on account of the location of the door jambs. To remedy that problem it is best to lower the roof and windows completely, which allows rear passengers to step into the rear rather than enter bums-first when the roof is up.
Furthermore, Mercedes-AMG and its parent company evidently strengthened the C-Class Cabriolet's shell to make up for the loss of rigidity due the absence of a hard top. Nonetheless, the C63 S still emitted the odd creak when driving over uneven surfaces and hints of sound resonance were apparent in the interior at higher speeds.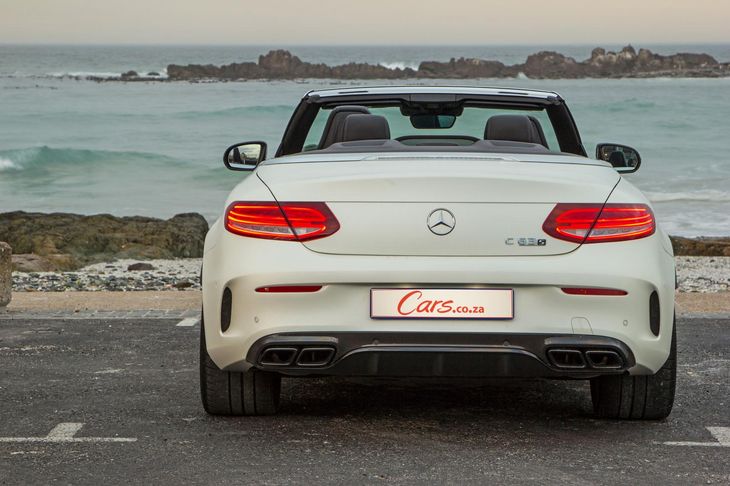 The flagship version of the C-Class Cabriolet makes little practical – or, seemingly, commercial – sense, but it's not meant to.
Verdict
It's an unadulterated fact: the Mercedes-AMG C63 S Cabriolet is for a very specific buyer – one who seeks the most powerful motor in the C-Class arsenal combined with the exotic appeal and sensory pleasure that only an open-topped car can offer. At the asking price of R1.6 million (in standard trim), those who prefer the sonorous, eminently characterful tones of the Benz's 4.0-litre V8 over the metallic growl of a 3.0-litre straight-6 (in the sports exhaust equipped BMW M4 Convertible Competition Pack) could justify the AMG's near-R90k price premium over the Bimmer, but if you seek a pukka sportscar, it's arguably worth paying even more for a Porsche 911 Carrera S Cabriolet.
But we don't believe an AMG C63 S ragtop buyer is a sportscar aficionado, and that's a problem, because when an owner has driven all the routes with their car's top down that they were planning to drive before they bought the car, shown their pride and joy off to all their friends, peers and envious neighbours and made the engine bellow through its entire vocal range ad nauseum, what they're left with is an exquisite luxury cabriolet, which is lovely, of course, but it's a helluva expensive one.
Logic dictates that the recently introduced C43 AMG derivative, with its turbocharged 3.0-litre V6 (270 kW, 520 N.m) represents a far better value offering (at half a million less) for those who seek extra performance from the Mercedes-Benz C-Class Cabriolet package. Having said that, a typical C63 S owner might frown at the sight of a C43 Cabriolet parked near their car and remark dryly: "Ag shem, they could not afford to buy the big one…"
Related content:
Mercedes-Benz C220d Cabriolet (2016) Review
Mercedes-Benz C-Class Cabriolet – Specs and Pricing in SA
Unveiled: Mercedes-Benz E-Class Cabriolet [with Video]
Mercedes-Benz S-Class Cabriolet (2016) First Drive
Want to buy a Mercedes-Benz C-Class Cabriolet?