The Range Rover Evoque Convertible, branded as the "world's first luxury compact SUV convertible" is now available in South Africa. It's arrived just in time for summer, but how much does making such an emphatic style statement cost you? More than a million...
Based on the Evoque's cachet as a status symbol, let alone the Convertible version's sensational appearance, Range Rover's first convertible model is clearly earmarked for stylish professionals who want to be seen. It's a vehicle that makes you look instantly cool and fashionable, more so if it's in an eye-popping colour such as orange or red. In our opinion though, the white looks best: classy and elegant.
The Evoque Convertible comes in one specification; a 2.0-litre turbopetrol HSE Lux. At the launch in Pretoria last week, I got to drive the newcomer in automatic guise and in standard trim. Standard features on the HSE Lux include Xenon headlights, In Control Touch Pro with navigation, and Meridian analogue audio, while a digital audio system is optional, as is a technology package that incorporates driver assist plus, adaptive LED headlights, adaptive cruise control, infrared reflective windscreen, and a laser head-up display. Other cosmetic choices include 17 paint colours; 7 interior colourways; 10 wheel options; and heated and cooled seats.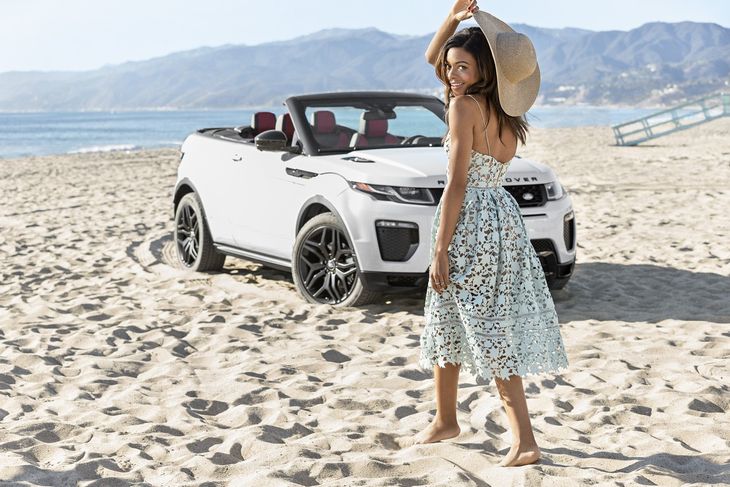 Actress Naomie Harris, the star of recent James Bond films, shares the frame with the exquisite Evoque Convertible.
A convertible for all seasons
Seeing as this particular Range Rover is regarded as the "convertible for all seasons", we got to drive it both in the city, and off-road towards the Cradle of Humankind, which makes it ideal for those who want to be seen in the right places, and still be able to take it on weekend getaways with ease.
It has the same distinct look and award-winning elegant design of the Evoque, except in a convertible configuration. Inside is every bit luxurious as you'd expect from a Range Rover, with enough storage compartments. The boot is decently-sized and slightly on the narrow side, but then again, you're not buying this Range Rover for its purported practicality. It's a 2-door 4-seater based on the 3-door Evoque Coupé, featuring a fabric roof with a Z-fold mechanism that sits flush when lowered.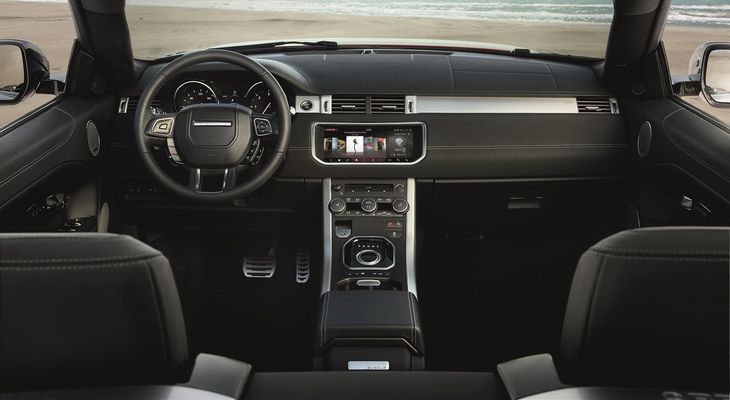 The convertible incorporates the latest-spec Evoque switchgear... including the Control Touch Pro system.
You need to be travelling at a speed of less than 50 kph in order to operate the roof mechanism (the automated ragtop goes down in 18 seconds; and deploys in 21 seconds). Jaguar Land Rover says the fabric roof on the Evoque Convertible is currently the longest and widest fitted on any vehicle on sale today.
Not for shy types
While driving along the highways in Gauteng, 1 thing was obvious – the Evoque Convertible is a head-turner. To drive a car like this, you need to be able to handle the attention at all times. There weren't any creaks discernable, which is impressive considering the car lost a critical part of its structural rigidity – its metal roof.
However, driving any convertible is going to sound noisy with the buffetting wind, but the drive along the highway at around 120 kph in Sport mode was more enjoyable than I expected, especially with the excellent sound delivered by the 380W Meridian sound system, with its subwoofer and 10 speakers. This, along with In Control Touch Pro (and its built-in hard drive to house all your music) that was first introduced on the F-Pace earlier this year, comes standard in the Evoque Convertible.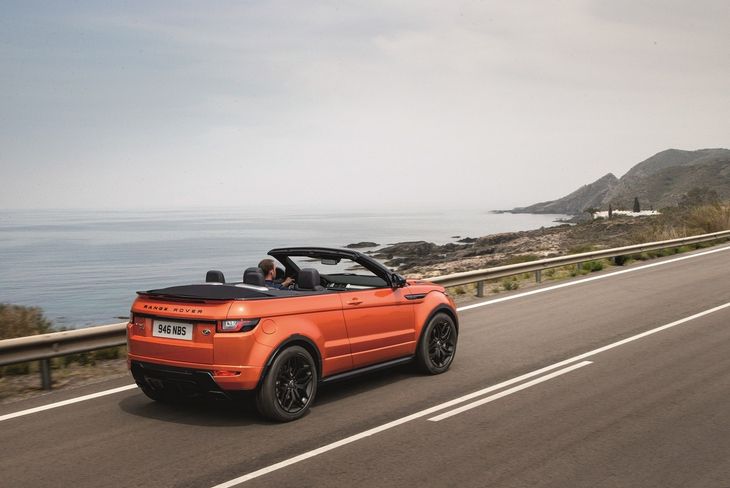 The Evoque Convertible's profile is certainly distinctive... will this be the first of a new generation of topless SUVs?
When overtaking on the highway, Sport mode is the way to do it. Having said that, I did expect more "oomph" from Sport mode, which suggests that the strengthening that Land Rover applied to the Convertible certainly added weight to the vehicle; the engine is willing, but less than muscular. Driving off-road was a comfortable ride, both with the roof up or down.
Evoque Convertible price in South Africa
The 2L HSE Lux petrol Evoque Convertible pricing starts at R1 002 400. Extras available separately. It comes standard with a 5 year / 100 000km warranty and maintenanc
Summary
Overall, the Evoque Convertible is a fun car for both urban and off-road locations, especially when it's you and three friends with the top down. If you're stylish and thrive on being seen at the right places at whatever cost, the Evoque Convertible is the car for you. However, that cost would be more than a cool R1-million! We suspect the intended clientele won't mind that...
Related content:
Mini Cooper Convertible Auto (2016) Review
Ford Mustang 2.3 EcoBoost Convertible Automatic (2016) Review
Mercedes-Benz S-Class Cabriolet (2016) First Drive
Mercedes-Benz C-Class Cabriolet – Specs and Pricing in SA
Mercedes-Benz SLC300 (2016) Review
Interested in buying an Evoque?