The Ford Mustang has been exceptionally well-received in South Africa and the rumbling 5.0-litre V8 GT Fastback version has garnered most of the attention – but what about the 2.3 EcoBoost motor in convertible automatic guise? Does the EcoBoosted 'Stang offer enough kick? We find out…
We Like: Head-turning styling, cruising ability, drivability
We Don't Like: Interior build quality, lurchy transmission
Alternatives
For something more premium: You may want to consider the Mercedes-Benz E250 cabriolet (R802 720). The E250 is powered by a 2.0-litre turbopetrol engine that offers 155 kW and 350 Nm of torque. Despite being outmuscled by the Mustang, the Benz is stylish too and its interior build quality top notch. Much of the same can be said for the Audi S3 Quattro cabriolet that offers 206 kW and 308 Nm of torque from its 2.0-litre turbo engine and comes at a price of R699 500. These alternatives, however, don't exhibit the same character as the Mustang.
For more power: The Mustang offers a solid power output of 233 kW, but for almost R80 000 less you can buy the Infiniti Q60 GT cabriolet (R701 687) propelled by a 3.7-litre V6 engine capable of 235 kW and 360 Nm. If you want more power than that, you will have to fork out much more money for something like the BMW 440i Convertible for R895 446.
Compare the Ford Mustang 2.3 Ecoboost Convertible with the Mercedes-Benz E250 Cabriolet and Infiniti Q60 3.7 GT Premium
Mustang drops its top
Since its arrival in South Africa, the Mustang has received undivided attention from musclecar fanatics, the motoring media and the general public. Not too long ago, we tested the Mustang 5.0 V8 Fastback Automatic and found it to be enthralling to look at and surprisingly engaging to drive. Despite its shortcomings, it proved hugely pleasurable to pilot and its road presence is near-impossible to match – it's guaranteed to get more attention that far more expensive exotic machinery. These facts translate into excellent business for Ford, who can't import Mustangs fast enough. For prospective buyers, however, the frustration is all too real as every incoming example is accounted for, for at least for the next two years...
Nonetheless, purists will undoubtedly bemoan Ford's decision to plant a 4-cylinder 2.3-litre EcoBoost engine into the engine bay of what is supposed to be a dyed-in-the-wool "there's no replacement for displacement" musclecar. This "downsized" Convertible begs the question: is the EcoBoost motor worthy of dancing in a Mustang or does it do the product an injustice?
Read our opinion piece: The Mustang Effect
How does it fare in...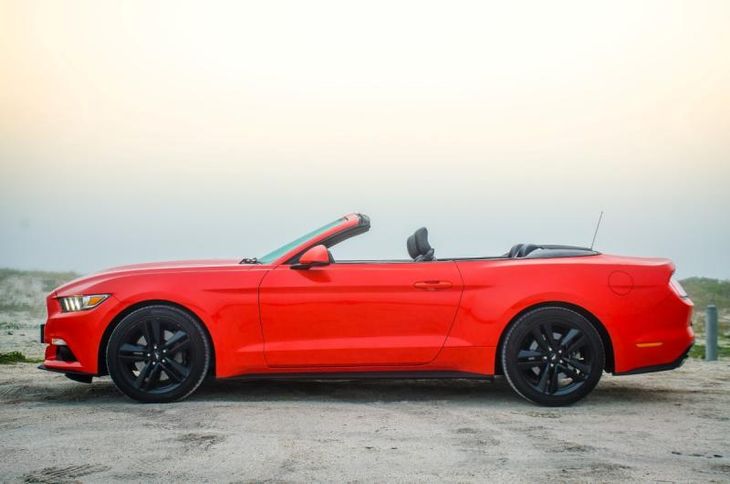 The Mustang has lots of road presence and will attract many onlookers.
Head-turning ability?
If you crave attention wherever you are driving, then this Mustang Convertible will serve you well, because it garners gawks and draws envious glances at every turn (just like its tin-topped, V8-engined brother). In terms of design execution, the Mustang hits the sweet spot with its muscular bonnet and menacing grille, flaring wheel arches and that sinfully curvy posterior. The Convertible version of the 2.3 EcoBoost Mustang, in particular, is less about performance and more about ostentatious showboating while the wind ruffles your locks.
Apart from the electrically operated folding fabric roof, there are but small differences in design between the Fastback and (this 2.3 Ecoboost) Convertible derivatives. The grille, air intakes and badging are key differentiators between the variants and untrained eyes could easily miss them.

The Convertible is 12 kg heavier and stands 13 mm taller than the Fastback and South African Mustangs are fitted with a Performance Pack as standard, which includes 19-inch alloy wheels, a limited-slip differential and a performance braking system to bring all that pretty metal to a stop. In the looks department, then, the Mustang Convertible is a stunner.
Watch our video review of the Ford Mustang 5.0-litre V8 Fastback below:

Power delivery?
Yes, there's no V8 in this Mustang and the eerie lack of a beefy burble upon start-up confirms it. Before your head drops in sorrow, you will be pleased to know that this 2.3-litre lump offers significantly more punch than you'd expect. With 233 kW and 430 Nm on tap, the engine is more than capable of propelling the 2-tonne Mustang (2 041 kg) forward with fervour.
Out of interest, the BMW 440i Convertible with its turbocharged 3.0-litre straight 6 engine offers only marginally more power and torque (240 kW and 450 Nm), but costs significantly more (R895 446). In other words, this Mustang convertible overpowers most of its closest alternatives (at its list price) and therefore represents good bang-for-buck.
The 2.3 EcoBoost Convertible is only offered with a 6-speed automatic transmission, but the driver has steering wheel-mounted shift paddles at their disposal to actuate manual 'shifts. The transmission can be lurchy and indecisive in response to staccato throttle inputs, especially in Sport mode, but it does perform serenely when cruising under the command of a sensible right foot. Cruising, as opposed to outright performance, is something this Mustang Convertible excels at; buyers will appreciate its manageable and easy-going demeanour.
Nonetheless, this Mustang can gallop if it needs to. A linear and even feed of power from the 2.3 results in brisk acceleration and even though the powertrain is aurally subdued, there's always enough power to keep you smiling. The Convertible also has the propensity to kick its rear end askew, as we discovered, which adds to the thrill of finding the handling limits.
Ride and handling
Convertibles lack the structural rigidity of the coupe bodies on which they are based. As a result of the absence of a solid roof – as well as B- and C-pillars – their body shells are more inclined to flex while the cars traverse undulations in the road or when their weight balances shift in dynamic driving conditions. Ford has, however, increased torsional rigidity by 13% in this Convertible to make it sturdier and, aided by its pliant independent rear suspension, the Mustang copes well with bumps and ruts in the road and delivers a comfortable drive overall.
Body roll is evident under cornering, but the steering feels relatively accurate and direct and once the Mustang is set up for (and settles into) a corner, it holds its line reliably and lays its power down with confidence. The 5.0 V8 GT is palpably more suited to tackling bends, but this convertible proved to be more than capable, even though it lacked a degree of outright sharpness. The driver can also adjust the steering feel according to the driving situation and three settings (including Normal, Comfort and Sport) are available. For the everyday commute, you will find this Mustang Convertible suitably sprung to cope with most road surfaces, barring the odd pothole, which can translate to the cabin through a firm jolt.
Fuel economy?
The inclusion of the 2.3 EcoBoost engine in the Mustang makes sense if you wish to strike an acceptable balance between performance and economy. Whereas the 5.0 V8 Mustang is unashamedly thirsty and consequently more costly to run, this EcoBoost engine returns more favourable consumption figures on a daily basis. During the Mustang Convertible's test tenure, we averaged 10.8 L/100 km and the best figure we achieved was 9.6 L/100 km, which compares surprisingly well with Ford's claimed consumption figure of 9.8 L/100km.
Although these numbers are better than those of the 5.0 V8, many would argue that the loftier performance offered by the bigger-engined version outweighs its heavier "drinking habit". That view might be understandable if you're a die-hard V8 fan, but this EcoBoost engine extends the Mustang's appeal to a wider market, who see general usability as the biggest priority.
Practicality?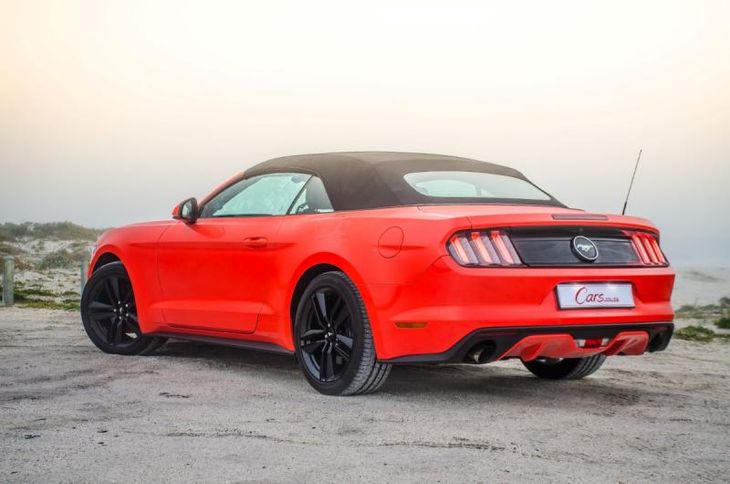 The fabric roof folds away in under 10 seconds and space for rear passengers is minimal.
Regarded as a 2+2, this Mustang Convertible comfortably accommodates front occupants and although there is space for a pair of rear passengers, adults of any size will find the bucket seats a trifle uncomfortable, mainly because legroom is severely compromised.
The electronic Z-fold fabric roof is locked into place using a latch in the headliner and once released, the roof opens and closes in well under 10 seconds. When the roof is down, two plastic panels require fitting to hide the underlying roof mechanicals – not the most flattering solution in our opinion. When the panels are not in use, they can be stored behind the front seats or in the boot.
The Mustang's boot is more capacious than you'd expect, but because space is required to store the roof, luggage capacity in the convertible version shrinks to 332 litres while the Fastback version offers a sizable 408 litres.
Another aspect of the Mustang that you need to be mindful of is its sheer size. It has a large turning circle and that means manoeuvring the Mustang in the street requires extra attention and effort to avoiding kerbing the wheels, or worse, hitting a pole or stationary vehicles.
Comfort features?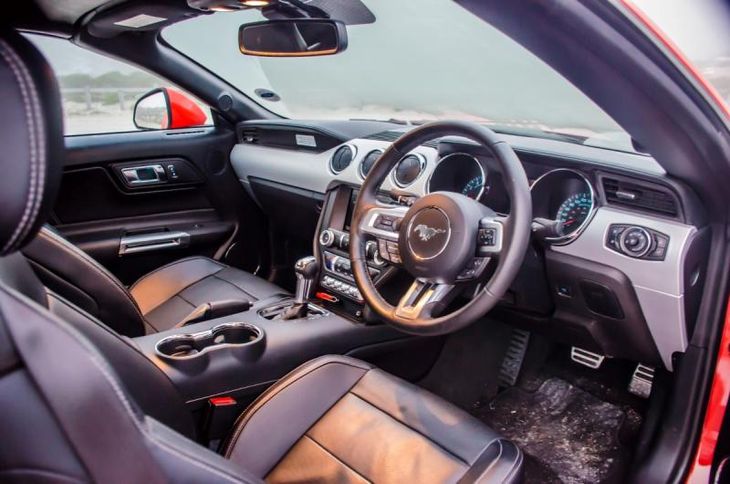 Plastic finishes dominate the Mustang's interior, but it's a comfortable place to be.
The Mustang has been widely criticised for having a poorly constructed and rather plain interior that's trimmed in too much hard plastic – at least given its lofty asking price. This is true, to a point, and even so we feel the interior design suits the macho personality of the Mustang and doesn't drastically detract from the overall offering.
The Convertible makes up for these shortcomings by offering a host of features that make every drive a comfortable experience. Some notable features include cossetting electrically adjustable seats with heating and cooling functions, dual-zone climate control, cruise control, keyless entry, electric windows and rear parking sensors with a reverse-view camera.
The Mustang is also fitted with Ford's SYNC2 infotainment system and an 8-inch touchscreen that allows for Bluetooth connectivity, audio streaming and control of certain vehicle functions. The system is relatively simple to use but navigation is sadly not included. Buyers will also find the USB and Auxiliary slots useful for charging or connecting devices.
In terms of safety, the Mustang is equipped with ABS with EBD, electronic brake assist, traction control, stability control and a total of four airbags.
Ford Mustang 2.3 EcoBoost Convertible price in South Africa
This derivative costs R779 900 and is sold with a 4-year/120 00 km warranty and 5-year/100 000 km service plan. Service intervals are set at 20 000 km.
Verdict
The Mustang is a unique offering in South Africa that boasts inimitable macho appeal and virtually unmatched road presence. The 5.0-litre V8 Mustang GT Fastback may be the pick of the litter, but this 2.3 EcoBoost Convertible has oodles of charm and its performance both surprised and impressed us. It's comfortable and easy to drive with enough power to deliver spirited performance when required. The EcoBoost offering is clever, as many buyers will appreciate savings at the pumps while still having access to solid cruising performance.
The Mustang's pitfalls (a less-than-special interior and somewhat lethargic automatic transmission) are unlikely to matter much to the hordes of fanatics who are still lining up to purchase the right-hand-drive Mustang and even though there are more refined products on the market, none of them offer the same visual and emotional appeal as the Ford. If oodles of kerb appeal and wind-in-your-hair (but versatile) cruising ability is what you're looking for in a car, then the 2.3 EcoBoost Mustang Convertible may be the car you.
Ford Mustang 2.3 EcoBoost Convertible Auto - Quick Specs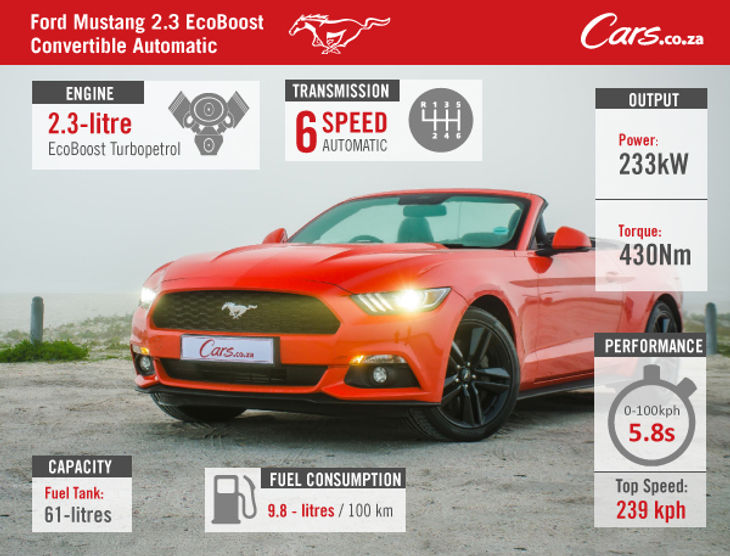 Interested in buying a Ford Mustang?