With a new nomenclature, an updated powerplant and a revised exterior design, the Mercedes-Benz SLC is set to continue the legacy of the German marque's compact roadster (with a folding metal roof). Let's get under its skin.
We like: stylish and classy, build quality, refined cruiser
We don't like: cramped for taller folk (some testers had to set the driver seat all the way back)
Alternatives:
For similar money: BMW Z4 sDrive28i M Sport auto.The arch-rival to the Mercedes-Benz SLC. It offers more enthusiasm and six-cylinder engines, but it is getting on in years.
For more performance: Porsche 718 Boxster PDK. Porsche's new four-cylinder roadster has arrived. The Boxster has a reputation for being the driver's choice, but it is a tad more expensive than the Benz and BMW. We haven't tested it yet...
For more exclusivity: Jaguar F-Type convertible. The F-Type offers glorious noise and breathtaking looks, but it's considerably more expensive than the SLC.
See how the SLC300 stacks up against the BMW Z4 and Porsche 718 Boxster PDK.
A rose by any other name...
The Mercedes-Benz SLK was one of those iconic vehicles that oozed style and presence. While petrolheads scoffed at the lack of outright performance from the non-AMG models, there was something oh-so-appealing about a fashionable boulevard-cruising compact Benz roadster. Now for 2016, Mercedes-Benz has rung the changes.. beginning with the name.
This may appear to be an SLK, but it's the Mercedes-Benz SLC300 AMG-Line, to give its full title. Much like the rest of Benz's line-up, names are changing as part of a new strategy. GLK became GLC, GL became GLS and so on. The Mercedes-Benz SLK itself is not an old product, with a recent revision taking place back in 2012. The SLC is, therefore, not an all-new model, but rather an extensive facelift. The local line-up consists of three petrol engines; SLC200, SLC300 (tested here) and the twin-turbocharged Mercedes-AMG SLC43.
How does it fare in terms of…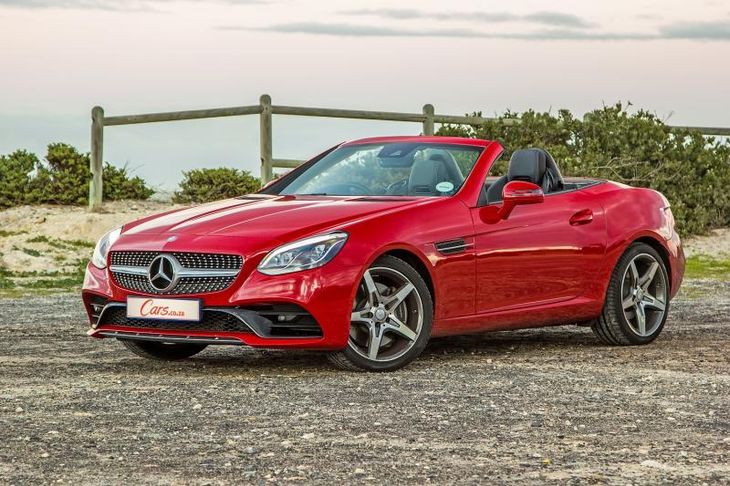 A new name, a new engine and a new face make the SLC distinct from its older SLK sibling.
Style?
The new look is undoubtedly easy on the eye. The front end receives new headlights, a redesigned grille and a reworked bumper. The diamond-style grille, in particular, is a classy touch and drew several admiring glances from observers. This unit came with a striking red paint job, and the standard 18-inch five-spoke alloy wheels further bolstered the SLC's visual appeal.
The cabin has also received some Botox and there are some youthful touches dotted around the interior. There's a new-look steering wheel, the instrument cluster has been updated, there is a raft of shiny aluminium accents are the gear selector is embossed with SLC letting. The seats are sporty and supportive, and the cabin offers more space than the compact exterior dimensions would suggest. However, if you're nearly 2.0 metres tall (which is the case with a couple of our testers), you'll find yourself sliding the driver's seat all the way back before you're comfortable. This results in the leather seat then rubbing against the bulkhead which makes an irritating squeaking noise.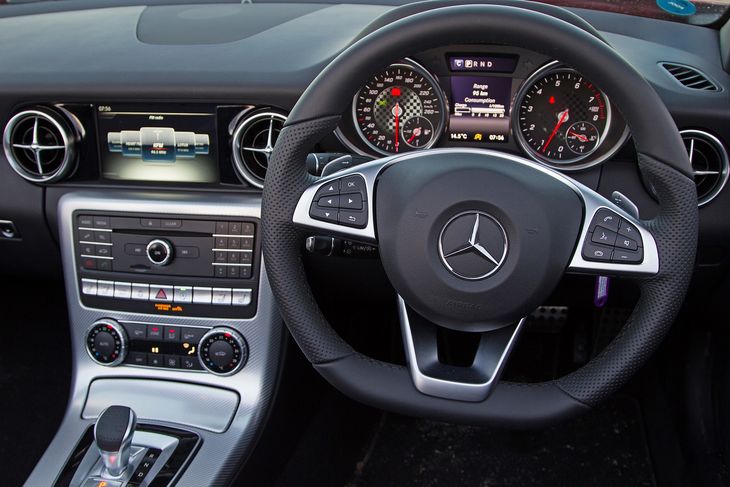 The redesigned dials lend a racy edge to the SLC's instrument binnacle.
Performance?
The 2.0-litre direct-injection turbopetrol motor that we've recently experienced in both the C-Class sedan and C-Class coupe again does duty in this SLC300. We've previously noted that the motor feels considerably restrained and, at times, felt an unwilling participant in situations that were conducive to enthusiastic driving. Thankfully, Mercedes-Benz has tweaked the powertrain for its application in the SLC and given it a sportier note and attitude, which is evident when Sport+ mode is activated... the exhaust has a perceptibly deeper tone to it.
Most modern 4-cylinder engines sound a bit bland (it was the Volkswagen Audi Group who engineered that characteristic gearshift blip) and the Mercedes-Benz is no different; it is only when you press on that the SLC300's motor sounds somewhat sporty. However, you have to ask yourself how many SLC models are going to be driven hard? We'd bet very few…
With 180 kW and 370 Nm that reaches the rear wheels through a 9-speed automatic transmission, the roadster is no slouch and can deliver commendable straight line performance should one need to push on. Benz claims the 300 will hit 100 kph from standstill in under 6 seconds, which gives it enough pace to embarrass pretenders in their "warm" hatches.
Enthusiastic driving is not the Mercedes-Benz SLC's modus operandi though. Given the SLC's genteel and mature target market, the Benz is endowed with refined road manners. With the roof down, your favourite music playing through the audio system and a scenic road stretched out in front of you, the SLC is a calm, eminently premium mode of transportation.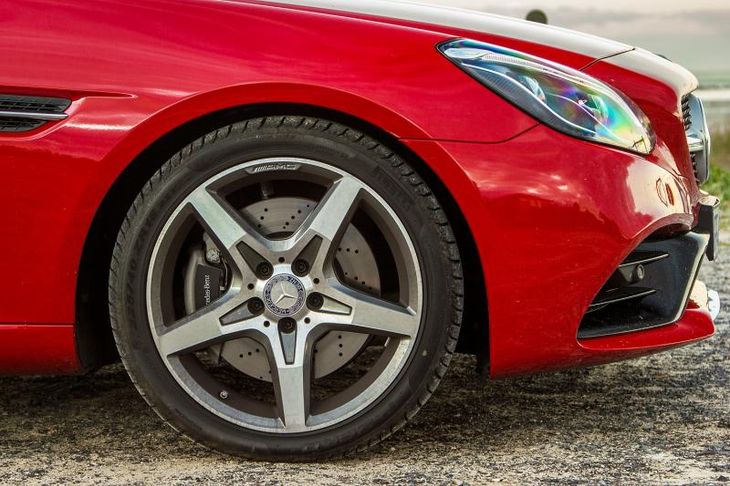 Cross-drilled brakes are very effective, but the chances are you won't be going that fast in the first place.
The driving modes comprise Comfort, Eco, Sport, Sport+ and Individual. Eco and Comfort turn the engine mapping to its most conservative- and suspension to its softest setting respectively. Sport+ does the exact opposite in both regards, but, in that extreme mode, the SLC lands up crashing over the slightest imperfections in the road. And, on tight, winding sections of road, the SLC isn't the most nimble of performers – it's not ponderous, by any means, but one does sense that in such conditions it is outside of its comfort zone.
As good as the transmission is, we feel the 9G-tronic transmissions has one ratio too many. However, the purpose of this transmission was to enhance fuel economy and when you're not pressing on/enjoying a relaxed drive, the 'box shifts smoothly and without hesitation. It's quick to shift up under normal circumstances; it is not uncommon to find yourself driving at 80 kph with the SLC ambling along in 7th gear. When you gradually put your foot down, the 'box doesn't hesitate to drop a gear, but if you put your foot flat, it will drop two or even three ratios. You can use the steering wheel gearshift paddles to swop cogs yourself, but that felt like overkill in this refined cruiser.
Gadgetry and tech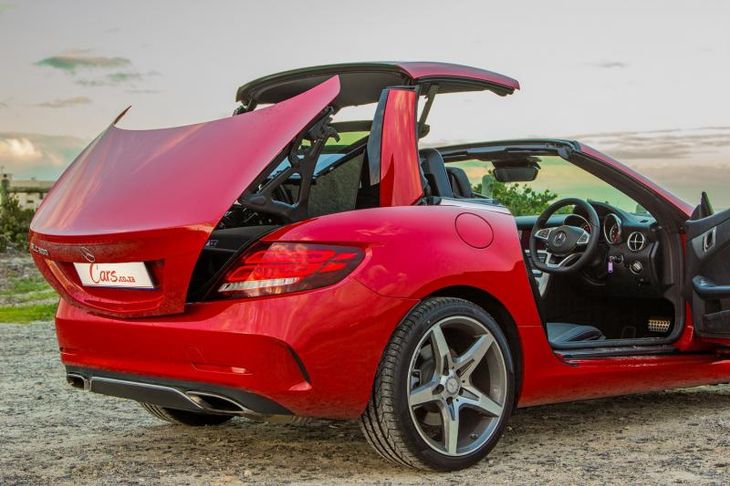 From roof up to roof down in around 20 seconds. When in position, the folding metal provides good noise insulation.
The SLC's folding metal roof goes up (and can fully retract) in around 20 seconds, but unlike some convertibles, you have to come to a complete stop to activate it. Generally, a folding metal roof adds considerable weight to a vehicle, but the insulation and noise reduction properties of the feature offset the penalty, at least in our opinion. You can also opt for the clever sunroof which goes from opaque to transparent at the touch of the button.
The roof folds tidily into the boot, but you will lose luggage space when it's down. With the roof up, there's enough space for two tog bags and about four laptop bags, but when it's down the aperture shrinks considerably. In practice, it is best to put the roof up before loading cargo in the boot and then lowering the roof again. It's a drag, but a necessary compromise.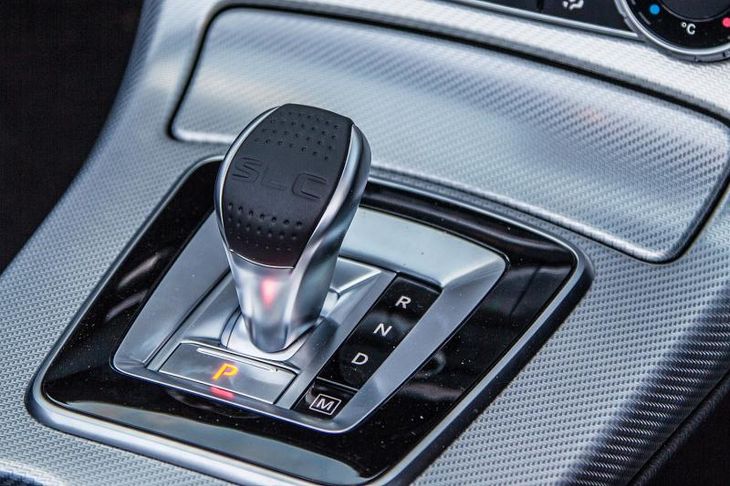 Suave interior features plenty of brushed aluminium. Gear selector is neatly sized and allows for manual override.
The SLC has the entire Mercedes-Benz arsenal of technology and gadgetry at its disposal and you can specify the roadster liberally. Standard specification at this price point is what you'd expect: solid. There's a multifunction steering wheel, comprehensive trip computer, cruise control, Bluetooth connectivity, aux input, USB input, tyre pressure monitor, automatic wipers and automatic headlights. It has safety well covered with 6 airbags, ABS with brake assist, stability control and Benz's PreSafe does a fine job of sensing the road ahead of you.
The options list is lengthy. Features that are worth considering are the Airscarf neck-level HVAC (R7 000), heated front seats (R4 000) – both of which are essential for all year round top-down motoring. An upgraded Harmon Kardon audio system (R13 000) is available too, as is satellite navigation through Mercedes-Benz's Comand interface.
Mercedes-Benz SLC Price in South Africa
The SLC range starts from R684 476, with this SLC300 retailing for R756 136. The price includes a 6-year/100 000 km maintenance plan.
Our red SLC300 test unit had some extras fitted and using the Mercedes-Benz online configurator, we came to an estimated total of R794 400.
See how the SLC300 stacks up against the BMW Z4 and Porsche 718 Boxster PDK.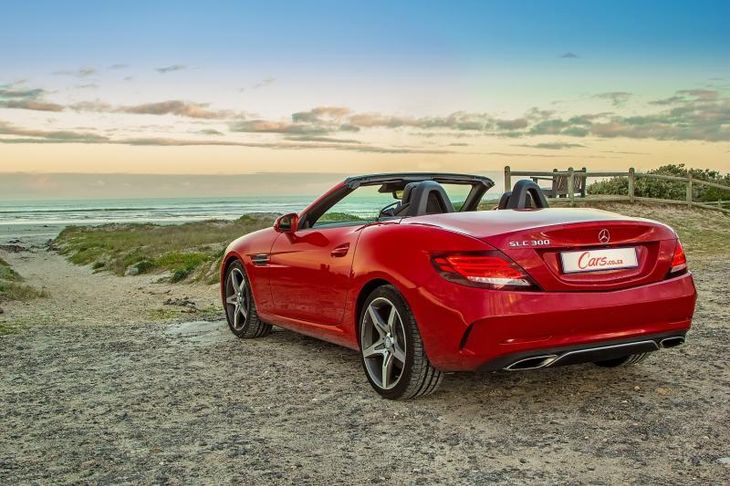 Relaxed and refined is what the SLC does best. If you want a fast one, go for the AMG. This is a fine cruiser.
Verdict
Cars of the shape and profile of the SLC are assumed to be elemental sportscars, but, in truth, Mercedes-Benz's pint-sized roadster is an unabashed lifestyle vehicle and that rang true for the SLK and its predecessors. The SLC is a classy premium product that will make its owners very happy. It offers adequate performance with enough poke to provide some thrills, but that is not the SLC's game at all. Tick the options marked heated seats and Airscarf and enjoy a relaxed top-down drive all year round. This is what the compact roadster does best: a gentle drive with the top down that tells other road users that you've made it and that you enjoy living a good life. Business as usual then for the SLC. The SLK is dead, long live the SLC.