Given all the attention heaped on a Nurburgring record-setting Italian executive SUV and another supercar manufacturer's new 'bahnstormer' of its own, the all-new 3rd-generation Porsche Cayenne arrives with relatively little fanfare. Set to be introduced in South Africa soon (with deliveries commencing in June 2018), the Zuffenhausen-based firm's newcomer seems to offer incremental improvements over its successful predecessor. Alarmingly for Porsche's rivals, however, they add up to quite a lot.
A peek around the corner…
It takes a look around the car's rear three-quarter to instantly recognise the 3rd-generation Cayenne from its forebears. The elongated tail light clusters neatly tie in with those of Porsche's sportscars and simultaneously broaden and flatten the premium SUV's stance, which is further helped by a roof that has been lowered slightly and a reduction in the side-glass area. From the front, the sharpened nose section comprises a barrage of louvred air intakes that dwarf the receding headlamps and give the Porsche that all-important "let me pass" on-road presence that is de rigeur for performance SUVs. The look may seem derivative, but it remains effective nonetheless.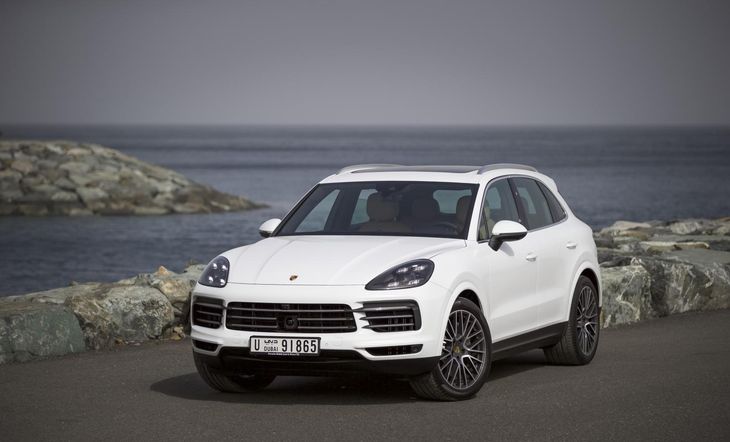 The 3rd-generation Cayenne's overall profile is discernably flatter by virtue of longer overhangs, a wider track and lowered roof.
If its exterior design might be too evolutionary for some tastes, the Cayenne's new interior treatment is nothing short of a revelation! From the first ingress, the characteristic Porsche build quality is immediately apparent, from the tactile texture of the materials (even the non-leather ones) to the way the panels sit flush next to one another. It's the all-digital (apart from the central analogue rev counter) instrument cluster, the 12.3-inch full-HD Porsche Communication Management (PCM) touchscreen and black trimmed extended fascia section that appears so futuristic, yet utterly elegant, that sets a new benchmark for Premium SUV interior design.
Engaging electronic interface
Granted, the brand-newness of the Cayenne dictates that it should feature more slick-looking electronic surfaces than its rivals, but what impresses most is the tasteful way the technology has been incorporated within the overall fascia execution: it does not seem cold and clinical, nor overwrought or convoluted. Remember, this design is from a brand that staunchly refused to offer multi-function steering wheels (at least those with remote audio/phone/cruise control toggles) until relatively recently.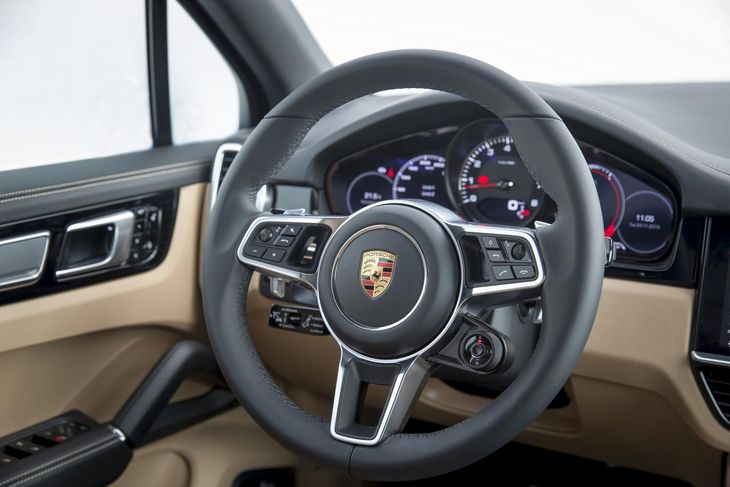 With the selection of the Sports Chrono package, the Cayenne's steering wheel gains a drive mode selector button (bottom right).
Instead, the driving position feels positively driver-centric and inviting and the complex steering wheel is a delight to behold and twirl. Yes, you have to programme an option button to skip tracks when you're streaming music and the matching piano-black steering column stalks look a little twee, but the atmosphere is eminently classy.
Before we deal with the ride/handling balance and inherent dynamism of the new Cayenne, it needs to be noted that the new range leads off with a sonorous pair of V6 turbopetrol motors (a 324 kW 2.9-litre twin turbo in the case of the Cayenne S), which are mated with an 8-speed Tiptronic S transmission. This is a conventional torque converter setup, as opposed to the dual-clutch PDK setup favoured in other Porsche products, but even if the automatic 'box cannot match the PDK in terms of rapidly responsive shift times, it more than makes up for it with a smooth, almost unobtrusive operation in congested traffic, which is, sadly, a bane of modern-day motoring.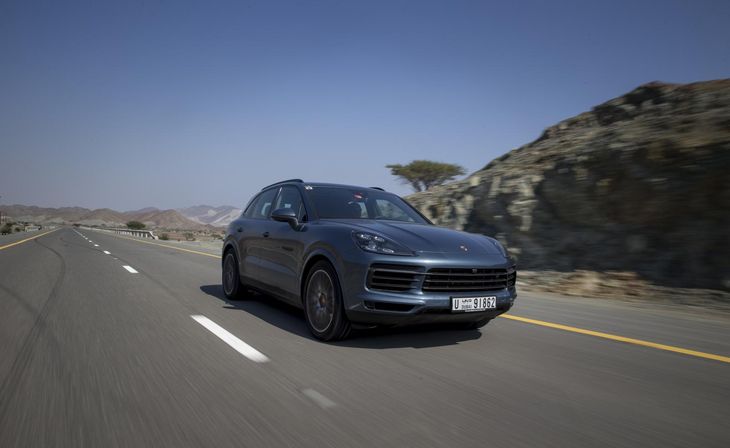 The range's V6 turbopetrol powerplants perform impressively, but the newcomer's dynamic suspension arguably steals the show.
Even though the entry-level 250 kW 3.0-litre Cayenne feels adequately brisk, with a claimed zero to 100 kph time of 6.2 seconds and a 245 kph top speed, Porsche South Africa expects that the Cayenne S will be the most popular derivative in terms of customer demand. Thanks to its 550 Nm of peak torque, the S will catapult from standstill to 100 kph in 5.2 sec (4.9 sec with the optional Sport Chrono Package, which will also yield 0.3 sec in the standard model) and the former boasts a top speed of 265 kph.
Superb on-road refinement
All derivatives ride on (at least) 19-inch wheels shod with suitably low-profile rubber, and given the purposefully sporty suspension tuning integral to the Porsche's packaging, one might be forgiven for expecting that the newcomer's ride quality would be stiff, if not a trifle fidgety. By contrast, the Cayenne exhibits a delicate balance between suppleness (in terms of the way it counters uneven sealed surfaces), admirable mid-corner body control and extreme road holding at higher speeds.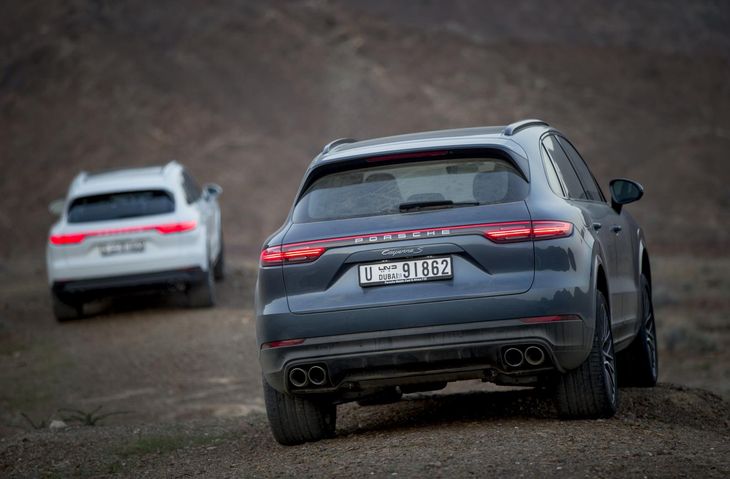 Despite its sporty wheels and suspension setup, the Cayenne is a more-than-passable off-roader. Its build quality shines through here.
These traits are admittedly most apparent in derivatives specified with the new 3-chamber air suspension with self-levelling, ride-height control and Porsche Active Suspension Management (PASM), which brings out the best of the Porsche 4D Chassis Control system, especially in terms of how the Cayenne can effortlessly switch from urban pottering to churning up dust clouds on a rural dirt road and then, from high-speed cruising to carving up a mountain pass… and everything in between.
Yes, the Cayenne can be committed to demanding bends with confidence as if the laws of physics are mere regulatory guidelines and its four wheels transfer the powertrain's might to the asphalt with a clinical efficiency that begs the question: "Do these tyres never squeal?" The test route in Dubai and Oman did not incorporate much in the way of high-speed handling tests, but as much as the Porsche DNA is evident in the Cayenne's handling characteristics, the newcomer's steering action is quick and razor-sharp without ever feeling frivolous; indeed, Alfa Romeo's Stelvio does not hold exclusive rights to a darty tiller… The lack of artificial heft is refreshing.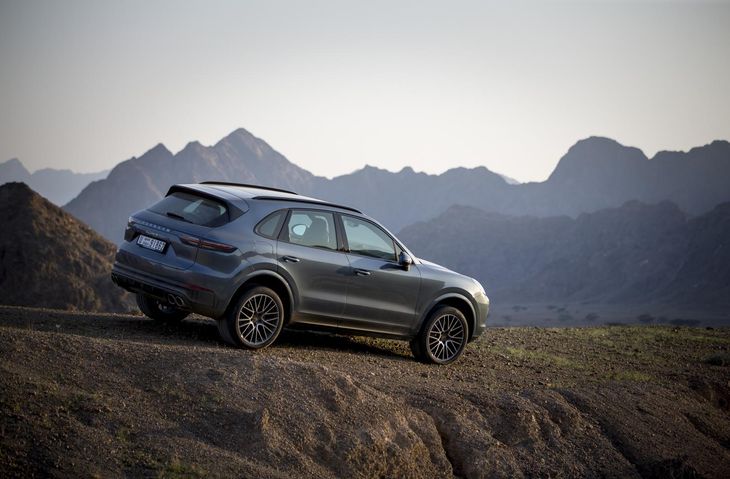 The 3rd-generation of the Cayenne might seem strictly road-biased, but can be (additionally) specified with an off-road package.
High-tech options
For those who regard themselves driving aficionados but whose budget doesn't quite stretch to a Cayenne Turbo (which we didn't get to drive at the launch event, but expect a South African review soon), Porsche Dynamic Chassis Control (PDCC) is an intriguing option. Underpinned by a 48-volt vehicle electrical matrix, the system utilises active electromechanical stabilisers on both of the vehicles' axles to reduce lateral tilt in bends and increases driving dynamics, agility and comfort.
Other notable options include electric rear-axle steering, which improves the Cayenne's stability and agility at high velocities, while reducing its turning circle at parking speeds; and, whereas the aforementioned function is carried over from the 911 and the Panamera, the Porsche Surface Coated Brake (PSCB) system, which sees the application of a tungsten-carbide coating to the cast-iron discs in order to be more resistant to wear/excess brake dust deposits, makes its world debut in this range.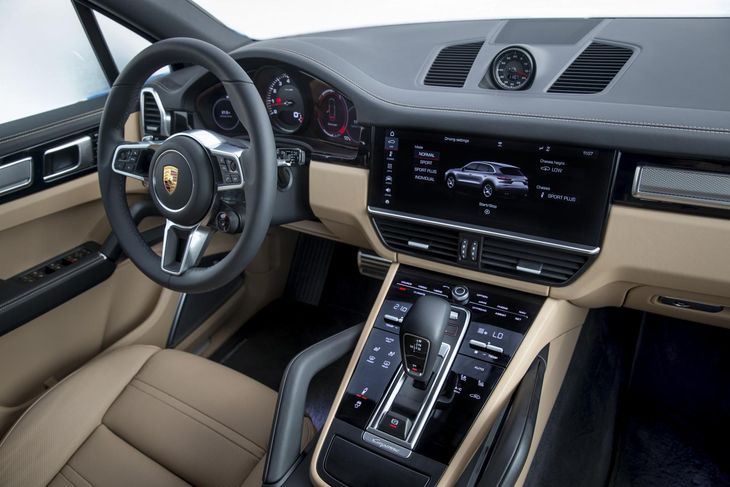 Porsche deserves commendation for the effortless integration of the centre console and fascia touchscreen...
Still an accomplished Premium SUV
Although the new Cayenne's dimensions have grown compared with those of the car that preceded it, its wheelbase is the same, which means the rear occupants, if ensconced in adequate comfort, does not benefit from additional legroom – at least not by the look of things. To the newcomer's credit, however, the luggage capacity has increased by 100 litres, which benefits practicality and the fitment of an inflatable emergency spare, as opposed to a thin space saver, will please some fastidious buyers.
As a luxury vehicle, the Cayenne has elbowed its way to the front of its segment in terms of infotainment, its slick PCM can be configured for up to 6 individual profiles to store interior-, lights-, driving programmes- and assistance systems. Perhaps it is a little counterintuitive to select off-road modes via the touchscreen interface (especially when the going gets bumpy, but do bear in mind that the new Range Rover Velar has a similar setup). Furthermore, the handy steering wheel-mounted driving mode selector is unfortunately only available with the Sports Chrono Package, but these are criticisms that are unlikely to be deal-breakers for potential buyers.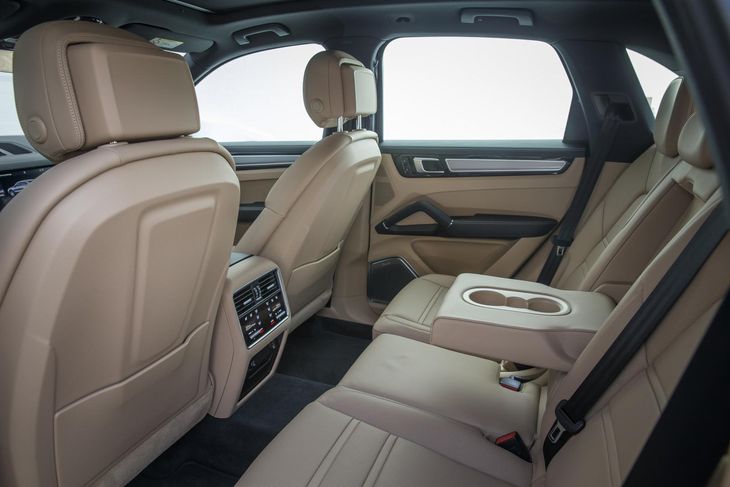 Although rear accommodation is not particularly generous, the provision of a bigger loading capacity sweetens the deal.
Porsche Cayenne (2018) Price in South Africa
Cayenne - R1 131 000
Cayenne S - R1 272 000
Cayenne Turbo - R2 064 000
Prices (correct as of February 2018) include a 3-year/100 000 km Drive Plan.
Summary
And so, to sum up, the Cayenne feels like an engaging driving machine from the microsecond you ensconce yourself behind its shapely wheel and acquaint yourself with its elegant, yet feature-rich electronic user interface. It's also lighter, faster/more efficient than its predecessor, as well as better equipped and technologically advanced. Those who feel indifferent about the newcomer's evolutionary styling can rest safe in the knowledge that the Cayenne's interior execution is worth a much closer look. In this segment, Porsche has stolen a head start on the (admittedly ageing) opposition in terms of all-round competence. Does it tug at the heartstrings or appeal to consumers' vanity as much as showy Premium SUVs? Perhaps not, but suffice to say if you never test drive a "Cayenne III", you wouldn't know what you were missing.
Watch a video that highlights the Cayenne's Driver Assistance systems:

Related content
SUV supreme: Porsche's new Cayenne Turbo
Porsche Cayenne (2018) Pre-Launch Review
Mercedes-AMG GLE 43 (2017) Quick Review
BMW X5 M/X6 M Black Fire Edition Headed for SA
Range Rover Velar P380 R-Dynamic HSE (2017) Review
Facelifted Range Rover Sport (2018) Specs & Price [w/video]
Facelifted Range Rover (2018) Specs and Price [w/Video]
Interested in buying a Cayenne?