Land Rover has updated its Range Rover Sport offering which sees the introduction of a hybrid version while the high-performance SVR now comes with even more power and enhanced performance. Herewith specification and pricing details...
The Range Rover Sport offers luxury, performance and exceptional 'go-anywhere' capability. Land Rover has now officially revealed the facelifted Range Rover Sport with a number of exterior and interior updates as well as the introduction of a hybrid model and a more powerful range-topping SVR derivative. Take a look at what has changed.
Powertrain updates
The big news is the introduction of a new Range Rover Sport Plug-in Hybrid model dubbed the P400e which replaces the previous SDV6 hybrid diesel model. It's powered by a 221kW 2.0-litre, 4-cylinder petrol engine and an 85 kW electric motor and 13.1kWh lithium-ion battery. Total system output is 297 kW and 640 Nm of torque.

In terms of performance, the all-wheel drive P400e can accelerate from zero to 100 kph in 6.7 seconds with a top speed of 220 kph. The P400e offers an electric range of 51 km and can be charged up in about 2 hours and 45 minutes. Land Rover claims a fuel consumption figure of 2.8 L/100 km.

Much like the current range, a choice of petrol and diesel engines will be offered. On the diesel front there's the entry-level 2.0-litre SD4 and two 3.0-litre options seen in the TDV6 and SDV6 while the 4.4-litre SDV8 tops the diesel offering with 249 kW and 700 Nm of torque.
The petrol engine range starts with a 221kW 2.0-litre engine, the same use in the new P400e. A supercharged 3.0-litre V6 engine with 250 kW and 450 Nm or torque will be offered alongside a more powerful 5.0-litre V8 supercharged engine with 386 kW and 625 Nm of torque.
The range-topping SVR derivative gets a performance boost with power from its 5.0-litre supercharged V8 bumped up by 18 kW from 405 kW to 423 kW. The SVR can accelerate from zero to 100 kph in 4.5 seconds.
Styling changes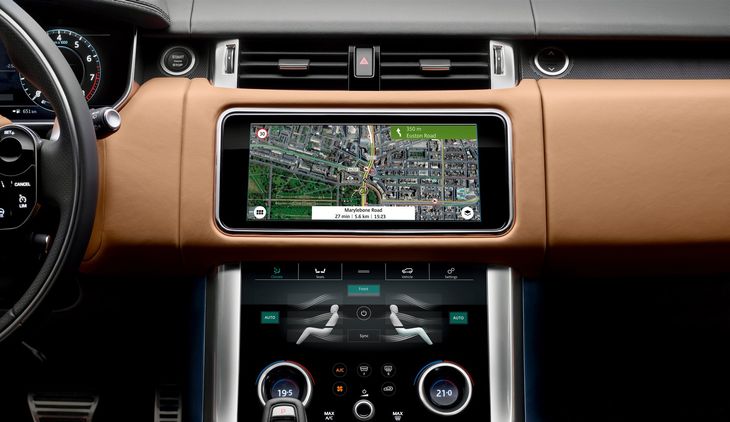 Two 10-inch touchscreens are fitted which not only reduce the amount of buttons in the cabin, but also house the majority of functions.
The facelifted Range Rover Sport wears a revised bumper with reshaped air vents and new LED fog lights. The grille has also been updated and is flanked by new, slim Matrix Pixel LED headlights. New rear taillight clusters are also fitted.
Three new 21- and 22-inch alloy wheel designs are offered in either a black finish or silver diamond turned finish.

On the inside, the Range Rover Sport will benefit from the fitment of a Touch Pro Duo infotainment system comprising of 2 high-definition 10-inch touchscreens. The instrument cluster features a 12-inch interactive display and rear passengers have access to a larger 10-inch touchscreen entertainment display for the first time. The cabin is also littered with charging points and the Range Rover Sport will also be offered with Land Rover's Activity Key, first introduced on the F-Pace, which negates the need to carry the key fob when you venture into the wild. New and slimmer front seats are fitted for improved comfort and can be upholstered in a variety of trim.
The facelifted Ranger Rover Sport can be expected in South Africa in 2018 .
Range Rover Sport - Price in South Africa
Range Rover Sport S Si4 - R1 115 200

Range Rover Sport S SCV6 - R1 160 500

Range Rover Sport SE Si4 - R1 171 500

Range Rover Sport S TDV6 - R1 194 400

Range Rover Sport SE TDV6 - R1 205 200

Range Rover Sport SE SCV6 - R1 216 800

Range Rover Sport SE SDV6 - R1 318 200

Range Rover Sport HSE TDV6 - R1 343 600

Range Rover Sport HSE Si4 - R1 384 100

Range Rover Sport HSE SDV6 - R1 564 500

Range Rover Sport Autobiography Dynamic SCV6 - R1 578 300

Range Rover Sport HSE P400e - R1 636 800

Range Rover Sport HSE Dynamic P400e - R1 681 300

Range Rover Sport HSE Dynamic Supercharged - R1 712 500

Range Rover Sport HSE Dynamic SDV8 - R1 734 700

Range Rover Sport Autobiography Dynamic P400e - R1 813 700

Range Rover Sport Autobiography Dynamic Supercharged - R1 965 400

Range Rover Sport Autobiography Dynamic SDV8 - R1 924 900

Range Rover Sport SVR - R2 257 300
Buy a Range Rover Sport on Cars.co.za
Related Content