The Range Rover first-class SUV has received a facelift and upon its local introduction in November 2018, will welcome plug-in hybrid derivatives and a host of new technologies to the range.
For many, the Range Rover is the ultimate luxury SUV, offering high levels of comfort and luxury as well as formidable offroad capability. The Range Rover has now been given a refresh with updated styling and a host of new technology making its way into the cabin. More importantly, perhaps, is the introduction of a plug-in hybrid Range Rover P400e.
New Range Rover P400e PHEV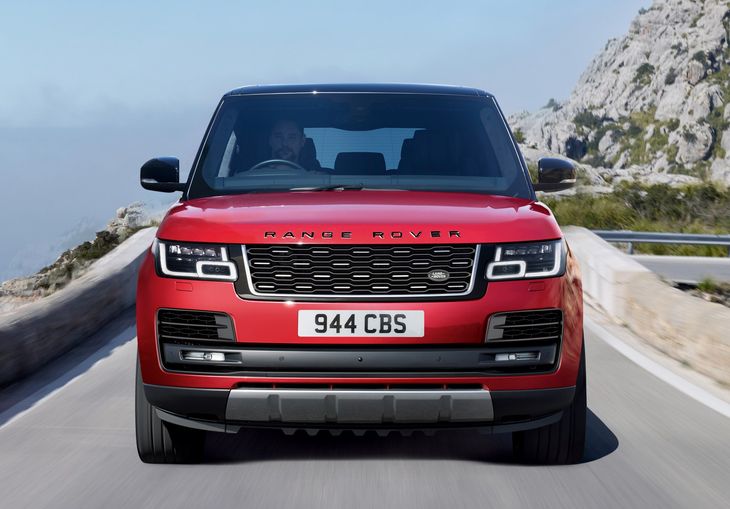 The Range Rover SVAutobiography now offers 415 kW and 700 Nm of torque from its supercharged 5.0-litre V8 petrol engine.
The Range Rover P400e is powered by a 221 kW, 4-cylinder 2.0-litre petrol engine coupled with an 85 kW electric motor and a 13.1 kWh high-voltage lithium-ion battery, much like the Range Rover plug-in hybrid revealed recently.
The P400e offers a total output of 297 kW with 640 Nm of torque and can accelerate from zero to 100 kph in 6.4 seconds with its permanent 4-wheel drive system. Top speed is rated at 220 kph and it can travel up to 51 km on electricity alone. An 8-speed ZF automatic transmission is standard.
The P400e can be charged up fully in about 2 hours 45 minutes using a 32A home wall box. Alternatively, the battery can also be charged using the standard 10A home charging cable, but will take 7 hours and 30 minutes to charge fully.
There will also be 2 diesel engine options available including a 190 kW 3.0-litre turbocharged V6 and a more powerful 249 kW 4.4-litre supercharged V8 diesel engine.

A next-generation supercharged 5.0-litre V8 petrol engine with 386 kW (previously 375 kW) will be offered as well as a supercharged 3.0-litre V6 engine with either 250 kW or 280 kW.
The range-topping Range Rover SVAutobiography Dynamic will now make use of an upgraded 5.0-litre supercharged V8 engine with 415 kW and 700 Nm of torque. This model is capable of sprinting from zero to 100 kph in just 5.1 seconds.
Key design and equipment changes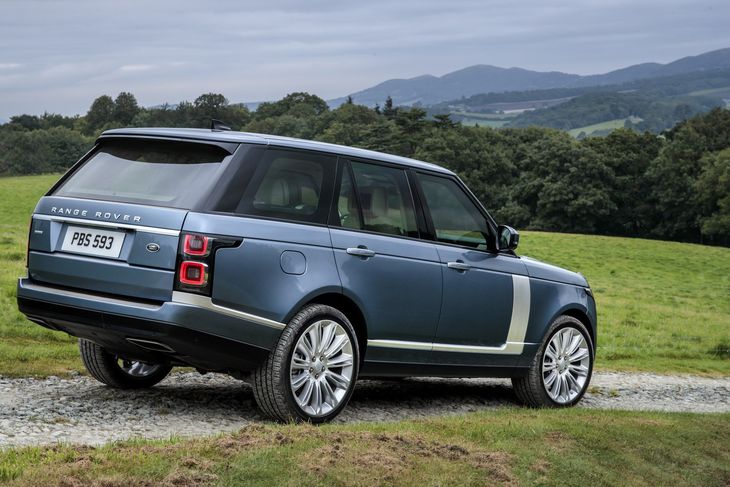 Revised styling gives the Range Rover a more sophisticated look while enhancing its road presence.
In terms of design, the facelifted Range Rover features a revised front-end with a newly designed grille and front bumper. The bonnet is also longer and the Range Rover now features Pixel-laser LED headlights alongside 3 other LED headlight options including Premium, Matrix and Pixel headlights. The taillights are also new and the rear bumper has been revised and integrates the exhaust tailpipes. A total of 6 new alloy wheel designs are on offer.
The interior benefits from new seats that offer greater reclining ability and more general legroom. A range of seat adjustments are available including 16-way, 20-way and 24-way adjustable seats with up to 25 different massage programs. That's to say that comfort levels are very high in this updated Range Rover Sport…
In terms of technology, the Ranger Rover is now equipped with 2 high-definition, 10-inch touchscreens (Touch Pro Duo) which house majority of the vehicle's functions and infotainment. The screens drastically reduce the number of buttons found in the cabin and contribute to a minimalist cabin design. The driver is further treated to a 12-inch interactive instrument cluster and an updated Head-up display that places vital information into the driver's line of sight.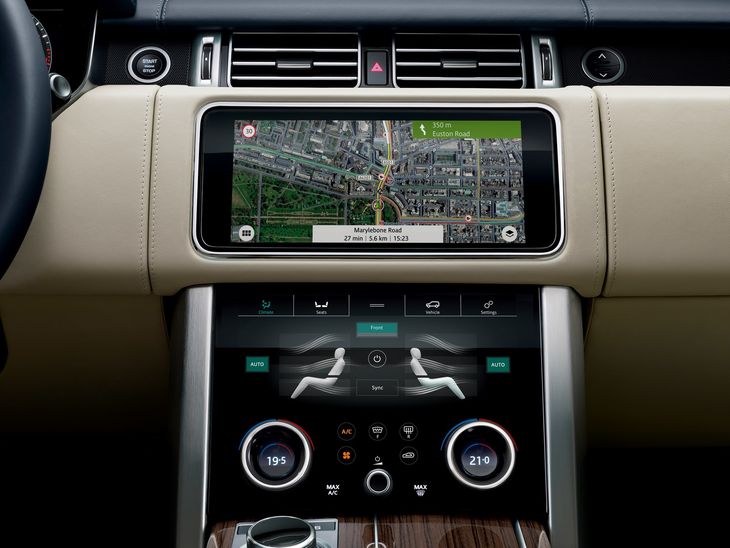 The Touch Pro Duo system with two 10-inch touchscreens drastically reduces the number of buttons in the cabin.
The Range Rover is also littered with up to 17 connection points making it the perfect place to charge devices, watch DVD's or use the vehicle as a mobile office. The Range Rover also offers a 4G Wi-Fi hotspot to keep you connected on the move. An Activity Key is now also offered with the Range Rover and allows active owners to lock and unlock the vehicle without carrying the key fob. The Activity Key is waterproof to depths of 18 metres and is perfect for runners, swimmers, surfers and cyclists.

Watch the video below to learn more about the facelifted Range Rover:
See the prices of the Range Rover below:
Get a quote / Book a test drive
Buy a Range Rover on Cars.co.za
Related Content:
Bentley Bentayga Diesel (2018) Launch Review
Lamborghini Urus (2018) International Launch Drive
Update: Range Rover Sport Hybrid Revealed [w/video]
Land Rover Road Rover Coming in 2020?
Range Rover Velar (2017) Launch Review [with Video]
Range Rover Velar (2017) International Launch Review
7 Rivals the Range Rover Velar Needs to Beat
Range Rover Sport SDV8 (2014) Review
Range Rover Sport SCV6 S (2014) Review
Range Rover Sport SDV6 SE (2015) Review
Range Rover Evoque Convertible (2017) Quick Review