Porsche doesn't normally let the media drive its pre-production cars, but on this very rare occasion, we were allowed to drive the upcoming Cayenne in the foothills of the Pyrenees. Could the 3rd iteration of the car that single-handedly saved Porsche from the doldrums be ready to trump its competition in the premium SUV market?
By Andrew Frankel
There were times when I knew I should be concentrating on recording what the all new, yet-to-be-unveiled Porsche Cayenne was like to drive when, in fact, my mind was more occupied with wondering what on earth the locals must have made of us.
Imagine this: 5 large SUVs, all in dark colours and most of them black, sweeping across the countryside in convoy, tape covering their badges, strange plastic coverings concealing their headlights and rear lamps. The silhouette of any one of these shark-nosed cars was pretty sinister, but to watch five of them thunder by, escorted by a small fleet of Volkswagen Transporters struggling to keep up must have made curious onlookers wonder what on Earth the convoy was doing out here in the foothills of the Pyrenees.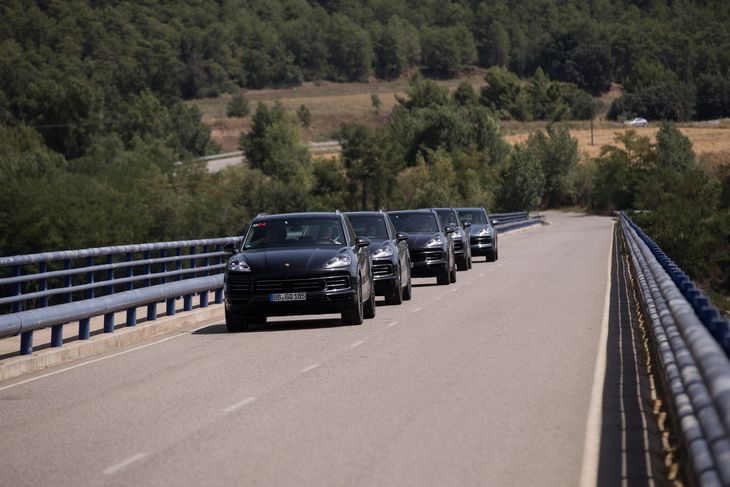 The convoy, line astern at the foot of the Pyrenees. These cars are in their last stages of testing before the global reveal at Frankfurt's motor show.
The answer was just a bit of everyday ho-hum sign-off testing for a car that will receive its public unveiling in Frankfurt in September, be driven by the rest of the world's press later in the year and become available in the South African market in 2018. Quite why I am the only English speaker to have been allowed to drive the new Cayenne to date never becomes clear... I'm just glad to have had the opportunity.
These jobs are rare and, before now in Porsche's world, non-existent. It's allowed journalists in prototypes before, but only as passengers. I once flew overnight to Cape Town to sit beside an engineer in a new 911 for a few minutes before catching the same plane home that afternoon, much to the bemusement of the same immigration official who stamped me both in and out of the country.
Warts-and-all prototype experience, replete with glitches
So to come merely to Catalunya and be able to drive for hours on end makes a welcome change. There's also something rather real about doing this: normal car launches have such a pre-orchestrated feel to them as we glide between mirror-finish cars prepared to within an inch of their lives.
This is not like that: the cars are filthy and, horror of horrors, one of them refused to release its handbrake when we pulled away from a stop. It took Porsche technicians (armed, interestingly, not with a jack and wheel wrench, but a laptop) almost 5 minutes to interrogate the offending ECU and persuade it to desist. These cars are prototypes; finding/ironing out tiny niggles is precisely why the cars are on this final European sign-off drive.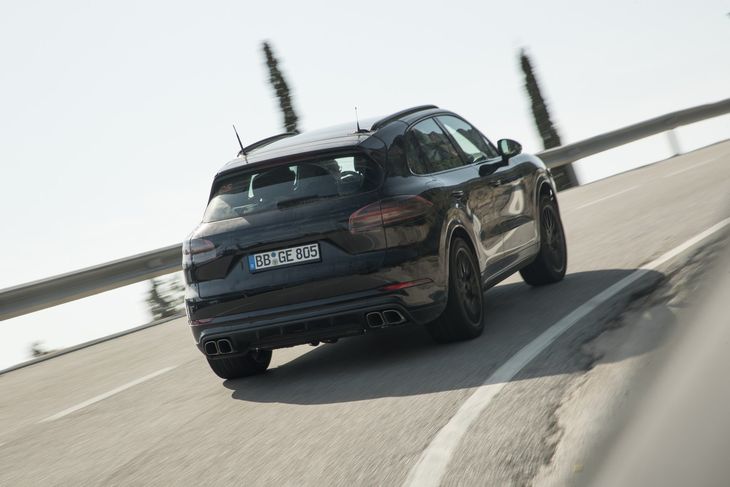 Most of the Porsche Cayenne's engines have been developed by Audi, save the twin-turbo V8 petrol, which Porsche developed itself.
Disguised and with their interiors cloaked in black felt, there is plenty about the Cayenne we cannot tell you either because that's not part of the deal that got me into the cars in the first place or because Porsche hasn't told me. But there's plenty more that I can.
Unsurprisingly the new Cayenne sits on the same Volkswagen Group MLB platform as the Audi Q7 and Bentley Bentayga. It will, in time, also provide the structural basis for the forthcoming Lamborghini Urus. But the platform has been modified for the Cayenne, its wheelbase shortened by no less than 100 mm because Porsche rates the agility this will gain above the interior space it will lose.
Unlike in its sports cars, there is no such thing as a purely Porsche engine for cars like this anymore. The way the world works within the Volkswagen group is that one company gets to develop an engine which is then made available to all the others. In this case, the Cayenne will get all its V6 engines from Audi as well as the V8 turbodiesel, while the twin-turbo V8 petrol motor is Porsche's own engine. There will be hybrids with both V6 and V8 engines, but as the car will be launched only with non-hybrid petrol engines, the Zuffenhausen-based firm isn't talking about them at all.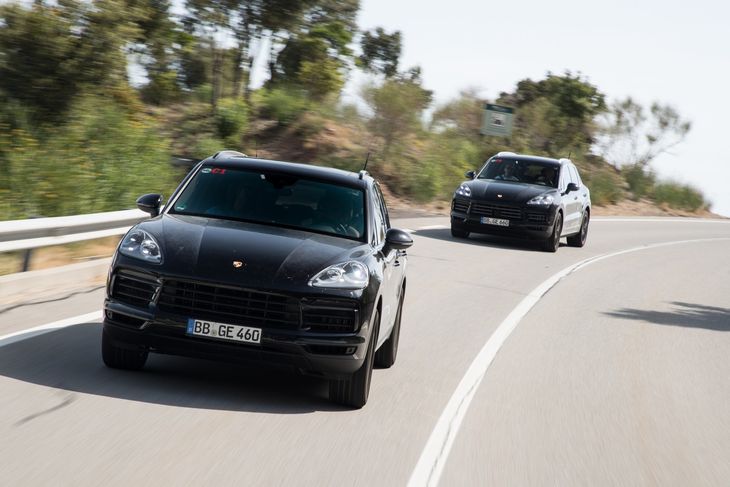 It's never been the greatest looking SUV, but it has always had performance, comfort and badge appeal on its side.
But nor does it really need to. Porsche engineers confirm that the Cayenne will use the same powertrain line-up as the Panamera with the important – and significant – difference that while the Panamera uses the lighter, faster PDK double clutch transmission, the Cayenne uses a new conventional 8-speed automatic gearbox from ZF. The reason? The gear shifts may be a touch more luxurious, but really it's all about ensuring the Cayenne continues to be able to tow the maximum 3 500 kg load allowed by law. The PDK used in both the Panamera and Macan is rated only to 2 400 kg.
So, using the Panamera as our guide, a base specification 3.0-litre Cayenne V6 should have around 246 kW. Even this slowest of the petrol-engined Cayennes will hit 100 kph from 0 in under 6 sec (that's a staggering 1.9 sec faster than the car it replaces). The S uses the same engine, but with twin turbos and a 2.9-litre capacity (the stroke is a fraction shorter because of the need for an uprated crankshaft) and should pump out an impressive 328 kW with the 4-litre V8 Turbo offering 75 kW more even than that...
Turbo derivative's air-sprung suspension impresses
I travel in the Turbo first. I say "travel", because it's the one car here I am not allowed to drive because the engineers say it's not close enough to production-ready to represent what the derivative will be like to drive once it appears on showroom floors. That said, while all these cars are pre-production prototypes, they were built on the main line using production tools, so should be indistinguishable from the finished items.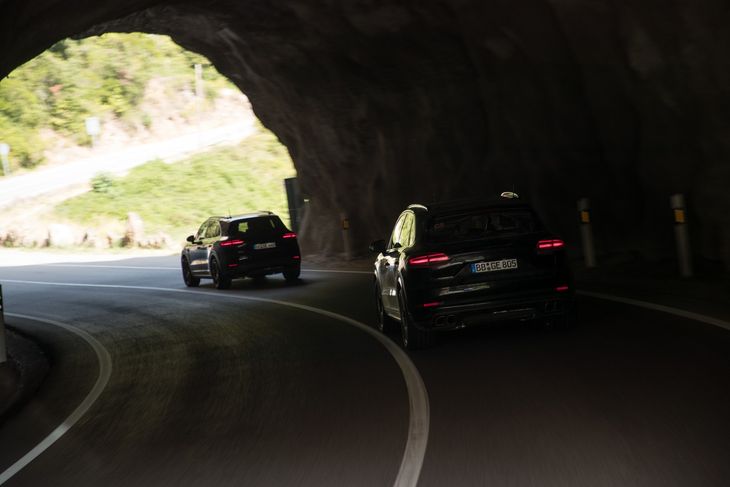 The slowest of the Cayennes is said to reach 100 kph in under 6 seconds, with the Turbo S likely to break into the 4s.
This is naturally frustrating. Show me someone who can tell you what a car is like from the passenger seat and I will show you, at best, a fantasist, at worst, someone who has put their desire to earn money ahead of their journalistic obligation to tell the truth. It does feel bloody fast and effortlessly so, and with 22 kW more than the old Cayenne Turbo – and a small weight reduction of around 60 kg, so it should. But cars also always feel much faster to those not driving them. I can tell you with rather greater authority that on standard air springs, this is the best riding Cayenne – ever.
But soon I have what I really want: a steering wheel in my hand, albeit that of a Cayenne S. I don't think I'm meant to give you precise details of the new interior but if you've read anything about the new Panamera cabin you'll not find the interior architecture in here too surprising. It's all TFT screens and pressure sensitive labels in place of proud standing buttons. And it looks brilliant, at least until covered in grubby fingerprints.
And the car goes hard too, sensationally so given this is the one-off-the-bottom petrol model. Considering all there is to come – 2 more powerful hybrids, a GTS, Turbo and Turbo S versions – the performance of this S is incredible. I'm told it will reach 100 kph in under 5 sec and believe it.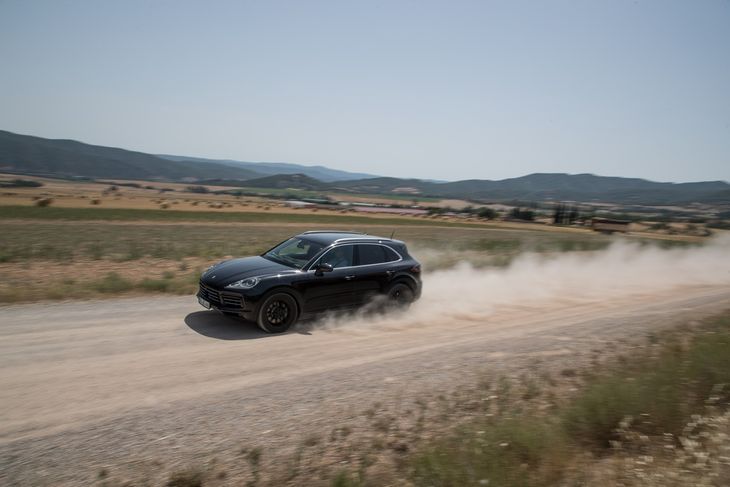 Air suspension on the higher spec models is the way to go on this sort of terrain, but the standard coil springs give better feel when driven sportily.
The way in which its performance is delivered is, however, a little less convincing. This is quite a small engine with quite a large output and, as ever with such motors, it needs to be worked to give its best. I have no problems with such an approach in Porsche sportscars, but in its SUVs I feel something more effortless based on low down torque rather than top-end power would suit the character of the car better. But the engine note is pleasant unless you rev the motor to the redline and the new gearbox works ceaselessly to make the most of the resources placed at its disposal.
And on air springs with PASM (mere options on the S, unlike the Turbo) its road behaviour is close to impeccable. Its ride quality is serene and handling accurate and impressively capable. You don't expect tall 2-tonne SUVs to cling doggedly to every corner into which they are flung, but this one does. My biggest concern was for the new electric steering system, the first to do without hydraulic-assistance in Cayenne history. As it turns out, the set-up is superb: sensibly geared, accurate and properly weighted too.
There's a sense of driving fun... if you're happy to unearth it
All that was missing was that heightened sense of fun, something I think should be expected of all Porsches, even those as heavy and domestically-oriented as this. I found it lurking, of all places, inside the base spec Cayenne V6. Though clearly slower than the S, I liked the lazier attitude of its less-stressed engine. There's less torque, but it's developed further down the rev-range. I think it sounds a little better too.
But the really big difference was on quick roads where the standard car turned out to be considerably more involving and therefore, fun, to drive. There was better feel from the chassis, an augmented sense of connection to the road, an approach that said not only that it could take anything you could ask of it, but it would rather enjoy the challenge.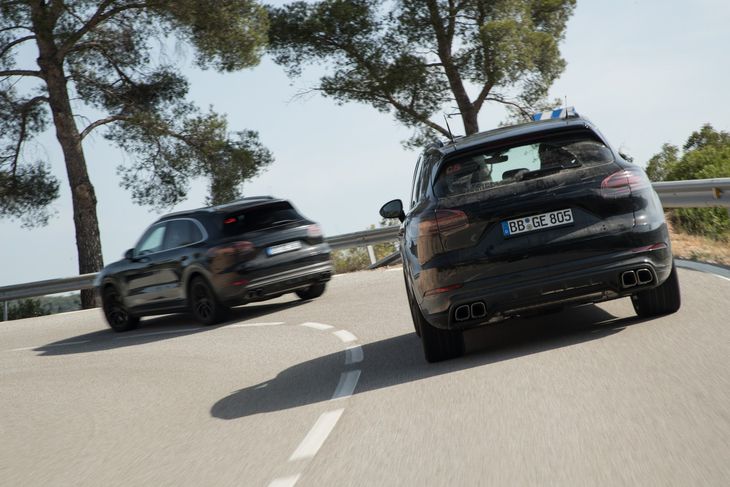 Diesels tend to be the best engines for SUVs, we didn't get to drive them but with added torque, they're likely to highlight the new Cayennes best attributes.
Why? To me the answer is simple: standard steel springs. Air suspension is excellent for high-speed ride and invaluable for towing and going off road because of its ability to maintain a number of different preset ride heights, but if you want to have fun behind the wheel, coil springs will not only bring you far closer to the action, they'll cost a lot less too.
Summary
Overall I'd say the Porsche Cayenne – insofar as it is the best car in the class for those who appreciate driving – just got a whole lot better. Correctly specified the new Cayenne is at least as much fun as is predecessor (currently on sale), but with a transformed interior and notably better ride and refinement. It is a premium SUV that still appeals more to the head than the heart, but you can say as much about every conventional SUV on sale.
Then again, I'd wait at least until we see the spec of the turbodiesels before choosing my favourite derivative. I expect the new V6 turbodiesel will have little less power than the petrol V6, but a stack more torque, which is exactly what cars like these respond to best. But whichever you chose, you can do so confident in the knowledge that the Cayenne remains today what it has always been: the best car... of its kind... in the world.
Related content
Spy Shots: 2018 Porsche Cayenne Shows New Face
BMW X5 M/X6 M Black Fire Edition Headed for SA
Land Rover Discovery (2017) Launch Review
Interested in buying a Cayenne?