Using the same platform as the current World Car of the Year-winning Jaguar F-PACE, Land Rover has plugged the gap between the "boutique" ageing Evoque and the muscular Range Rover Sport. We tried the P380 R-Dynamic HSE derivative to find out whether it's worth the heady pricetag.
We like: Stunning looks inside and out, drivetrain refinement, special cabin environment
We don't like: Firm low-speed ride, road noise, rear passenger space, high price
Alternatives
"Enemy from within": The Velar shares many of its underpinnings with the acclaimed Jaguar F-PACE, and in the case of the F-PACE 35t AWD S, the similarities extend to underneath the bonnets – they have the same engine. Still, the 2 cars are more different in character that you'd expect; in the case of the Velar, the desirability factor has been ratcheted up to the max. However, for a saving of around R200k (comparing base spec), it is worth considering the F-PACE, which isn't the current World Car of the Year without reason.
German bruiser: You may expect the Velar to be a more natural rival for the Mercedes-Benz GLC and its coupe sibling, but in terms of exterior dimensions the Velar more closely matches the bigger GLE. The Mercedes-AMG GLE 43 can be had for more than R100k less, and offers similar power and performance from its turbocharged 6-cylinder engine. But the GLE is an older-generation vehicle, which is abundantly clear when you step out of the German and into the Velar. The GLE is, however, more spacious.
Something even more road- and performance-biased: The Porsche Macan is often listed as a rival to the Velar, but that only really holds true if the attributes you crave most are performance, exclusivity and road-biased dynamics. The Macan GTS can be had for the same money as this Velar and offers similar power, but is faster and more dynamically adept. It is, however, a significantly smaller car.
Compare the Range Rover Velar P380 R-Dynamic HSE with the Jaguar F-PACE 35t AWD S and Mercedes-AMG GLE 43
What is a Velar?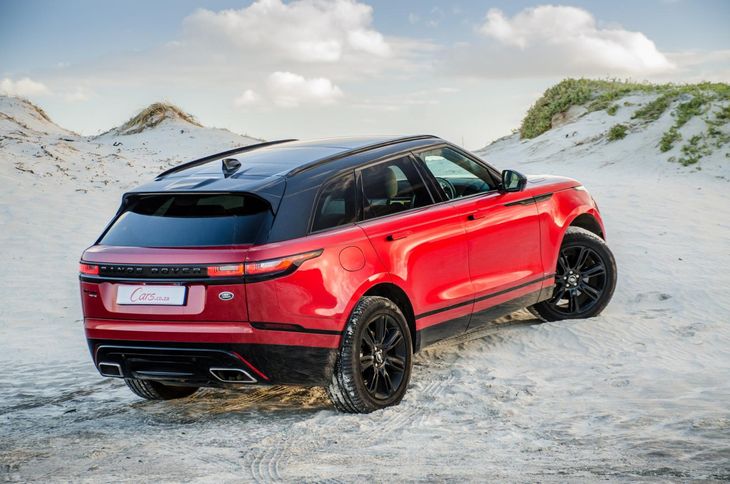 Undeniably desirable, the Velar turns heads wherever it goes. Note pop-out doorhandles that fit flush with the body once up and running.
Jaguar Land Rover is rolling out a major product offensive in the hope of capitalising on the much-improved reputations of its 2 brands (three, if you count Range Rover separately) and plugging any gaps in its line-ups. Perhaps predictably, given current market trends, most of the new products are SUVs, even for Jaguar. And perhaps ironically, it is the F-PACE, Jaguar's first-ever SUV, that is the platform for Range Rover's latest, the Velar.
Positioned to fit right in the middle of the chasm that used to exist between the Evoque and Range Rover Sport, the Velar is supposedly also the brand's most road-oriented model to date. The latter point may sit as uncomfortably with brand traditionalists, as the heady price will with shoppers that would like to consider something other than a German offering. Is the Velar a true Range Rover? Is it worth the outlay? Is there substance to its undeniably desirable style? These are pressing questions that only an in-depth assessment can answer...
How does it fare in terms of...
Design & Packaging?

Sleek and sporty, the Velar arguably ushers in a new design era for Range Rover.
Beauty, as they say, is in the eye of the beholder, but even so, we've not met many onlookers that described the Velar as anything but stunning. There is not a trace of F-PACE in its overall design and to some, it almost looks like a concept car that has somehow made its way onto a production line without being diluted. It's a very smooth, polished shape overall, with very few protrusions – even the door handles fit flush with the bodywork!
The vehicle featured here is the R-Dynamic HSE, which means you get 21-inch wheels as standard as well as the smart Matrix LED headlamps. Our test unit also had the optional R-Dynamic Black pack fitted (R10 700) and a smaller 20-inch rim (no cost). If you want a sliding panoramic sunroof that will add just shy of another R25 000.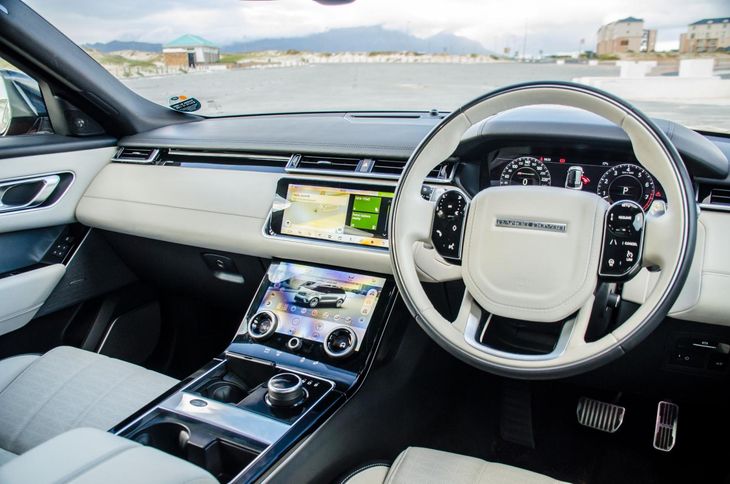 Is there a more striking cabin currently on the market? We don't think so. But there are practical drawbacks to this set-up.
Inside, you get beautiful perforated leather upholstery as standard but what will undoubtedly catch the eye first is the striking fascia. Like the exterior, the surfaces are smooth and the absence of buttons or switches always a talking point when people get into the car for the first time. Besides the digital instrumentation, there are 2 large touchscreens that take up much of the centre "hang-down" console.
The upper screen of the 2 deals primarily with navigation and infotainment, while the one below it allows you to configure the car for prevailing driving conditions. For the first time, Terrain Response is no longer accessed through physical buttons/switches, but rather "virtually". The screens' displays are bright and crisp, and the layouts mostly logical, but they do require familiarisation, particularly when delving into sub-menus while driving. You may also have to start driving around with a cloth in the storage box between the seats (to wipe away fingerprints from all the glossy surfaces!).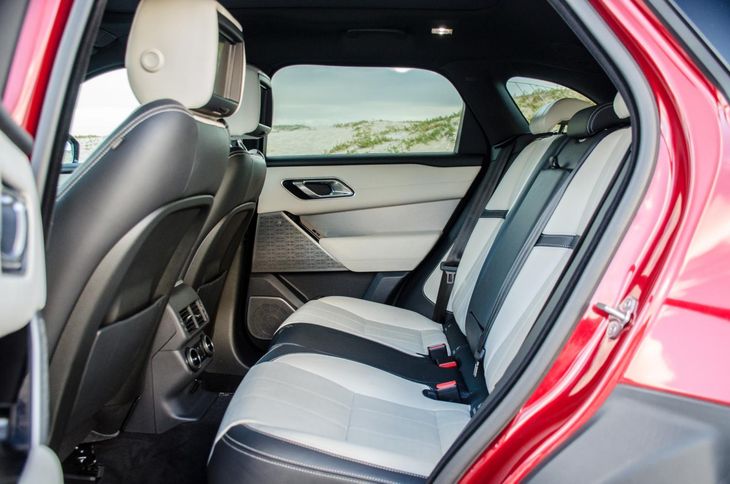 Rear legroom is arguably acceptable, but no more than that. Range Rover has prioritised luggage space instead.
With its narrow glass area and high transmission tunnel between the seats, the Velar has a very different, more "closed-in" interior ambience than other Range Rovers. In that sense, it feels cosier and sportier, but also less spacious. Still, you'll easily find a good driving position, because the driver's seat is multi-adjustable, and in the case of our test vehicle, 18-way adjustable, with massaging, heating and cooling functions. Even so, some of our testers still struggled to get comfortable in the front seats, particularly because the cushion is quite narrow and very firm where it meets the seatback – and no... it wasn't only the bigger members of the test team that complained.

The load bay is commendably large, slightly bigger than what you'd find in the Jaguar F-PACE.
In the rear, the bunker-like ambience continues, further accentuated by the privacy glass fitted to the test vehicle. Rear legroom is no better than acceptable, and it is clear that Range Rover has prioritised luggage carrying ability at the cost of some rear occupant space, because the load bay is actually quite large (673 litres). The rear seats can be folded flat, in which case there's a commendably long cargo area on offer. Our test unit also featured a rear-seat entertainment system (R33 100) and electrically deployable towbar (R14 200).
Overall, then, the Velar prioritises style and modernity over practicality and typical, unquestioned Range Rover comfort.
Performance & Efficiency?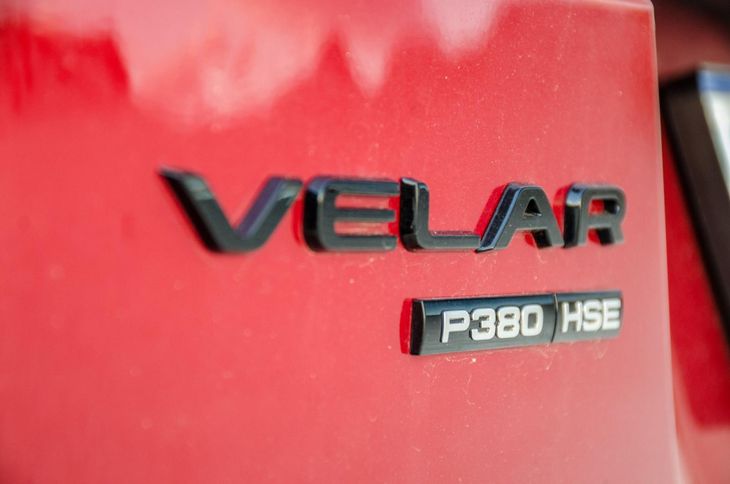 P380 badge means that this derivaive is petrol powered and rated at 380 horsepower (280 kW).
The Velar is powered by JLR's turbocharged 3.0-litre 6-cylinder engine that develops peak outputs of 280 kW and 450 Nm of torque. It is mated with an 8-speed automatic transmission and power goes to all four wheels, though primarily to the rear until traction has been lost there, in which case torque can be transferred automatically to the front wheels. So, it's quite different to a traditional Range Rover set-up, and there is no low-range transfer 'box even though the brand's Terrain Response system remains part of the package.
It's an engine that endows the Velar P380 with admirable get-up-and-go and in typical JLR fashion, this SUV's keenness to respond to throttle inputs (or any inputs, for that matter), possibly makes it feel even faster off the mark than it really is. Nevertheless, a 0-100 kph sprint time of 5.7 seconds is good enough, as is the 250 kph top speed. Equally impressive is the refinement of the drivetrain. Although the engine can emit a pleasing sound when pushed, it is generally hushed when operating in the background and the gearshifts are swift and slick, too.
Finally, Land Rover claims a combined cycle fuel consumption figure of 7.5 L/100 km, but achieving that figure was never going to happen in such a heavy, performance-themed car. Our average worked out to 9.8 L/100 km and if you're going to be mostly driving around town/city with it, you'll struggle to remain under 10.0 L/100 km.
Ride & Handling?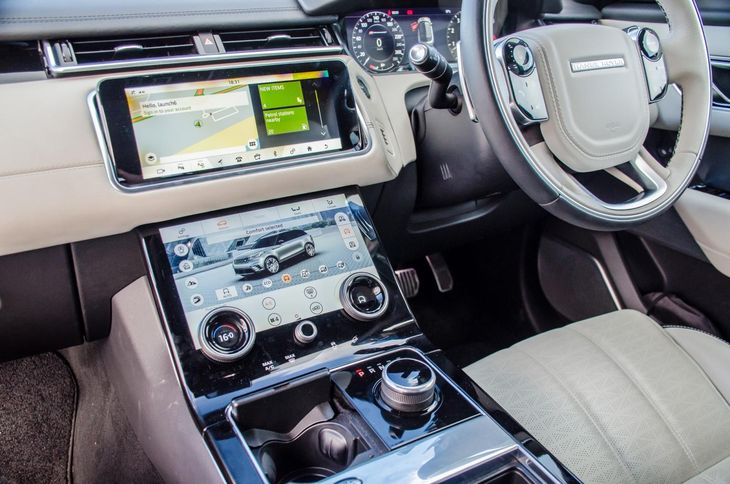 Most of the Velar's off-road functions are controlled via the lower of the 2 screens on the centre console.
As mentioned before, the Velar rides on a similar aluminium-intensive platform as the Jaguar F-PACE. There are some other weight-saving materials, too, but nevertheless the Velar is knocking on the 2-tonne club's door quite loudly. And though this particular Velar feels sprightly to drive primarily because of the sensitivity of its controls, it also "feels" substantial, as a Range Rover should. Once up to cruising speeds it deals with road irregularities as if they're not there and there's the type of slight controlled "wallow" that most large, luxury cars display. So... it does feel like a Range Rover, and importantly, significantly more so than an F-PACE.
But there are some minor concerns. For one, the ride at low speeds is not as good as it could be. Then again, the combination of very large wheels with low-profile rubber, and air suspension, typically results in this kind of ride performance, so the Velar is by no means alone in this regard. Perhaps more worryingly is the degree of road noise that permeates the otherwise hushed cabin. Yes, our road surfaces are typically not as smooth as in Europe, but for a nearly R1.5-million vehicle, the Velar shouldn't allow so much of the noise in.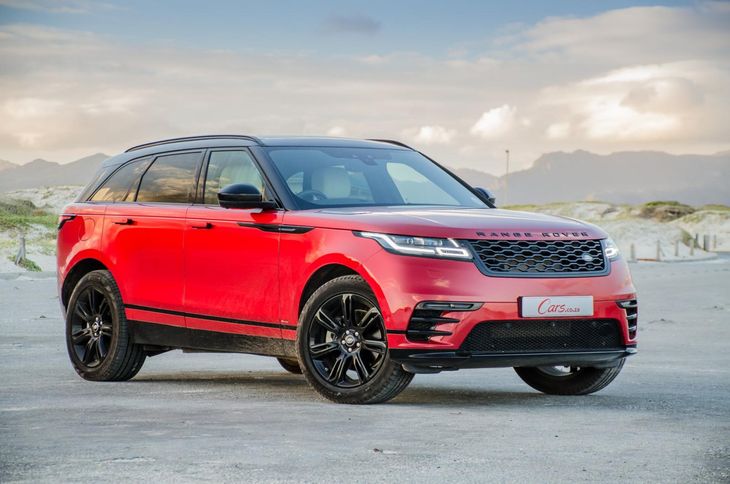 Range Rover says the Velar is its most road-biased vehicle yet. Nevertheless, good ground clearance and sufficient "soft-roader" capability remain.
Off-road ability? Seriously? Well, if you must... Range Rover calls the Velar the most road-biased car that it has made, which should tell you something. It also doesn't have low-range and while the all-wheel drive system could apportion power equally to the front and the rear, you can't lock it into that kind of distribution.
Still, Range Rover's clever Terrain Response system is fitted, and with the air suspension you can raise the Velar's ride height up to 251 mm. There's also 650 mm of wading depth (air suspension) and respectable approach/departure and breakover angles. Our test unit also featured the optional Terrain Response 2 system (automates selection of settings) and All-terrain Progress Control but, with this kind of (low-profile) footwear fitted you're unlikely to venture far off-road, and we suspect most Velars would hardly ever travel far out of the urban jungle. Still, a very decent amount of "off-roading" capability remains part of the package, even if it's unlikely to be used.
It's also worth noting the Velar's tow rating – at 2 500 kg, which is 1 000 kg less than what is offered by a Range Rover Sport. So, clearly, if you want to tow yachts/horse boxes and occasionally go off-road... you're money is still better spent on the Sport.
Pricing & Warranty
The Range Rover Velar P380 R-Dynamic HSE sells for R1 367 616 (January 2018) before any options. The price includes a 3-years/100 000 km warranty and 5-years/100 000 km maintenance plan. The service intervals are set at 26 000 km (or every 12 months).
Verdict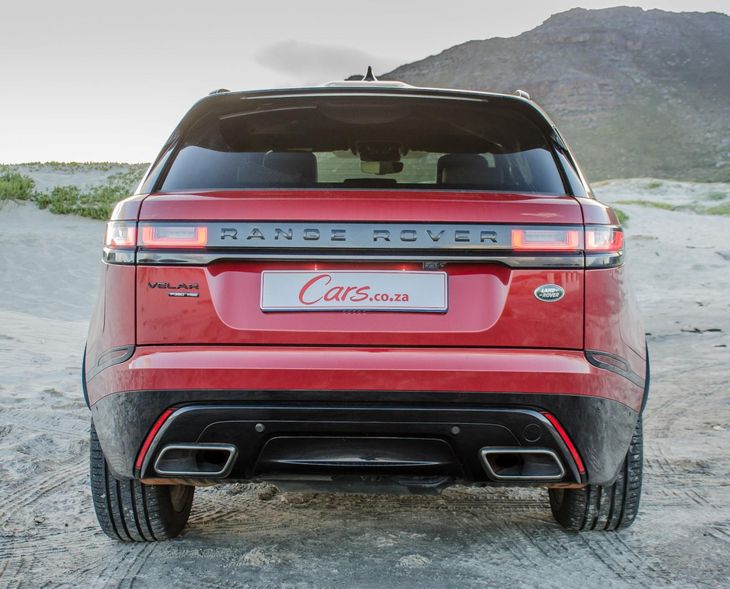 Is there a more desirable, similarly priced SUV on the market right now? Arguably not...
Considering the Velar R-Dynamic HSE's starting price of R1 367 616 (January 2018) one would rightly expect a long list of standard features. Whether that has indeed been achieved will depend greatly on what your expectations are when parting with that much cash... In any event, our test unit (as pictured) was loaded with so many features that the final price was well north of R1.5 million. And that's a lot of dough, especially when one considers that an (admittedly pre-options) Range Sport SCV6 Autobiography Dynamic can be had for similar money.
Priorities will dictate which model you end up going for, but what do you get for your cash when opting for the Velar, and this one in particular? We doubt that there is a more stylish, attention-grabbing SUV on the market right now and certainly not at this price level. Its stunning design extends to the interior, which in terms of sheer visual appeal is also unrivalled. The engine is excellent, nicely refined and powerful, and the ride quality (once up to cruising speed) is impressive too, and similar in character to what you'd expect from a Range Rover.
But, in some ways, the Velar may not appeal to traditional Range Rover folk. Its tow rating is comparatively low and some ultimate off-road ability has undoubtedly been sacrificed. And the interior is neither as practical, nor as comfortable, as one may expect given its price and features (standard or optional). The Velar is, in many ways, going to appeal to people who simply want a larger Evoque or something to turn heads in around town. That may well lead to some brand traditionalists pulling up their noses, but ultimately Range Rover is in the business of selling luxury, and quite often, luxury doesn't have to make all that much sense. Desirability is what matters in this particular case, and the Velar simply oozes that...
You may also be interested in:
5 Cool Features of the new Range Rover Velar
7 Rivals the new Range Rover Velar has to beat
6 High-performance SUVs coming to SA in 2018
Interested in buying a new / used Range Rover Velar?