The Lexus UX Concept has made its official motor show debut in Paris, showcases CT 200h replacement.
Lexus took the covers off its latest concept at the Paris Motor Show. The UX Concept is an SUV/Crossover vehicle set to compete with new premium products such as the Audi Q2 and BMW X2.

The UX concept provides a hint at Lexus' future design direction and if you consider that the UX200, UX250 and UX250h monikers were recently trademarked in Europe, we are very likely to see multiple engines and variants of the SUV.
Details of the UX concept are limited at this stage, but judging by the images, it's clear that the UX crossover concept features sharp, angular styling, much like the current NX and RX models. If the UX does indeed become a reality, it's expected to slot in below the current NX. It could even ride on the recently released Toyota C-HR platform.

Lexus stated: "Its strongly differentiated identity is meant to appeal to a progressive, urban audience living in a connected environment. The UX Concept also showcases imaginative technologies for an immersive driver experience, while the interior marries traditional craftsmanship with high-tech manufacturing techniques."
Lexus UX Interior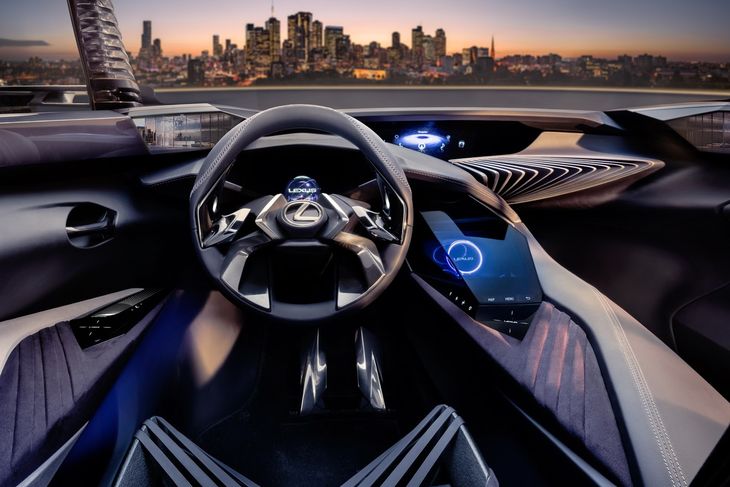 The UX crossover concept features a futuristic cabin that could very well inspire a new crossover model from Lexus.
The interior of the UX crossover concept features a transparent, floating hologram globe. The faceted crystal centre console houses a hologram style display that controls the infotainment system and the air-conditioning system. Electro-chromatic windows are fitted and the side mirrors have been replaced with e-mirror cameras. Furthermore, conventional switches are replaced with electrostatic switchgear, which are found under transparent covers in the cabin. The UX has been designed with 4 seats in mind. The 2 up front focus on a more sporty or involved experience where the back seats are all about comfort and relaxation.

"Our brief was to create a new genre of compact crossover; a vehicle that could create something unique from a customer's point of view―an innovative, three-dimensional, fully immersive user experience," said Stephan Rasmussen, Designer at Lexus' European Design Centre.
Related Content:
Lexus NX 200t F-Sport (2015) Review
New Lexus NX200t: All You Need to Know (Video)
Lexus RX350 EX (2016) Review
Lexus RX450h SE (2016) Review
New Lexus RX (2016) First Drive
Want to buy a Lexus?