Lexus has introduced its fourth-generation RX premium SUV in South Africa. We ventured to the Kruger National Park to drive it.
Since its introduction in 1998, the RX has proven a success story for Lexus; the firm has sold more than 1.2 million units of its premium SUV across the globe. The RX accounts for about 18% of Lexus' sales and is by far the brand's most popular SUV. Lexus epitomises luxury so we weren't too surprised that the 4th generation RX launch took place at Sir Richard Branson's Private Nature Reserve in the Kruger National Park in Mpumalanga. Let's take a closer look at what the new RX offers...
What's new?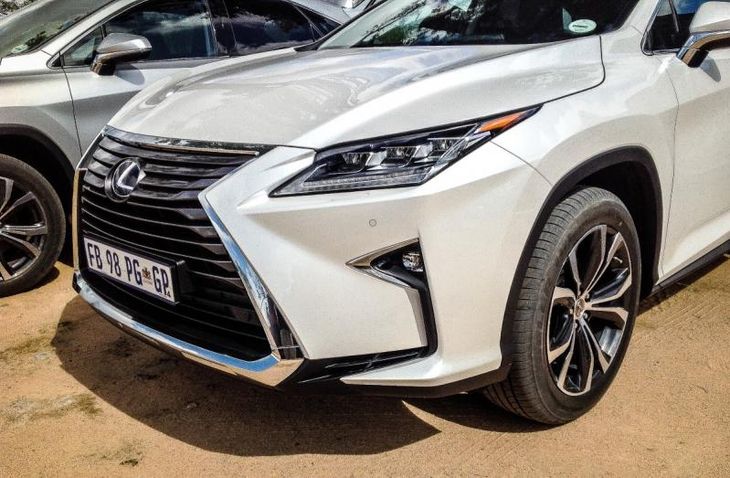 As before, the RX range comprises two models: the 350 EX and 450h SE petrol-electric hybrid, both of which have received power upgrades (more about this later). Compared with the previous generation, this new RX is 120 mm longer, 10 mm wider and rides 20mm lower than before. The wheelbase has been extended by 50 mm, which translates into increased interior space.
The first thing you notice about this new RX is its distinctive and eye-catching front-end styling. Those sharp angular lines and bold spindle grille, let alone revised headlight design with daytime running lights, add to the sharp looks. The 350 EX features HID headlights while the 450h SE gets eye-catching tri-LED headlights with a nifty sequential LED indicator function. Towards the rear, you may also notice that the C-pillars have been blacked out to give the RX a "floating roof design" and both models feature an electrically operated tailgate that makes closing the luggage bay much easier.
The overall design is certainly striking, so much so that it may polarise opinion, but we feel that the RX is, if flamboyant, rather attractive.
The RX now rides on 20-inch alloys (as opposed to the previous range's 19-inch items) and customers can choose between seven metallic colours including: White Quartz, Platinum Silver, Sonic Titanium, Graphite Black, Morello Red, Amber and Opulent Blue. Buyers can also choose between a black or ivory interior trim schemes.
More power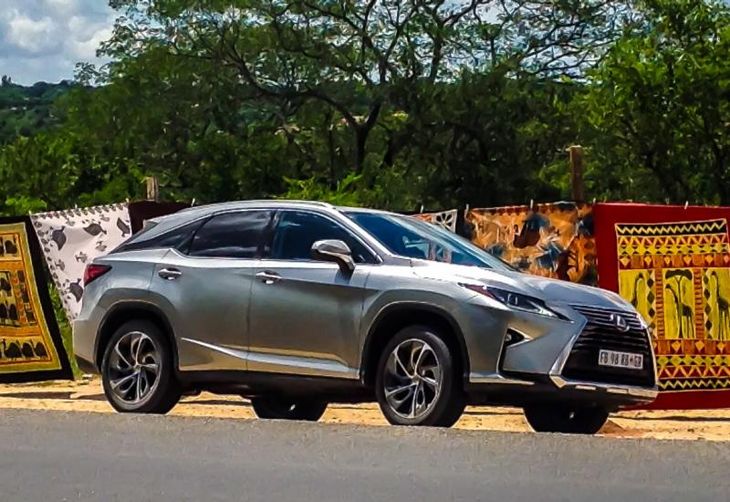 The Lexus RX 350 EX is fitted with an upgraded 3.5-litre V6 engine that produces higher power and torque outputs than the previous generation (221 kW and 370 Nm, which represent improvements of 17 kW and 24 Nm) and the fuel efficiency is said to have improved by 9% (Lexus claims 9.6L/100km for this model).
The model adopts dynamic torque control, which distributes torque dynamically between the front and rear axles as required, and power is delivered to all four wheels via an 8-speed sequential-shift automatic transmission (with manual mode). The driver can switch between three driving modes (Eco, Normal and Sport) via the Drive Mode Select dial on the centre console.
The RX 450h SE, on the other hand, is powered by a new 193 kW / 335 Nm 2.5-litre Atkinson-cycle V6 engine mated with a 123 kW front electric motor as well as a 50 kW motor that forms part of the E-Four AWD system. The flagship model's combined power output has improved by 10 kW with the total output now claimed at 230 kW. The 450h SE utilises a CVT transmission to deliver propulsion to all four wheels. Thanks to a number of improvements to the hybrid system, Lexus says that fuel efficiency for the 450h has improved by 9.5% (the claimed figure is 5.7L/100km).
Both models feature new pre-load front differentials that are said to improve the RX's drivability and stability in various driving situations. Lexus has also redesigned the body structure to increase structural rigidity and the steering, suspension and braking systems have been tweaked to improve ride and handling out on the road.
The Lexus RX driving experience
Our first experience of the RX was behind the wheel of the 450h SE. The new leather-trimmed front seats are 10-way electrically adjustable and feature heating and ventilation functions and the multifunction steering wheel allows the driver to control a host of functions while driving. Other notable features include a large 12.3-inch high-definition TFT display that is operated via a remote touch controller, as well as a wireless smartphone charger (compatible with Qi-enabled smartphones). Apart from a pair of USB ports and an auxiliary audio input port, the 450h ES is fitted with a 15-speaker Mark Levinson premium surround-sound, which is very effective audio system!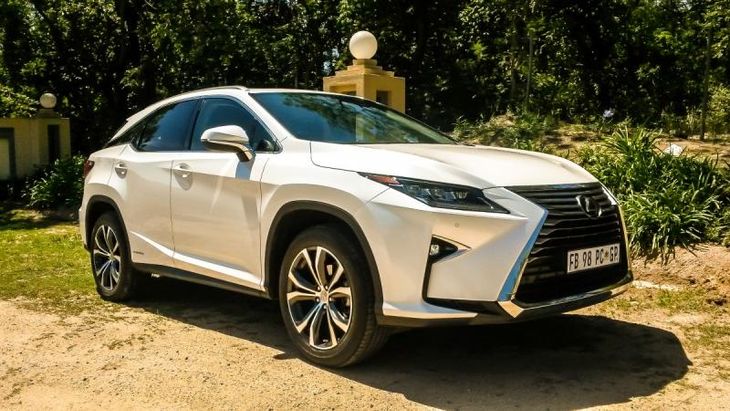 Our trip started at the Kruger Mpumalanga International Airport, from where we set off for the Kruger National Park. On start-up, the 450h ES barely made a sound as we exited the parking area courtesy of the Lexus' EV drive. Out on the open road, the 450h delivered an excellent ride quality and its powertrain operated in a smooth, refined manner befitting its luxury packaging. The RX is by no means a performance machine, but Lexus has struck a good balance between performance and everyday drivability.
The RX 450h is claimed to be capable of accelerating from zero to 100 kph in 7.7 seconds and gets up to freeway speed reasonably quickly and there is sufficient power in reserve to execute swift overtaking manoeuvres with ease. With Sport mode engaged, the 450h livens up somewhat and the CVT transmission was surprisingly smooth in response to throttle inputs. It must also be noted that road and wind noise was near non-existent in the RX, which is a testament to the solid build quality of the vehicle.
Tar roads soon gave way to dirt and presented the RX 450h with a new challenge. How would the RX cope with poor dirt roads? Surprisingly well. The RX glided over the rough roads and the lack of interior rattles suggested excellent NVH suppression. The test unit's trip computer displayed a consumption figure of 10.3L/100km which was surprising, considering Lexus claims 5.7L/100km for the top RX model.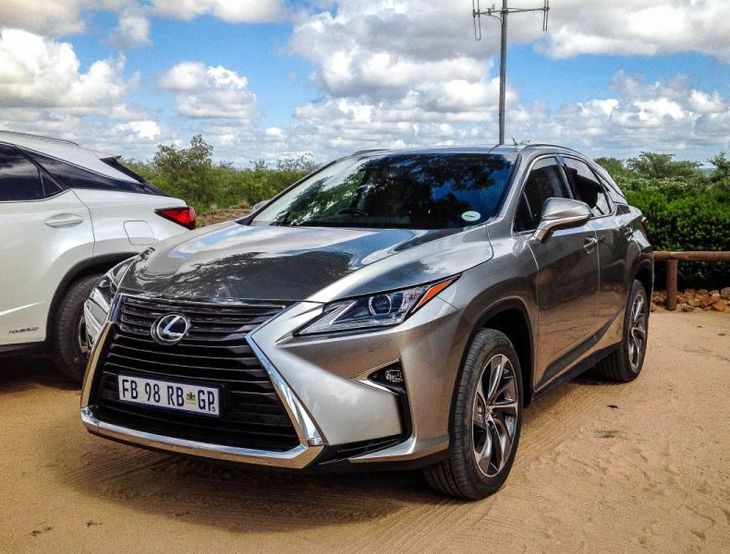 The next day, we drove the 350 EX back to the airport. Much like the 450h, this 350 EX coped well with the unsealed road and was largely unhindered by the undulations that are so common in the Kruger Park. We did find the 350 EX to be a bit sluggish from a quick pull-away, but once it got up to speed our reservations faded away. The RX is a solid "cruising" SUV and the smooth-shifting 8-speed automatic responded reasonably well under harder acceleration. This derivative returned consumption figures of 12.5L/100km, which is fairly close to its claimed figure of 9.6L/100km.
Overall, the RX scores highly in terms of refinement, drive quality and, importantly, luxury execution. Its overall performance is more than adequate, but perhaps not as quite exciting as its exterior design leads you to expect...
Safety features
The new Lexus RS is packed with safety features including ABS with EBD, Brake Assist, Hill Assist Control, Traction Control, Vehicle Stability Control, Vehicle Dynamic Integrated Management (hybrid only), Tyre Pressure Monitor and front and rear park distance control with a rear camera. A Blind Spot Monitor and Rear Cross-Traffic Alert is also included and a total 10 airbags are fitted as standard.
Standard Features
The RX 350 EX includes the following standard specification:
10-way power front seats
Leather upholstery
Laser-cut ornamentation
12-speaker audio system with DAB+ digital radio tuner
Heated and ventilated front seats
Wireless charger
20-inch alloy wheels with Sonic Titanium colour inserts
Electrically operated tailgate
LED headlamps
Eight-speed automatic transmission
Three-mode Drive Mode Select
12.3-inch high definition display with satellite navigation
Power-adjustable steering column
Electrochromic interior mirror
Rain-sensing windscreen wipers
Automatic heated exterior mirrors
Tyre pressure monitoring
Rear privacy glass
Reversing camera with back guide monitor
Blind Spot Monitor with Rear Cross Traffic Alert
Clearance and back parking sonar
Smart entry and start
Cruise control
Electronic park brake
Power sliding roof
2 000 kg braked towing capacity
Full spare with alloy
Maintenance Plan – Lexus Distance Plan Plus
The RX 450h SE adds the following specification:
Unique SE petal-style alloys
Tri-LED headlamp clusters with integrated washer system
Sequential LED indicator function which works in conjunction with the DRLs
15-speaker Mark Levinson audio system
Heated steering wheel
Enhanced safety package - Vehicle Dynamic Integrated Management
Maintenance Plan – Lexus Distance Plan Complete
Lexus RX Price in South Africa
350 EX – R799 000
450h SE – R999 000