When it comes to the Lexus RX the headlines are usually dominated by the flagship RX450h hybrid model. In reality, however, it is the RX350 derivatives that represents the pick of the litter…
We like: Standard features, build quality, rear legroom, refinement, value
We don't like: Finicky infotainment controls, high boot floor
Alternatives:
For better economy: If you don't mind opting for a turbodiesel instead, then consider the BMW X5 xDrive25d or the Volvo XC90 D4 Momentum. At this price level, however, you will have to sacrifice standard specification if you do that. For flair, spec and greater economy, you may want to look at the ageing Infiniti QX70 3.0d GT.
For more space: The new Volvo XC90 T5 Momentum is the most practical premium SUV you can buy at this price level. The Audi Q7 is another option, but in 2.0T form it's more expensive and down on specification.
For better value: If it's a premium SUV you want and R839 000 is what you can spend, the Lexus RX350 offers an unbeatable combination of prestige, specification, quality, power and refinement.
Wallflower no more

Large spindle grille and 20-inch alloy wheels endow the RX350 with lots of presence.
We recently published a review of the flagship RX450h model and although that derivative impressed on many fronts, the overall impression was spoilt somewhat by a drivetrain that doesn't quite offer the performance/economy balance that it promises on paper.
It was noted back then, already, that the RX350 looked very appealing at first glance and that it could be the pick of the two-car range. Why is that? Well, just look at it. For a good R200 000 less, you get a vehicle that looks pretty much identical to its more expensive sibling, and one that offers near-identical standard specification, too!
And, yes, we do like the dramatic looks of the new RX. Riding on "blingy" 20-inch alloy wheels and with that mammoth spindle grille upfront, it certainly doesn't hide in the shadows anymore. Compared with the RX450h you'll have to look very closely and have a specification sheet at hand to notice that those wheels are of a slightly different design, and that the pricier model has fancier Tri-LED headlamps and sequential indicators that work in conjunction with the LEDs.
How does it fare in…
Comfort and luxury features?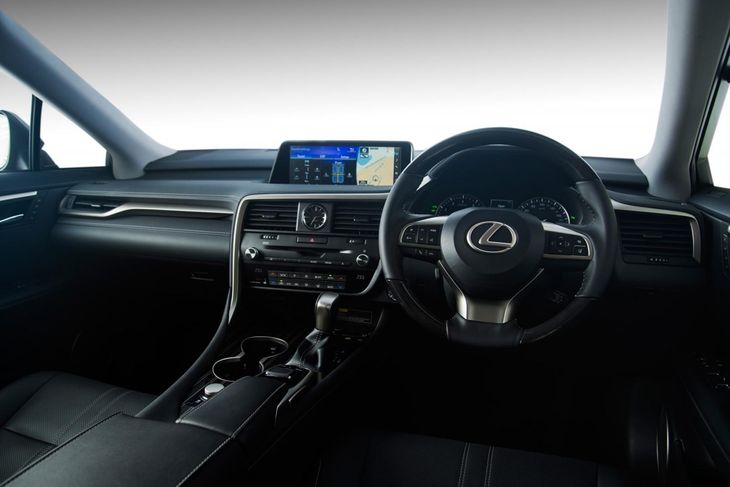 RX350's interior is loaded with standard features that would cost extra on rivals.
The Lexus recipe has been the same for many years and is very different to the approach followed by the German brands. Essentially, what you see is what you get and there are no options. And what you get is a lot!
For example, both the front seats are multi-way electrically adjustable, cooled and heated and offer memory functions. The steering wheel, too, is electrically adjustable. You also get one of the biggest infotainment screens on the market as standard, and there's a clever pad in front of the transmission tunnel to recharge your mobile phone without the need for wires. Needless to say – this is a Lexus after all – the build quality is superb and the fittings are top class. As we also found on the RX450h, a minor irritation was the noisy ventilating fans in the seats.
The RX350 doesn't offer the flagship's Mark Levinson sound system as standard, but the 12-speaker system instead still delivers excellent sound quality and you get two USB slots (as well as auxiliary input socket) in the storage box between the front seats. Voice control and navigation are also part of the package. Of course, the RX350 shares its control interface with the RX450h, too, and while the combination of a mouse-like controller with haptic feedback sounds good in theory, it just doesn't work very intuitively in practice.
The new RX is slightly longer, wider and lower than its predecessor, and the wheelbase has been lengthened, too. The result is significantly more rear legroom. In fact, the second row is particularly spacious, with seats that can slide forward/backward if needed and come with adjustable backrests. There are even retractable sunblinds for rear passengers. Due to the almost "fastback-like" styling, rear headroom is slightly limited. A standard sunroof is another specification item you're unlikely to find on the competition at this price level.
Performance and fuel economy?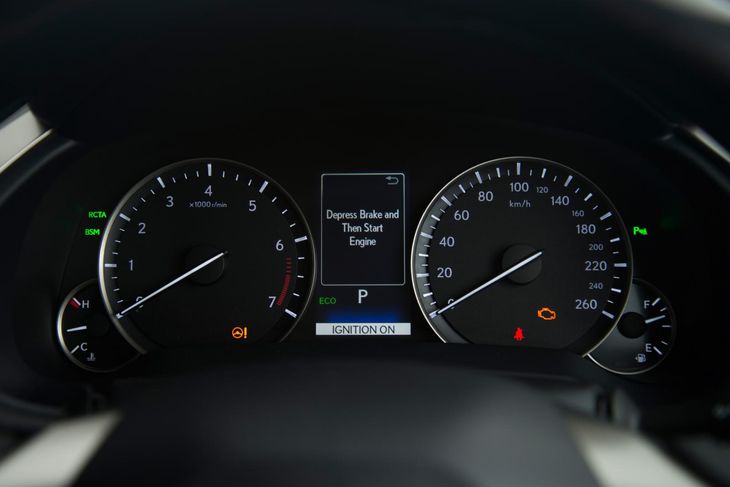 Simple, clear instrumentation for the RX350, and a comprehensive digital information display.
The RX350 EX is powered by the brand's updated 3.5-litre V6 petrol engine that produces some 17 kW and 24 Nm of torque more than before. With 221 kW and 370 Nm available, it's not short on power. Power goes to all four wheels (varied, as required) via an eight-speed automatic transmission as opposed to the seamless CVT of the RX450h.
And you know what? It works. We took the RX350 on two long runs of around 800 km each, and were impressed not only by the power and refinement, but also, perhaps surprisingly, the fuel economy. Lexus claims a combined-cycle claimed fuel economy figure of 9.6 L/100 km, and this is exactly what we achieved on one of the runs, with the other being 10.1. These are good consumption figures for a vehicle of this size and power and were achieved with a full luggage area and four passengers, as well as selecting Eco mode (Normal and Sport are also offered). Of course, if you're going to mostly trundle around town, the constant acceleration and deceleration, combined with the vehicle's overall mass will see that consumption figure look rather different.
While this achieved figure is still worse than RX450h's, as well as most of the turbodiesels, the gap is however clearly much smaller than it appears on paper, and that means the RX350's price advantage should be considered even more strongly. Plus the drive in the RX350 is so refined…
Ride and refinement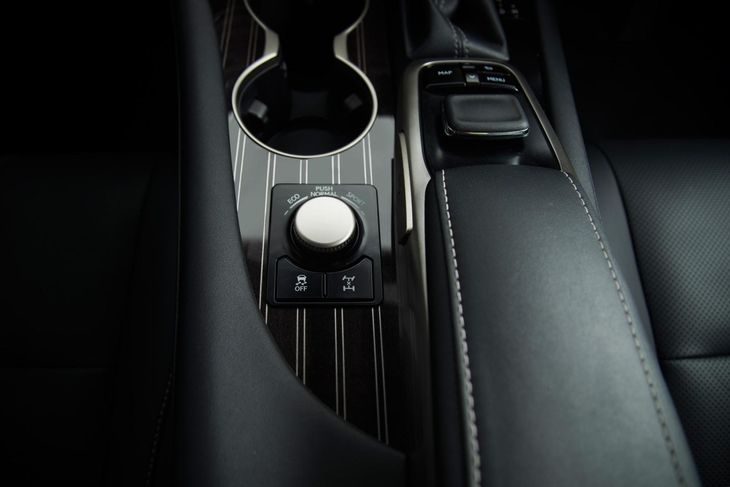 Normal, Eco and Sport modes are offered. Note beautiful wooden inlay.
As we've come to expect from Lexus, the NVH (noise, vibration, harshness) control of the RX is quite superb. The vault-like cabin lets in precious little noise when cruising, the sturdiness of the materials and general rattle-free nature of the cabin further enhances the perception of refinement. So it's just those noisy seat fans that irritate.
The engine, too, is smooth and quiet when you're out of the hustle and bustle of the city and the ride quality is exemplary in these circumstances. And seeing as the typical CVT characteristic of engine revs shooting up and causing a drone is absent, the RX350's drivetrain feels more refined, too.
Overall, it's only the ride from those large wheels on poor surfaces that causes a slight smudge on an otherwise copybook performance, in terms of refinement. But on most surfaces (even well-maintained gravel), the RX350's is a beautifully supple cruiser.
Practicality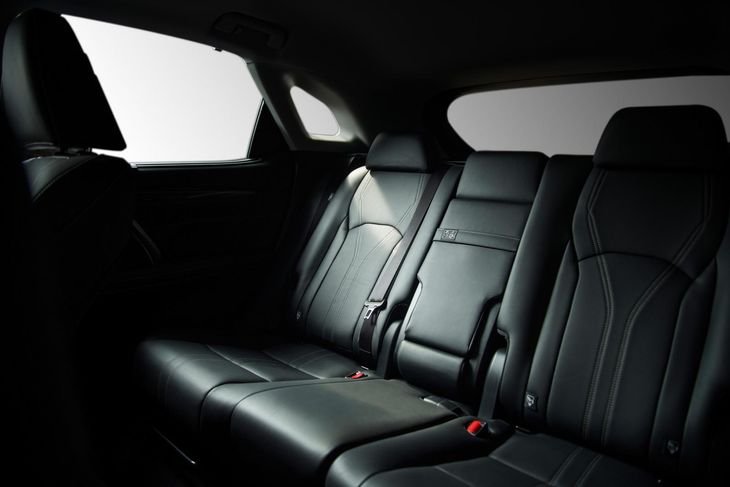 The RX350's rear legroom is impressive, and the seats can slide backwards/forwards as required.
The new-generation RX is about as long as a BMW X5 or Porsche Cayenne, but more compact than the Volvo XC90 or Audi Q7. It was never designed to offer third-row seating, and with its swoopy fastback styling was clearly not conceptualised to be the last word in family-friendly packaging.
Open the (slow) electrically operated tailgate and you're confronted with a boot that is about average in size for this category of vehicle, and which has a very high load floor courtesy of the standard fitment of a full-size spare wheel. Of course, if more packing space is needed you can fold down the middle row, which can conveniently be done by using levers mounted in the sidewall of the boot. But keep in mind that the load surface won't be even due to the stepped nature of the boot floor.
So, in terms of actual packing space for luggage, the RX350 falls some way short of class best. But there are some clever touches. For example, if you lift up that boot floor, you will find a reasonably sized storage compartment to accommodate smaller/fragile items, and if you really want, you can always remove the foam insert that "fills out" the upside-down alloy wheel and put more things in there.
In the cabin, the door pockets are big and can even fold out, and there's another storage compartment in the front passenger footwell. We also like the flat design of the facia. Combined with the grippy leather that covers it, you have a perfect place to rest magazines/books on a long road trip.
Verdict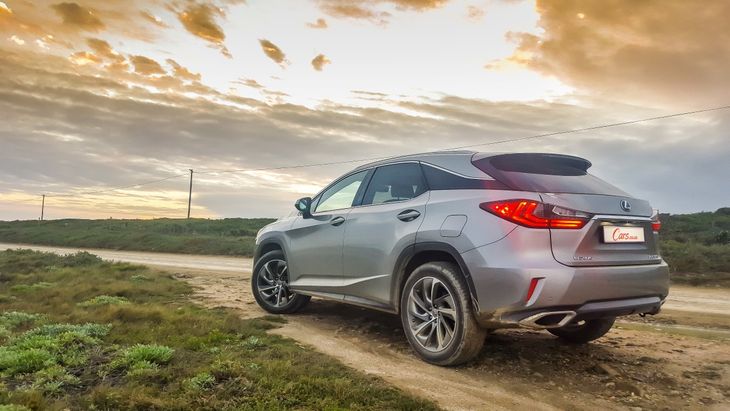 The RX350 represents excellent value for money in the Premium SUV segment.
For the money, it is really hard to argue a case against the Lexus RX350. Yes, a turbodiesel rival would ultimately be more economical and yes, the RX is not the most spacious SUV around. But it makes up for these small deficiencies in so many other areas. It is superbly built, loaded with standard features that would inflate the price of just about any other rival, refined and offers good performance as well as surprising fuel economy. It gets a big thumbs-up.
Pricing
The Lexus RX350 EX sells for R839 000 and comes with a four-years/100 000 km vehicle warranty and maintenance plan. Servicing is required every 15 000 km.
Compare the Lexus RX350 EX with the Volvo XC90 T5 Momentum and Audi Q7 2.0T here