The Toyota C-HR made its debut at the Paris Motor Show and production of the new crossover has started at Toyota's Sakarya plant in Turkey.
The new C-HR crossover is being built alongside the Corolla and Verso models at Toyota's plant in Sakarya, Turkey. The plant exports about 80 percent of its production to Europe and its export destinations are expected to expand to serve markets in the USA, Canada, Taiwan, Mauritius and South Africa. Production capacity at the facility has also been ramped up from 150 000 units to 280 000 units.

"The Toyota C-HR is a hugely important product for the whole of Toyota, not just for Toyota Motor Manufacturing Turkey. The crossover segment is growing fast. This car is Toyota's very strong entry to this segment," said Dr Van Zyl, Toyota Motor Europe (TME) President and CEO.
The Toyota C-HR (an abbreviation for Coupe High-Rider) is arguably one of the prettiest Toyotas to emerge from the Japanese marque's design studio and, when it makes its debut in South Africa in 2017, it will fill a particular gap in the brand's line-up. Developed on the Toyota New Global Architecture, the C-HR is positioned between the Auris and the RAV4. With interest already reaching considerable levels, the target of 100 000 annual sales is not outrageous...
At 4 360 mm long, 1 795 mm wide, 1 555 mm high (Hybrid) and with a 2 640-mm wheelbase, the production Toyota C-HR looks very similar to the concept version from Paris Motor Show back in 2014.

It'll have a number of engines such as hybrid and turbo petrol units. The hybrid is a 90 kW unit with a claimed consumption figure of 3.7 L/100 km while emissions are as low as 85 g/km. The 1.2-litre turbopetrol engine produces 85 kW and 185 Nm, and will consume just 5.7 L/100km, Toyota claims. The top-spec engine will be a 2.0-litre petrol unit with 106 kW. Derivatives will be equipped with either a 6-speed manual gearbox or a continuously variable transmission (CVT). Competitors in this segment are the likes of the Nissan Juke, Suzuki Vitara, Renault Captur, Honda HR-V and the Mazda CX-3.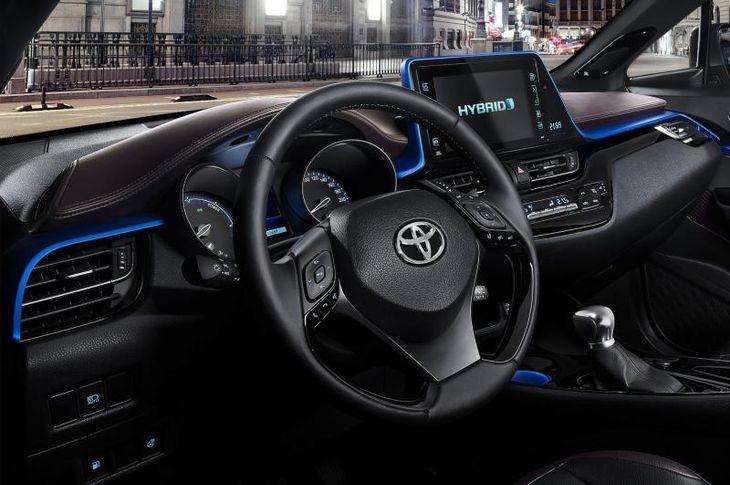 New C-HR interior will be available in a choice of three colours: Dark Grey, Black/Blue and Black/Brown.
The interior is quite eye-catching and, significantly, offers a preview of the next generation of Toyota cabins. It represents a departure for the Japanese marque and it's called "Sensual Tech", which combines "high-technology functionality" with some "fashionable style". The C-HR also uses the new Touch 2 infotainment system which, has cool features like 3D maps and Mirrorlink for your Smartphone.
Marketing spin aside, the C-HR offers a driver-focused fascia, as well as a roomy cabin, in a compact body. It certainly looks premium and a glance at the standard equipment underlines its intentions to provide a compact luxury crossover.
There's a whole host of modern safety features such as auto-braking for pedestrians, radar-guided cruise control, lane departure warning and even road sign recognition. In terms of features, there'll also be intelligent parking as well as a top-notch audio system from JBL. Heated seats, smart entry, bi-tone metallic paint and big 18-inch alloy wheels will be available for the top-spec model.
More reading