The battle for supremacy in the premium SUV segment is as heated as ever with newcomers from Mercedes-Benz, Volvo and Audi slugging it out against the superb BMW X5 and Porsche Cayenne. Can Lexus' dramatic fourth-generation RX make a bigger dent in the market than its forebears?
We like: Standard features, build quality, rear legroom
We don't like: Real-world performance/economy, finicky infotainment controls, high boot floor
Alternatives:
For better economy: Consider the BMW X5 xDrive30d, Audi Q7 3.0 TDI and Mercedes-Benz GLE250d
For more space: The new Volvo XC90 D5 Inscription has seven seats as standard and more loading space, making it the ideal family/luxury SUV. The Audi Q7 3.0TDI is optionally available with seven seats, and is a spacious family car even in its standard five-seat format. Read a comparison between these two here.
For better value: It's hard to beat the Lexus RX on overall value, but we think the biggest danger actually comes from in-house, from the RX350, which offers outstanding specification and a price that's R200 000 lighter on the wallet.
Lexus RX goes for bold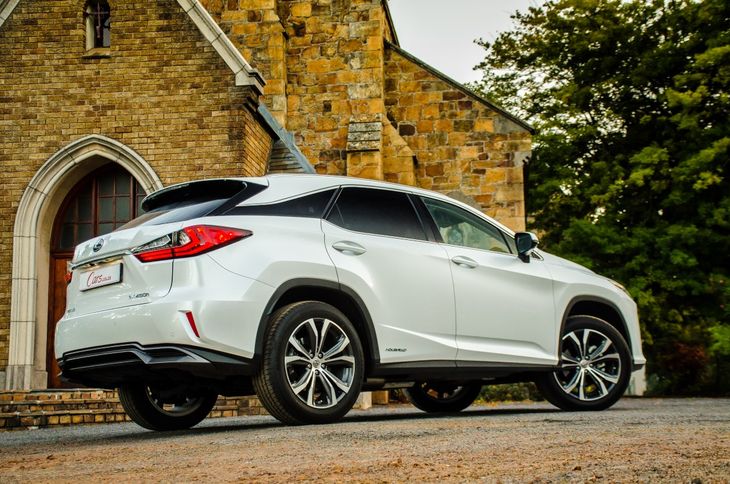 Note striking 20-inch wheels and partly blacked-out C-pillar.
Previous generations of the Lexus RX may have been sales successes in other markets, most notably the USA, but in South Africa and elsewhere the three earlier incarnations haven't been able to ruffle the German trio's feathers. It has always appealed to moneyed, intelligent folks less obsessed with the "right badge" and more interested in ultimate quality and value. Consequently, those wanting their luxury SUVs to make a flashy statement have traditionally given the RX a wide berth.
The new, fourth-generation Lexus RX constitutes a markedly different approach. Its angular, bold design is distinctive and the gaping "spindle" grille definitely lends the SUV added overtaking presence. Striking 20-inch wheels and a blacked out C-pillar are other design highlights that illustrate the new RX is no longer willing to hide in the shadows.
Inside, too, Lexus has thrown the previous company rulebook out the window and come up with a visually arresting, cockpit-like fascia design that is festooned with high-tech features that make people ooh and aah when they open the doors for the first time. So… the big news here is that you still get the virtues that made previous RX versions appealing (quality, features, comfort, refinement), but with huge dollops of "wow".
Sounds appealing, right?
Who should consider the Lexus RX450h?
The Lexus RX450h SE is the flagship of the two-model line-up and is powered by a petrol-electric hybrid drivetrain. On paper its emissions and claimed fuel economy figures look very impressive, comparable to the turbodiesel engines offered by Volvo and the German luxury brands.
In some overseas countries, there is great value in these figures as they are rewarded by lower taxation, rebates etc. In South Africa, however, the emissions tax is added to the overall price of the vehicle, so there's comparatively little benefit. Furthermore, the local target buyer for the RX450h needs to be aware that there's little financial benefit in opting for a hybrid, especially when the real-world fuel economy is somewhat higher than the quoted figure, as is usually the case with these vehicles.
So why, then, consider the RX450h? It comes down to a couple of things. Firstly, it is hard to beat the Lexus for standard equipment. You'll have to spend hundreds of thousands of Rands more on one of the German vehicles to match the RX's luxury and features. Secondly, if you're looking at a hybrid Lexus in the first place, you've arguably made the decision that you want to stand out from the herd of German SUVs. And with its sharp new design, the new Lexus RX certainly does that!
Read our first drive impression of the Lexus RX, including a full low-down on specs and features, here
How does it fare in…
…comfort and luxury features?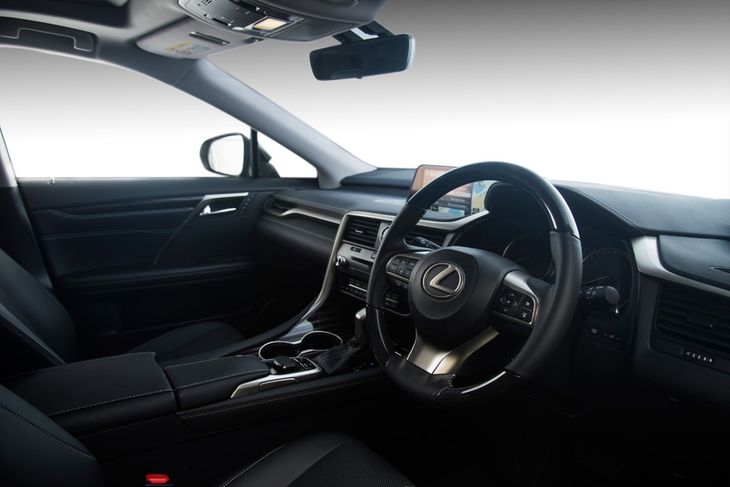 Interior build quality is top notch and there's no shortage of features. (RX350 fascia pictured)
The RX450h SE is properly stocked with features, most of which will cost a lot more if specified on rival (German) brands' products. For example, both front seats are multi-way electrically adjustable, cooled, heated and offer memory functions. In fact, the RX will even remember your seating position and move the (heated) steering wheel and seat out of the way to may ingress/egress easier.
You also get one of the biggest infotainment screens on the market as standard, a head-up display (HUD) and there's a nifty pad in front of the transmission tunnel to recharge your mobile phone without the need for cables. Needless to say – this is a Lexus after all – the build quality is superb and the fittings are top class. One source of minor irritation was the ventilating fans in the seats that are rather noisy, a flaw highlighted by the otherwise quiet nature of the cabin.
You should have no reason to complain when it comes to entertainment. A thumping 15-speaker Mark Levinson sound system is standard, and you get two USB ports (as well as aux.) in the storage box between the front seats. It's just a pity that the control interface for the infotainment system is so clumsy. The joystick/mouse input mechanism is overly sensitive and the system requires your eyes to be off the road for too long. Lexus desperately needs to go back to the drawing board on this…
The new RX is slightly longer, wider and lower than its predecessor, and the wheelbase has been lengthened. The result is significantly more rear legroom. In fact, the second row is particularly spacious, with seats with adjustable backrests that can slide fore/aft. There are even retractable sun blinds for rear passengers. Headroom is a trifle limited, however.
... performance and fuel economy?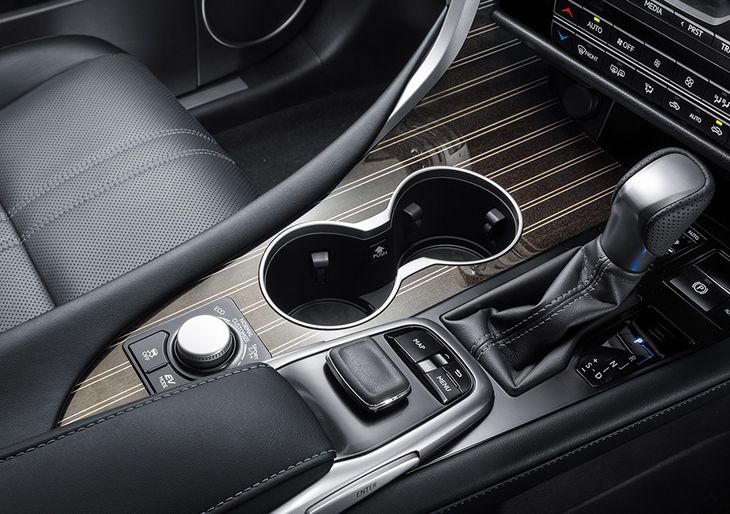 Eco, EV, Normal and Sport modes are on offer. Note beautiful wood inlay.
The RX450h SE is powered by a 193 kW/335 Nm 2.5-litre V6 engine mated with a 123 kW front electric motor as well as a 50 kW motor that forms part of the E-Four all-wheel-drive system. The flagship model's combined power output has improved by 10 kW compared with its predecessor, with the total output now claimed to be 230 kW. The 450h SE utilises a continuously variable transmission (CVT) to deliver drive to all four wheels. Thanks to a number of improvements to the hybrid system, Lexus says that fuel efficiency for the 450h has improved by 9.5% to a claimed combined cycle figure of 5.7 L/100 km.
The reality, however, is that the RX450h struggles to achieve that claimed figure, which is not surprising – many petrol-electric hybrids do. In fact, during day-to-day driving you'll do well to achieve figures of less than 9.0 L/100 km. The full electric (EV) mode is only available at very small throttle inputs, and at lower speeds, so if you're thinking a luxury hybrid SUV will save you a lot of money at the pumps, think again. A turbodiesel SUV is likely to be far more economical.
In terms of performance, the RX450h also appears to have an advantage, but the combined output flatters to deceive. In reality, the CVT appears to dull the responsiveness of what should be a far livelier drivetrain. Yes, matters do improve in Sport mode but, again, a turbodiesel BMW (or Porsche… or Audi…) will be the better choice if lively performance is a must-have attribute. It is also odd, given that there's a Sport mode, that the RX450h SE doesn't offer steering-mounted gearshift paddles.
… practicality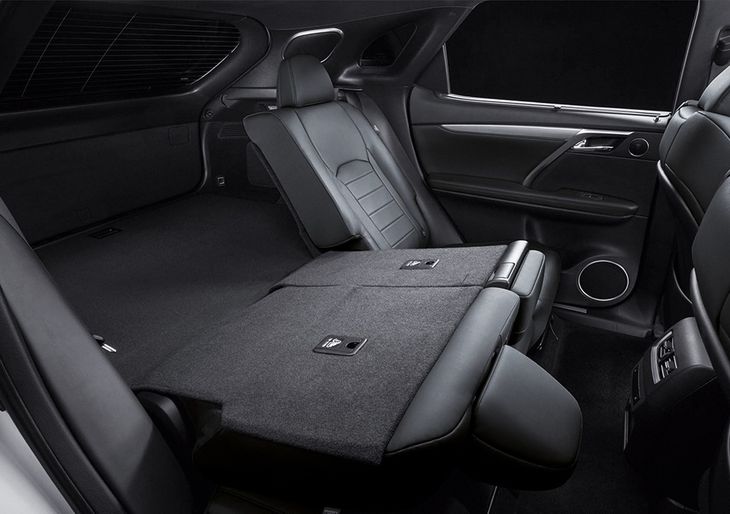 No shortage of rear legroom. Seats can slide, fold and recline, too. Boot size is limited, though.
The RX450h is about as long as a BMW X5 or Porsche Cayenne, but more compact than the Volvo XC90 or Audi Q7. It was not designed to offer third-row seating, and with its swoopy fastback styling was clearly not conceptualised to be the last word in family-friendly packaging.
Open the (slow) electrically operated tailgate and you'll find a luggage area that is about average in size for this category of vehicle, and which has a very high load floor courtesy of the standard fitment of a full-size spare wheel. Of course, if more packing space is needed you can fold down the middle row, which can conveniently be done by using levers mounted in the sidewall of the boot. But, keep in mind that the load surface won't be even due to the stepped nature of the boot floor.
So, in terms of luggage space, the RX450h falls some way short of the best in class. But there are some clever touches. For example, if you lift up that boot floor, you will find a reasonably sized storage compartment to accommodate smaller/fragile items, and if you're really short of space, you can always remove the foam insert that "fills out" the upside-down alloy wheel and put more items in there.
In the cabin, the door pockets are big and can even fold out, and there's another storage compartment in the front passenger footwell. We also like the flat design of the fascia. Combined with the grippy leather that covers it, you have a perfect place to rest magazines/books on a long road trip.
To summarise, then, the RX450h is probably right-sized for a family of four.
… ride and refinement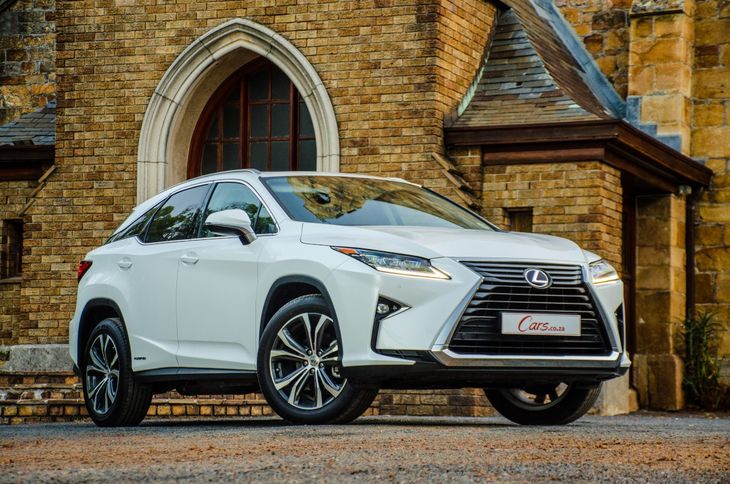 The big wheels contribute to a slightly fidgety ride on poor road surfaces.
As we've come to expect from Lexus, the NVH (noise, vibration, harshness) control of the RX's passenger compartment is quite superb. The vault-like cabin lets in hardly any noise when cruising and the sturdiness of the materials and general rattle-free nature of the fittings further enhance the perception of refinement. So it's just those noisy seat fans that irritate.
The engine, too, is smooth and quiet when you're out of the hustle and bustle of the city and the ride quality is exemplary in these circumstances...
But there are some niggles. Those beautiful 20-inch wheels (standard) are probably to blame for a ride quality that turns a little too fidgety over rippled and inconsistent surfaces. And, as is usually the case with continuously variable transmissions (CVTs), the revs shoot up upon throttle input and stays up there until you've reached the desired speed and ease off the throttle. Are we nit-picking? Perhaps, but the context is the competition, and a vehicle such as Audi's new Q7 feels noticeably more refined in this department… and that's a diesel.
And what about handling? Well, the RX450h is hardly positioned as a "sporty" SUV so it won't match an X5 or Cayenne in the corners. There's substantial body roll to contend with, but grip levels are high and the RX always feels planted and secure. It features Lexus's VDIM (Vehicle Dynamics Integrated Management) system that controls the ABS, brake assist (BA), electronic braking distribution (EBD), traction control, and VSC (vehicle stability control) in a coordinated fashion for ultimate smoothness and stability. During general driving the steering weighting is pleasantly light and accurate. In-town manoeuvrability is boosted by the standard fitment of front and rear parking sensors as well as a reverse-view camera. Rear cross-traffic alert is also part of the package.
Verdict
In its latest guise, the Lexus RX450h SE is a significantly more appealing prospect than its predecessor due to (in no small measure) its stand-out new design. As ever, the standard features list is unmatched at the price and the quality is top notch. Compared with its (turbodiesel) German rivals that sell for similar money there are, however, a couple of issues.
Firstly, the hybrid drivetrain promises much in theory, but those promises don't materialise in real-world operating conditions. Want the best combination of performance and economy? Then opt for a turbodiesel. And secondly, we can overlook some of the ergonomic failings (such as that fiddly control interface), but by the standards of most premium SUVs, the luggage bay's packaging is quite severely compromised.
Overall, however, these foibles are remarkably easy to forgive not only because the RX offers so many more features than its similarly-priced German rivals, but also because it is a genuinely likeable machine that now, finally, has some character. Still, we think its cheaper sibling, the RX350, looks like the real star… A full review on that model is coming.
Pricing
The Lexus RX450h SE sells for R999 000 and comes with a 4-year/100 000 km warranty and maintenance plan. The hybrid battery has an 8-year/195 000 km warranty. Servicing is required every 15 000 km.
Compare the Lexus RX450h SE with the BMW X5 xDrive30D and Porsche Cayenne Diesel here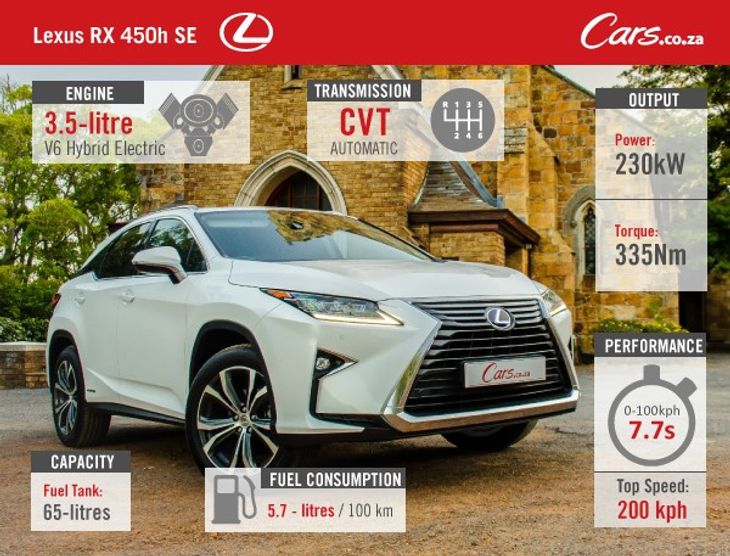 Interested in buying a new/used Lexus RX? Search for one on Cars.co.za