Twitter accidentally gives us a look at what the new Defender could be like inside...
With the threat of Brexit and pressure on its traditional diesel-biased engine line-up, Land Rover is a brand currently under enormous strain. A rare highlight in waiting for Land Rover this year, is the looming debut of its all-new, thoroughly modernised, Defender.
Although disguised prototypes of the new Defender have been photographed, indicating a similarly boxy silhouette to Defenders of old, there has been no indication of what its cabin might look like. Until now...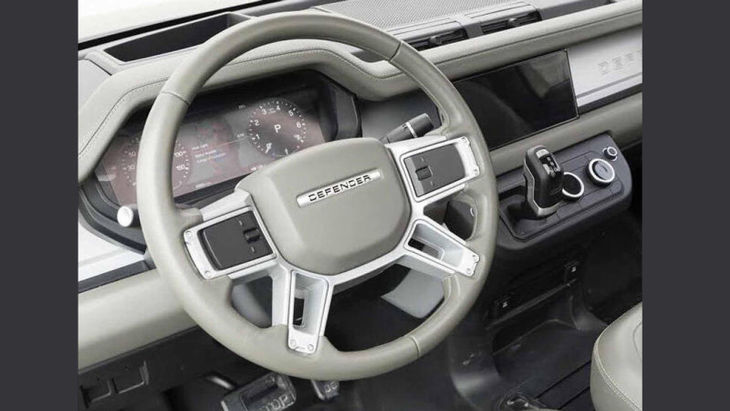 .
The interior of the new Defender has been thoroughly modernised...
An image of the new Defender's steering wheel, instrument binnacle and centre-stack were accidentally posted on Twitter by U.K. designer Robert Charles. Curiously, both the image and Twitter account belonging to Charles were deleted soon after posting.
What can be gleaned from the low-contrast Twitter image? The Defender helm has changed from that traditional two-spoke design to a stylised four-spoke steering wheel, with a blend of materials and satellite controls.
The tiny Defender instrumentation dials are superseded by a TFT digital display, with an infotainment screen sitting atop the centre-stack. The floor-mounted manual shifter is gone, replaced by a console-mounted automatic transmission gear selector, flanked by two dials – presumably to control driving modes.
Although the seats, steering wheel and dash all feature what appeared to be stitched leather trim, the floor has retained a hard-wearing and pressure-hose cleanable rubber finish.
Perhaps the most interesting aspect of this left-hand drive configuration Defender cabin image, is the digital tachometer, which reads up to 7 000 rpm. Does this serve as a potential clue to the engine configuration for new Defender? Not many turbodiesels feature an engine speed rating all the way up to 7 000 rpm, which hedges the odds that the new Defender will be petrol powered.
We will keep you updated as soon as further details are revealed.
Buy a new or used Land Rover Defender on Cars.co.za
Related Content
Next Land Rover Defender: Why the long wait?
The Journey Mozambique: The Search for Sunken Land Rovers [Video]
Land Rover Defender Heritage Edition Video Review
Land Rover Defender 110 Heritage Edition (2016) Review