Production of the iconic Defender has come to an end, but the legend lives on. We take a closer look at the special Land Rover Defender Heritage Edition…
Price: R714 800
We Like: Rugged design, 4x4 capability
We Don't Like: Lack of safety features, expensive
Alternatives:
For something more modern: Ford Everest, Land Rover Discovery
For more performance: Toyota Land Cruiser V8 Diesel
For more 4x4 capability: Nothing beats the Defender.
What is it?
In the world of 4x4's, the Land Rover Defender is probably the most instantly recognisable (and therefore, iconic) 4x4 vehicle that money can buy and, given that more than 2 million Series Land Rovers and Defenders have been produced at Solihull in the United Kingdom since 1948, the global popularity of the Defender is undeniable. No matter who you are, we'd say the likelihood that you know someone who has a story about a Defender is pretty high...
To celebrate the iconic Defender, Land Rover introduced a total of 215 Celebration Edition Defenders to the South African market in 2015. The offering included Heritage and Adventure Editions in both 90 (short wheelbase) and 110 (long wheelbase) derivatives. According to Land Rover South Africa, all Defender Celebration Editions have been sold out in South Africa. For Defender enthusiasts then, best keep your eye on the used car market for one of these special Defender Celebration Edition models.
We wanted to give the Defender 110 Heritage Edition a dignified send-off and decided to put it through its paces on a fully-fledged camping trip into the Olifants River Mountains in the Western Cape. How did it fare, you may ask? Let's find out…
Unashamedly old-school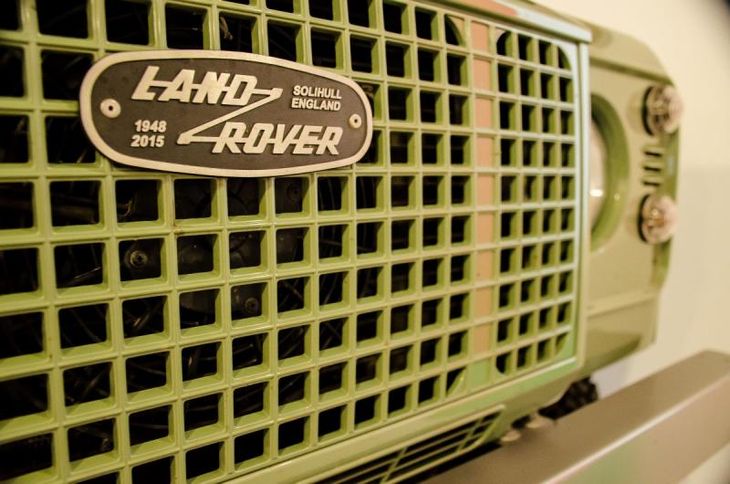 This Defender Heritage Edition pays homage to the pre-production 1947 Hue 166 Series 1 with its classic design details and old-school styling. The Defender 110 Heritage Edition dons a metallic Grasmere Green body with a contrasting Alaska White roof and rides on heavy-duty 16-inch wheels shod with off-road tyres. The rugged look is further emphasised with a heritage-style grille, silver door hinges and aluminium heritage badging found on the grille and rear body panel. From the outside then, the Defender 110 Heritage Edition looks like a relic from the past, nothing more, nothing less.
A total of seven passengers can be seated in the Defender 110 Heritage Edition and although the simple interior design is a throwback to Defenders from a bygone era, it's functional and comes with a few modern touches too. The seats are upholstered in comfortable Almond Resolve cloth and vinyl while aluminium air vent bezels and door handles liven up the interior somewhat. The steering wheel (not adjustable for rake and reach) features a perforated leather outer rim, which is also found on the gear lever and handbrake. With its minimalist design, the Defender Heritage Edition is a 4x4 enthusiast's dream…
How does it fare in…?
Performance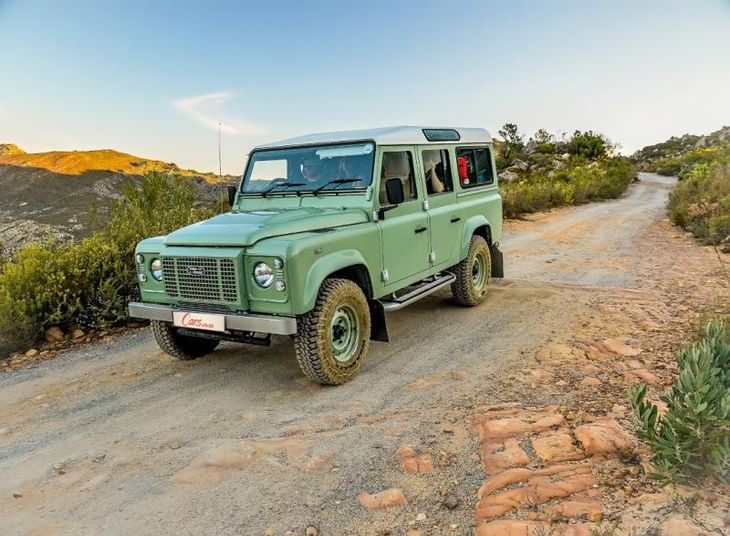 This Defender 110 Heritage Edition is powered by a 2.2-litre turbodiesel engine that offers 90 kW and 360 Nm of torque. All four wheels are driven through a 6-speed manual transmission. At start up, the engine is gruff – it idles as if it had just woken up with a bad hangover, but you get used to it. The Defender is no speed demon, but it has enough power to comfortably reach 120 kph on the highway. Overtaking manoeuvres do, however, require some planning and gearing down. Talking of gears, the gear lever is a bit notchy and the act of changing gears requires a fair amount of force. In terms of fuel consumption, Land Rover claims 11.1 L/100 km and you will do well to achieve that in the real world, but with its 75-litre fuel tank, you won't be filling up all that often.
The high driving position gives the driver good visibility of the road ahead and because of its top-heavy design, the Defender is susceptible to a fair degree of body roll when its negotiates corners. Overall the performance of the Defender Heritage Edition is not for the faint of heart. It's noisy, cumbersome and rough around the edges, but in many ways, that makes it attractive too.
4x4 capability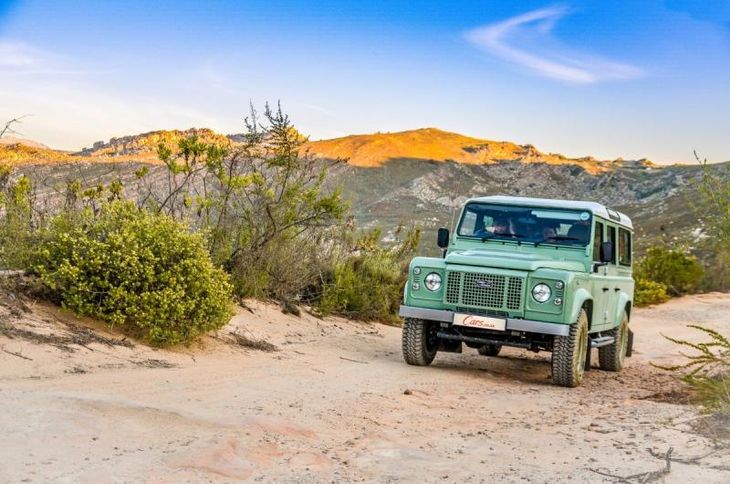 The Defender Heritage Edition shines brightest in the rough stuff. Our route into the mountains included long, corrugated gravel roads, steep rocky inclines and undulating mountain passes. The Defender felt right at home in those conditions and, with its exceptional ground clearance of over 300 mm, the Landy can crawl over just about anything that its surrounding topography can muster.
When the going gets tough, low range (4L) can be engaged using the transfer case lever, but for most applications, high range (4H) is more than sufficient. During our excursion, the Defender Heritage Edition had little trouble in dealing with the dirt. In fact, it inspired confidence over rocky terrain especially.
Practicality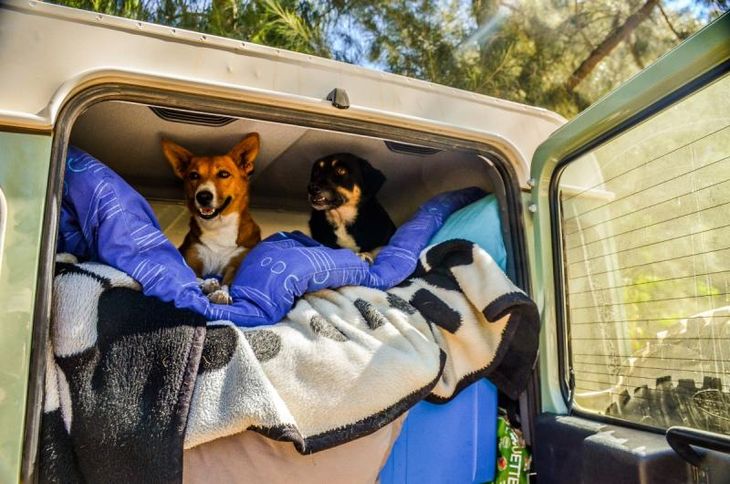 Although the Defender Heritage Edition excels as a 4x4, it's not very practical vehicle for the urban commute. Apart from its thirst, the sheer size of the Land Rover makes manoeuvring a chore, and remember to keep its large turning circle in mind before you choose a parking spot or attempt a U-turn.
A pitfall of having a vehicle standing so high off the ground is that it's difficult to get in and out of, but this Defender is equipped with a side step to help you out, something short (or more mature) passengers will appreciate. A step is also fitted at the rear, allowing for easier access to the rear seats.
As mentioned previously, this Defender is a 7-seater, with two foldable rear seats in the luggage bay. When upright, the seats can accommodate two adults (just about), but at least headroom is ample. When the seats are folded to the sides, loading space increases to a maximum 1 124 litres. We managed to pack the Defender to the roof with camping gear for five people and we still had space for two rather cute dogs on top. It all worked out perfectly.
Features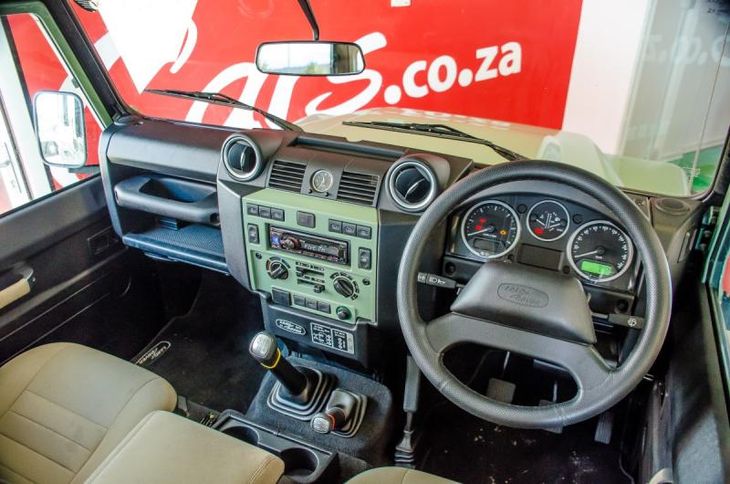 One thing to be mindful of when considering the Defender Heritage Edition, is that it lacks many of the comfort and safety features that are common in most new cars on the market today. The seats are manually adjusted and the steering wheel can't be adjusted. There's no cruise control or USB port either but at least the front windows are electric. A basic air conditioning system is included and an aftermarket Alpine radio CD player is fitted too. On the safety front, it must be highlighted that the Defender Heritage Edition is not equipped with any airbags but ABS, traction control and stability control is fitted.
It's all very basic in this Defender, and in many ways, that's how it should be for a vehicle of this nature. I found it particularly refreshing to be out in the wild, in a raw vehicle, with no way of charging my smartphone. The Defender brings you down to earth and makes you appreciate the present moment. In a world where technology is constantly in your face, the Defender forces you to forget about all the technological clutter of life. Few cars these days have that kind of power...
Verdict
The Land Rover Defender Heritage Edition will tug at the heart strings of 4x4 enthusiasts and those with an adventurous spirit. As an adventure vehicle, it excels with its proven capability but it will remain a niche product that only hardened 4x4 nuts will cough up money for. It's certainly not suited for the city and with a price tag of R714 800 and only basic features on offer, it's difficult to justify buying this Defender when cars such as the new Ford Everest, for example, has so much more to offer for considerably less money.
But that's missing the point entirely, the Defender Heritage Edition laughs in the face of modernity and revels in its simplicity. If you want to drive a piece of motoring history, then the Defender Heritage Edition will fill your heart with joy. Long live the Defender!
Search for a new Land Rover Defender
Search for a used Land Rover Defender
Land Rover Defender Heritage Edition – Quick Specs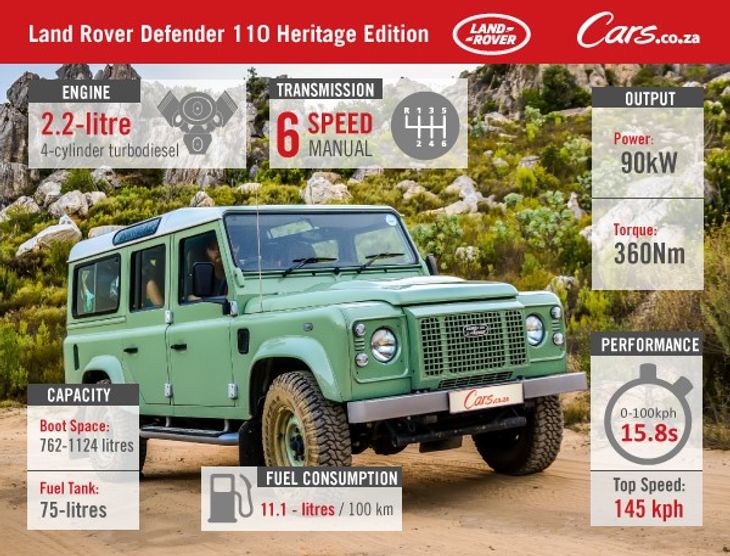 Land Rover Defender Heritage Edition - Farewell Video Review