Land Rover showed us a concept of the new Defender as long ago as 2011, but the production version will only arrive in 2020. Why is the next iteration of an off-road icon taking so long to come to fruition?
Imagine if Toyota stopped production of the current Fortuner, without a successor in sight, and then informed the market there was no certainty when a new Fortuner would arrive. It would be an unfathomable scenario, for a product of Fortuner's success, to be discontinued without a successor. But that's exactly what's happened with Land Rover's iconic Defender.
After 67 years of production the vehicle, which is more synonymous with adventure journeying than any other, ceased production. Born in a post-war Britain short on crucial engineering materials, Land Rover embraced aluminium construction decades before most other vehicle manufacturers even considered it. Despite abysmal quality issues each time Land Rover neared bankruptcy – which has been often – the company's Defenders remain some of the most collectable vehicles around.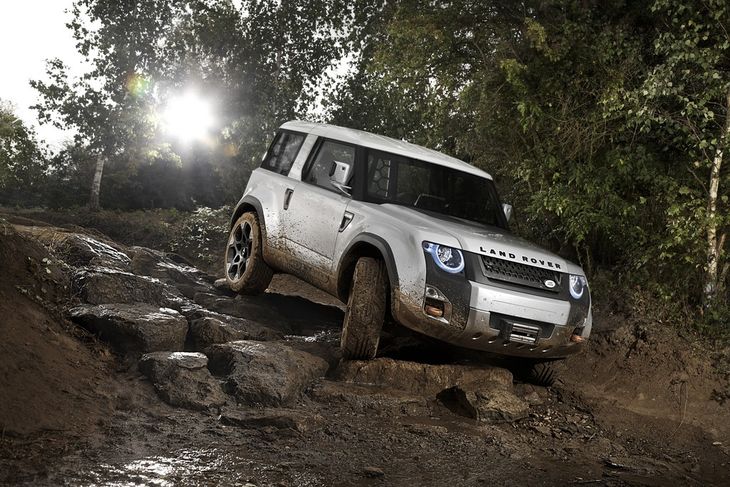 The DC100 concept caused a stir at the 2011 Frankfurt Show, but it didn't excite traditionalists or hardcore off-road enthusiasts.
The Defender's reputation is such that it ranks as a virtually depreciation proof investment – which is unusual, for a Land Rover, or any SUV that isn't a Toyota. If you possess such a flood of product perception equity, built over decades, why didn't Land Rover have a proper Defender 2.0 plan in place to keep harvesting the profits?
Fear of the new
Tata has been the saviour of Land Rover, allowing British engineers to do what they do best without the dreadful input of British automotive industry financial managers. Indian cash revitalised the industrial base around Coventry and birthed a Land Rover product portfolio that is now rated as both stylish and sophisticated in the realm of SUVs, both adjectives which have never applied to any Defender.
Land Rover's Defender might be iconic and an off-road institution to South Africans, but globally it has very little commercial resonance. Defender sales were discontinued in America by the mid-1990s and in Australia their presence is negligible. And these are two of the world's anchor markets for serious off-road vehicles.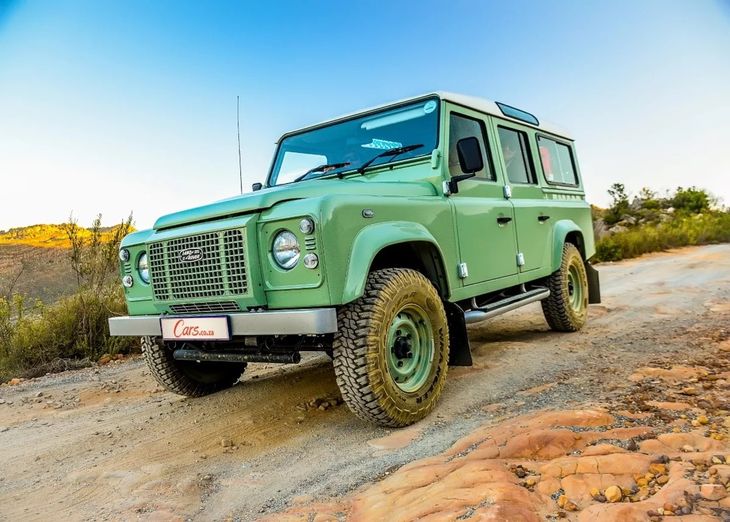 We reviewed the Defender 110 Heritage Edition in early 2016. To read the article, see the links at the bottom of this write-up.
As Ranger Rovers, Evoques and Discoveries flooded geographies where Land Rover was once struggling (America and Australia), the case for replacing the Defender has become progressively weaker. By the late 2000s, when Land Rover engineers were required to table a successor concept, Defender sales were a fraction of the brand's overall business.
September 2011 is when things went awry for the Defender 2.0 project. At the Frankfurt Show, Land Rover revealed its DC100. It was a very daring Defender concept, which promised to combine rugged cabin materials, which you easily could hose clean, and safari-proof electronics. Unfortunately, public reaction wasn't quite so welcoming. Defender traditionalists hated on it with an abundance of venom usually reserved for those who raise Land Rover 110 County reliability issues at a club meeting.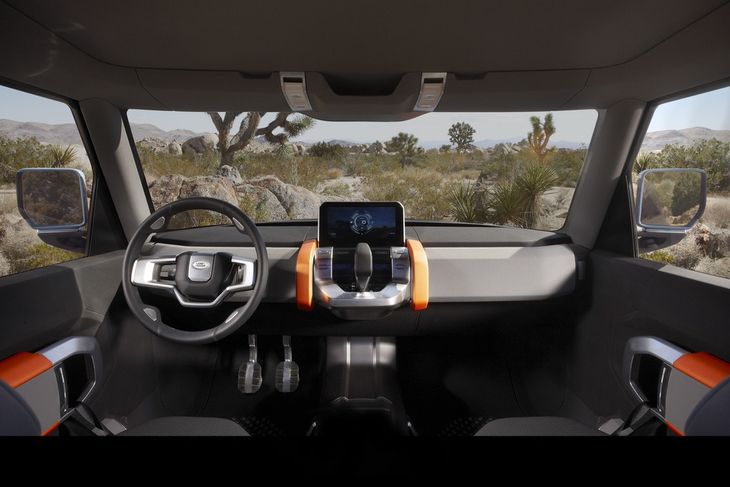 Whereas the DC100 concept's exterior at least looked blocky, its interior design marked a clear departure from Defender tradition.
Land Rover's flaw with an attempt at replacing the Defender is that the vehicle's design was allowed to diverge from modern trends for so long, that the compound shock of a revised design, conforming with current vehicle standards, was always going to be far too radical an evolution. Sensible people lose their grasp of logic when Defenders are discussed and after DC100, the Defender project was stillborn.
Rugged SUVs not quite a straightforward business case
Last month hopes were revived that Land Rover has finally committed to 2020 as a delivery date for its new Defender – which might be a few years late, but it's better than never. Images of a disguised prototype were released, which clearly showed high-capacity roof proportions and a square silhouette.
Industry analysists have always predicted that any modernised Defender could possibly divorce itself from the commercial vehicle heritage of a steel ladder frame construction, opting instead for a Discovery platform of hydroformed aluminium in a 1-piece monocoque. The idea is to improve Defender's ergonomics, which have always been comically awful, whilst retaining its load capacity and ruggedness.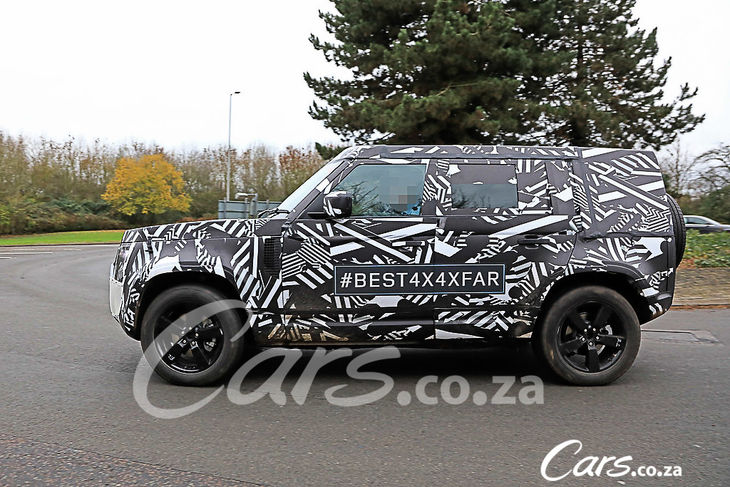 Spy photographs of the next-generation Defender undergoing testing prove that the newcomer will, in fact, see the light soon.
A radically repackaged Defender would greatly improve passenger comfort, without sacrificing load carrying ability. Expectations are for a lower than contemporary threshold of driver aids and infotainment functionality, yet still featuring an electronics architecture which is more advanced than anything Defender owners have ever encountered before.
The business case for a rugged, expedition grade SUV is very difficult to formulate in 2018, despite macro demand for SUVs continuing unabated. Toyota, Nissan and Mercedes-Benz effectively own the serious off-road expedition vehicle market and they all field exceptionally capable vehicles to claim their individual market share. How good would a new Defender have to be, to displace Patrol in the Middle-East or Land-Cruiser 70 in South Africa or Australia?
The engine issue
If public indifference to the DC100 concept delayed development of the new Defender, and its niche business case reranked the project within Land Rover's R&D hierarchy, the global diesel issue hasn't helped.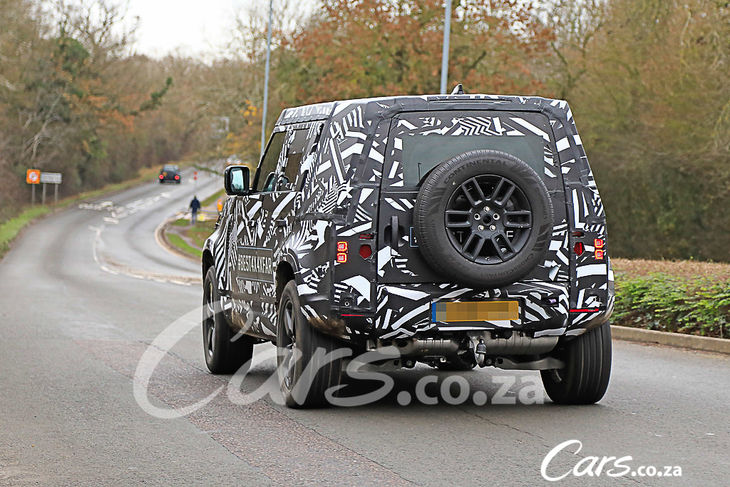 The raised ride height, truncated overhangs and high roof suggest that the new Defender will not be piecemeal.
Although Defender has, over its lifetime, often featured petrol engines, those were discontinued in the late 1990s. And in a world where diesel engine development has effectively been curtailed, Land Rover faces a problem. It doesn't have the scaling of Toyota, where a global bakkie business provides the numbers to justify independent diesel engine development in an expensive and hostile regulatory environment.
Diesel no longer the darling
The United Kingdom, despite its geographically small size and absence of adventuring terrain, has always been fiercely patriotic regarding anything Land Rover and has demonstrated (by far and away) the biggest demand market for the Defender. Attitudes toward turbodiesel have reversed radically in the last 2 years, with UK Discovery sales suffering terribly as a result. An all-diesel Defender line-up would be very problematic.
Land Rover could effectively be forced into alternatives quite late in its development project, requiring a complete reconsideration of engine options. Petrol powered Defenders simply won't do for any owners who wish to explore Africa or Asia, where diesel's fuel network is far more extensive than that of petrol. What also needs to be considered is that when transporting additional fuel onboard for extreme driving distances, petrol presents a much greater fire hazard, which is best avoided altogether.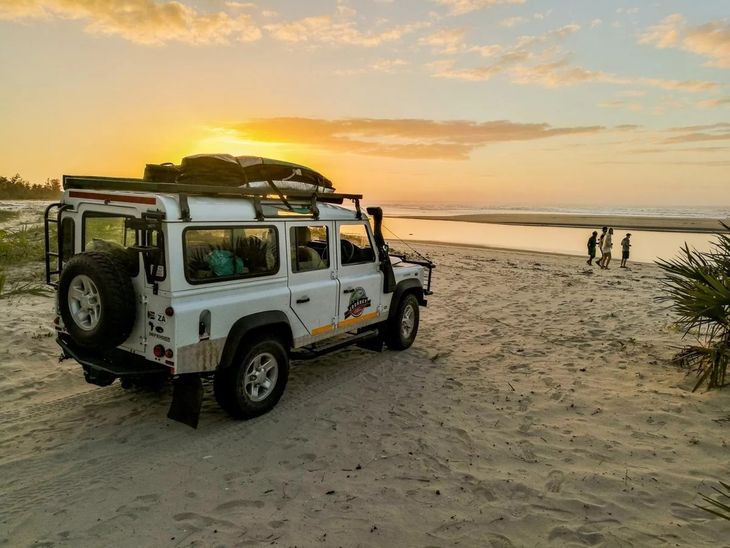 We rented a Land Rover 110 Ultimate Puma to travel from Johannesburg to Pomene in Mozambique.
A great irony in all of this is that towards the end of the its lifecycle, South Africa was the environment which provided proof of concept for a battery powered Defender game viewing vehicle. A 2011 project by British electrical engineering specialist, Axeon, saw much success. These battery-powered Defenders had nearly equal performance to their turbodiesel siblings (300 Nm versus 360 Nm), with the benefit of superior drivetrain refinement. I even drove an all-electric Defender on Land Rover's swampy test track in the UK and it proved wonderfully capable.
Could a confluence of factors, the rejection of diesel and a possible move away from ladder-frame construction, enable Land Rover to do the unthinkable, but very necessary, and market new Defender as the first true hardcore hybrid 4x4? My feeling is that Land Rover owners would be less hostile to a radical change of engine configuration, as Defender has never been a large-capacity vehicle. The last models were powered by mere 2.2-litre turbodiesel engines. There is no legacy which binds Defender to a specific engine size or number of cylinders.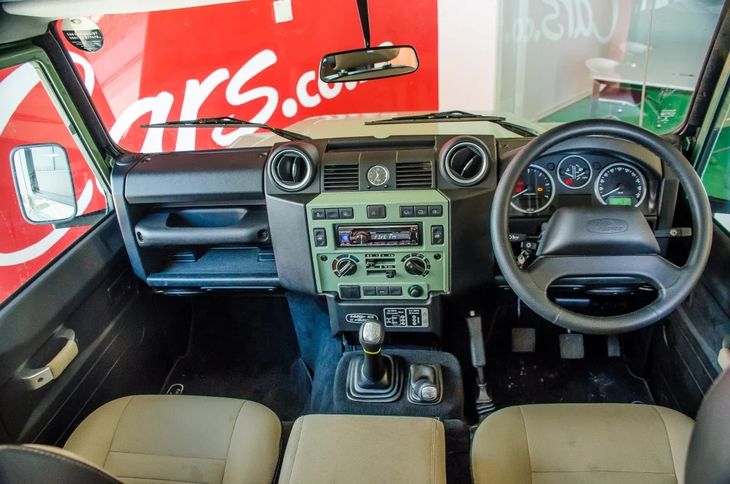 For the sake of occupant safety, Land Rover has no choice but to depart from the current Defender's cabin architecture.
When you are tasked with redesigning an iconic vehicle, there is no winning. Traditionalists will judge it for being too modern at the cost of its legacy purpose and contemporary customers will always feel it isn't progressive enough. With the pressure of contemporary crash safety and emissions regulations, a Defender 2.0 would by implication be a huge departure from anything that had gone before – and that's not a case of Land Rover inadvertently antagonising legacy owners.
Whatever 2020 delivers, the new Defender will be niche, and very important. Especially as Defender's launch will follow shortly after the initiation of Brexit, which looms ominously over the British automotive industry – of which Land Rover now has the biggest stake, and most to lose.
Related content:
Understanding the Nissan NP300 Zero-Star Crash Test
The Journey Mozambique - The Search for Sunken Land Rovers
Land Rover Defender 110 Heritage Edition (2016) Review
Land Rover Defender Heritage Edition Video Review
Interested in buying a Land Rover Defender?