In this latest iteration of The Journey, we venture into the heart of Mozambique in search of sunken treasure in Pomene, in celebration of one of the world's most iconic automobiles, the Land Rover Defender.
The year 2018 marks Land Rover's 70th anniversary and the Defender has played a key role in the brand's rich heritage. In many ways, the Defender is the ideal offroad adventure vehicle – it's unashamedly rugged, confidently capable and intrinsically imbued with the spirit of adventure.
To celebrate this motoring icon and to pay tribute to 70 years of adventure, Cars.co.za recently embarked on an epic journey to Mozambique in search of the sunken Land Rover Defenders of Pomene, some 600 km north of the capital of Maputo.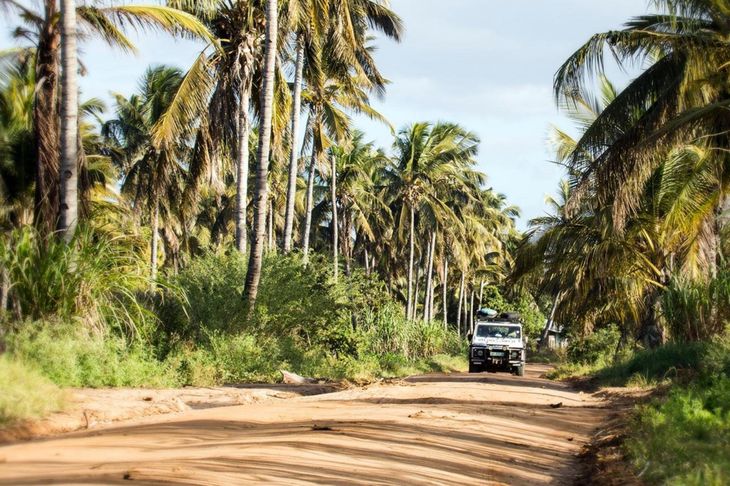 The iconic Land Rover Defender blends in perfectly with the Mozambican landscape. Photo: Troy Davies

Our journey started in the bustling city of Johannesburg with resident Cars.co.za Journalist and Photographer, Gero Lilleike, behind the 'wheel of a 2014 Land Rover Defender 110 Ultimate Puma.
Gero was joined by popular YouTuber and photographer, Nicole Eddy and talented filmmaker, Calvin Munhuweyi. A long and moderately slow drive took the Journey team some 500 km north of Maputo to the warm azure waters of Tofinho where scuba diving, snorkelling and surfing are popular pastimes.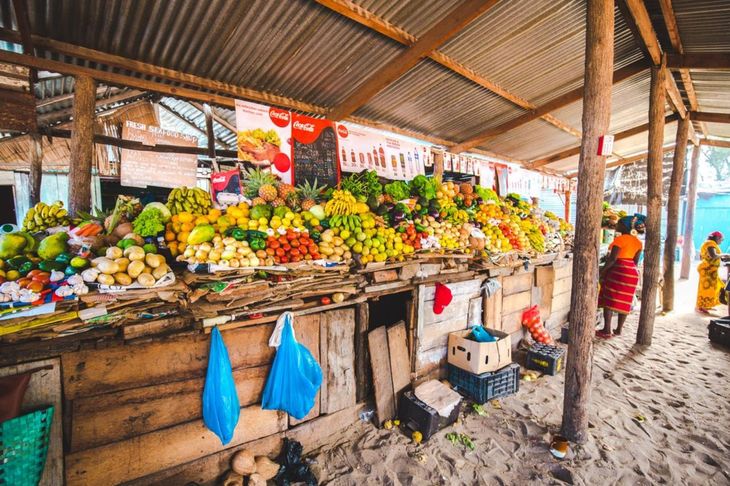 The market in Tofinho is vibrant with a wide variety of food and goods on sale. Photo: Nicole Eddy
Palm trees become more widespread the further north you go and they stretch across this landscape as far as the eye can see, providing local communities with an endless supply of nutritious coconuts.
The ocean was teeming with wildlife and countless Humpback whales, dolphins and whale sharks welcomed us. We got up close and personal with these creatures of the deep and the experience was both breathtaking and surreal.
Mozambique is well-known for its cuisine and a fresh selection of seafood, peri-peri chicken and vegetables delighted our taste buds while our stunning accommodation at Villa Marimba afforded us spectacular views of countless whales frolicking in these tropical waters.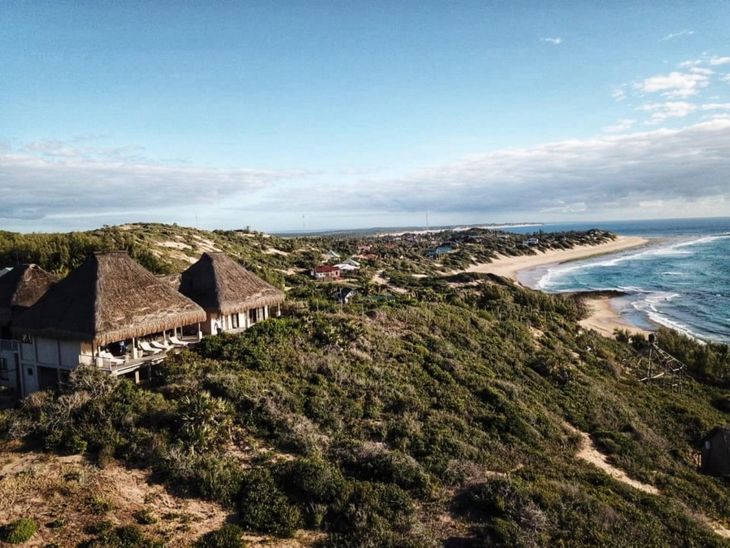 Villa Marimba in Tofo offers spectacular views of the Indian Ocean. Photo: Gero Lilleike.
On route to Pomene, some 200 km further north, we passed through the busy town of Massinga where we were surprised to see numerous cars with GP number plates on the streets. Our local guide informed us that many stolen cars from South Africa ended up here. If you are wondering what happened to your stolen Toyota Fortuner, you might just find it here…
Tar soon gave way to sand-clogged rural roads and the Defender came into its own. This is what the Defender was made for and it powered on to Pomene through soft sand with little fuss. Our goal was finally within our grasp!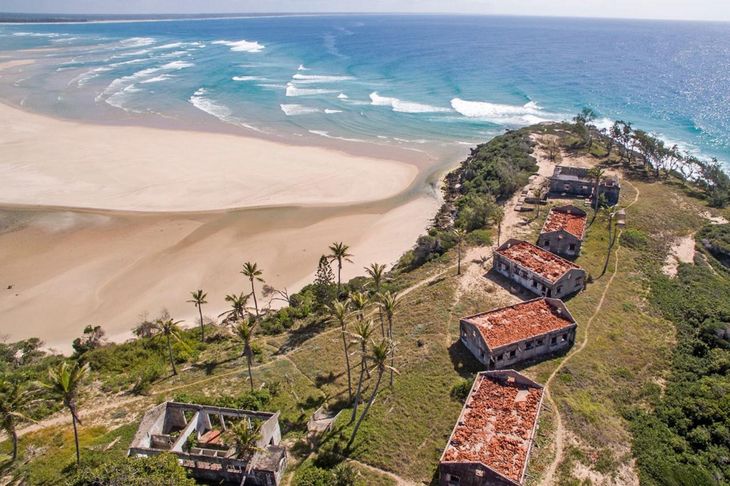 The abandoned Pomene Hotel is steeped in history and now lies in ruin. Photo: Troy Davies
Pomene is very remote and a major attraction in this area is the old Pomene Hotel which was abandoned in 1974 and once served as a holiday home for the late Fremilo leader and 1st president of Mozambique, Samora Machel. It was also a stronghold for Renamo during the civil war, which lasted 15 years between 1977 and 1992. The old buildings now lie in ruin with nature slowly reclaiming this idyllic space.
Accommodation in Pomene is very limited, but Pomene Beach Camp, which is tucked away in the sand dunes, provides visitors with delicious meals, cold beer and basic yet comfortable amenities.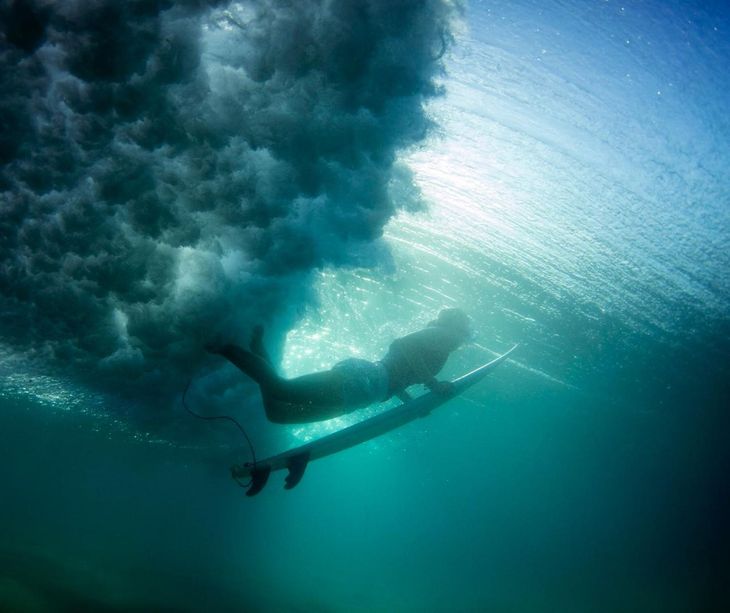 The clear, turquoise waters of Mozambique are what surfers dream about. Photo: Luke Patterson
At the end of a long, white sand beach is where you will find the expansive waters of Pomene Estuary, which is home to a wide variety of fish, flamingos, and surprisingly, 2 sunken Land Rovers (believed to be Series II and Series III models).
The sunken Land Rovers once served at the now-defunct Pomene Lodge on the banks of the estuary. After many years in close vicinity to the ocean, the Land Rovers succumbed to rust and eventually were beyond repair. The then owners of Pomene Lodge decided to put the rusty Land Rovers to good use and rolled them out into the estuary in 2002 and 2004, effectively sinking them, with the intention of creating an artificial reef, which would not only serve as an artificial home for the fish in the estuary, but also create a local diving attraction for visiting tourists.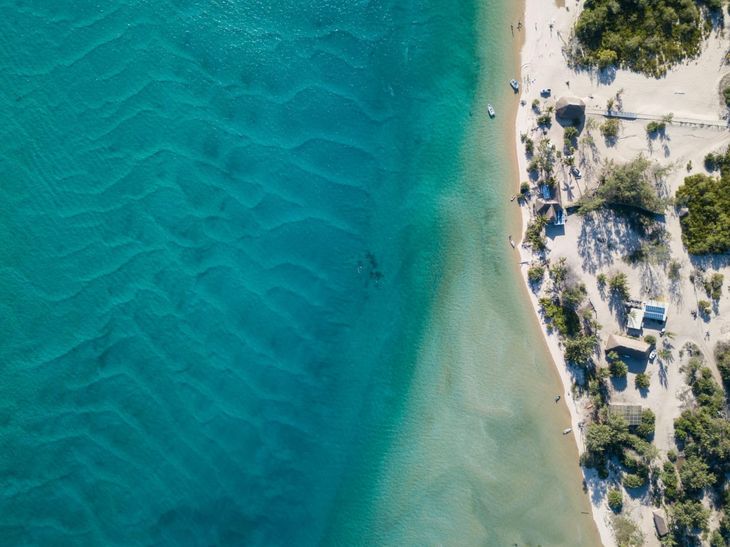 The sunken Land Rovers of Pomene. Photo: Troy Davies
Today, a white buoy marks the site and the sunken Land Rovers are best viewed at high tide when the current isn't too strong. The Journey team spent at least 40 minutes snorkelling over the site and although they are almost completely submerged and disintegrated, it was amazing to see parts such as the steering wheel, gear lever, radiator fan and load bay still clearly visible amongst other debris... such as tyres, a quad bike and even a kitchen sink.
We had covered a total distance of well over 2 500 km in our Land Rover Defender 110 Ultimate Puma and it never skipped a beat. We accomplished our mission and found the sunken Land Rovers of Pomene and the iconic Defender had made this journey possible. Land Rover Defender, we salute you! This was another Journey to remember…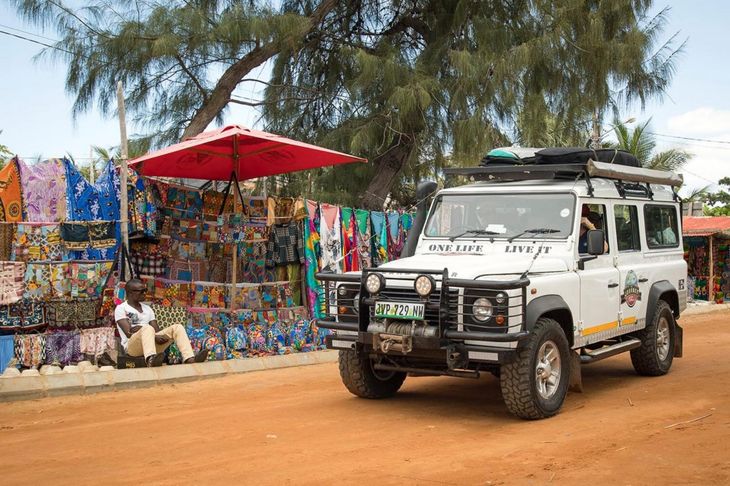 This Land Rover Defender Ultimate Puma took The Journey in its stride and never skipped a beat. Photo: Gero Lilleike
Interested in buying a Land Rover Defender? Browse for used Defender stock here!
Special thanks to…
Villa Marimba, Tofinho, Mozambique
Pomene Beach Camp, Inhambane, Mozambique
Credits
Producer
Gero Lilleike
Director and Edit
Troy Davies
Camera & Drone
Troy Davies
Luke Patterson
Related Content