Fiat has expanded its product offering in South Africa with the introduction of the Tipo, now available as a compact hatchback or sedan. We drove the newcomer at the local launch in Port Elizabeth this week. Take a look at what the newcomer has to offer.
For many years, the Fiat 500 was the bread-and-butter model in Fiat's local product portfolio. Then, in 2015, came the 500X compact crossover, followed by the Fiat Fullback bakkie in 2016. Now, Fiat is further extending its model line-up by entering the competitive C-segment with its latest offering, the new Tipo.
The Tipo hatchback will rival the likes of the Ford Focus, Hyundai i30, Mazda3, Opel Astra and Toyota Auris, while the Tipo sedan will compete against the popular Toyota Corolla, Hyundai Elantra, Ford Focus, Mazda3, Volkswagen Jetta, Honda Ballade and Chevrolet Cruze. Given the recent proliferation of compact family cars/crossovers, C's certainly not an easy segment in which to do business; is the Tipo's value proposition strong enough to resonate with buyers, then?
The range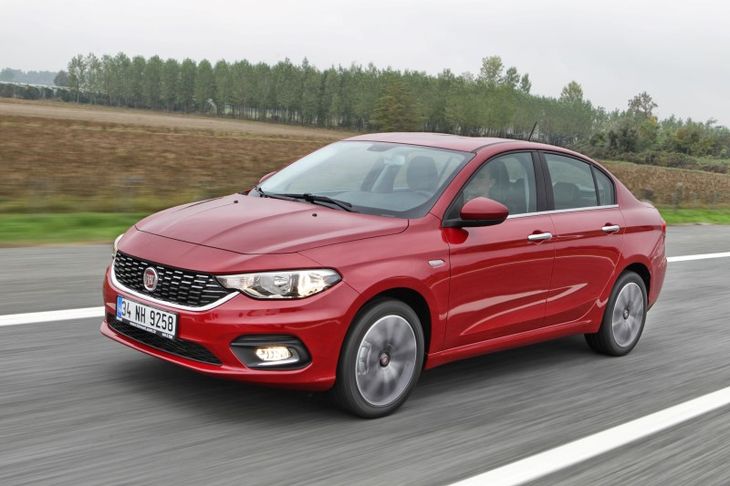 The Tipo comes to market as both a sedan and hatchback with 3 engines and trim levels to choose from.
As mentioned earlier, the Tipo comes in hatchback and sedan guises. For the hatchback, there are 2 engine choices on offer with 3 trim levels to choose from, including the entry-level Pop, mid-spec Easy and range-topping Lounge.

The engine choices for the Tipo hatchback include an entry-level 1.4-litre naturally-aspirated petrol engine with 70 kW and 124 Nm of torque. This engine is mated to a 6-speed manual transmission with a claimed fuel consumption figure 5.7 L/100 km. For more gusto, customers can opt for the naturally aspirated 1.6-litre engine petrol engine with 81 kW and 152 Nm of torque. This engine is only offered with a 6-speed automatic transmission and fuel efficiency is a claimed 6.3 L/100 km. The hatchback derivatives comprise the 1.4 Pop, 1.4 Easy, 1.4 Lounge and the 1.6 Easy Automatic.
For the Tipo sedan (in addition to the engines mentioned above), a 1.3-litre turbodiesel engine is also offered with peak outputs of 70 kW and 200 Nm of torque. In this case, a 5-speed manual transmission is utilised and Fiat claims a fuel consumption figure of only 3.7 L/100 km. Unlike its hatchback sibling, the Tipo sedan is only offered in Pop and Easy trim specification. The Tipo sedan derivatives include the 1.4 Pop, 1.4 Easy, 1.3d Easy and the 1.6 Easy.
Click here for more details regarding specification for the new Fiat Tipo
What's it like to drive?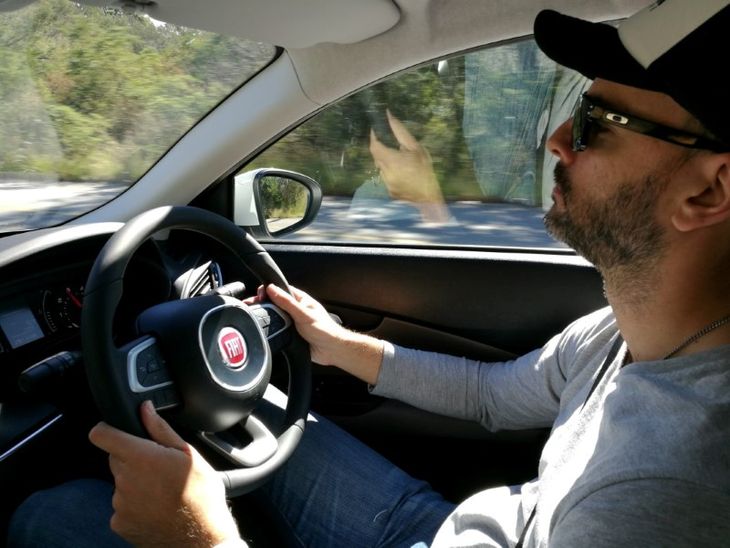 The 1.3-litre turbodiesel with 70 kW and 200 Nm of torque offers good performance, but it's only offered in the Tipo sedan.
Fiat introduced the media contingent to the new Tipo in the historical Tramways Building in Port Elizabeth, where various Tipo derivatives were ready to head out onto the road. Our first drive started behind the wheel of the 1.3-litre turbodiesel sedan.
Upon entering the Tipo, it quickly became apparent that perceived interior quality is good. The soft-touch dashboard and instrumentation is neatly laid out/easily accessible and the cloth seats are well contoured and comfortable. A basic audio system is fitted, offering Bluetooth, audio streaming, a text reader and voice recognition (USB and auxiliary port are standard).
This derivative is also fitted with an automatic air conditioning system, a multifunction steering wheel, 16-inch alloys, electric front windows and side mirrors and a 60:40 split rear bench.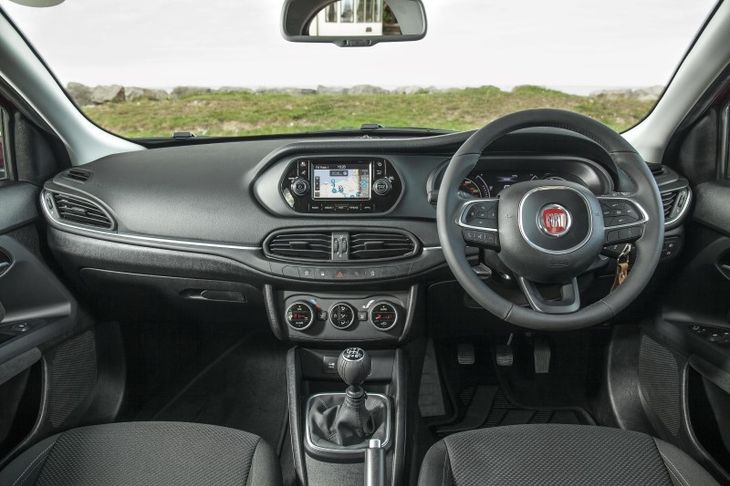 Interior build quality is good and the Tipo comes well specced with features.
At start-up, the 1.3-litre turbodiesel engine emits a typical diesel thrum (perhaps a little noisier than we expected). As we set off up the coast towards Cape St Francis, the engine noise subsided substantially and with its 200 Nm available at 1 500 rpm, the turbodiesel motor felt punchy and responsive to throttle inputs – it performed surprisingly well on the open road.
The 5-speed manual transmission, with its oversized gear knob, was relatively smooth-shifting and the Tipo felt tractable in the higher gears (you don't have to gear down often to access overtaking acceleration, in other words). The newcomer delivers good ride quality too; it coped well even on uneven roads. In terms of handling, the Italian was sufficiently surefooted with a steering feel that's weightier than most cars in this segment. Overall, the 1.3-litre turbodiesel provided adequate, even entertaining, performance, but how would the 1.4-litre petrol fair?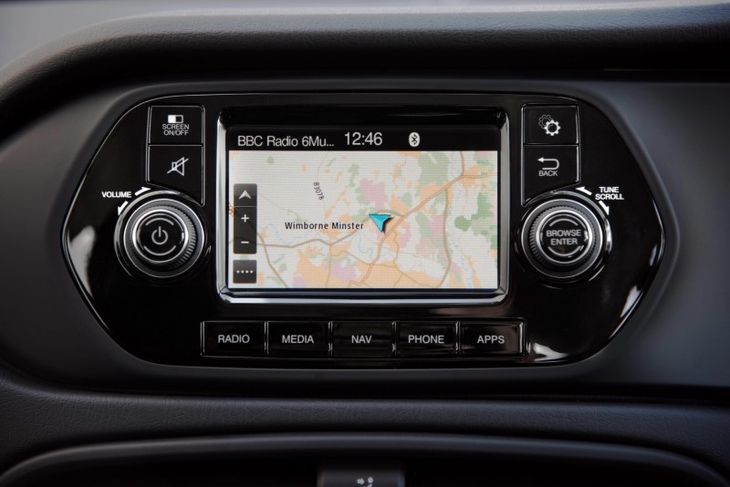 The UConnect infotainment system with navigation is simple and easy to use, but the screen could be a bit larger.
At the next driver change, we hopped into the 1.4 Lounge. This derivative benefits from 17-inch alloy wheels, chrome detailing, a leather-wrapped steering wheel, rear parking sensors, cruise control and lumbar support for the driver's seat. The interior was a step up from the sedan version, featuring built-in 3D navigation and a fancier, sporty-looking instrument cluster.
As to be expected (due to its lack of turbocharging), the naturally aspirated 1.4-litre engine immediately felt underpowered compared with the turbodiesel engine we just drove. With 70 kW and 124 Nm of torque (available from 4 500 rpm), the driver has to work the 6-speed manual transmission a bit harder to get the most out of the engine. Manoeuvres such as overtaking require better planning and judgment and the driver will be gearing down frequently on steeper inclines to hold the power band for longer.
Despite this, the 1.4-litre engine's performance was average, at the coast that is. On the reef and fully loaded with passengers and luggage, the Tipo 1.4 may prove to be too sluggish. For hatchback buyers, that leaves the Tipo 1.6 Automatic as the only alternative. Unfortunately, we didn't get a chance to drive the Tipo 1.6 at launch, so we are unable to comment on its performance, but we will hopefully have it on test soon.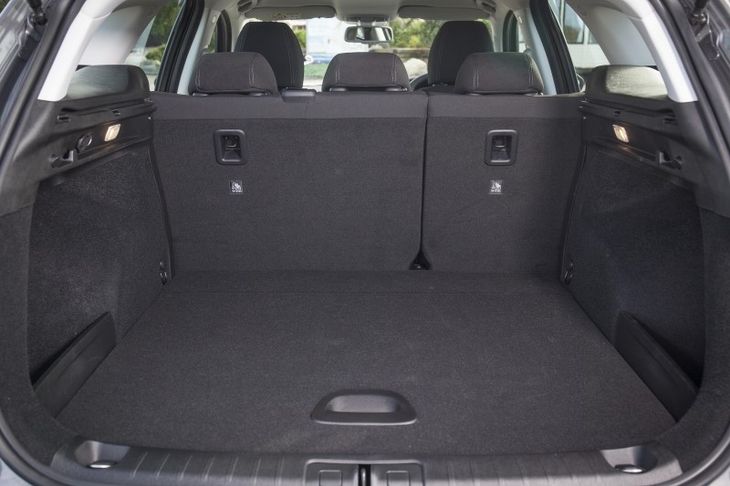 Luggage space is very generous in the Tipo and the 60:40 split rear bench adds to its storage flexibility.
Summary
Overall, the Tipo represents good value, particularly in terms of its packaging. It's not an attention-grabbing, aspirational product, but its specification is quite comprehensive, plus there is generous space for passengers (rear occupants are afforded generous leg- and headroom) and their luggage (the hatchback has a class-leading 420-litre luggage bay, Fiat says). The Tipo sedan has a particularly large boot with a claimed capacity of 520 litres, which is considerable and, if you utilise the 60:40-split rear bench, utility space increases even further.

In terms of safety, the Tipo is fitted with 2 airbags, rear ISOfix child seat mounting points, ABS, electronic stability control, tyre pressure monitoring and hill hold assist. Rear parking sensors are fitted on all except Pop derivatives, while a reverse camera is optional on Easy sedan and Easy hatchback, while being standard on the 1.3 Lounge derivative.
We will have the Fiat Tipo on test soon, so look out for a thorough evaluation coming your way. For now, take a look at what you can expect to pay for the new Fiat Tipo below:
Fiat Tipo – prices in South Africa
Hatchback
1.4 Petrol Pop Hatch R249 900
1.4 Petrol Easy Hatch R269 900
1.4 Petrol Lounge Hatch R289 900
1.6 Petrol Easy Auto Hatch R294 900
Sedan
1.4 Petrol Pop Sedan R229 900
1.4 Petrol Easy Sedan R249 900
1.3 Diesel Easy Sedan R274 900
1.6 Petrol Easy Auto Sedan R274 900
All Fiat Tipo models come with a standard 3-year/100 000 km warranty and service plan.​
Related Content
Fiat Tipo (2017) Specs & Pricing
Update: VW Golf Facelift (2017) Specs & Pricing
Opel Astra 1.4T Sport Automatic (2016) Review
Opel Astra 1.0T Essentia (2016) Review
Comparative Review: Opel Astra vs Volkswagen Golf 7
Toyota Corolla 1.8 Exclusive (2017) Quick Review
Toyota Corolla 1.4 D4-D Prestige (2017) Quick Review
Ford Focus Gets Style and Tech Upgrade
Spy Shot: New Ford Focus
Interested in buying a second-hand Fiat?