As automatic gearboxes continue to improve, self-shifting derivatives are gaining popularity in the compact car segment. Is "the automatic" worth the extra money? We test the Opel Astra 1.4T Sport automatic to find out...
We like: Ride and comfort levels, excellent connectivity and specification level, good auto 'box, powerful
We don't like: Interior could feel more premium, more expensive than rivals
Alternatives:
If you want to spend less: The Ford Focus 1.5 T represents incredible value and its engine and gearbox combination is on par with the Astra. Its cabin is more value-oriented/less premium in execution.
For something more upmarket: The Peugeot 308 1.2T GT Line Auto has a very refined automatic gearbox and well-built, premium interior.
The conservative, safe choice: The Volkswagen Golf 1.4TSI Comfortline auto is a solid choice (good in all departments), but it's getting a little long in the tooth. It is also likely to offer the best resale value.
Are small automatics worthwhile?
As urban traffic congestion worsens by the day, one's left leg is often compelled to work the clutch pedal like it's a StairMaster. For those seeking a less-taxing alternative, however, automatic gearboxes have improved significantly over the last 5 years... so much so that automatic derivatives are now more fuel-efficient than their manual counterparts, at least in most cases. They also tend to be faster-accelerating than manuals, so it's a win-win situation. As ever, there is a premium for a modern, quick-shifting automatic and in the case of the Astra, it will cost you an extra R20 000 – in this instance you also get leather upholstery, however.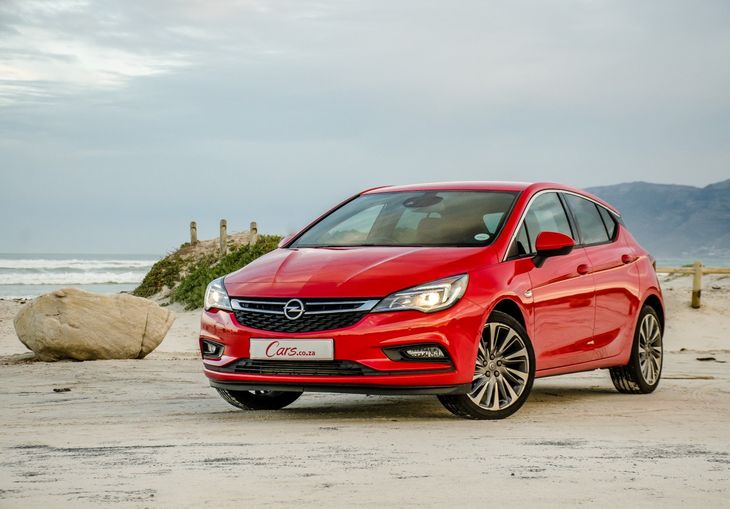 This Astra matches a 1.4-litre turbopetrol with a 6-speed automatic transmission.
How does it fare in terms of…
Engine and gearbox refinement?
There's no point going the automatic route if the car you are interested in has a clunky, old-school transmission. The Astra uses a regular automatic gearbox (not a dual-clutch setup), but that doesn't mean its shifts are slow and clumsy, quite the opposite, in fact. The 6-speeder is mated with a powerful 1.4-litre turbocharged turbopetrol motor that's good for 110 kW and 245 Nm of torque. The two work well together, creating a comfortable drive in traffic and then when you get out onto back roads, it shifts predictably and confidently when you unleash all the power.
In terms of the competition, the smoothness of Astra's automatic is right up there with the Golf and Focus, but the Peugeot leads the pack in this department. The Astra claws ground back with its extra power/torque, which makes it easier to overtake and maintain speed on the long road.
In terms of efficiency, the significantly less powerful Golf has the advantage over the Astra, with the Opel' claimed consumption figure of 5.5 L/100 km stil comparing quite favourably with the Golf's (5.0 L/100 km) and 308's (5.2 L/100 km), especially when keeping in mind the punchier performance.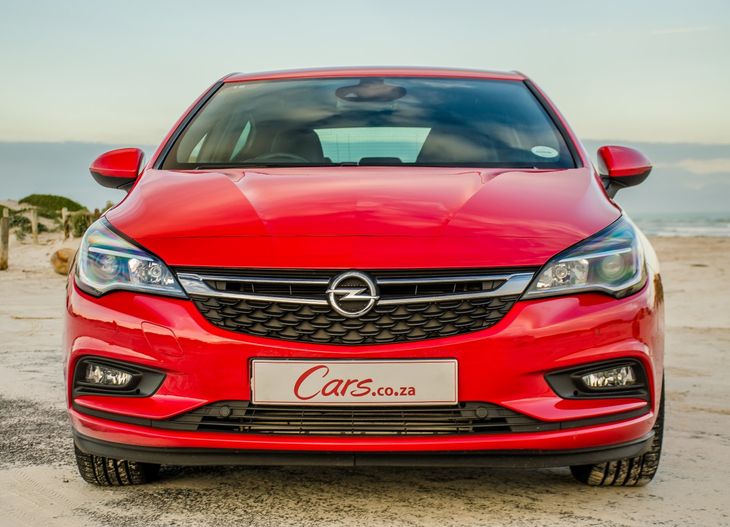 New Astra is shorter than its predecessor, but roomier inside.
Ride and drive?
Opel has really improved the interior comfort of the new Astra. The body control is good too, so it sits nice and flat in the corners. That's not to say it's set up too stiffly for everyday use... in fact, its ride is quite pliant over bumps and the suspension copes well when the road surface deteriorates. The steering is middle-of-the-road as far as weighting is concerned and there's nothing scary or disconcerting when you have to make an emergency manoeuvre or swerve rapidly. The 130 kg of kerb weight that this new Astra has shed has certainly contributed to it feeling more engaging and agile in the handling department.
Interior comfort?
The new Astra, despite being 49 mm shorter than the previous model, has a roomier cabin. Rear legroom is up by 35 mm compared with the preceding Astra and during the test, rear passengers made no mention of being cramped when sitting behind my "6-foot driver" seating position. The driver's seat is manually adjustable and the steering wheel has a long stretch on its reach adjustment – making it easy to find the perfect driving position.
The available luggage space is comparable with the Golf and Peugeot and is bigger than the Focus. There's a lip on the boot opening that precludes you from sliding boxes or flat items directly into the Opel's bay and therefore a little extra effort is needed to lift items into the boot. In terms of practicality, the cabin does lack extra stowage space for oddments such as keys and phones, especially in lower end of the centre console in front the gear lever. The cupholders are rather shallow, leading to spilt cold drinks/coffee at times.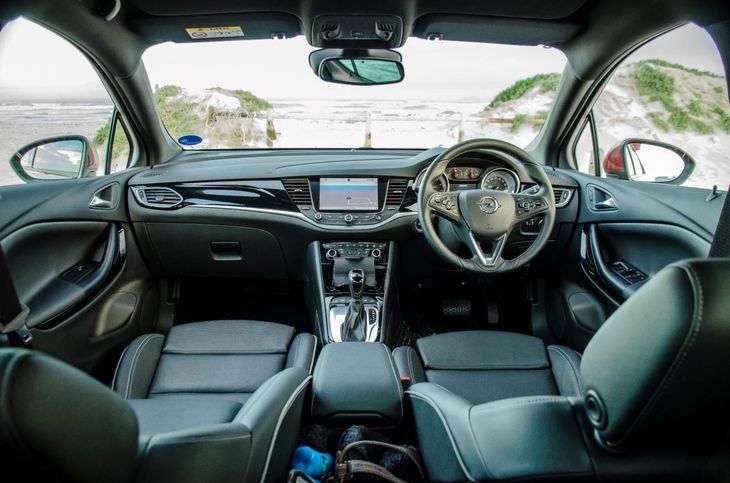 Seat and steering wheel positions are very adjustable, helping you to find the perfect driving position easily.
Features?
Opel has paid particular attention to the comprehensiveness of the new Astra's specification. It's bang up to date and features a responsive and crisp-looking touchscreen system that is compatible with Apple CarPlay and Android Auto (although only the iOS version currently works in South Africa). Our test unit was equipped with the 8-inch Navi 900 IntelliLink System with Dynamic Navigation system, which is admittedly a R10 700 option on the Sport model, but the degree of smartphone connectivity and added route guidance functionality is well worth the cost – especially if you have an iPhone.
The array of safety features on the Opel easily trumps those of the competition. Besides the standard ABS, EBD, traction control and torque vectoring, the Opel has innovative additions to improve safety. Adaptive LED lights are an option on this Sport model, complete with cornering headlights. Forward collision alert will chime a warning if you are heading for a possible front-end crash and there's a traffic sign detection system that displays the current speed limit. A few other nifty features include lane keeping assist, automatic parking and a reverse-view camera.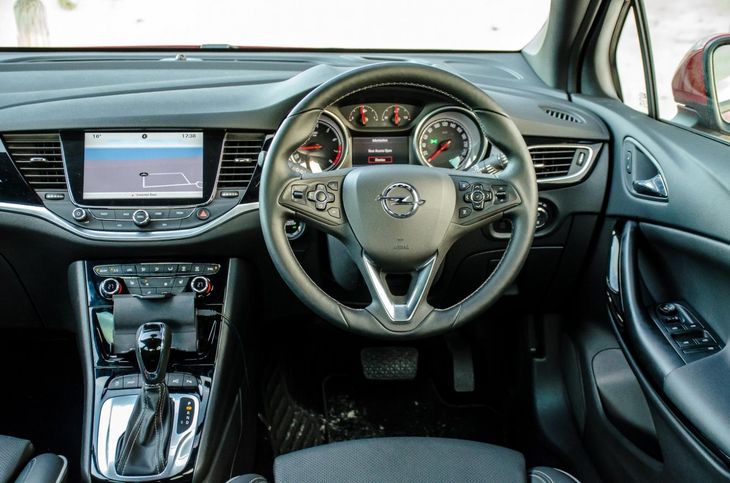 Optional Intellilink infotainment system has built-in Apple CarPlay and Android Auto.
Pricing and warranty
The Opel Astra 1.4T Sport Auto costs R374 000, which includes a 5-year/120 000 km warranty and a 5-year/90 000 km service plan. Service intervals are at every 15 000 km.
Verdict
Compact cars with good automatic gearboxes are becoming increasingly important in this segment. They are easier to drive in traffic with fewer negatives in terms of fuel consumption or sluggish acceleration. The Astra automatic offers 15 Nm more torque than the manual version too. The downside is the added price... in the Astra's case, it's R20 000 more than the manual 1.4 Sport, but includes leather seats where the manual has cloth upholstery only.

The automatic version retains the new Astra's inherent dynamic feel and handling and the onboard technology is class-leading, but it's let down by the less than premium feel of some of the interior finishings, especially compared with the Golf and 308. By virtue of being the freshest contender in the segment, however, the Astra is likely the leading automatic offering in the compact hatchback class.
Had we driven the Astra a couple weeks earlier we would have probably praised it more, but it arrived just after we drove the Peugeot 308 automatic, which feels like a more premium offering. The French car is also a little cheaper, but bear in mind that according to preliminary Cars.co.za survey data, the German brand is on the up in terms of after-sales service satisfaction and also has a bigger dealer footprint than Peugeot. All things considered, the new Opel Astra, in any guise, is easy to recommend.
Related content:
Opel Astra 1.0T Essentia (2016) Review
Comparative Review: Opel Astra vs Volkswagen Golf 7
Browse for a used Opel Astra here
Opel Astra 1.4T Sport - Quick Specs

Interested in buying an Opel Astra?