The Toyota Corolla continues to dominate the local compact sedan segment, but most buyers opt for the more affordable 1.6-litre Prestige derivative, as opposed to the 1.8-litre flagship tested here. Following its recent facelift, the top-dog Corolla now adds a significantly larger dose of style to its proven recipe. Has it moved with the times sufficiently?
We like: Quality build, space, standard features, comfort, "peace of mind"

We don't like: Engine lacks low-down torque, high-ish fuel consumption
Alternatives
For a sportier drive: The Mazda3 remains one of the hidden gems in the local market, and in 2.0-litre Individual spec it's priced almost exactly the same as the Corolla. Its larger engine delivers sprightlier performance, but due to the brand's SkyActiv technologies, doesn't do so with a hefty fuel consumption penalty. It is similarly specced to the Toyota, but not as spacious in the boot or on the rear seats.
A more spacious offering: Through the years the VW Jetta has evolved into a rather aspirational product. In its current guise, however, we feel it no longer represents a significant perceived quality advantage over its peers. Therefore, its higher price is difficult to stomach, also because it is down on specification. It is, however, a very comfortable, spacious offering.
Something a bit more affordable: You may want to consider the Ford Focus sedan, offered at just over R300k in 1.5T Trend guise. For the money you get a spacious, comfortable and rather stylish offering that is powered by what appears to be – on paper at least – a class-leading engine in terms of power and efficiency. In our experience, the 1.5-litre is thirstier than you may expect. It also lacks some of the nice-to-have features (such as leather), but remember the price advantage!

Compare the Toyota Corolla with the Mazda3 and Volkswagen Jetta here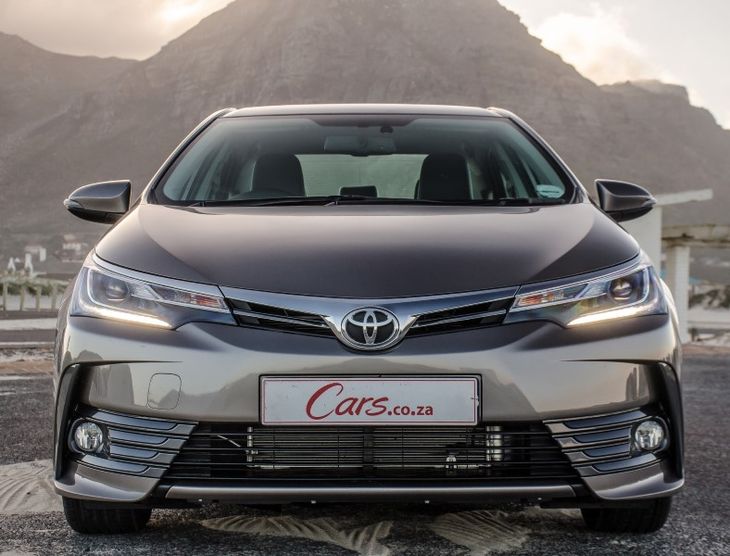 The facelifted Corolla is more stylish and offers "peace of mind" appeal that its rivals can't beat.

Facts & Figures
Price: R336 300 (March 2017)
Engine: 1.8-litre 4-cylinder petrol
Transmission: 6-speed manual
Power: 103 kW
Torque: 173 Nm
Fuel Consumption: 7.0 L/100 km (claimed)
Top speed: 200 kph
0-100 kph: 9.8 sec
Summary: If a comfortable, well-specced and reliable sedan is what you're after, it's difficult to argue against the Corolla 1.8 Exclusive. After all, it does most things right and adds considerable "peace-of-mind" appeal that most rivals simply can't match. Yes, it may lack a stand-out ability or feature, which for some will mean it is charmless, but overall the breadth of ability on offer remains impressive.
The good:
Practicality
Much of the rise in popularity of crossovers and SUVs has been attributed to their supposed superiority in terms of practicality compared with the traditional sedan. There is some truth in that argument, of course. If you need to transport a washing machine, you simply won't get that into a Corolla. But if carting bicycles and large box-shaped appliances are not on your to-do list, then the Corolla will be more than up to the task. In fact, it arguably offers more rear legroom and comfort than similarly priced crossovers, and the boot is very large, at 452 L.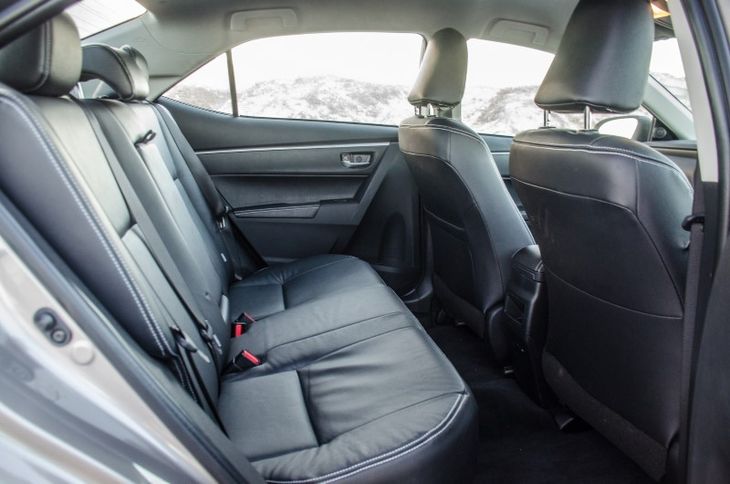 Space abounds in the Toyota Corolla with ample legroom for rear passengers. The boot is large too...
Ride quality and Refinement
Toyota has arguably not received its due praise for the suspension set-up of the current Corolla – or, indeed, for most of its recent products. Even prior to the Corolla's facelift it offered very impressive ride comfort, without being sloppy in the corners. The Japanese firm took the opportunity recently to further fine tune the suspension, with claimed improvements in terms of noise, vibration and harshness (NVH), as well as an even quieter and more supple ride. The cabin is indeed a hushed and comfortable place to spend time in. Here, too, Toyota's boffins have made several tweaks, including a thicker inner silencer for the dash panel and a denser material for the floor insulation. Combined with the quality materials and comfy seats, this is a car that asks a lot of questions of the VW Jetta's supposed "perceived quality" superiority.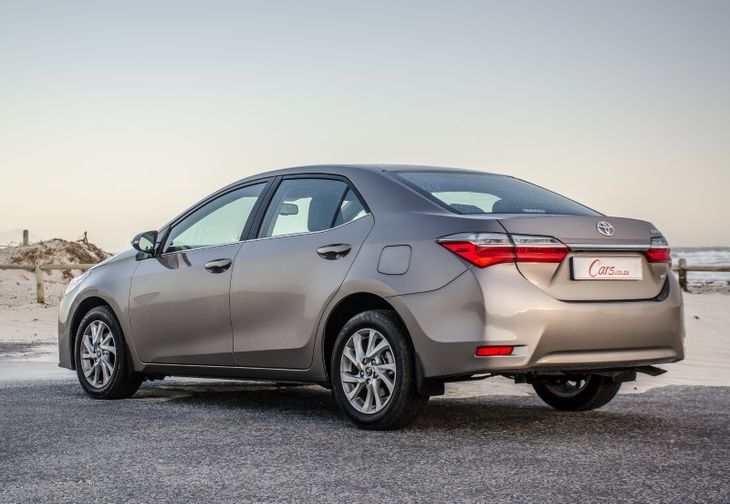 The ride comfort offered by the Corolla is commendable and the finetuned suspension delivers a smoother ride.
Facia design and Features
We like the design of the current Corolla's cabin. The upright facia has benefitted from more attractive finishes, and there are some neat touches, including the smart toggle switches for the standard climate control, the stitched leather across the lower section of the dashboard and the circular air vents at the facia's outer edges. Overall, there is considerably more design flair inside a Corolla, than on the outside. This model is also comprehensively equipped with features and comes with 7 airbags as standard, leather upholstery, the aforementioned infotainment system (somewhat clunky, to be honest), cruise control, rain-sensing wipers, rear-view camera and stability control, among other items.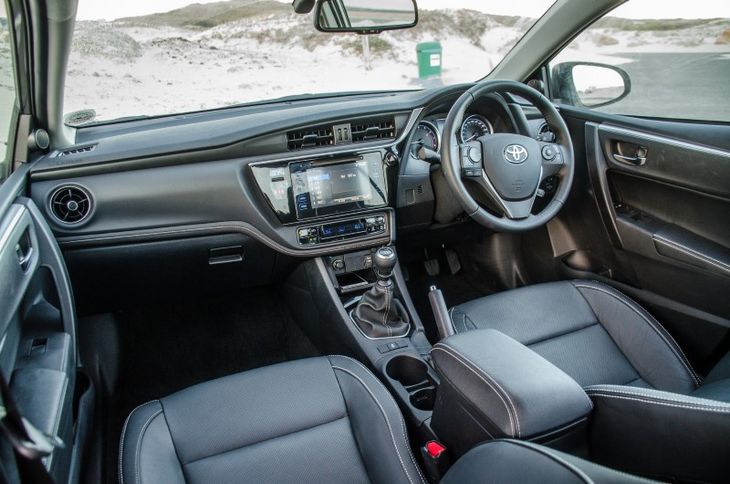 Interior build quality is good with appealing design touches and this derivative is packed with standard features.
The bad:
"Old-fashioned" engine
This Corolla is powered by the brand's well-known 1.8-litre petrol engine. In these days of downsizing and turbocharging, it is a bit of a throwback. While its power output of 103 kW is quite decent, maximum torque of 173 Nm doesn't compare favourably with its rivals and it's only available at 4 000 rpm. This means there's not much power low down. You'll have to rev it quite hard to extract its maximum performance, which admittedly is not bad (0-100 kph in less than 10 seconds). On the upside, the 6-speed manual transmission is a pleasure to use, offering crisp gearshifts. The other negative we have to mention is comparatively poor fuel efficiency. Its claimed consumption figure of 7.0 L/100 km is higher than the selected rivals, and in real life you can expect to achieve around 8.5 L/100 km.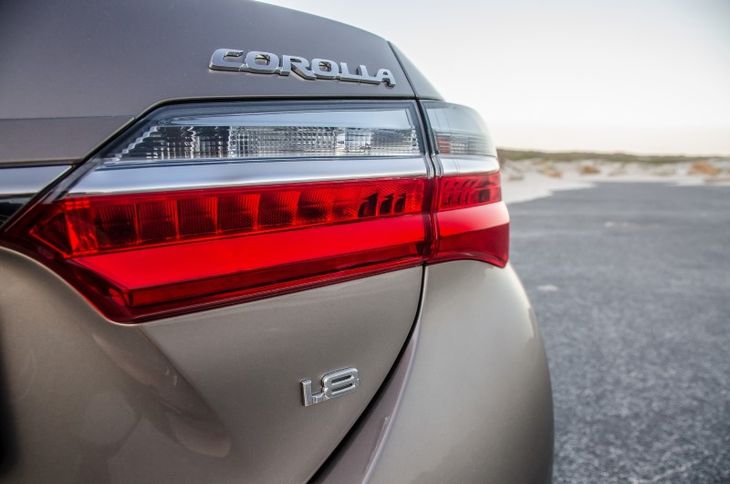 The 1.8-litre engine in this Corolla is not a star performer and it's quite thirsty compared with its rivals.
Pricing and Warranty
The Toyota Corolla 1.8 Exclusive sells for R336 300 (March 2017) which includes a 3-year/100 000 km warranty and 5-year/90 000 km service plan. Services are scheduled for every 15 000 km.
Verdict
Toyota hasn't (and probably never will) strayed too far from what has been a 50-year long success recipe for its mainstay sedan offering. It accounts for 20% of marque's global sales, so is just too important to fiddle with. So while the recently updated design includes attractive LED lighting details and an eye-catching front bumper treatment, the Corolla remains a conservative offering at heart – in this instance even more so given the fitment of a naturally aspirated petrol engine. Where the Corolla has arguably moved into a position to challenge for segment leadership is on the inside. Offering quality finishes where it matters, surprisingly stylish design and crisp displays, along with very comfy seats, the Corolla 1.8 Exclusive is a mature, discreetly stylish offering from behind the steering wheel. If this sounds like something that would appeal to you, then the Corolla won't disappoint.
You may also be interested in;
Toyota Corolla 1.4 D4-D Prestige (2017) Quick Review
Toyota Corolla (2017) specs & prices
Facelifted Kia Cerato (2016) specs & prices
South Africa's best-selling family sedans (2016)
Interested in buying a new or used Toyota Corolla?