This year (2017) marks 50 years of the Toyota Corolla, which is quite a milestone. We got behind the wheel of the turbodiesel derivative of the recently facelifted range to do a quick review. Is it more of what we've come to expect, or should you be looking elsewhere?
We like: Torquey engine with respectable performance, thrifty on fuel, spacious cabin.
We don't like: Its specification is good, but not great, some minor interior quality issues
Alternatives:
Something Korean: The Kia Cerato received a mild update last year. In 1.6 EX (petrol) guise, the Cerato offers fog lamps, 2 extra airbags, automatic light activation and cruise control, which the Corolla doesn't have, but the Toyota features leather upholstery, touchscreen infotainment and reverse-view camera/PDC, which the Kia doesn't.
Number one rival: The Chevrolet Cruz 1.4T LS is also petrol-powered, but almost matches the Corolla in terms of its peak torque output. It offers credible performance, space and spec, but it is not quite as refined as its Japanese rival. It only has a 3-year, as opposed to 5-year, service plan, but it's very well priced.
The bargain buy: The top-spec Mazda3 1.6 Sedan may not be able to match the Corolla's thrifty consumption, but its claimed consumption figure (6.0 L/100 km) is admirable for a petrol model. In Dynamic spec it comes well-specified (including auto lights and wipers) and price-wise, it undercuts the Toyota by more R20 000.
Facts & Figures
Price: R307 500 (March 2017)
Engine: 1.4-litre 4-cylinder turbodiesel
Transmission: 6-speed manual
Power: 66 kW
Torque: 205 Nm
Fuel Consumption: 4.5 L/100 km (claimed)
Top speed: 180 kph
0-100 kph: 12.5 sec
Summary: The 11th-generation Toyota Corolla's styling has been brought in line with the rest of its products.There are some mild under-the-skin changes in terms of ride and refinement, and the Corolla feels even more solid and refined than before. The 1.4-litre turbodiesel offers perky performance and frugal economy... engine wise, it is certainly the pick of the range.
The good: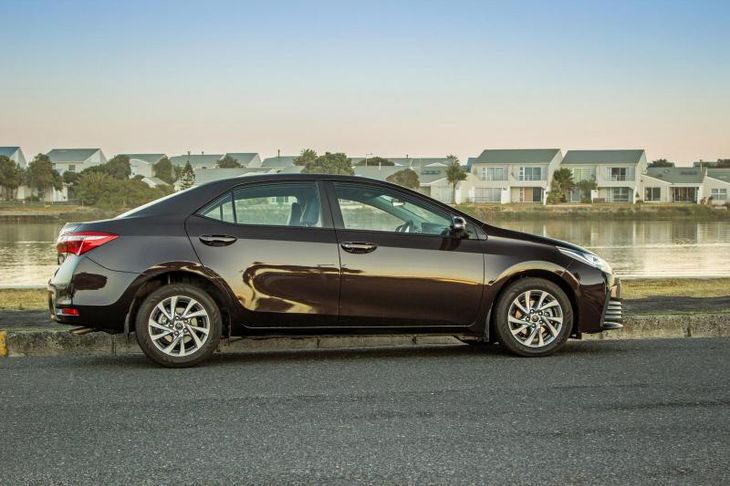 The side profile of the Corolla is unmistakable. Its design has aged rather well and, as a result, the aesthetic facelift is minor.
Practicality. The Toyota Corolla has always been a textbook example of a practically packaged compact sedan and the latest incarnation is no different. Not only does the boot offer cavernous levels of space (at a claimed 452 litres, if offers enough capacity to carry a family's luggage), but rear legroom is generous enough to accommodate three children (or a pair of full-sized adults) in comfort and the back seats fold down in a 60:40 configuration to further increase luggage space.
Engine. The star of the show is this 1.4-litre 4-cylinder turbodiesel. On paper, it looks to be down on power at 66 kW, but when you're driving it, it feels like it has a bit more poke than that. And the reason for that is that there is a generous amount of torque on tap, aided by the well-spaced ratios in the 6-speed transmission. The motor suffers from a smidgeon of low-down lag, but once the turbocharger is on song, the performance is adequate.
Generous amount of torque aided by well-spaced ratios.
In stop-start traffic, some stirring of the 6-speed manual gearbox is required to keep the engine on the boil, but the Corolla's finest skillset becomes apparent on the open road. Few vehicles in this segment are as adept at dispatching kilometres with such comfort and in such a frugal fashion.
Comfort and refinement. For this new-look model, Toyota South Africa claims the noise, vibration and harshness (NVH) has been reduced, offering a quieter and more relaxed ride. The cabin is indeed a quieter place to be (if not dramatically more muted) and the suspension has been improved too, with the addition of new shock absorbers. Mechanically, not much else has changed, but, to be fair, the package was already pretty good to begin with.
Features. In Prestige spec, the Corolla offers respectable levels of interior features: leather upholstery, touchscreen audio system, reverse-view camera, multifunction steering wheel and 16-inch alloy wheels. The Exclusive spec offers nicer things such as climate control, keyless entry and some more safety features (to name but a few), but you can't get this lovely turbodiesel engine in the top-of-range spec.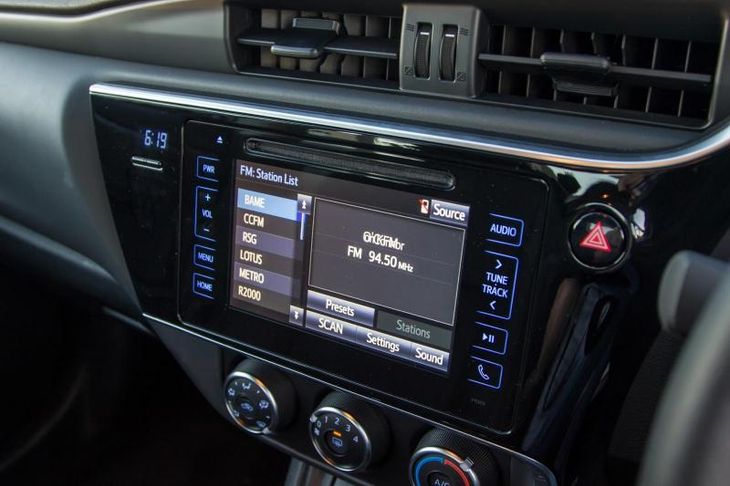 The touchscreen interface of the audio system has a chunky layout, simple menu system and is intuitive to operate.
The bad:
Pricing. The Toyota Corolla has become quite expensive over the years and this derivative is over the R300k barrier (for what many will see as a mid-spec vehicle). Pricing perceptions aside, it's interesting to note the Corolla's key rivals from Kia, Chevrolet and Mazda are more affordable (the Cerato comes in just under the R300k barrier, but the others comfortably so).
Interior quality. While the overall package feels solid and substantial, the cost-cutting measures (which all volume manufacturers implement, to be fair) just seem too obvious in the Corolla's case. The harder-quality plastics on the door sills and centre console feel like they will scuff easily. There's supposed to be good, to excellent, quality at this price point and we've come to expect high standards from Toyota. It's not a fatal flaw by any means, but worth noting if you're expecting your Corolla stand up well to hard use.
Does not land a knockout blow. There are 3 specification grades for the Corolla. This diesel derivative is not available in top-spec, but one or two surprise and delight features would have sweetened the deal. Cruise control, keyless start/stop, front fog lights, auto wipers and headlights... just one of those features, preferably the former, would have been welcome.

The Corolla's slimline headlamps and (standard) 16-inch alloys accentuate the arrowhead-like shape of the front of the car.
Pricing and after sales
The Toyota Corolla range starts from R261 300, with this 1.4 D4-D Prestige retailing for R307 500. The price includes a 5-year/90 000 km Service Plan and a 3-year/100 000 km manufacturer warranty.
Verdict
Despite some minor interior quality niggles, the Toyota Corolla still proudly waves the flag for comfortable family sedans. Admittedly this segment has come under immense pressure from the SUV/crossover brigade and although the Corolla Quest is down on features and you can't get this lovely turbodiesel engine, but there's no denying its value proposition at the budget end of the segment. So where does that leave a turbodiesel offering positioned slap bang in the heartland of the compact sedan market... and what does the future hold in store? Consider that Toyota itself is banking on petrol and petrol hybrids as the future as a whole host of European cities are on the verge of banning diesel engines on the ground of pollution.
As for this diesel-powered Corolla, we can only give it thumbs up: its pros far outweigh its cons. Not only is it comfortable and practical, but it offers a relaxed and frugal drive. Open road cruising is its strength; it'll happily soak up many kilometres of highway travelling. The six-speed manual gearbox is a pleasure and there are just enough features to keep the techno-savvy generation happy. By virtue of its maker's reputation for reliability, allied with its extended after-sales network, the Corolla represents a good proposition for long-term ownership.
Mike Fourie says:
There might not be many turbodiesel options in the family car segment, but in the absence of a turbopetrol (in the Corolla range), the 1.4 D4-D makes sense.
Related content
Honda Civic Sedan 1.5T Sport (2016) Review
Toyota Corolla facelift (2017) Specs & Prices
Toyota Corolla (2017) First Drive
Facelifted Kia Cerato (2016) Specs and Prices
Want to buy a Corolla?