Opel's new Astra has garnered plenty of praise since its introduction in South Africa earlier this year. But, shorn of many of the luxury features and finishes fitted to its Enjoy and Sport siblings, what is the Astra like in the base 1.0-litre guise?
We like: Willing and efficient engine, spacious cabin, solidity
We don't like: Lack of oddments storage solutions in front, no front seatback pockets
Alternatives:
For greater practicality: You're unlikely to find a more practical C-segment hatchback than the Astra, so if it's even greater versatility you're after, you may have to consider a crossover. At the price, you can have your pick of the Renault Duster or Captur, the fast-selling Ford EcoSport or even the smooth Suzuki Vitara. Out of that bunch, the Duster is the one that offers the most space. View our in-depth video summary here.
For better fuel consumption: Whether you're looking at claimed figures or real-world consumption achieved in our testing, the Astra appears to be unbeatable at this price level.
For greater value: Once more, this specific Astra is quite aggressively priced and offers a good mix of features, so spec-for-spec it is not easy to beat. However, the entry-level Focus 1.0T Ambiente is around R10 000 cheaper, affording you the opportunity to add some missing features and still undercut the Astra. But the Astra is now the superior product. This is no mean feat, seeing as the Focus 1.0T Trend (which is only slightly more expensive than this Astra) is our reigning Cars.co.za Consumer Awards Compact Car of the Year.
New Segment Leader?
Thus far, Opel's new Astra has impressed us. In fact, it arrived straight from its local launch into our test garage to face its fiercest rival, the Volkswagen Golf. Though the two old rivals traded blows right until the final round, it was the Astra that won on points. Read that comparative test by clicking here.
But what about this entry-level model, the 1.0T Essentia? Is the little three-cylinder engine strong enough to pull this spacious hatchback around with conviction, without sacrificing efficiency? And what about specification – are you getting enough for your money?
There are other challenges, too. Firstly, the excellent Ford Focus 1.0T (in both Ambiente and Trend guises) is a formidable rival, with the Trend being our current Compact Hatchback of the Year. And, finally, if you study the sales figures supplied by Lightstone, then it appears that most shoppers have abandoned entry-level hatchbacks of this size for more fashionable crossovers. Can this baby Astra put forward a compelling counter argument?
How does it fare in terms of...
Efficiency and power?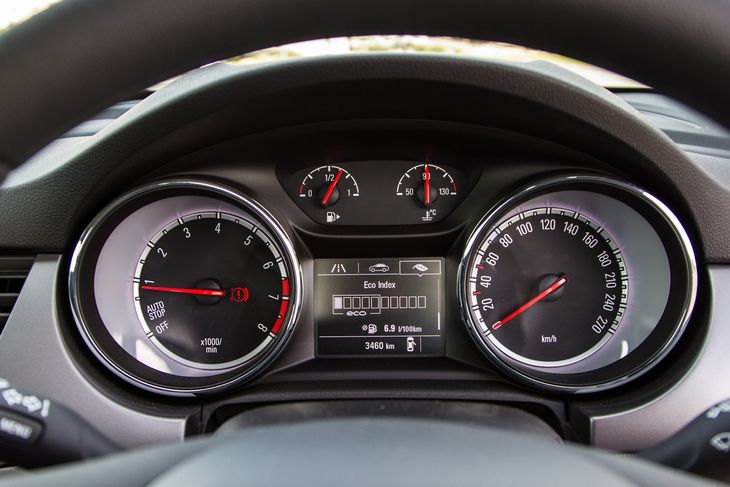 Simple, but stylish instrument binnacle includes a comprehensive trip computer.
The Astra is one of the bigger cars in its segment, and though it is significantly lighter than its predecessor, it remains quite a hefty body for a little 1.0-litre 3-cylinder turbopetrol engine to lug around. We've been very impressed with Opel's 1.0-litre thus far (in the Adam and Corsa), but were concerned about how it would fare in the bigger Astra body.
In the end, this Astra answered those concerns within the first few hundred metres of driving. The engine takes cleanly from low revolutions, and the responsiveness remains impressive around town and right up to the national speed limit. To some extent, we can thank the spot-on gearing of the five-speed manual transmission for the willing performance. The only slight concern is heading out on long-distance cruises. At around 120 km/h the Astra feels like a sixth gear is needed for relaxed cruising, and there's a noticeable drop-off in reserve power at these higher speeds. Nevertheless, for most people the power will be more than sufficient, even with five occupants in the vehicle. And that is very impressive indeed.
So what of fuel economy? Here the Astra manages perhaps its most impressive feat. We've often found that with small turbopetrols the percentage difference between the manufacturer's claimed fuel consumption and the real-world figure can be quite pronounced. No matter how we drove the Astra, however, it didn't seem to want to consume more than 7.0L/100 km, which is very good. With a claimed combined cycle consumption figure of 4.4 L/100 km, it also avoids the government's emissions taxation.
Value for money?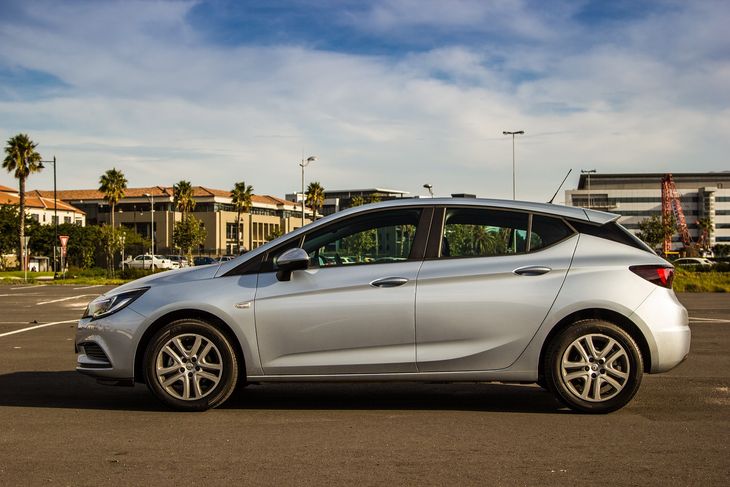 The Astra Essentia rides on 16-inch steel wheels with covers that look a lot like alloys.
If you're shopping at this end of the market and considering a traditional hatchback, as opposed to a cute little crossover, then we're pretty sure value for money is a key factor in consumers' purchasing decisions. Opel has evidently kept this in mind and specced the Astra very carefully to present a compelling purchasing argument.
Firstly, although the Astra 1.0T Essentia foregoes some of the shiny chrome bits of its more expensive siblings, it remains an attractive offering. LED detailing still features in the headlamps, for example, and the plastic covers of the 16-inch steel wheels do an admirable job of mimicking flashy alloy items.
Inside, it's a similar story. Yes, the sea of grey can become a bit tiresome and Opel can still learn a thing or two from Volkswagen about "dressing up" bottom-of-the-range offerings, but overall the sense of solidity and refinement manages to shine through. Besides, if you add the optional R4.0 IntelliLink system, the cabin gets a big push in the tech appeal stakes. This new system (a R4 000 extra-cost option on the Essentia model) brings smartphone connectivity and apps into the cabin for owners with compatible Android 5.0 Lollipop and Apple iOS 8 (or higher) devices. It works a treat and we'd definitely recommend it. As standard, Bluetooth connectivity, aux-in and USB support remain part of the deal.
You also get a full complement of airbags (6), ABS with EBD, Isofix child-seat mounts, air-conditioning, cruise control, electric front windows and tyre pressure monitoring (TPMS). Best of all, the warranty (5-years/120 000 km) and service plan (5-years/90 000 km) are long, illustrating Opel's confidence in this product.
Comfort?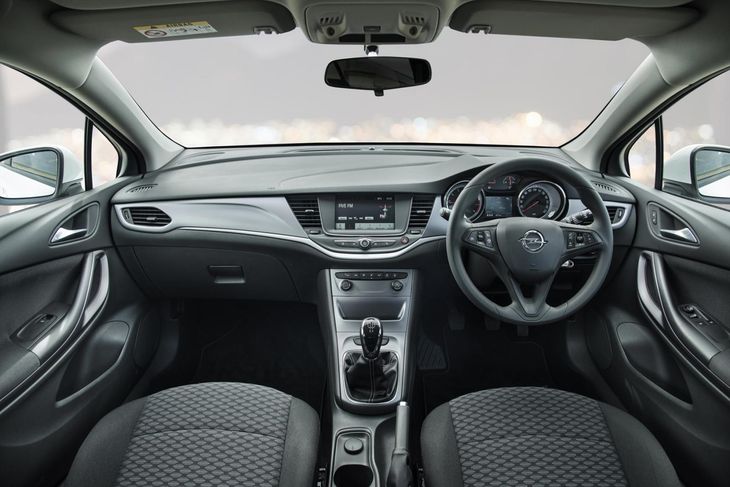 Attractive fascia and sturdy finishes are new Astra hallmarks. Note optional R4.0 IntelliLink system.
Opel has historically excelled at designing comfortable cabins and excellent seats, and it has done so again with this Astra. The driver is really well catered for, with a steering wheel that is adjustable for rake and reach, as well as manual height adjustment for the seat. The cloth-upholstered seats are nicely shaped and padded for long-distance comfort, yet also provide good lateral support. The standard cruise control further boosts comfort levels on the open road or the highway, as do impressively low levels of NVH (noise, vibration, harshness) .
A stand-out talent of this particular Astra derivative's drivetrain is its easy-driving nature. The clutch is light, the transmission slick and precise, and the steering effortless, yet accurate. It really makes for a very pleasurable driving experience. The ride, too, is good. The generous sidewalls of the 205/55 profile tyres certainly contribute to the pliant ride, yet the Astra isn't a clumsy oaf in the corners. In a similar vein to rivals such as the Golf 7 and Peugeot 308, the Astra combines a light-footed feel with a supple ride quality in a very admirable way.
Practicality?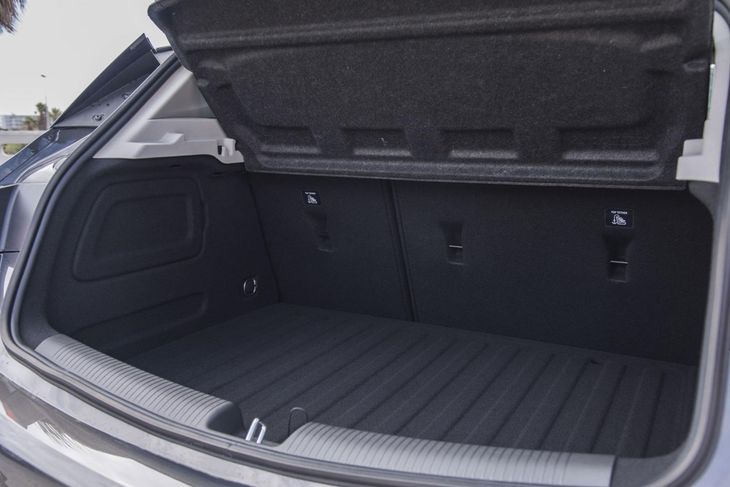 The Astra has a larger boot than its main rivals, but note it only has a space-saver spare wheel.
With a claimed boot capacity of 370 litres, the Astra trounces its rivals quite comprehensively in this department. The luggage compartment is also nicely shaped and offers a wide opening, making loading/unloading a simple affair. Note, however, that it only features a space-saver spare wheel. On the other hand, there's a considerable amount of extra storage space hidden underneath the boot floor that can be used to stow valuable items out of sight.
As is to be expected in this segment, the rear seatback splits 60:40 and folds forward to free up more loading space. With both seatback sections folded, the Astra's utility space (1 210 litres) compares favourably with most of the popular crossovers around it.
But... let's be honest, the Astra is more likely to be ferrying people on those back seats. Fortunately for them, rear occupants will be ensconced in comfort thanks to the generous rear leg- and headroom afforded by Opel's newcomer... it is just a pity that no seatback pockets are provided, however.
In fact, the lack of oddments-stowing solutions was widely criticised by the test team. Opel appears to have over-complicated the area in front of the gear lever, rendering it virtually useless. The narrow slot provided isn't deep enough to safely hold most modern smartphones. A lidded compartment would have been far more useful.
Pricing and Warranty
The Opel Astra 1.0T Essentia sells for R254 000 and is backed by an impressive 5-year/120 000 km warranty and 5-year/90 000 km service plan. Service intervals are at 15 000 km.
Verdict
When it comes to hatchbacks of this size at the R250 000 price mark, the Opel Astra 1.0T Essentia appears to be the new segment leader. We rate the 1.0-litre engine, with its ability to marry impressive real-world economy with perky performance, highly. It is also cleverly specified and the attractive Intellilink infotainment system is not an expensive option. Now add a comfortable ride and a refined cabin, as well as a solid warranty/service plan to the mix, and it becomes rather difficult to argue against it. This is an exceptionally good offering from Opel.
Compare the Opel Astra 1.0T Essentia with the Ford Focus 1.0T Ambiente and Mazda3 1.6 Original here


Related content:
Comparative Review: Opel Astra vs Volkswagen Golf 7
Interested in a used or demo Opel Astra?