Fiat is launching the new Tipo hatchback and sedan in South Africa next week and we will be there to give it a drive. We drove the Tipo sedan in Italy last year and it appears that the spacious and feature-rich Tipo will offer a fair degree of value to consumers. Take a look at what we thought of the Tipo sedan and what you can expect to pay for the Tipo hatchback and sedan when they arrive next week...
What is it?
In Europe, the Fiat Tipo is the Italian offering in the compact hatchback market, otherwise known as the realm of the Volkswagen Golf, Ford Focus, Opel Astra and a few others. It's available in sedan, hatchback and estate guises, powered by petrol and turbodiesel engines. Due to the lack of demand for station wagons in South Africa, it won't be offered locally.
Whereas most sedans in this segment follow a particularly generic style, the Tipo's front end is distinctive in a quintessentially European way and the studded grille adds a classy touch. There are some splashes of chrome and note how the fog lights are particularly recessed in their housings. The model we drove was the 1.3-litre four-cylinder turbodiesel and it was shod with attractive alloy wheels riding on higher profile rubber.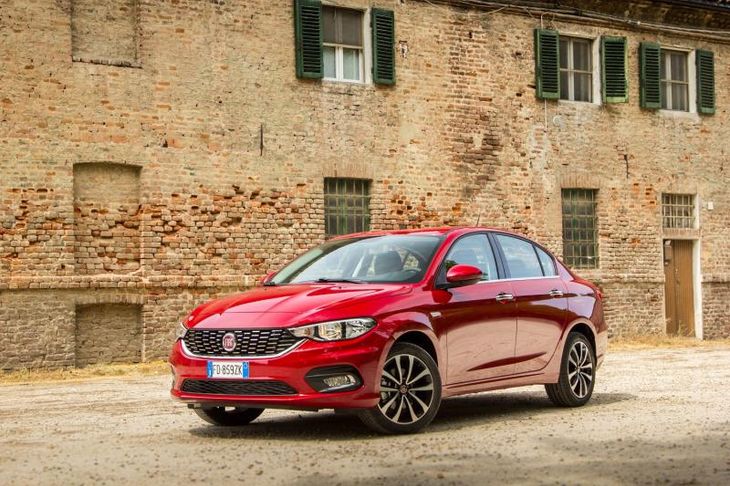 Compact sedans are not usually visually appealing, but the Tipo's a welcome exception.
What's under the bonnet?
As we previously mentioned, this model we drove came equipped with the Multijet 1.3-litre turbodiesel engine and it will be offered in Africa. It produces peak outputs of 70 kW and 200 Nm, which is more than acceptable for an inner-city runabout. Besides, fuel economy is likely to be this model's strong point – Fiat claims that you can expect a return of 4.2 L/100km on the combined consumption cycle. You'll get some decent range too, thanks to a 45-litre fuel tank capacity.
There are two other engines on offer, a 1.4-litre and 1.6-litre petrol engine and both are naturally aspirated. The former produces 70 kW and 127 Nm, and while the performance of the 1.6 (81 kW and 152 Nm) should be adequate, imagine driving a fully-laden Tipo 1.4 driving at altitude in Gauteng…
In terms of gearboxes: there's a 5-speed manual for the 1.3 diesel engine, a 6-speed manual for the 1.4 petrol engine and a 6-speed automatic transmission for the 1.6 E-torQ petrol engine.
How does it drive?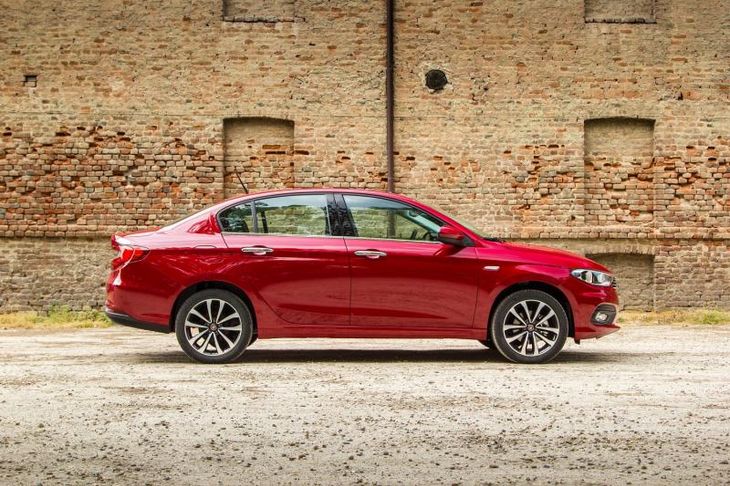 The Tipo's length is not an optical illusion, the newcomer affords a generous amount of rear legroom.
Our launch route comprised a combination of Autostrada (highway), back roads as well as the claustrophobic streets of rural Italian towns. The diesel's in-gear torque provided a positive open road driving experience with the gearbox not needing to be churned too often. There was a hint of turbo lag when setting off, but once on the move, the Tipo proved an eager vehicle. The manual gearbox is simple and smooth in operation.
The Tipo is easy to drive thanks to appreciably light steering. As far as no-frills motoring goes, the Tipo is a very uncomplicated, pleasantly simple vehicle.
How's the cabin space?
This is one department where the Tipo really excels. The driving position is reassuringly conventional (the same cannot be said for all Italian cars), but even when there's a driver of above-average height behind the wheel, there's still exceptionally generous rear legroom. Using the basic sit-behind-yourself test, we had about 150 mm distance between my knees and the back of the seat. As for the seats themselves, they feel sturdier and longer-wearing than some of its rivals. During our 200 km long test route, we felt comfortable with none of that posterior numbness that usually occurs from sitting still for too long.
The boot is deserving of praise as its simply enormous. Fiat claims it will swallow 520 litres worth of cargo, which sounds almost too good to be true.
Any notable features?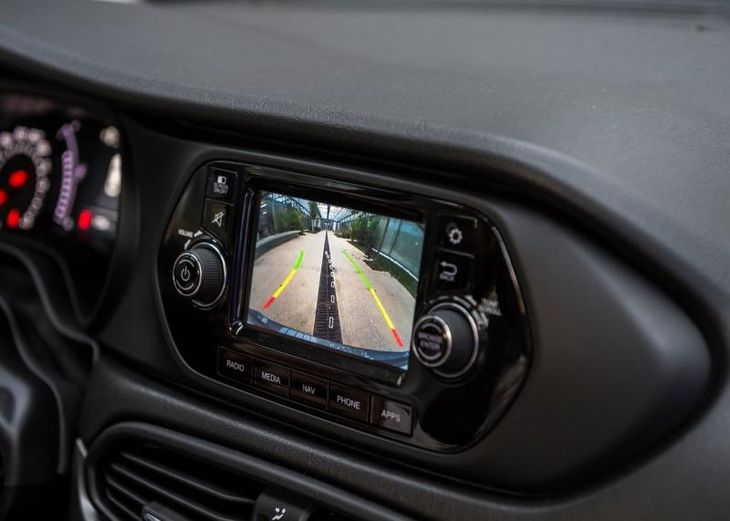 Full-colour infotainment screen displays the reverse view from a rear-facing camera to make parking easier.
When you think of an affordable sedan, you probably expect an "empty shell of a car with basic features". The Tipo is completely the opposite and comes jam-packed with a multitude of the latest bells and whistles. There's a smart and intuitive Uconnect infotainment system, Bluetooth connectivity, TomTom navigation, a multifunction steering wheel, reverse-view camera, climate control and cruise control.
SA spec?
For the South African market, there are two body styles, three trim levels, three engines and three types of gearbox. The sedan is available in Pop and Easy specification, while the hatchback is available in Pop, Easy and Lounge trim.
The Tipo has a hands-free Bluetooth interface, audio streaming, text reader and voice recognition, aux/usb ports with iPod integration, and controls on the steering wheel. A rear parking camera and the new TomTom 3D built-in navigation system are optionally available on all models except the Easy.
Manual air conditioning (on the Pop versions) and automatic air conditioning (on the rest of the range), electric front windows, electrically adjustable door mirrors with defrosting function and the 60/40 split rear seat (excludes sedan POP version). POP models feature 16-inch steel wheels fitted with covers. Easy models feature 16-inch alloy rims, LED daytime running lights, chrome door handbody colouredoured mirror covers and a leather steering wheel. A reverse camera is standard on the hatchback Lounge model, and an optional extra on all models except the Pop.
The Lounge trim, exclusive to the hatchback, features 17-inch alloy wheel rims, chrome details and a leather steering wheel and gear shift knob. Comfort and safety features include rear parking sensors, front fog lights, automatic climate control, cruise control, front armrest and driver's seat with optional lumbar adjustment. UConnectTM infotainment system with Navigation as standard.
Driver and front passenger airbags are standard, with with side and curtain airbags as an option. Also standard is electronic stability control (ESC), There's also Panic Brake Assist (PBA), which intervenes in case of emergency braking by increasing the braking force; ABS; traction control (TCS), and Hill Start Assist, which maintains brake pressure for approximately two seconds after the driver releases the pedal.
Also available is Cruise Control on all Easy and Lounge models and can be selected as an option on the hatchback Pop model.
Fiat Tipo - Price in South Africa
All Fiat Tipo models come with a standard 3 year / 100 000km warranty and service plan.
Hatchback
Fiat Tipo 1.4 Petrol Pop Hatch R249 900

Fiat Tipo 1.4 Petrol Easy Hatch R269 900

Fiat Tipo 1.4 Petrol Lounge Hatch R289 900

Fiat Tipo 1.6 Petrol Easy Auto Hatch R294 900
Sedan
Fiat Tipo 1.4 Petrol Pop Sedan R229 900
Fiat Tipo 1.4 Petrol Easy Sedan R249 900
Fiat Tipo 1.3 Diesel Easy Sedan R274 900
Fiat Tipo 1.6 Petrol Easy Auto Sedan R274 900
Interested in buying a second-hand Fiat? See a list of used Fiat vehicles here
Related Content
Update: VW Golf Facelift (2017) Specs & Pricing
Opel Astra 1.4T Sport Automatic (2016) Review
Opel Astra 1.0T Essentia (2016) Review
Comparative Review: Opel Astra vs Volkswagen Golf 7
Toyota Corolla 1.8 Exclusive (2017) Quick Review
Toyota Corolla 1.4 D4-D Prestige (2017) Quick Review
Ford Focus Gets Style and Tech Upgrade
Spy Shot: New Ford Focus