Italian supercar company Ferrari has taken the wraps off of a new V8 grand tourer to replace the California. Meet the Ferrari Portofino!
Named after one of Italy's most beautiful towns, Portofino is renowned for its charming tourist port and the place has become internationally linked with elegance, sportiness and understated luxury. Ferrari is clearly a fan of the place and has even named the launch colour after it: Rosso Portofino.
Ferrari has imbued its latest offering with a 3.9-litre turbocharged V8 engine packing 411 kW and 760 Nm. These figures translate into a claimed 0-100 kph sprint time of just 3.5 seconds and if the road is long enough, it'll go onto a top speed of over 320 kph. Not bad for what Ferrari claims is a GT, as opposed to an out-and-out dedicated sportscar.
Ferrari claims the Portofino is its most powerful convertible and it features a retractable hard top, a roomy boot and generous cockpit space plus 2 rear seats which are only really suitable for short trips. The new Ferrari Portofino features an all-new chassis which is lighter than the California T, which it replaces.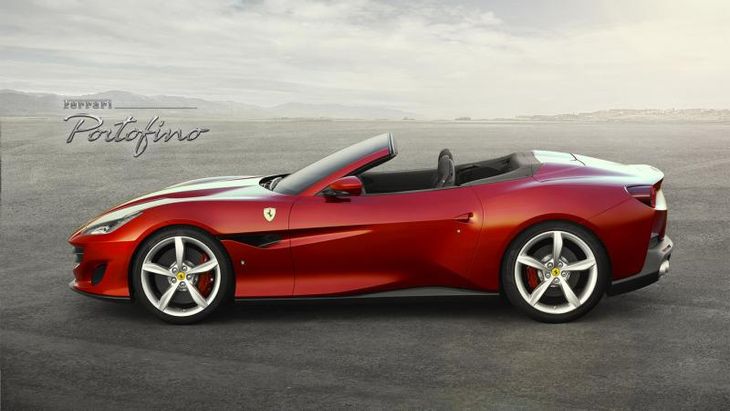 Ferrari's new Portofino replaces the California T and is powered by a turbocharged V8 engine.
The Ferrari Portofino's cabin features an infotainment system with 10.2-inch touchscreen display, a new air-conditioning system that improves occupant comfort both with the top up or down, a new steering wheel, 18-way electrically adjustable seats with a new backrest design that boosts legroom for rear seat passengers, and the passenger display. There is also a new wind deflector which, when the top is dropped, cuts air flow inside the cabin by 30% and also reduces aerodynamic noise. This helps keep the wind noise down so you can have a conversation without shouting.
Officially the Ferrari Portofino will be revealed at the Frankfurt International Motor Show in September 2017 and we expect it to go on sale in 2018.
Related content:
New Ferrari J50 Revealed

New Biturbo Engine for Ferrari GTC4Lusso

Opinion: Ferrari & Tesla, which will survive the future?

Ferrari LaFerrari Spider revealed
Ferrari Cleans Up At International Engine of the Year
Ferrari F40 wins at Concours SA
Want to buy a Ferrari?