Ferrari celebrates 50 years in Japan with the all-new, limited edition J50 supercar!
Ferrari has revealed its limited edition J50 supercar in Tokyo to commemorate the 50th anniversary of Ferrari in Japan. The 2-seater roadster, according to Ferrari, "marks a return to the targa body style evocative of several well-loved Ferrari road cars of the 1970s and 1980s."
The J50, based on the 488 Spider, was created by Ferrari's Special Projects department and designed by the Ferrari Styling Centre in Maranello. Only 10 examples will be built and each one will be specifically tailored according to the customer's requirements.
Key design features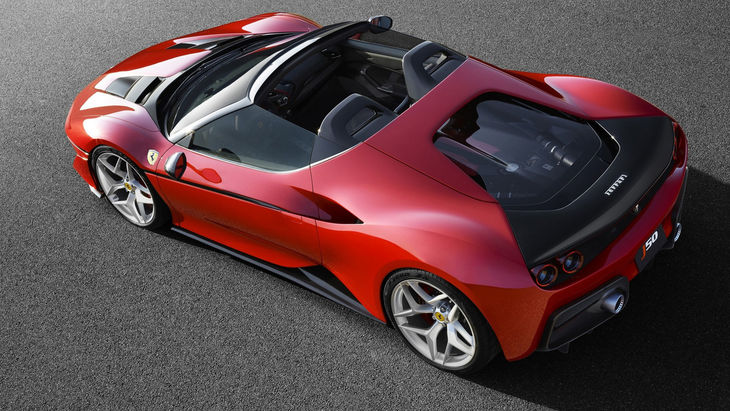 Only 10 lucky owners will experience the Ferrari J50. Any takers?
The Ferrari J50's bodywork is all new and was designed to reflect "nimbleness and agility" and to make the car look like a low-slung barchetta. To achieve this, the front-end is sleek and accompanied by slim LED headlights and a redesigned bumper. The hood has been lowered while the wheel arches are raised, giving the F50 a more purposeful stance. A black dividing line seen along the body is a recurring Ferrari styling cue that also appears on iconic models such as the GTO, F40 and F50.

At the rear, the J50 features a quad taillight design creating a wider appearance while the rear diffuser takes inspiration from jet engine afterburners. The engine is ensconced by a transparent polycarbonate cover that extends from the two separate roll hoops while a transverse aero foil is seen between the two hoops, a classic feature seen on Ferrari sports cars in the 1960's. The Ferrari J50 rides on exclusive 20-inch forged rims and features a two-part, carbon fibre targa top that's stored behind the seats.
On the inside, the sports seats adopt a similar, yet distinctive design to the rear bonnet contour and the particular example revealed in Tokyo features a red-over-black interior trimmed in fine leather and Alcantara.
Engine Power
The Ferrari J50 is powered by a biturbo 3.9-litre V8 engine, the same found in the 488 Spider, but in this application, power has been bumped up by 15 kW to produce 508 kW. Although torque and performance figures have not been revealed yet, 760 Nm or more is realistic and the J50's performance should be similar to the 488 Spider with a zero to 100 kph sprint time of around 3 seconds before reaching a top speed of 325 kph.

Related content:
New Biturbo Engine for Ferrari GTC4Lusso
Opinion: Ferrari & Tesla, which will survive the future?
Ferrari 488 Spider Arrives in SA
Ferrari LaFerrari Spider revealed
Ferrari California T gets Handling Package