The second annual Concours South Africa, staged to showcase and award the country's finest automobiles, were held recently in Sun City. A stunning local Ferrari F40 raced away with the big trophy.
The best examples of South Africa's growing classic car movement were on proud display at the Concours South Africa, sponsored by Nedbank Private Wealth, this past weekend in Sun City. Compared with the 2016 and inaugural event, the 2017 function was markedly bigger and attracted vehicles prepared to a higher standard. This year, the jury also included foreign experts, including the CEO of Coys of Kensington, Chris Routledge, and Octane magazine founder Robert Coucher.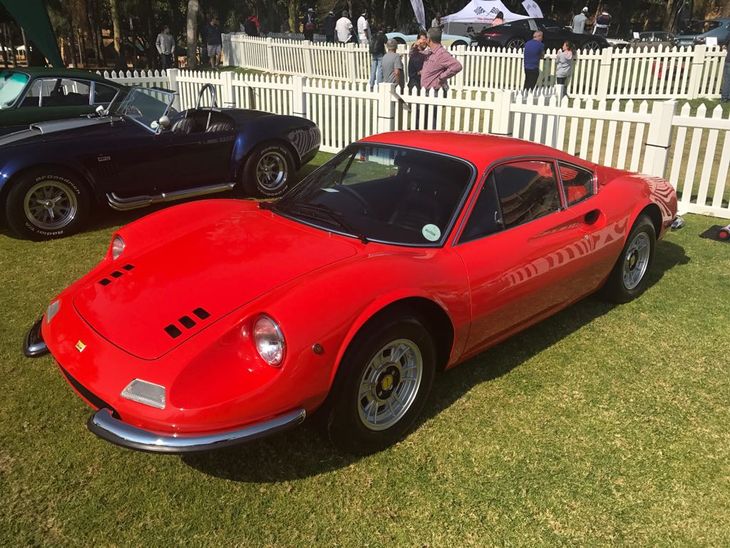 Another Ferrari that drew many admiring glances was this Dino (Ferrari) 246.
"In 2017 we have set the bar very high as far as the judging standards are concerned," said Harley. "We are taking this event to an international level, and our car restorers in this country can only learn from the input from our panel, which has vast experience in both local and international concours events."
Chris Routledge was clearly impressed by what he witnessed and remarked that the overall presentation and setting of Concours South Africa was already well up to the standards of the best events internationally. He said a number of cars at Sun City could compete internationally. "One thing I would like to see next year would be a class for South African home-grown specials, such as the Ford Sierra XR8, the Alfa Romeo GTV 3,0 litre and the Capri Perana, cars that were only available in South Africa and nowhere else."
And the highlights were...
A beautifully prepared 1989 Ferrari F40, owned by Keither Rivers, was the overall winner of Concours South Africa 2017. Rivers is one of the founding members of Tiger Wheels in South Africa. The F40, one of just a few that remain in South Africa, celebrated 40 years of Ferrari when it was announced in the late '80s, and was also the last project overseen by Enzo Ferrari before his death in 1988.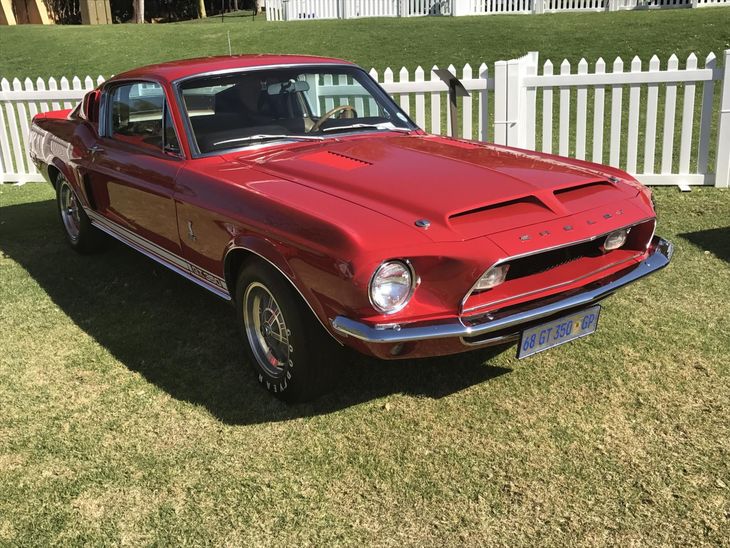 This immaculate Shelby GT 350 Hertz edition finished second overall.
The first runner-up position belonged to an un-restored, but immaculately preserved 1968 Shelby Mustang GT350H, owned by Dainfern's Ravi Chetty. This car was one of the last special Hertz rent-a-car Mustangs produced by Ford and Shelby in 1968.
In third place was a stunning 1970 Porsche 911 S "short-wheelbase" model, owned by Porsche expert Tim Abbot of Johannesburg.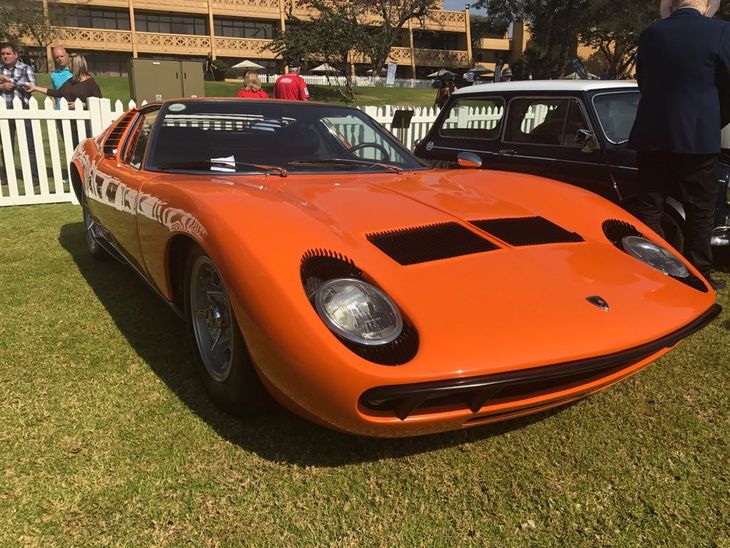 One of the star attractions on display was this recently restored and very valuable Lamborghini Miura S.
The sheer variety of top-class vehicles on display made the event a hit with both the judges and public. Also spotted on the lawns and drawing many admiring glances were a 1971 Dino 246 GTB and a recently restored, bright orange Lamborghini Miura S.
At a function on the Saturday evening, Concours special guests for 2017 Sarel van der Merwe and Ian Scheckter were inducted into the Hall of Fame at Sun City.
The Full Results of Concours South Africa 2017
Overall:
Ferrari F40, 1989, owned by Keith Rivers
Shelby Mustang GT350H, 1968, owned by Ravi Chetty
Porsche 911 S, 1970, owned by Tim Abbot
Cass Winners:
Class 1 B. SS Jaguar 2,5 Sedan, 1939, owned by Roger Martin and Fiona Hampson-Searle
Class 2 A. Volvo PV 445 Wagon, 1958, owned by Vic and Gerhard Campher
Class 2 B. Austin Healey BN6, 1958, owned by Ben Gerber
Class 3 A/1. Mazda R100 Coupe, 1970, owned by Peanuts Fouche
Class 3 A/2. Rolls-Royce Silver Cloud III, 1964, owned by Gustav Raubenheimer
Class 3 B/1. Shelby Mustang GT350H, 1968, owned by Ravi Chetty
Class 3 B/2. Porsche 911 S, 1970, owned by Tim Abbot
Class 4 A/2. Daimler Double Six, 1989, owned by Steve Koterba
Class 4 A/1. Ferrari F40, 1989, owned by Keith Rivers
Class 5 Show and Shine winner. MG Twin Cam, 1958, owned by Neville Conchar
Class 5 Resto Mod winner. 1994 AC Cobra replica, owned by Willem Stieler.
You may also be interested in;
Celebrating 30 years of the BMW M3
SentiMETAL Ep3: Freek de Kock's Hakosuka Nissan GT-R (video)
SentiMETAL Ep2: Gary Berndt's Porsche 911 (930) Turbo (video)
SentiMETAL Ep1: Josh Spencer's Jaguar E-Type (video)
Stunning classic Bimmers at BMW 100 Festival (video)
Interested in buying a new / used Ferrari?