There are many models and variants of cars we don't get in South Africa due to our comparatively small market and right-hand-drive only law. But, are there right-hand drive cars out there that we're missing out on? Here are 5 SUVs that we think would be well-received locally.
South Africa is an isolated automotive market, with specific fuel and vehicle import tariff issues – not to mention us being a right-hand-drive destination too, which is the minority configuration globally. The latter is often tabled as an excuse why South Africans can't have access to desirable family cars available everywhere else.
There are some very appealing right-hand drive cars we are being denied and to assist in a campaign for greater choice, we've done the homework and can now present you the case for some great family crossovers and SUVs which we think should be on sale locally.
Toyota Kluger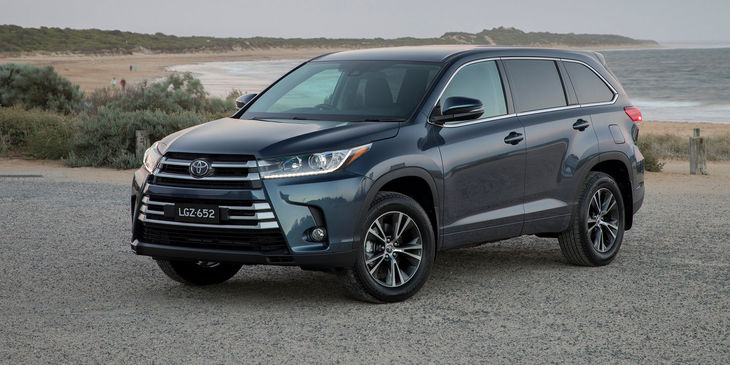 Ordinarily, one cannot imagine Toyota dealers having excess receiving and processing capacity to add any more volume to their avalanche of monthly sales. The Japanese brand absolutely rules our local market, with a portfolio of product perfectly tailored to South African customer requirements, across a very broad, accessible, pricing spectrum. But... There's always room for more, isn't there?
It's called the Kluger and despite its strange name, this is a 7-seater crossover which is built on the same platform as a South African favourite which has never returned – the Toyota Camry. As such, unlike most of Toyota's SUVs, Kluger is not built on a ladder-frame platform. Think of it as a big RAV4 and you'll be imagining the correct technical reference: monocoque construction and a definite on-road bias with both front- and all-wheel drive options.
There's no diesel engine but you have a naturally-aspirated 3.5-litre V6 good for 218 kW and 350 Nm, matched to an 8-speed automatic transmission, unlike the 6-speed in Fortuner. There's a 65 kg mass difference between the front- and all-wheel drive Klugers, accounting for a small margin of advantage regarding fuel-consumption towards the two-wheel drive versions. Inside, it's massive, a true 7-seater with 529 litres of luggage capacity and comfort levels you'd expect from a sedan.
For the South African market, Kluger would sit between Fortuner and Prado, a niche that is perhaps too small. But think about what is on offer here: a monocoque Toyota 7-seater with all-wheel drive. Surely there must be customers who want all those seats, access to the quality and convenience of Toyota's vast dealer network, some AWD traction for gravel travelling and who appreciate the high-speed cruising stability and refinement of a Camry platform with some ground clearance. Surely?
Hyundai Kona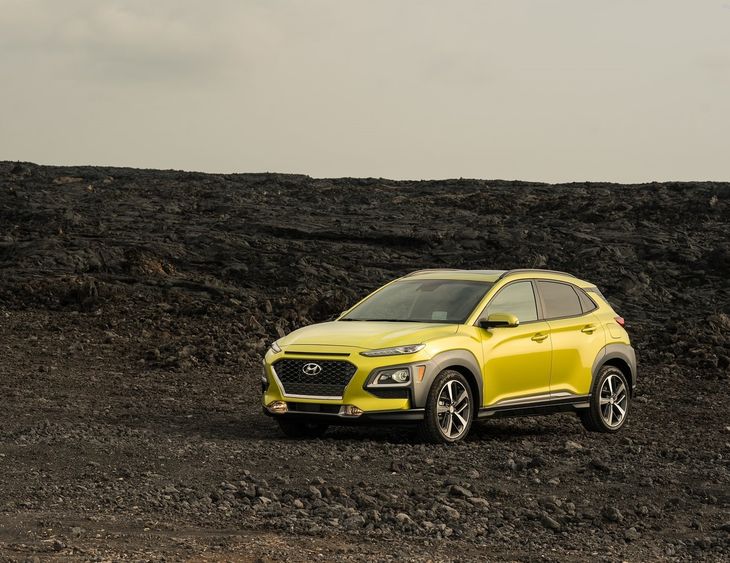 Although sibling brand Kia has garnered all the design awards and adulation for its courage in developing an authentic Korean automotive aesthetic, this Hyundai is unlike any that has come before it. It's more radical in appearance than the production Kia Stonic – and built to specifications which expertly match current buying trends.
Kona is the correct configuration (B-segment SUV) and size, with styling that differentiates it from anything else and all the build quality you have come to expect from a Korean car. What Juke did for Nissan in 2010, Hyundai is most certainly hoping Kona will do for it in 2018. Beyond its daring styling, Hyundai has equipped Kona with those excellent engines of its own making, providing a myriad of choices including a naturally aspirated 2.0-litre (110 kW/180 Nm) or turbocharged 1.6-litre options in petrol (130 kW/265 Nm) or diesel (110 kW/300 Nm) form. Making the most of those engine outputs are 6-speed manual or snappy 7-speed dual-clutch transmissions.
There's a tiny 1.0-litre turbocharged triple too, but with only 172 Nm, it might struggle a touch with South African distances and topography. The battery-powered Kona, due to go on sale globally later this year, features an astounding 470 km range claim, which could appeal greatly to those South Africans who made their homes grid-independent electricity sources during the days of loadshedding.
South Africans might not have warmed to the asymmetric-door Veloster hatchback, but they'll certainly take interest in an outrageously styled Hyundai SUV. Hyundai South Africa is still trying to make a business case for the Kona and with the positive exchange rate movements during early 2018, it may have found a way to introduce the Kona locally.
Nissan Pathfinder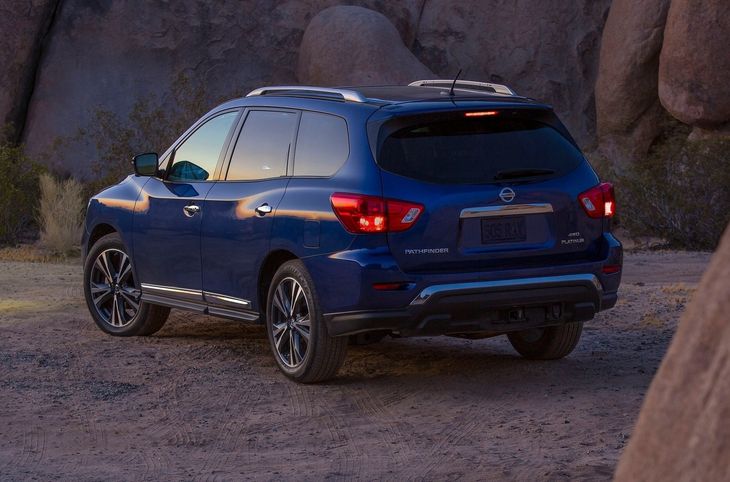 Despite its name, the latest generation Pathfinder has not found a path to South Africa – getting lost to the reality of Toyota's Fortuner and Prado absolutely dominating all and any Japanese SUV sales locally. That is a shame as this latest one has been reconfigured in a way that could make it work here.
Pathfinder is no longer related to the Navara bakkie and therefore features a monocoque construction, which makes it quieter, more agile and stable at speed. The debit is a great deal less capability in truly technical off-road terrain, but with its current marketing impetus being that of a larger 7-seater SUV, that doesn't matter much. Both engine options burn 95 unleaded, with the 2.5-litre 4-cylinder hybrid using 13% less fuel than Pathfinder's 3.5-litre V6, with a marginal performance discrepancy, the hybrid's outputs being 188 kW/330 Nm versus that V6's 202 kW and 340 Nm.
In time, Nissan's Terra will surely fill the void of Pathfinder in South Africa, but for those who yearn for what Murano once was and dislike the unnerving body roll which is a feature of all ladder-frame SUVs, there could be an argument made for this Nissan SUV to find a path back into the local line-up.
Mitsubishi Eclipse Cross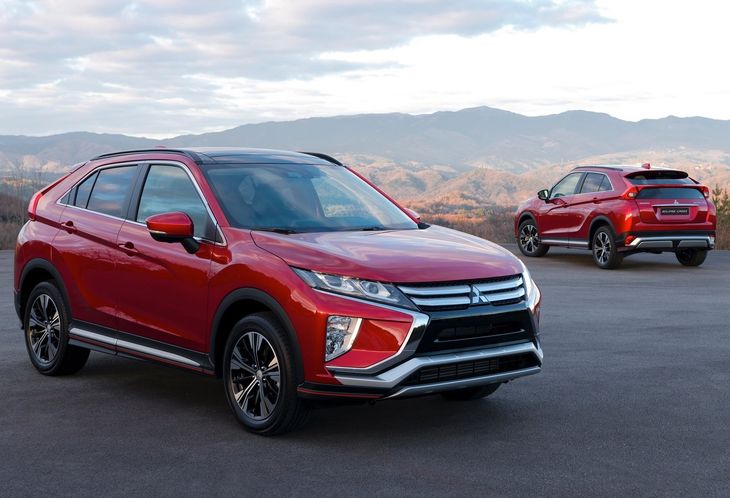 There was a time when Mitsubishi could do no wrong in the South African market if you were shopping for a gravel traveller: Pajero long- and short-wheelbase, Colt double-cab and even that diminutive low-range equipped Suzuki rival, the iO. As SUVs and crossovers have become a default purchase in the local buying market between R250 000 and R600 000, Mitsubishi has cruelly been denied any associated sales momentum.
Perhaps an outlandishly styled crossover – which certainly isn't the current Outlander – could revive Mitsubishi's South African market fortunes. Exactly such a vehicle exists, but peculiarly we can't get it, yet. It's called the Eclipse Cross and whereas that name was once reserved for a Mitsubishi performance coupe, in 2018 it denotes a Qashqai-size crossover. With suspension bits and wheelbase dimensions borrowed from the larger Outlander, Eclipse Cross is roomier inside than most rivals and not averse to some committed gravel travel, featuring Mitsubishi's Active Yaw Control, which is what made their Lancer Evos so unbeatable as four-door pseudo supercars.
Powered by a sweet 1.5-litre turbocharged petrol, good for 110 kW and 250 Nm, Eclipse Cross has 175 mm of pothole proof ground clearance, with standard Apple CarPlay and Android Auto on-board too. Considering there is a R150 000 segment of opportunity for placement between ASX and Outlander in Mitsubishi's local line-up, the absence of Eclipse Cross is most confounding. Earlier this year, Mitsubishi South Africa confirmed that the arrival of the Eclipse Cross to South African shores was scheduled for Q4 2018. It was also confirmed that it will slot between the smaller ASX and larger Outlander in the SA line-up.
VW T-Roc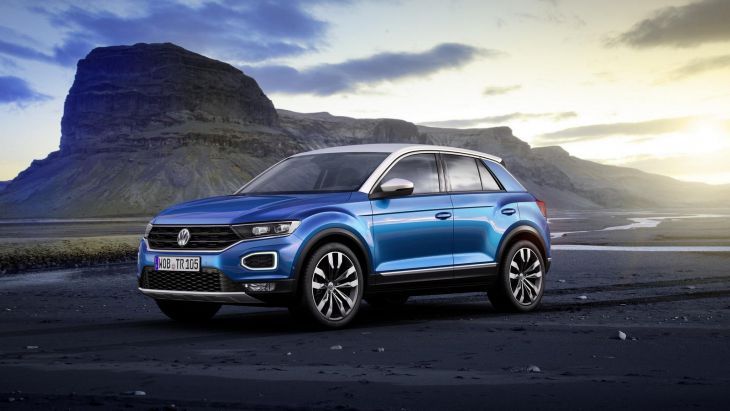 Smaller than Tiguan but built on the same, outstanding MQB platform, T-Roc is for those who seek all the appeal of a VW-badged crossover, yet want the parking convenience of more humble exterior dimensions. T-Roc's luggage capacity is 65 litres larger than a Golf7 and greater than the Audi Q2 at 445 litres, but slightly short of Mini's Countryman.
The design is contemporary, and VW offers its full range of compact engines within the model line-up including a 1.0-litre triple (same as you'll find in the new Polo) and all the way up to the 140 kW, 2.0-litre engine powering the 4Motion T-Roc. With 400 Nm and VW's 7-speed DSG transmission, the T-Roc 2.0 is a veritable compact crossover pocket rocket, capable of 0-100 kph in 7.2 seconds and more comfortable on gravel roads than you'll ever experience in anything GTi.
In principle and execution, T-Roc has the making of a runaway success in South Africa – which makes its absence a mystery.
Related content
5 Cars We Want To See for Sale in SA
Nissan Pathfinder leaked, but not coming to SA (yet)