Audi's Q2 looks set to cash in on the flourishing premium crossover niche, but is its price simply to steep given its size and long options list? Let's find out...
We like: Cabin design/solidity, performance/economy balance, ride and handling, character
We don't like: Less practical than some rivals, very pricey
Alternatives
More spacious and more affordable: The recently revised Mercedes-Benz GLA is a very real alternative with its improved interior finishes and desirable badge. In GLA200 form it is also more affordable, while offering more space.
The quirk master: Also fresh on the market is the brand new Mini Countryman. For similar money to this Q2, you can get the flagship Cooper S Sports-auto derivative, but you'll probably also want to delve into the extensive optional extras list. We're yet to test the new Countryman, but based on launch drive impressions, it's a desirable product that delivers greater performance and has more space to boot. Thirstier, however...
A sweet Swede: Volvo's V40 Cross Country may not be the newest product on the market, but still has considerable charm. It looks the part, is well made, boasts an extensive array of features and at this price level can be had with the powerful T5 AWD drivetrain, which gives it hot-hatch performance. The boot is small, though, the facia layout outdated and it can be quite thirsty. Also consider the much cheaper T4 version.

Compare the Audi Q2 1.4T FSI Sport S tronic with the Mini Cooper S Countryman and Mercedes-Benz GLA200 automatic
Form over function?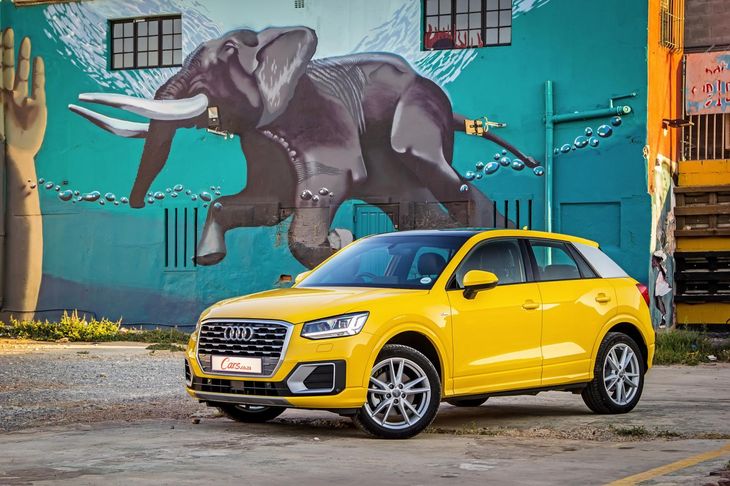 As the first product with the new-generation Audi grille treatment, the Q2 is the boldest offering from the brand in quite some time.
Audi's ever-expanding line-up recently gained a youthful, perhaps even eccentric offering, the Q2. Positioned to compete in the burgeoning premium, compact crossover segment, the Q2 targets affluent, younger buyers that place a priority on design appeal, quality and the latest technologies. This means that practical concerns such as spaciousness, versatility and value for money take a back seat to premium finishes, individuality and a vast... vast optional extras list.
How does it fare in terms of...
Design & Packaging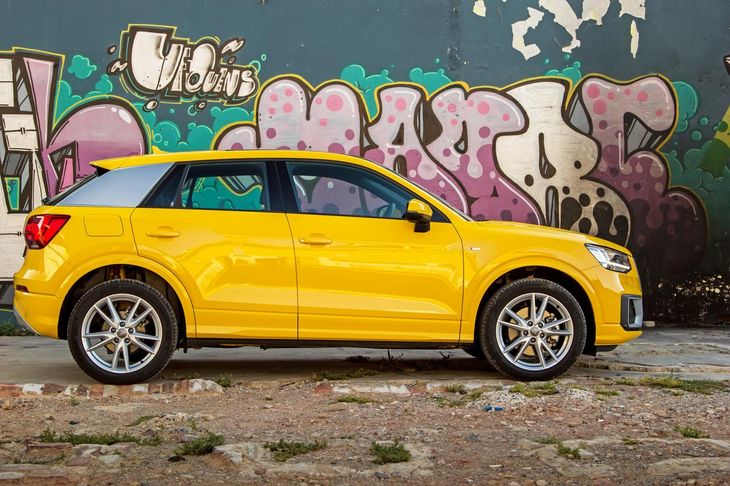 Designed to appeal to a young, urbanized and trendy clientele, the Q2 can be specified with a bewildering number of individualisation options.
Design appeal is a key USP for this Audi and whether you're in the "love it" or "hate it" camp, one thing is undeniable – the Q2 turns heads. Audi usually doesn't deviate too much from its design language, but the Q2 comes as a breath of fresh air. Perhaps Audi will surprise us and be similarly bold with other upcoming products – in which case the Q2 is merely a start in a new chapter – but given its clearly defined target audience and the demands that places on design, we suspect it will remain one of the more quirky offerings in the German brand's portfolio.
With its chunky, chiselled lines, short overhangs, new-look Audi grille and such details as the contrasting C-pillars (optional), the Q2 proved very easy on the eye for most of our testers. But if you want to make it pop, delving into the optional extras list is a requirement. A variety of wheel designs are on offer, and you can also get the S-Line sports package (R20 150), striking LED headlights (R14 450) and a panoramic sunroof (R15 000), as fitted to our test unit.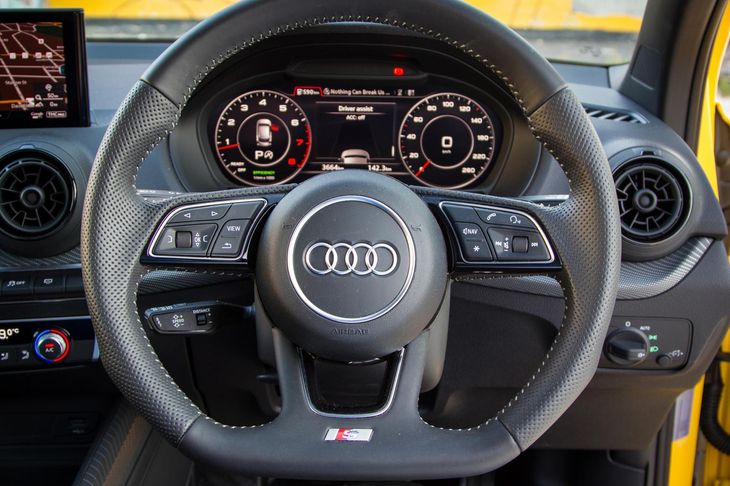 Neat, well-made facia can be specified with a multitude of options, including the digital Virtual Cockpit, for R6 400.
Inside, the Q2 continues to press all the right buttons. At once minimalist and high-tech, it's a feel-good interior that goes a long way to justifying the price, even though some of the interior plastics are not quite to A3 level. The driving position is superb, with generous rake and reach adjustment from the sporty steering wheel, as well as height adjustment from the driver's seat. Our test unit featured extended leather trim (R4 500) in addition to fine Nappa leather upholstery (R21 000). There are more affordable leather options, thankfully. Also fitted to our test unit and boosting the cabin ambience was the excellent Virtual Cockpit digital instrumentation (R6 400), an ambient lighting package (R5 850) and a panoramic sunroof (R15 000).
In terms of cabin versatility, it has to be noted that the Q2 doesn't quite offer as much rear legroom as some of its rivals, but it should be fine for kids or shorter adults. The boot, too, lags the competition at 405L. It is however decently shaped. An extra-cost item that really should be standard is a folding rear seatback (R3 500).
Performance & Efficiency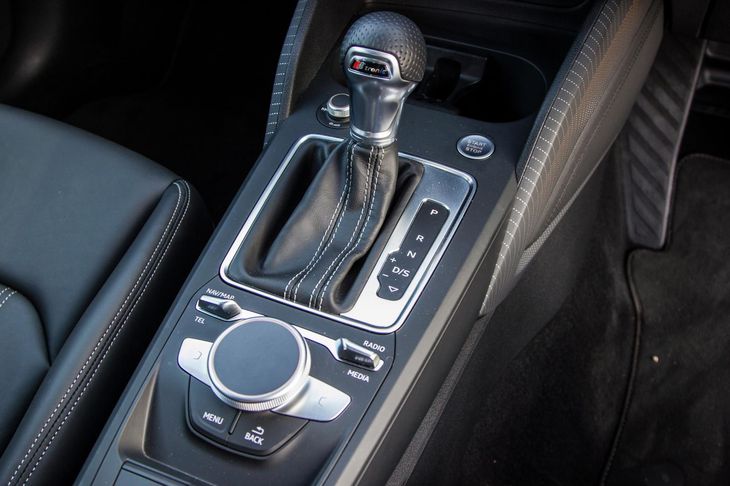 The 7-speed dual-clutch transmission is a good match for the punchy engine, and real-world fuel economy is impressive.
Powering this derivative of the Q2 is the Volkswagen/Audi group's proven 1.4-litre turbopetrol engine, delivering 110 kW from 5 000 to 6 000 rpm and a useful 250 Nm of torque from 1 500 to 3 500 rpm. Audi claims a 0-100 kph time of 8.5 seconds for this model, equipped with the lovely 7-speed dual-clutch transmission. On paper, then, the performance looks slightly worse than the main rivals featured here, but in the real world – and without back-to-back comparison – the Q2 seems to punch above its weight, feeling sprightly in almost all situations. Overtaking acceleration is strong, too, with that flat torque curve coming in very handy indeed. Keep in mind that the Audi Drive Select system is optional (R2 780) and well worth the money if you want to be able to set up the drivetrain characteristics on the fly.
Another area in which the Q2's drivetrain impresses is fuel economy. Audi claims a combined cycle consumption figure of 5.4 L/100 km and while you're unlikely to see average that low, especially if the majority of your driving will be around town, our average of around 6.5 L/100 km is both achievable and admirable.
Ride & Handling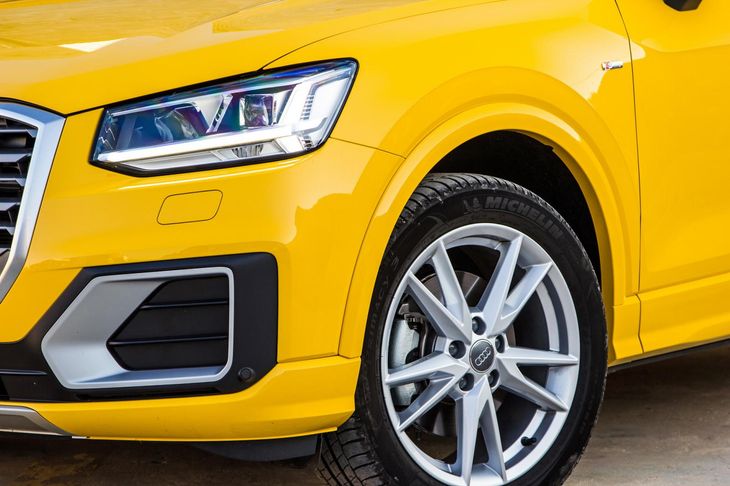 Our test unit featured the optional S Line package. The blend of ride comfort and sharp dynamics on these 18-inch wheels is impressive.
The Q2 shares much of its underpinnings with the upcoming new-generation Volkswagen Polo, as well as the current A3 and Golf. This means it makes use of the VW Group's impressive MQB platform, which has thus far delivered some of the best-handling and -riding vehicles the group has ever produced. So, the ingredients are most certainly first-class.
On the road, the Q2 doesn't disappoint, displaying the same blend of tight bodycontrol and suppleness that have made other recent VW and Audi products so impressive to pilot. In short, the Q2 manages to feel at once agile and planted, while the steering is pleasantly weighted, too. The display of composure and refinement certainly bodes well for the upcoming Polo! Note that the standard Q2 wheel is a 17-incher, but 18- and 19-inch options are available. The latter may make the ride too stiff, however. Our test unit's 18-inch wheel appeared to strike the perfect compromise between good looks and acceptable ride comfort.
Oh, and while the Q2 is positioned as a crossover, it really should not be seen as a quasi-SUV. The ride height is only marginally higher than what you'd find on a traditional hatchback and the suspension set-up certainly favours smooth tar.
Value for Money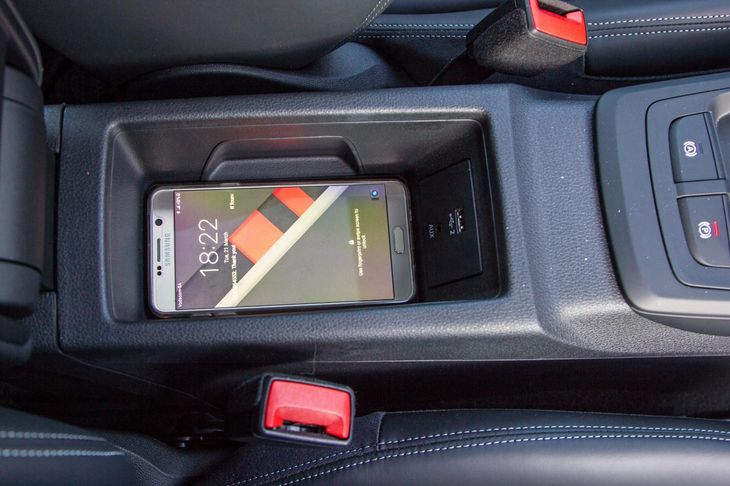 Wireless charging functionality is a R4 750 option.
Now we get to perhaps the biggest question mark that hovers over the Q2 – is it good value? Given what you get for the base price of R529 500, the instinctive answer is "no". A base Q2 comes with cloth seats, cruise control, manual air-conditioning, electric windows, MMI radio system (with smaller colour screen) with bluetooth functionality and a few other niceties, including a height-adjustable driver's seat. Hardly what the target audience would describe as "desirable".
But perhaps the base Q2 should be seen as just that... a base onto which you add your own personality, as far as your budget allows. Want the full-fat MMI Navigation Plus system? That'll be a cool R24 000. You arguably don't need that these days... but it's there if you want it. Perhaps of more relevance for the target customers is the Bang and Olufsen sound system (R9 800), smartphone interface (R2 800), wireless charging (R4 750) and very cool Virtual Cockpit digital instrumentation (R6 400).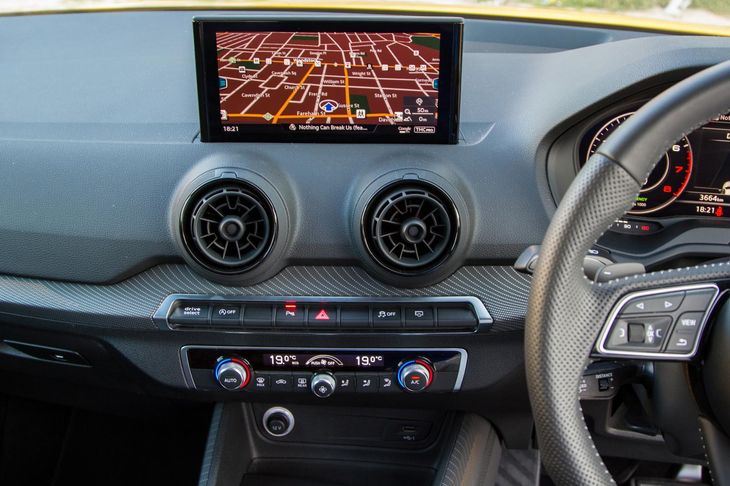 The larger info-tainment screen is part of the optional MMI Navigation Plus package. Dual-zone climate control costs extra, too.
Now add one or two attractive exterior options (the contrasting blade colour and perhaps the S-Line package), and you suddenly have a far more desirable vehicle, even at the higher price. Our test unit's price (with options), however, came to a staggering R708 600, which is ultimately very, very hard to justify, no matter which way you look at it.
Pricing and Warranty
The base price for this model is R529 500, but beware the options list. As detailed in the article, the price quickly escalates as a number of optional items, such as leather upholstery, smartphone interface and digital instrumentation are highly desirable. Included as standard is a 1-years/unlimited km warranty, thankfully supplemented with a 5-years/unlimited km maintenance plan.
Verdict

The Q2 is undeniably desirable and good to drive, but cabin space and a steep price are factors to consider carefully.
The Q2 is one of those cars that just can't win in any common sense analysis. It is hardly unique in that sense – the premium car makers are very good at convincing us to pay more for less. So if you're looking for a practical, value-for-money crossover, this is not it, let's be clear about that. But within the context of what it's supposed to do, and to whom it's supposed to appeal, the Q2 is rather hard to fault. Equipped with the right optional extras (the right mix will really depend on your own tastes), the Q2 is an eye-catching, stylish offering of high quality, great to drive and loaded with modern features.
Have a look at our Audi Q2 video below

You may also be interested in;
5 Cars the Audi Q2 needs to beat
Audi Q2 video and test drive review (2017)
BMW preview X2 in Paris (with video)
Interested in buying a new / used Audi Q2?