Seemingly under fire from rivals such as the Ford Everest, refreshed Chevrolet Trailblazer, Land Rover Discovery Sport and soon, the upcoming Mitsubishi Pajero Sport, the Toyota Fortuner continues to be the king of the lifestyle SUVs – as far as the sales charts are concerned. We covered more than 3 000 km in less than 4 weeks across varied terrain, to gather a better understanding of its enduring appeal.
Toyota Fortuner 2.8 GD-6 4x4 Auto – Quick Specs
Price: R617 900 (January 2017)
Engine: 2.8-litre, 4-cylinder turbodiesel
Transmission: 6-speed automatic
Power: 130 kW
Torque: 450 Nm
Fuel Consumption: 8.5 L/100 km (claimed)
We like: Strong, frugal and refined engine, off-road ability, practicality
We don't like: lack of some top-end features (automated tailgate, navigation)
A dominant introduction
The Toyota Fortuner has no shortage of challengers, as you can see in the preamble above, and yet when faced with having to buy that ONE car that can do everything, most South Africans appear to shop around, but then make a shoe-squealing turn and head for the nearest Toyota dealership. Let's provide some context to its dominance in 2016. According to data provided by Lightstone, 1 647 units of this Fortuner (2.8 GD-6 4x4 Auto) was sold last year, with the 2-wheel drive version finding even more new homes (2 240 sold). In the same period the top-selling Everest managed 958 units (3.0 LTD 4x4 auto), the Trailblazer 2.8 LTZ did 229 units and the most popular Discovery Sport (the SD4 HSE 4x4 Auto) notched up 477 sales. Also keep in mind that the Fortuner was only introduced in March last year...
So, in short, it's been a completely dominant first year for the new Fortuner. Besides a large and trusted dealership network, what are the reasons for its popularity? We put it through quite a gruelling 3 000 km+ test to figure it out.
Oddly packaged, but it works

The side-hinged rear seats pose less of a problem than anticipated. Boot floor commendably low.
In terms of its overall packaging, the latest Toyota Fortuner doesn't differ too much from its predecessor. The wheelbase and track widths are remarkably similar for an all-new vehicle. The bigger gains are in overall body length and width. It even retains the oft-criticised third-row seat storing solution of its predecessor, rather than adopting a more modern fold-down-into-the-floor arrangement. On the surface of it, then, it doesn't look like Toyota was too worried about the on-paper advantages that some of the Fortuner's rivals appear to hold in terms of packaging.
But here's the thing... our extended test suggests that Toyota's decisions were spot-on. As I packed the Fortuner with a large variety of oddly shaped things for a month-long holiday, it became clear that, precisely because of those flip-up rear seats against the sides of the luggage area, the Toyota has a commendably low boot floor. It was a rather a big surprise to load everything required and to only barely reach the height of the rear seatbacks – often a major challenge on my travels. And no, those seats were never in my way once during the test period, with the only point of criticism being a rattle from one of them on a poor gravel road.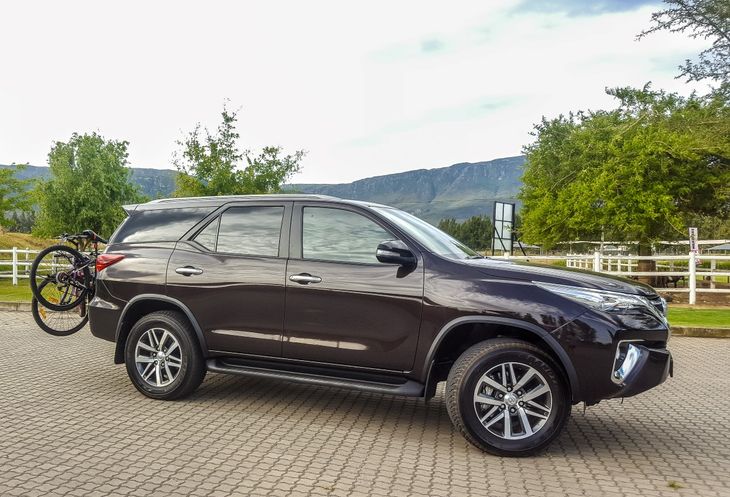 Fortuner in typical holiday mode - bicycle rack attached. 18-inch wheels now standard.
With the tailgate closed, we attached the bicycle rack and were set for the long road, joining many, many other similarly kitted-out Fortuners along the way. Driven in 5-seater mode, the Fortuner was a hit with the family. Those seated in the back had their own ventilation outlets/controls, so arguments about the desired in-car temperature were avoided. Legroom in the middle row is more than sufficient, and the backrests offer a reclining function.
Up front, packaging benefits include a double cubby – the upper of which is cooled by the air-conditioner, a sizeable storage box under the centre armrest and loads of other little nooks and crannies for smaller things.
Powerful, yet frugal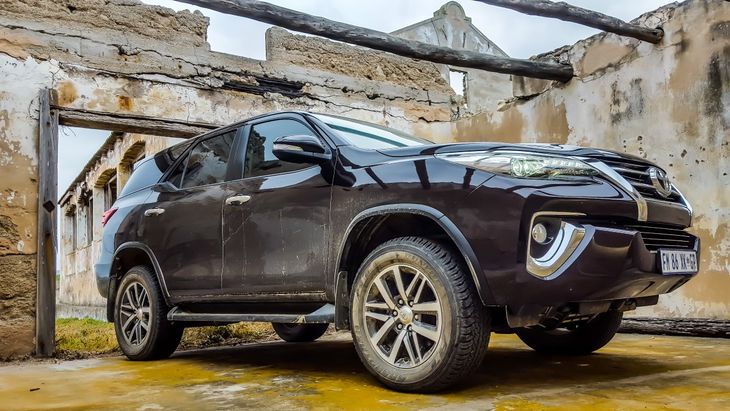 We achieved an average of 9.5 L/100 km, but mindful owners could do better.
This Fortuner is powered by one of Toyota's new-generation (GD series) turbodiesel engines, in this case the top-line 2.8-litre version. One of the hallmarks of this engine, as well as the smaller 2.4-litre version, is refinement. This is a characteristic we came to appreciate on the long road. Once up to cruising speeds, the Fortuner assumes a long-legged, relaxed gait, with the engine barely audible.
It also delivers strong overtaking performance when needed, as you'd expect with 130 kW and 450 Nm of torque available, but the 6-speed gearbox is not the fastest-reacting of its type, so mashing the throttle pedal doesn't immediately lead to a rush of forward motion. Somewhat amusingly, there are sporty gearshift paddles behind the steering wheel, but responses to inputs are slow, so they're not of much use. Perhaps of more immediate impact is the Power button the transmission tunnel, which changes the engine mapping and sharpens throttle response.
I was impressed with the fuel economy of the engine, too. We ended our extended test with an average of 9.5 L/100 km, but I think careful drivers could achieve averages of closer to 9 L/100 km without too much effort. Combined with a full 80-L tank of diesel, the Fortuner should be able to travel for more than 800 km between fill-ups.
True country crossing talent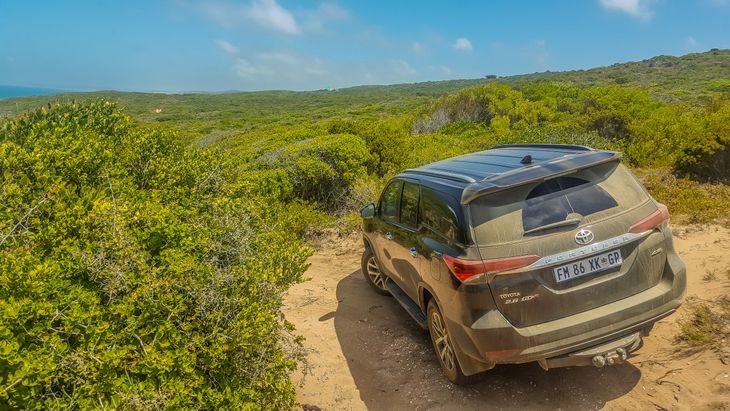 Fortuner continues to boast class-leading off-road ability.
Arriving at our destination in the Cape South Coast, it wasn't long before the Fortuner got pulled into off-roading duty. This time with all 7 seven seats occupied, we headed into particularly sandy and rocky terrain after a long stretch of gravel road characterised by the odd patch of corrugations. The latter road surface highlighted probably the biggest improvement of the latest Fortuner (compared with its forebear). It feels significantly more stable and planted on gravel, especially at the rear, though ultimately not quite as supple as a vehicle like Ford's Everest. I would have liked slightly more feel through the steering wheel, but overall, it was a good showing... that was about to get even better.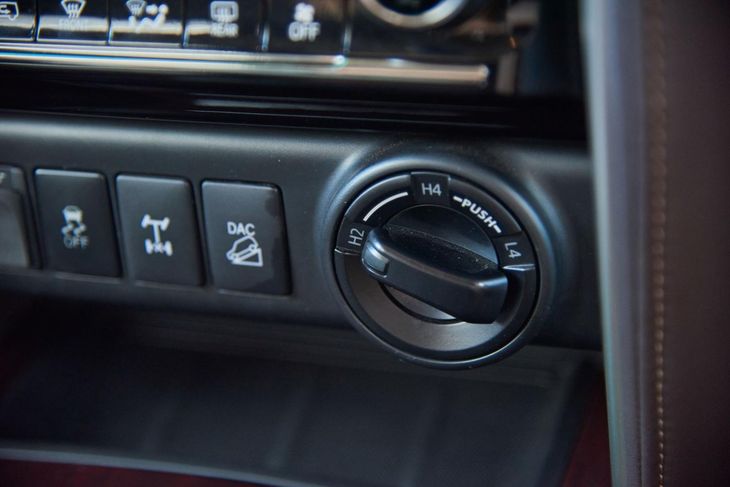 Selecting the appropriate off-road mode or assistance is as easy as twisting a dial or pushing a button.
Out in the rough in the no-man's land between Gouritsmond and Stilbaai, the Fortuner ploughed through sand, clambered over rocks and felt pretty much unstoppable while doing so. Inside, in the chilled, comfortable cabin, the banter continued unabated. It is arguably this ability to go anywhere, seemingly with neither it, nor its passengers, having to break a sweat, that makes the Fortuner so desirable.
Ground clearance is claimed to be 279 mm and that odd-looking front-end design translates into an excellent angle of approach. Of course, like most modern off-roaders, selecting the appropriate four-wheel drive mode is simple. You have a rotary dial to switch between 2H, 4H and 4L, and simple buttons for the rear diff-lock and hill-descent control.
Comfort and features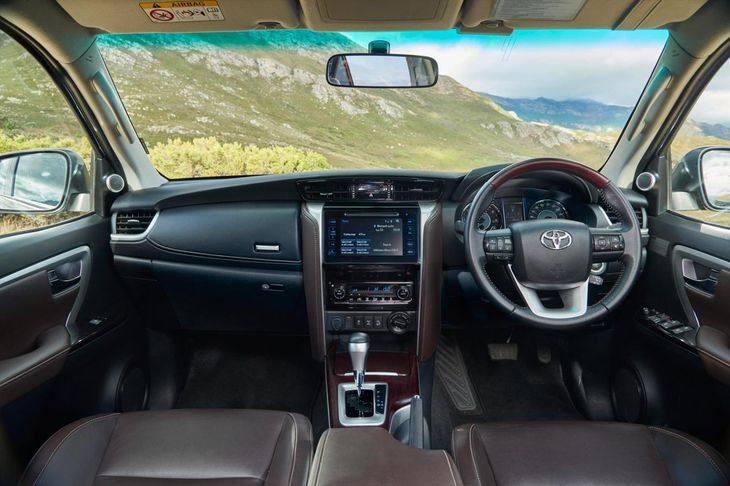 Upmarket finishes endow the Fortuner's cabin with a premium ambience.
Step inside and you'll quickly appreciate that the Fortuner has come a long way. Yes, it may still be based on a pick-up (Hilux), but Toyota has given it a unique fascia design and lots of upmarket finishes to lift the cabin ambience. Dark brown leather combine well with quality black plastics, satin-silver inlays and wood (even on the steering wheel) to make the Fortuner look (and smell) like the R600k+ vehicle it has become.
The standard specification for this flagship Fortuner is quite good and includes; electrically adjustable driver seat, cruise control, a (somewhat clumsy) touch-screen infotainment system with Bluetooth, USB and aux support, climate control, rear-view camera, electrically folding mirrors and no fewer than 7 airbags, among other items. We do however think that there are a few missing features... The tailgate is quite firmly sprung and heavy, so requires muscle to operate manually – my wife struggled. Consequently, I'd have liked to see an electronically activated tailgate at this price level. Another item missing is integrated navigation, which is offered by some of its rivals, including the facelifted Chevrolet Trailblazer. Both the automated tailgate and navigation are offered on the flagship Fortuner 4.0 V6 model, and we think they should be included on the 2.8 GD-6, too.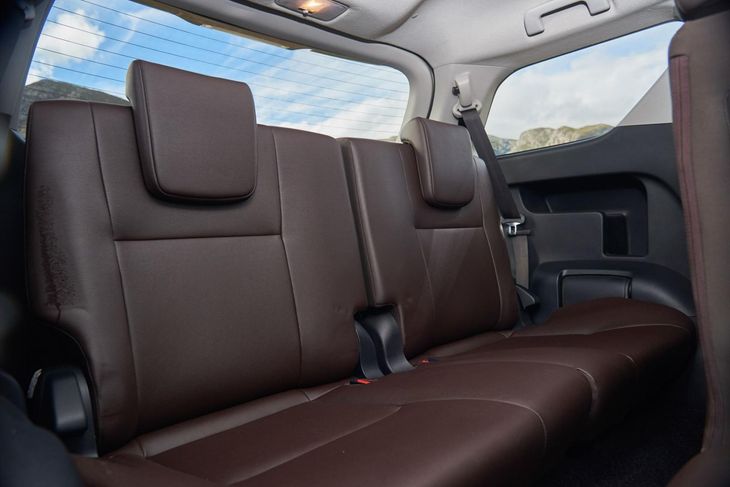 The 3rd row of seats provide sufficient space and comfort for smaller occupants, and are ideal for kids.
Overall, however, comfort levels are high. More often than expected we made use of the 2 rearmost seats for the kids, and there were no complaints from them in terms of space or ventilation. The middle row of seats can slide, by the way, to either improve legroom for those in the third row or to create more space in the boot (with the 3rd row stowed away).
Verdict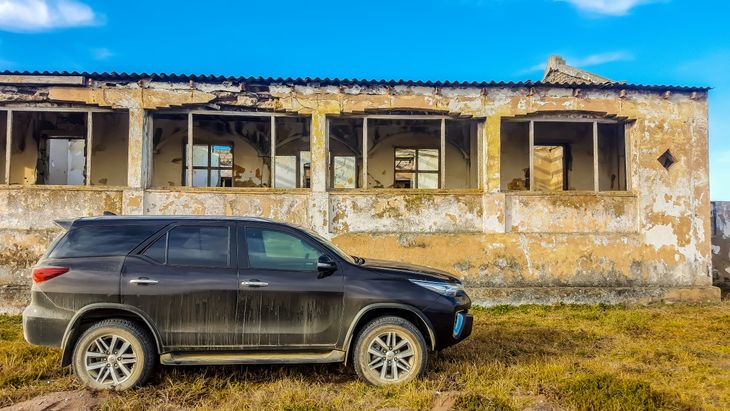 All the old Fortuner virtues remain, but in its latest form the refinement and style have been dramatically upped.
Our prolonged exposure to the Fortuner has only heightened our admiration of it. For the money (it is more affordable than its main rivals), it offers a blend of genuine all-road ability, improved refinement, practicality and power/economy, which not only makes it a common sense purchase, but also a desirable one. Backed by the vast and highly regarded Toyota network (again a top 5 performer in the Cars.co.za Ownership Satisfaction Survey), we predict the Fortuner will continue to dominate sales charts and humbly suggest Toyota can further up the numbers by adding an even higher-specification flagship model to the line-up.
Related articles:
Comparative Review: Ford Everest vs Toyota Fortuner (with video)
Toyota Hilux and Fortuner enhanced for 2017
Toyota Fortuner 2.4 GD-6 (2016) Review
Opinion: How to choose a suitable off-roader
Cars.co.za Consumer Awards - Lifestyle SUV semi-finalists 2016/17
Looking to buy a Toyota Fortuner?