The specification sheet isn't impressive, but everyone who is serious about luxury SUV gravel travel wants one. Why?
Prado is to Toyota what Discovery is to Land Rover. For those who dwell mostly in cities and are intimidated by navigating something the size of a Range Rover or Land Cruiser 200 around urban infrastructure designed for hatchbacks, Discovery and Prado have always promised a more manageable proposition.

That said, there's no question of sacrificing off-road ability with either and as cities become more crowded, and our need to escape to places of solitude far away ever greater, the logic of Prado, as opposed to the full-size Land Cruiser 200, is obvious. The junior Land Cruiser is another one of Toyota's terrifically popular SUVs. It sells just shy of 100 units a month, delivers fantastic residual values over time and its off-road ability is never a slight on the legacy of that renowned Land Cruiser badge it shares with the larger 200.
Some new bits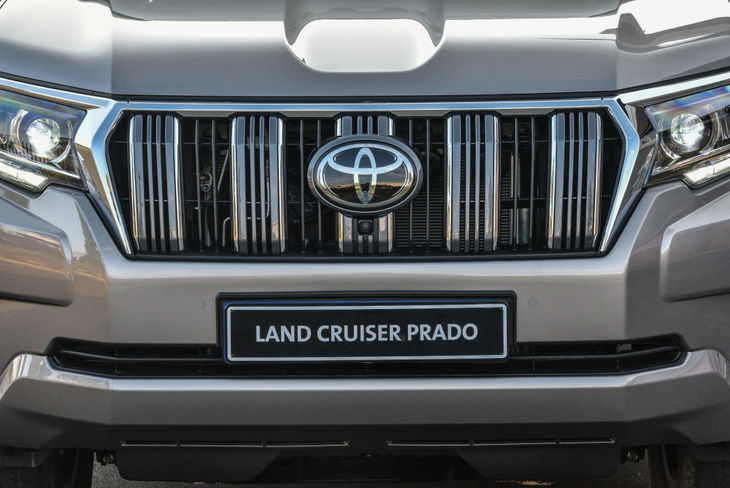 Toyota has given Prado subtle styling and equipment upgrades, but previous drivetrains remain.
Toyota's latest product evolution is a styling and equipment enhancement of the third-generation Prado, which has been available locally since 2009. A completely new SUV this is most certainly not, but it does have a restyled 5-bar grille, double-concave bonnet (for improved visibility), LED lighting upgrades and a different shade finish on those alloy wheels. Subtle alterations.
Inside there's a new instrument binnacle, a dashboard which curves 20mm lower (again, to improve visibility of the bonnet-line off-road) and comprehensive regrouping of controls on the centre-stack. The cabin is filled with strange shapes and uncoordinated hues, it doesn't have that user-centric feel or northern European coolness of design you encounter in Discovery or any German premium SUV. Pretty has never been the point with Prado: everything you touch, open, close or fiddle with has a sense of production quality that leaves you in no doubt that the constituent bits of a Prado will outlive you.

Dimensionally new, Prado's 60mm longer bumper-to-bumper and electromechanically the most notable additions are adaptive cruise control and a 360-degree field of view camera system which also supports under vehicle terrain scanning – handy for those Grade 5 off-road obstacles. Again, not much has changed and for many the truly disappointing feature of Prado will be a continuation of drivetrains.
A really old anchor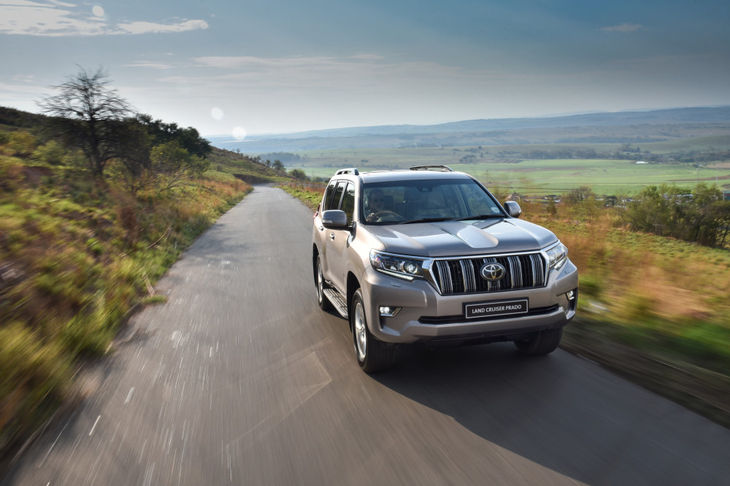 On the road is where Prado disappoints most, but take it into the wild and its true strength comes to the fore.
Whilst other markets benefit from the current Hilux 2.8 turbodiesel and 6-speed automatic transmission combination, diesel Prados in our local market will soldier on with the previous generation 1KD-FTV 3.0-litre, 4-cylinder which, in all honesty, at 120kW and 400Nm, delivers one of the least powerful and slowest accelerating large SUVs you can buy. Prado's anaemic on-road performance isn't helped by a dated 5-speed automatic transmission either. Land Rover's Discovery has inarguably superior engine options.

So how can Toyota ambitiously predict it will keep selling nearly 100 Prados a month, when new Discovery has more powerful engines and the option of all-wheel air-suspension, gifting better ride quality and handling agility? Because a luxury Land Cruiser does what most contemporary luxury Land Rovers can't: it goes anywhere and everywhere.

The 1KD-FTV is awfully dated and deeply underwhelming, but the moment tarmac crumbles to gravel, and that gravel grades to sand – in the middle of nowhere, way beyond Sasol's 10ppm fuel distribution network – Prado just works. And most other luxury SUVs, well, they don't. Because rural Southern African diesel is way too contaminated for Euro 5 or 6 engines to compress and ignite. It's the great default product planning victory for Toyota: you get all the comfort and convenience features one would expect in an SUV retailing at close to R1m, with the true exploring ability most of its rivals claim to have, but none can offer in reality due to European fuel standard elitism.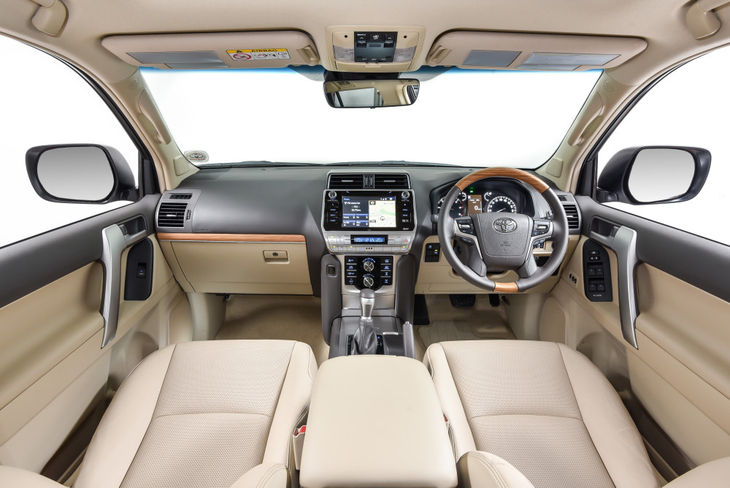 The redesigned cabin is built to last, but the choice of interior colour finishes may not be to everyone's taste.

Toyota's not ignorant of Prado diesel's shortcomings. It would prefer to parallel other global markets, which run the 130kW/450Nm 2.8-litre turbodiesel in Prado, but that's configured as a Euro5 engine and unsuitable for local fuel.

"But why does my neighbour's Fortuner have a 2.8 turbodiesel?" Good observation. Fortuners are powered by the same 2.8, but it features engine modifications to cope with local fuel – because volumes are a thousand per month, justifying the investment. The engineering case for converting a Euro 5 2.8 Prado to local fuel standards simply isn't merited by its sales volumes, and almost unbelievably, customer demand.

That is the extraordinary bit about Prado. What makes it unique in a market of rival luxury SUVs with low-range and Safari travel potential are the old school design attributes. There's no fancy hydroformed aluminium monocoque, Prado's built as all rugged SUVs once were – body on frame. It means that on-road handling is ponderous but off-road it flexes to terrain inputs in the best possible manner, optimising that 31-degree approach angle and 215 mm of ground clearance.

There's no magic carpet ride from adaptive dampers or four-corner air-suspension, but Toyota's crawl control mode, borrowed from Land Cruiser 200, makes Prado delightfully unintimidating to pilot at very low-speeds, in hazardously technical terrain. The KDDS hydraulically interconnected front and rear stabilisers work a treat off-road, where an individual wheel can benefit from the greater wheel travel allowed by disconnecting its stabiliser bars at low speed, in a cross-axle situation. Best of all, it's a purely mechanical suspension aid – hence there is a low probability of something going wrong.

Certainly, if you wanted greater on-road performance, with a consummate increase in fuel cost and limitations regarding range, there's the 4-litre V6 model. But 80% of all Prados sold locally are diesel so the logic of any verdict must apply to the 3.0-litre and it's a curious case of giving people what they truly don't need – not necessarily what they want.
An African luxury SUV solution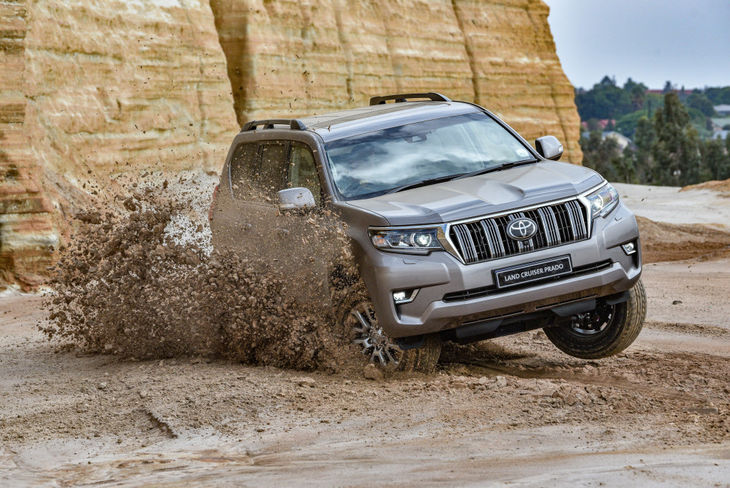 The Prado is supremely capable offroad and the latest updates will ensure that it keeps selling well locally.
There's no other brand that can sell you a turbodiesel SUV with seven leather seats, sophisticated Smartphone connectivity, adaptive cruise control, cameras to help you not ding it into a parking garage pillar (or puncture the sump when crawling over rocks) and the guarantee that when you are a good few hours beyond the South African border, you'll be able to refuel and keep going.

A statement of good taste, its styling certainly does not deliver. Nor is the diesel Prado in any way responsive to drive on a road with yellow lane markings and traffic signals. But it is the sequence of moments when you roll Prado onto natural terrain, engage low-range, toy with the crawl-settings, feel the confidence of that diesel engine turning over without a hint of strain, experience the reassurance of a body-on-frame platform moulding the most grip from those four corner traction points – then Prado makes all the sense in the world, for a South African adventurer.

Toyota selected KZN as the South African launch venue for new Prado and although overtaking slower traffic on the N2 was a chore in the 120kW diesel, once we were crawling up Sani pass, into Lesotho, all attention was absorbed by the inspiring views – a credit to Prado's untroubled ability in serious off-road conditions. On the return journey into South Africa, the reality of Prado's legacy was abundantly clear: all the shuttle vehicles ferrying European tourists up Sani pass were first and second-generation Prados. You can't really argue with that calibre of market representation.

Drivetrain notwithstanding, Prado now features greater sophistication in its off-road and driver assistance systems than Fortuner and remains more manageable in size than a Land Cruiser 200. It is a choice compromise between these two enormously successful low-range enabled South African SUVs and absolutely deserves its billing as the junior Land Cruiser.

If there is one final statistic which encapsulates just how much a conqueror of real-world off-road terrain and testing conditions the Prado is, consider its sales distribution. It's the most extensively distributed Toyota of all, sold in 190 countries. We imagine if they had a dealership in outer space, it would be the first privately owned vehicle on Mars.
Toyota Land Cruiser Prado - Price in South Africa
Land Cruiser Prado 3.0D TX - R821 700
Land Cruiser Prado 4.0 V6 VX - R930 000
Land Cruiser Prado 3.0D VX - R932 400
Land Cruiser Prado 4.0 V6 VX-L - R967 200
Land Cruiser Prado 3.0D VX-L - R969 600
All Land Cruiser Prado models include a 5-year/90 000 km service plan and 3 year/100 000 km warranty.

Buy a Toyota Land Cruiser on Cars.co.za
Related Content
SA's Unsung Off-Road Sales Hero
Toyota Land Cruiser Prado Review
Toyota Land Cruiser 200 4.5 GX (2016) Review
Land Rover Discovery (2017) Video Review
Land Rover Discovery Si6 HSE (2017) Review
2017/18 Cars.co.za Consumer Awards – powered by WesBank; Finalists