The new Nissan Navara is now in South Africa and its arrival has sparked vociferous debate on social media. We take a closer look at some of the banter!
There are few motoring topics that spark such widespread debate as bakkies do, particularly in South Africa. We love bakkies and people's opinions on them are as diverse as those who express them.

The new Nissan Navara and it rivals dominant products such as the much-loved Toyota Hilux, Cars.co.za Consumer Award-winning Ford Ranger and the Volkswagen Amarok (facelift coming soon). There are other competent fringe players in the market though, vehicles such as the Isuzu KB, new Mitsubishi Triton and Fiat Fullback – they're all vying for the attention of bakkie-crazed buyers.

If there is one new double-cab bakkie that has the potential to disrupt the status quo, it's the new Navara. The Navara comes to market with something that its rivals lack and that's a 5-link coil rear suspension that, in our opinion, significantly improves ride comfort over its competitors. That's an important point to take note of, especially if you are considering buying a leisure double-cab bakkie.

Meanwhile, the Navara's 2.3-litre twin turbodiesel engine, despite its smaller capacity, is a strong performer too, offering 140 kW and 450 Nm of torque using either a 6-speed manual or 7-speed automatic transmission, both of which are well matched to the engine.
Based on our experience of the new Navara thus far and considering where it sits in terms of price against the equivalent Hilux and Ranger, we think buyers will be silly to not consider it. We will have the new Navara on test soon, so look out for a thorough evaluation coming your way in the near future.

If you aren't convinced, take a look at how the new Nissan Navara stacks up against Toyota Hilux and Ford Ranger.

For now though, let's take a look at some of the social media banter surrounding the launch of the new Nissan Navara…
What people think of the new Nissan Navara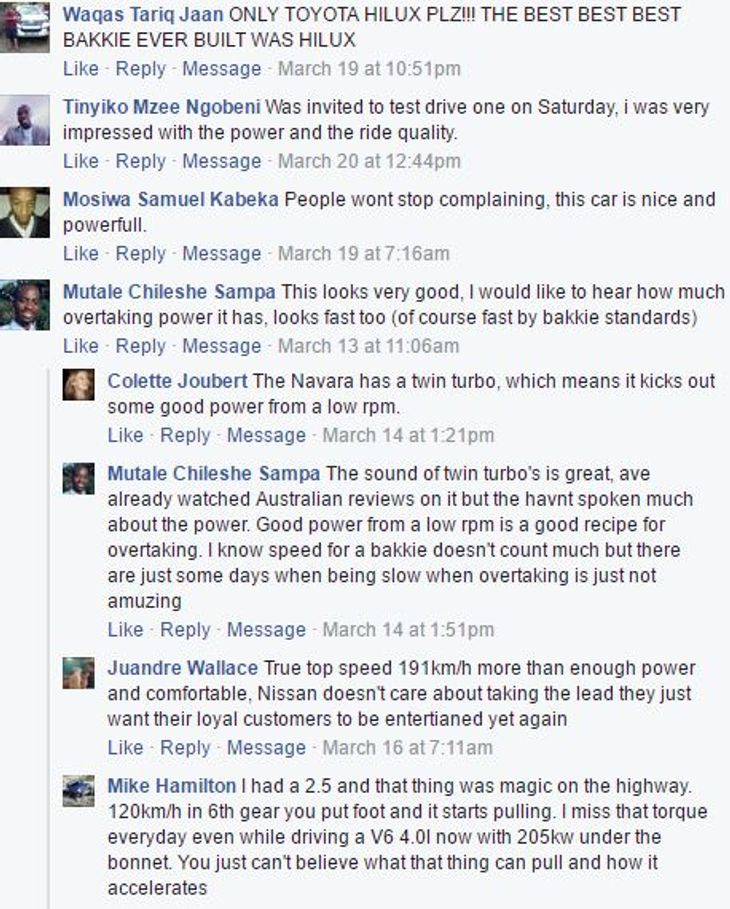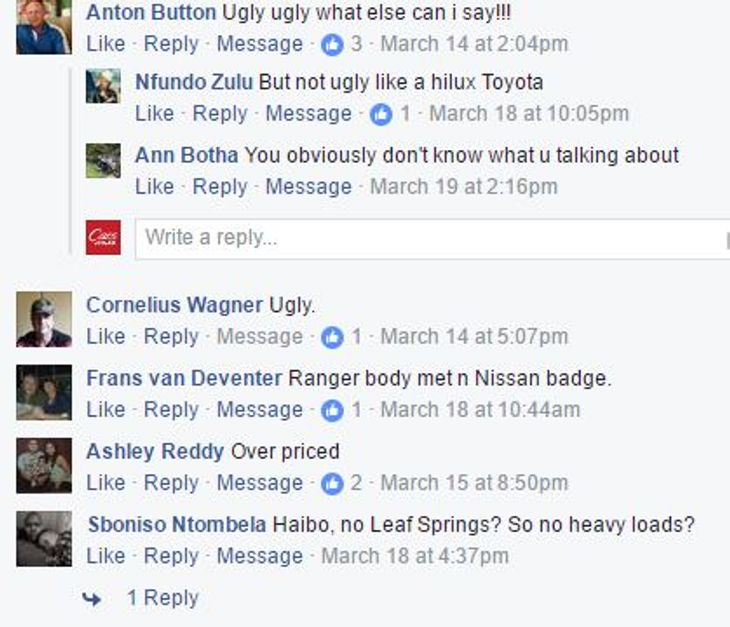 Related Content
Nissan Navara (2017) First Drive
Nissan Navara (2017) Specs & Pricing
Nissan Navara (2016) International First Drive
Mitsubishi Triton (2017) Video Review
Mitsubishi Triton (2017) – Meet its Rivals
Mitsubishi Triton (2017) First Drive
5 Things we learned about Mercedes-Benz X-Class in Geneva
Best Leisure Double-Cab Bakkies in SA
Want to buy a Nissan Navara?