After a long delay, the all-new Mitsubishi Triton double-cab bakkie has landed in South Africa. It goes straight into one of the most competitive segments in our market and it'll need to be better than good if it wants to steal sales from the market's frontrunners: the Toyota Hilux and Ford Ranger. Was it worth the wait? Read on...
The Triton is one of those double-cab bakkies which, despite its solid heritage and reputation, played second fiddle to the Ranger and Hilux. These two bakkies are entrenched in our market and it's incredibly tough to break the stranglehold, just ask several of the other players in the market, including Foton, GWM, Isuzu, Mazda, Nissan, Tata and most recently, Fiat... Those are among the Japanese brand's fiercest rivals in this segment.
Unfortunately for Mitsubishi, this Triton has been a long time coming and the delayed replacement has allowed rivals to release new models too. There's an updated Isuzu, a new Fiat Fullback and the Ranger and Hilux have both seen new derivatives added to their ranges. Game on, then.
What's new?
Almost everything, actually. The headline act of the new Mitsubishi Triton is a 2.4-litre 4-cylinder turbodiesel engine. This unit features an all-aluminium assembly and is 30 kg lighter than the previous-generation motor. It offers up 133 kW and 430 Nm, which is good in this class and Mitsubishi claims it'll sip 7.6 L/100 km. Two choices of transmission are offered: a six-speed manual and a five-speed automatic.
The looks have changed considerably and while it shares its underpinnings on the Fiat Fullback, enough has been done design-wise to ensure the two can be easily differentiated. In fact, the new Triton is not a bad looking double-cab bakkie at all.
In terms of interior layout and appointments, the newcomer has a undergone a major overhaul. The cabin offers appreciably more interior space than its predecessor and it's interesting to note that the rear bench's backrest is set at a friendlier angle. Usually, bakkie back benches are uncomfortably upright, but this is not the case in the Triton. Mitsubishi claims the cabin has been stretched by 20 mm and shoulder room is more generous.
Can it go offroad?
Mitsubishi can talk for days about how its Pajero won the Dakar rally and, based on our experience, the brand's products are certainly capable in the rough stuff. The new Triton is set to continue that reputation as its rugged and capable. It features the Mitsubishi Super-Select II four-wheel drive system, which has driving modes for 4x2, 4x4 and 4x4 low range selectable via a dial on the centre console. While ground clearance is rated at 215 mm, the Mitsubishi is claimed to have an approach angle of 28 degrees, a departure angle of 22 degrees and a break over angle of 25 degrees.
We had a chance to put the Triton on a fairly challenging offroad trail and it traversed most obstacles effortlessly. The more hardcore obstacles needed some thought and effort, but they were eventually dealt with. It's moments like these that you realise that in an off-road vehicle with a breadth of ability, the main limitation to what a vehicle is capable of is its driver's skills and experience...

Yes, yes it can indeed go off-road. The Triton is a tough off-roader and it will take loads of punishment.
What's it like to drive?
Tarmac driving proved to be an area where the Mitsubishi really shone. Not only is it really quiet (by most double-cab bakkie standards), but the ride quality is comparatively excellent. Some test units had some cargo in their load bins to demonstrate unladen and laden performance, but in each case (laden or unladen) the ride quality and refinement was superb. We'd go as far as to suggest that it's class-leading. Sure, we're going to have to do another big bakkie comparison test to find concrete proof that the new Triton is as accomplished on the road as we think after this launch drive.
On gravel, it was much the same. While evaluating the automatic derivative, we were thoroughly impressed by the Triton's stability and comfort on gravel... and uneven sand. At no point did the steering and handling feel untoward, which budding off-road enthusiasts will undoubtedly appreciate.
Of the two transmissions, we'd lean towards the automatic over the manual. While there's nothing fundamentally wrong with the manual 'box, we appreciate the convenience and ease of use of the automatic. Naysayers will suggest that five speeds aren't as good as six, but in this case the flexibility and wide powerband of this new engine means the box doesn't need to be constantly changing down to find the sweet spot.
The steering wheel action is surprisingly light and you'd be forgiven for thinking you're in something compact like a Mitsubishi ASX, as opposed to a double-cab bakkie. Thanks to a shorter wheelbase, handling in town is good and you'll find the bakkie has a surprisingly small turning circle.
Generous on-board features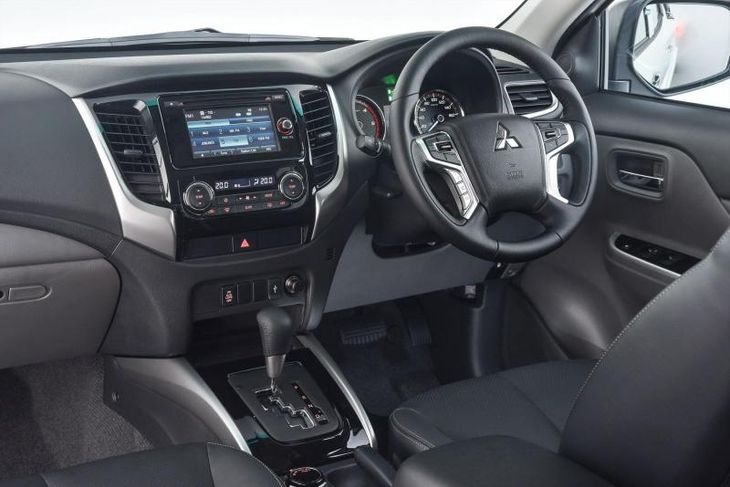 The interior of the Mitsubishi Triton is simple and well-built. Infotainment system offers the basics.
The Mitsubishi Triton comes with most boxes ticked in terms of features. A reach-and-rake adjustable steering wheel with satellite controls, climate control, Bluetooth, reverse-view camera, leather seats, USB connectivity and daytime running lights are just some of the features fitted as standard.
In terms of safety, driver and passenger airbags, anti-lock brakes, active stability and traction control, as well as hill start assist are fitted.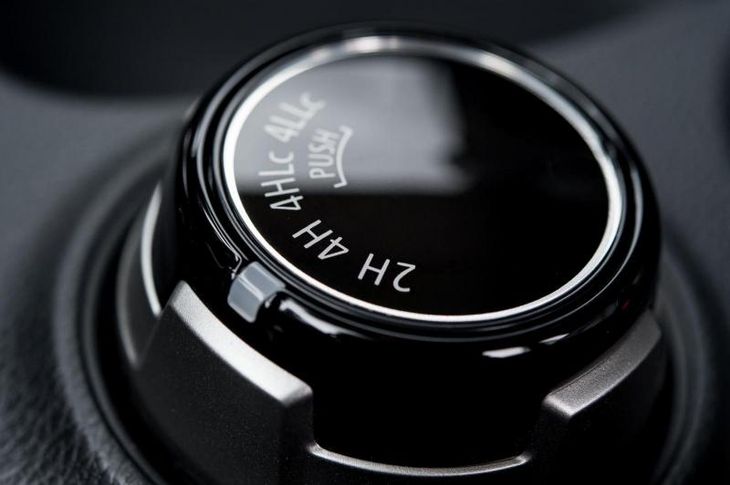 Rotary selector for 4x2, 4x4 and low-range driving modes.
Summary
While our launch drive was brief, initial indications suggest that the new Mitsubishi Triton has been well worth the wait. The combination of driving refinement and refined new engine make a compelling case for the bakkie enthusiasts. Sure, it's going to be really difficult to tempt the Hilux and Ranger loyalists to switch to Mitsubishi, but for those who want something new, different and, crucially, cheaper, the Triton presents terrific value.
The cabin may be a little too basic for some, but the fundamentals are there and for most, that's all a customer will need. We look forward to putting this newcomer through its paces against some of the more established rivals.
Mitsubishi Triton Price in South Africa
The Mitsubishi Triton comes to market at a competitive price in relation to its rivals. It has a 3 year / 100 000 km manufacturer's warranty and a 5 year / 90 000 km service plan with intervals every 10 000 km.
2.4 Di-D 4x2 (man) – R479 900
2.4 Di-D 4x2 (auto) – R499 900
2.4 Di-D 4x4 (man) – R539 900
2.4 Di-D 4x4 (auto) – R559 900
Related content
Best leisure double-cab bakkies in South Africa
Five cheapest bakkies in SA
Five most fuel efficient double-cab bakkies in SA (2016)
Interested in buying a Mitsubishi Triton?