South Africans are certifiably SUV-crazy and seem to have an insatiable appetite for anything with a raised ride height and chunky off-roader styling. While brands such as Ford and Renault have been contesting the compact family car segment for a while, with the EcoSport and Duster (as well as Captur) respectively, Volkswagen is oddly late to the party. However, the German brand is about to introduce a mighty challenger in the form of the all-new T-Cross.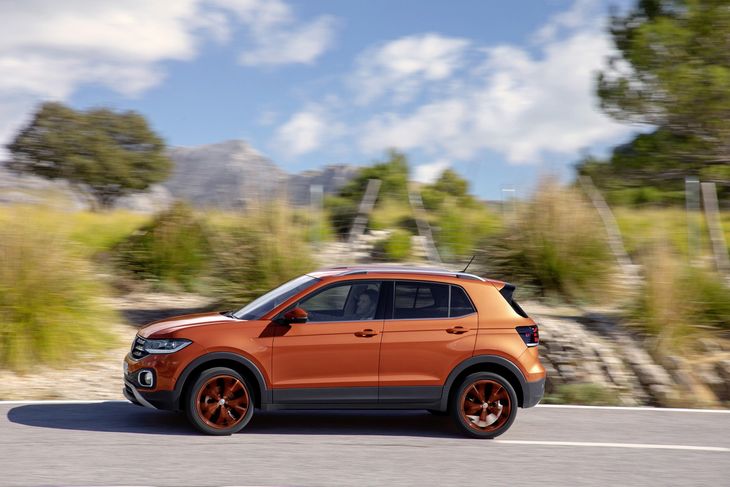 A late entry to the compact SUV category, does the T-Cross have what it takes?
What is it?
Based on the modified MQB architecture that underpins the Polo and sporting the same engines and transmissions as the top-selling compact hatchback, the T-Cross is not much larger than its sibling. It's roughly the same width and just 55 mm longer and 140 mm taller, than a Polo.
However, those figures belie the impressive design and kerb presence of the T-Cross – the newcomer is likely to draw a steady stream of showroom traffic when it arrives. There is no question as to whether this car fits the description of an SUV. The squared-off C-pillars, inspired by those of the Tiguan, give the newcomer broad shoulders. In profile, the car apes its family car sibling and, especially when shod with larger wheels, it looks solid.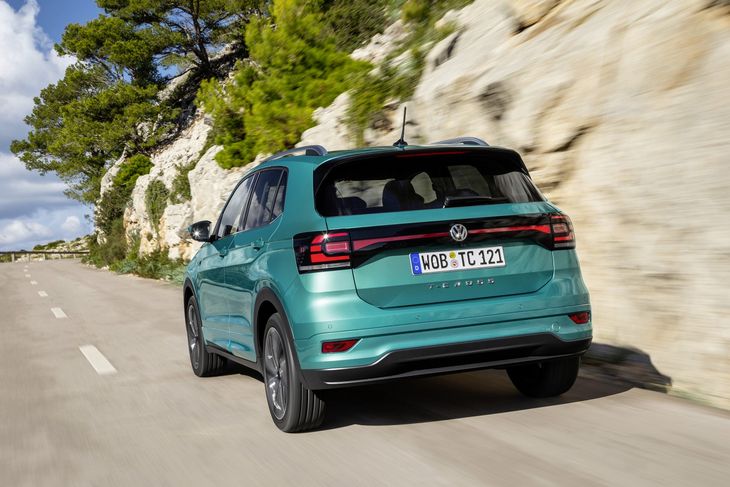 It may be hard for an SUV mad country like SA to say no to a T-Cross at its indicative pricing.
I couldn't quite put my finger on how Volkswagen achieved it, but the newcomer looks much larger in pictures than it is. Viewed in isolation, the T-Cross looks larger than its bigger sibling, the T-Roc, but when parked next to the T-Roc, the truth of its more compact dimensions is revealed.
But, make no mistake, this is a punchy, pocket-sized package.
Own a Volkswagen? Tell us about your experience here.
What's it like to drive?
The roads of the beautiful island of Mallorca, VW's chosen location for the international launch of the T-Cross, are as perfectly-surfaced as they are narrow. Lined with ancient stone farm walls, local drivers barrel along without so much as a hint of caution, requiring you to squeeze up against the long-standing masonry. In those hair-raising moments, I was mighty glad the T-Cross is only as wide as a Polo...
However, the downside to that scenario is that I cannot accurately report on what the car is like to drive on poor roads, or how it might handle those most loathed adornments of South African asphalt routes: potholes. Ultimately though, it's a Volkswagen and doesn't ooze bucket loads of charm or character, but it is undoubtedly a car that you could be happy to drive every single day. The ride is firmer than you might hope for in an SUV, but not wooden; it strikes an impressive compromise between comfort and not falling over when you negotiate corners at higher-than-usual speeds.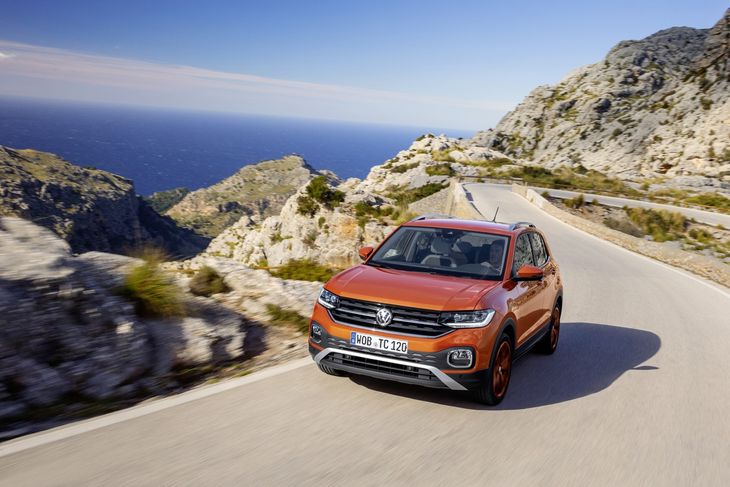 Underpinned by the Polo platform, the T-Cross has excellent road manners. Albeit we only drove on the smoothest of roads.
In fact, I would say the T-Cross is playful in its setup, and quite good fun to chuck into corners. You can't get terribly lost on Mallorca and so we headed for the hills, hoping to find some good twisties to test the Volkswagen's dynamism. We were rewarded with a stunning mountain pass and the T-Cross, which has a front-wheel-drive configuration, was composed – even mature – in the way it handled the undulations.
On the highway, the larger low-profile tyres generated a bit of road noise and I did discern a bit of wind noise emanating from around the top of the A-pillars (the upper corners of the windscreen), but there was nothing out of the ordinary (or to be concerned about) in terms on on-road refinement.
The engines
Volkswagen SA has not confirmed which engines SA buyers will be able to choose from, but we suspect all 3 powerplants scheduled for introduction in Europe will be made available here. These include the 1.0-litre TSI 3-cylinder turbopetrol engine, which is currently servicing the Golf, a new 1.5-litre TSI 4-cylinder turbopetrol motor, which will likely make its debut in South Africa in the T-Cross, and lastly, a 1.6-litre TDI 4-cylinder turbodiesel.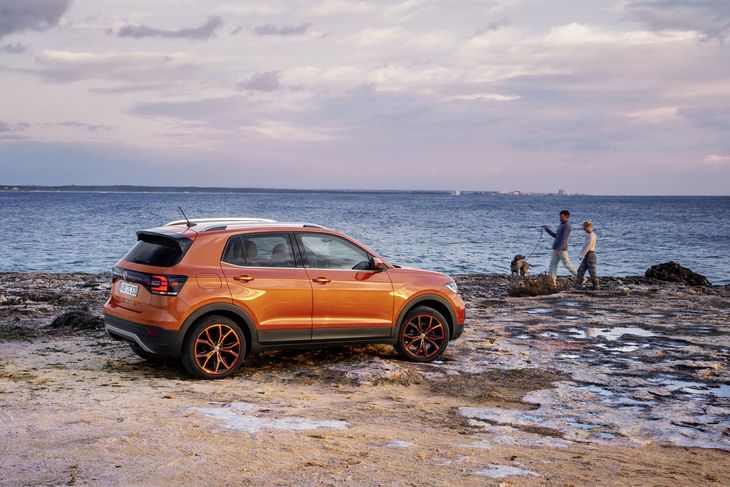 SA engines have not been confirmed yet, but it is likely we will get 2 turbopetrols and, perhaps, a turbodiesel option.
The 1.0-litre turbopetrol motor can be paired (internationally at least) with either a 5-speed manual, 6-speed manual or 7-speed dual-clutch DSG 'box, while the 1.5-litre turbopetrol and 1.6-litre turbodiesel engine are only available with a 6-speed manual or 7-speed DSG.
What did we drive?
We had a quick spin in the turbodiesel fitted with the DSG, as well as the 1.0TSI DSG. What was most impressive, however, was the indicated fuel consumption in the 1.0-litre turbo petrol. We averaged 5.8 L/100 km across the trip (which, admittedly, did not include much stop-and-go city driving) but even so, that is a quite an impressive figure, and almost negates the need to "go diesel" if fuel efficiency and running costs are major concerns.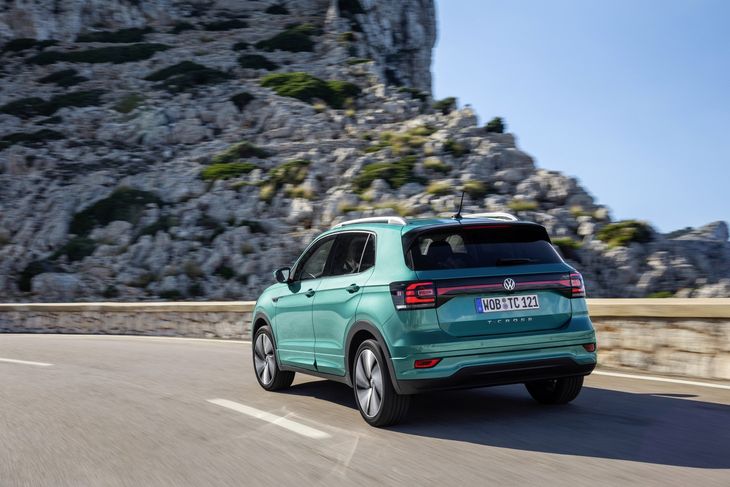 The 1.0-litre turbopetrol proved extremely frugal on our test route.
While the turbodiesel is torquier, the petrol motor is slightly smoother and quieter in operation, and I suspect you'd be happier to drive the latter every day. The 1.0-litre TSI is available in 2 states of tune, with peak power and torque figures quoted at either 70 or 85 kW, with 175 Nm, and while those numbers may seem low, the T-Cross never felt underpowered or sluggish during the evaluation drive.
Interior and creature comforts
The interior has largely been lifted from the Polo, and that's not a bad thing. When we first drove the Polo last year we rated its interior as the best in class. A large touchscreen dominates the centre console and, if you opt for the Active Info Display, the instrument cluster will be fully digital too.
High-quality plastics abound and, in line with the youthful nature of the car, the dashboard, steering wheel and seats can be customised with a plethora of colours and patterns to ensure that your specified car will be just as funky as you want.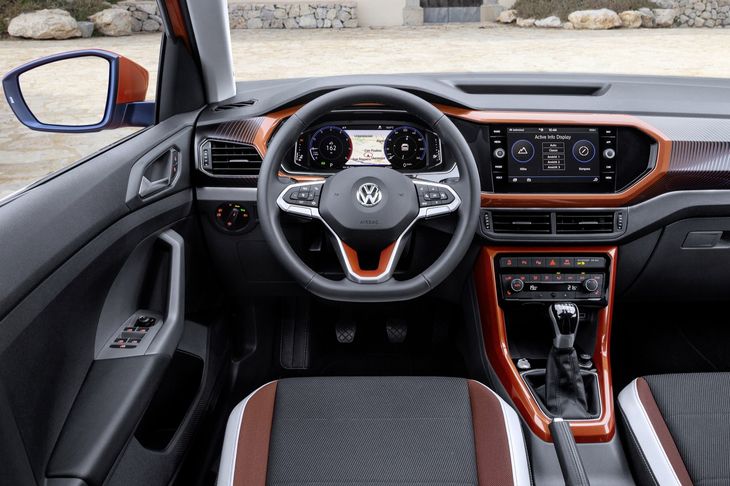 Not much inside the T-Cross to differentiate it from the Polo. Still quite upmarket, however.
As standard, the car is fitted with a touchscreen infotainment system, but the standard fitment of satellite navigation is not confirmed for our market as yet. However, Android Auto and Apple Carplay are standard features, while the lowest cavity of the centre stack features a wireless charging pad. Two USB ports are fitted nearby, with another pair afforded to rear occupants (to ensure kids' electronic devices stay well-charged during long trips).
The T-Cross further features VW's Dataplug as standard, which automatically connects to a free Volkswagen Connect app on your smartphone (if installed) and disseminates some very useful information about your car, such as whether it's locked or not, how much range you have left on the tank and when your next service is due. The app can automatically store the location of the T-Cross when you lock it, so that you can use your smartphone to locate your car when you return from one of your marathon shopping adventures... and find you've forgotten where you parked.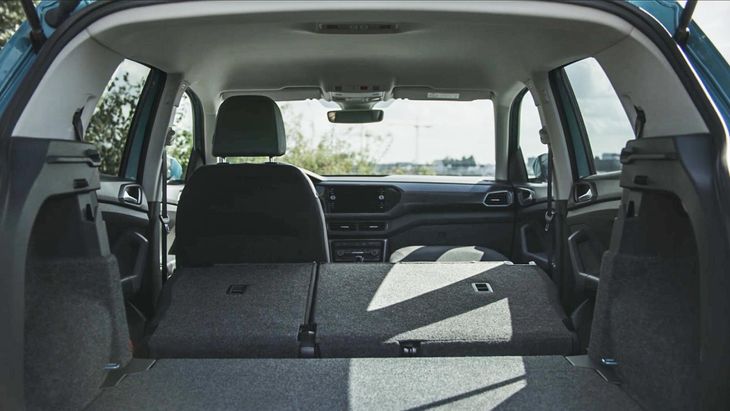 The T-Cross rear seatback folds in a 60/40 split and the load bay offers approximately 100 more litres than the Polo hatchback.
Practicality
A neat trick added to T-Cross is the sliding rear bench, which can be moved by as much as 140 mm to either increase legroom for rear passengers (aft) or dramatically increase space in the load bay (forward).
One of the T-Cross' key rivals, the Renault Captur, has offered this feature for some time and in the Renault, you can conveniently grab the release handle from inside the bay, whereas in the Volkswagen you have to open a rear door and lean in to find it.

A wireless charging bay would be a great addition to the segment if it makes the specification list for local models.
However, the effect is the same and with the rear seats in the most forward position, luggage space increases to 455 litres, which exceeds the Polo's capacity by just over 105 litres. Sliding the seat all the way forward should make enough space available for a pram, but with the rear bench in its most rearward position, you will struggle to fit a pram in there. That being said, the load floor has 2 positions and in its lowest position the bay offers good depth and it should easily swallow a pair of large suitcases or a month's groceries.
The rear seats fold flat in a 60/40 split and, as an optional extra (for some reason), the front passenger seat backrest can be made to fold completely flat too, opening up enough space to slide in a medium-sized kayak. Which is handy, I suppose.
Safety
Volkswagen has gone to town with the safety features and, depending on how much extra you're willing to spend on your purchase, your T-Cross can be fitted with some seriously impressive "big car" tech, such as radar-guided cruise control.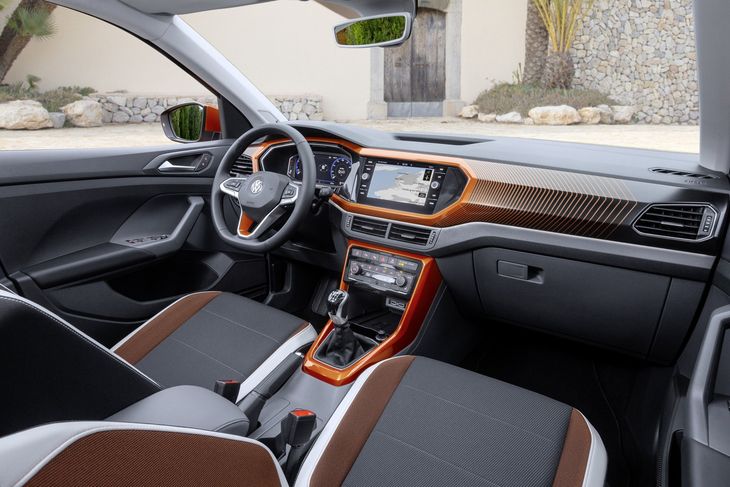 A full range of safety equipment is available on the T-Cross. Even base models are well equipped.
But as standard, the car features Front Assist with Pedestrian Monitoring and City Emergency Brake, which will automatically bring the car to a stop at low speeds. Lane assist (lane departure warning system), hill start assist, and a proactive occupant protection system (a system that closes the windows, tightens seatbelts and applies additional brake pleasure in a potential accident situation), as well as blind-spot detection and lane change assist, are all standard. The full park assist system, which enables the T-Cross to park itself, relying on you only for applications of the brake and accelerator pedals, is available as an optional extra.
Local line-up
While Volkswagen SA has not confirmed the local T-Cross line-up just yet, we did glean some information about the derivatives that will be on offer. The basic spec will feature a height adjustable driver's seat, as well as all of the above safety features, which is an impressive array of features as standard. The Life trim line, meanwhile, adds a multi-function steering wheel, PDC (front and rear) and 16-inch alloys.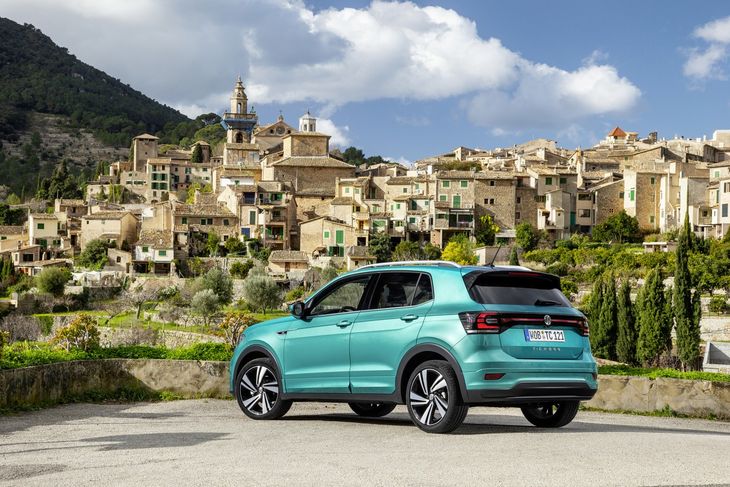 R-Line models and Beats variants will be available after launch.
The Style trim line adds LED headlights, a multifunction leather steering wheel, sport/comfort front seats, ambient lighting, Climatronic climate control and 17-inch alloy wheels. There will also be an R-Line exterior styling pack (aesthetic upgrades only) available.
A sound system designed by Beats, which features a 300 W, 8-channel amplifier and separate subwoofer in the load bay, will also be offered.
Pricing
VW SA has only released indicative pricing and the good news is the T-Cross will be available from under R300 000. Currently, the top-spec (excluding the GTI derivative) VW Polo costs R332 550.
This bodes very well for the new compact SUV, and while we suspect that almost no one will drive out of a new vehicle dealership having spent under R300 000 on a T-Cross, it does mean that, for the price of a top end Polo, you can get yourself a very nicely specced T-Cross.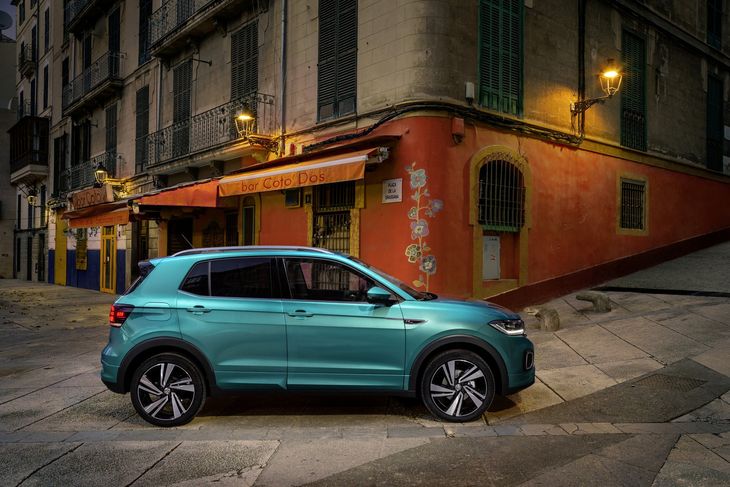 Entry-level pricing is enticing on the new T-Cross
In the metal, the base-spec T-Cross does look a bit dull. You're likely to want to add larger wheels, and while you're at it, you might as well go up to the Life trim level, with all the added interior and safety features that come with it.
Summary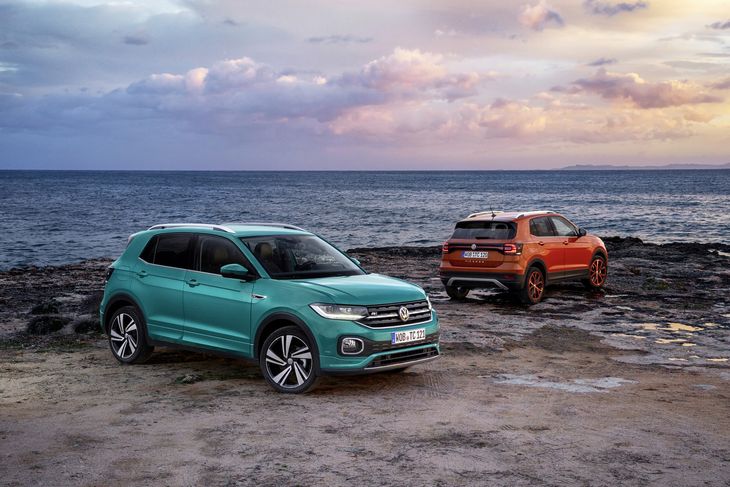 Hot cakes! Get your hot cakes!
It's very difficult to poke holes in the T-Cross offering. At the moment, the Ecosport rules this segment and with prices starting at R254 000 for a base version of Ford's compact family car, it will remain the more affordable option by quite some margin.
However, it's hard to argue with the build quality, standard features, engine line-up (and frugality thereof), plus the aesthetic appeal of the T-Cross. VW is arriving very late to this segment, but what the firm has put together is a very complete package, using the best bits of the popular Polo.
While the Ecosport is much-improved post-facelift, the Captur is ageing now. The T-Cross feels like a substantial car, both in terms of exterior styling, the upmarket interior execution, and the composed, solid ride quality it offers out on the (admittedly near-perfect) roads we tested it.
Ford and Renault will continue to offer longer warranties and service plans than Volkswagen, which is pretty much two of the very few bugbears we have with the brand and its products. However, anecdotally at least, the VW will likely hold its value a bit better. Regardless, the words "hot cakes" and "sell" come to mind when driving the T-Cross, and I suspect it will be catnip to local buyers when it arrives late in 2019.
Related content:
Spy Shots: 2020 Volkswagen Golf 8
Volkswagen T-Roc R Burns the Ring