A new Toyota Yaris (sourced from Thailand), has been launched in South Africa. It's bigger and, importantly, more distinctive than its predecessor, but can it capture the imagination of young buyers? Cars.co.za contributor and #CarsAwards judge Francisco Nwamba, who attended the launch and recently drove the new Volkswagen Polo, investigates.
When Toyota first launched a Yaris in South Africa in the mid-noughties, the Prospecton-based manufacturer's compact hatchback seemed to be a car that everyone wanted to own. We all had at least one friend or family member that drove one and for good reason too: it was compact, reliable and easy on the eye – not forgetting its biggest asset, affordability.
Its successor, which debuted in 2012, was conservative in virtually every aspect, so much so that one could argue that it was simply a solid product that traded on its predecessor's reputation. An update last year saw the introduction of a new engine, a fresh look and other features, which notably helped the 1.5 Pulse derivative bag a spot in the finals of the 2017/18 Cars.co.za Consumer Awards.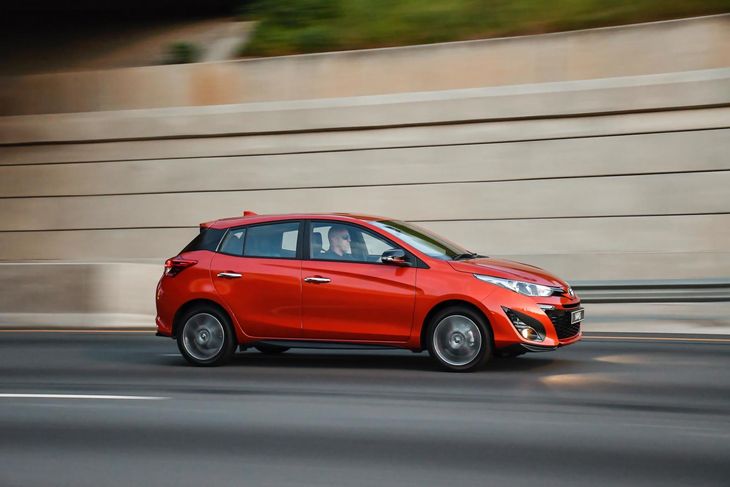 The Yaris has shed some of its anonymity thanks to the adoption of a distinctive new look.
Another path to success?
But with this newcomer, Toyota is trying to drum up more support for the Yaris nameplate by changing tack. In many ways, this new car evokes the strengths of the first Yaris and improves every one of them. The only question that remains is whether it will truly resonate with a notoriously fussy (and fickle) clientele.
For starters, the new car is larger, 163 mm longer and 5 mm wider (to be exact), something that is noticeable both inside and outside the car. Gone are the days where you can call the Yaris a "small car".
Aesthetically, Toyota has also completely changed the look of the vehicle. A smiling front end and a modern rear end compliment the overall appearance. In standard guise (and even more so in the case of the range-topping Sport derivative), it is good looking – in a Japanese manufacturer kind of way.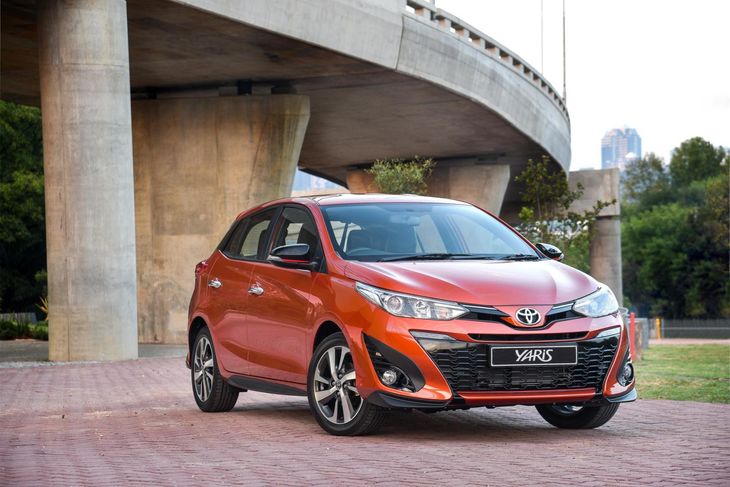 The Yaris undoubtedly looks its best in Sport guise. Note how the fog lamps are set at the extreme ends of the front bumper.
Stepping inside, comfortable seating welcomes averaged height to taller occupants and the rear accommodates most body shapes and -sizes. Luggage space is also very generous at 310 litres, something we experienced as we stacked our luggage and complimentary backpacks with ease.
As a package, the Yaris appears to give buyers what they need, but does it give them what they want?
Analog in digital world
The Toyota C-HR compact family car welcomed a new era for the brand, that of forced induction, something many motoring scribes praised and deservedly so.
Naturally, one would expect the new Yaris to borrow the powerplant, something that would've given the car a new edge. Unfortunately, the engine found in the C-HR is built for the European market. Overseas, small displacement turbocharged engines are as common as free WIFI, but in markets such as ours, that's not the case. As a result, the new Toyota Yaris is powered by a 1.5-litre normally aspirated engine. But, to be fair, an adequate one.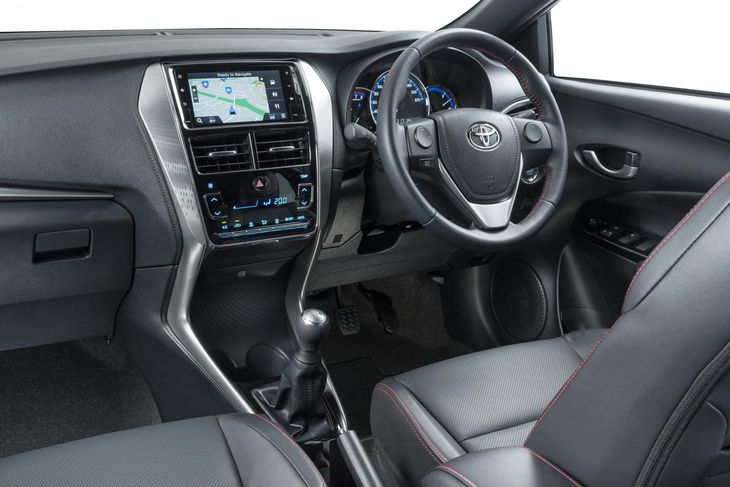 The newly-designed fascia looks slick thanks to the flush-fitting touchscreen and the classy black digitial HVAC control console.
A choice between a manual gearbox and a CVT (automatic) is offered, but the latter is unlikely to win many fans. The automatic seems to struggle to make the most of the engine's performance characteristics, but the snappy manual gearbox is more than user-friendly to operate. It allows you to extract the peak outputs of 79 kW and 140 Nm provided by the Yaris' 1.5-litre mill more effectively, even though downshifts are a very common occurrence.
Fortunately, the new Yaris "gets down the road" well. The ride quality is supple, allowing you to drive long periods with very little strain. Ergonomically you're sorted to, as the interior functions are easy to become accustomed to. The Xs and Sport derivates we drove were equipped as standard with a touchscreen infotainment system, with functions such as Apple Carplay available, as well as Bluetooth functionality and a USB port.
Familiar interior experience
When sitting inside the Yaris, the cabin does not quite feel like an all-new affair. Yes, the dashboard has been redesigned, but the materials used don't feel like they've changed. Toyota swears by its hard plastics, which while durable trade style for purpose. The purpose of a Toyota is to be durable (that explains why we still see many 1st-generation Yarises running around). The same will probably happen with this version.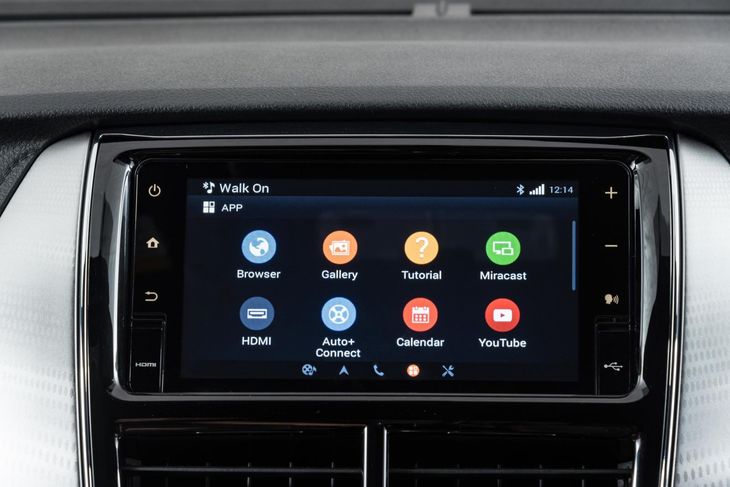 Apply Carplay/Android Auto functionality is becoming more widely available, but in the compact hatch segment it is a real luxury.
Respect must be given to Toyota for sticking to its guns as glossy doesn't always last forever. That being said, the nature of young buyers today is that they're not often looking for something that lasts forever. I am in my early twenties and I can confidently say that long-term vehicle ownership is not something that my friends and I strive for; simply put: I get bored too easily and so do my peers.
The Yaris versus Polo debate
In 2018, this segment's buyer wants forced induction, they want a trendy cabin and they want something "cool". This is something the likes of a new Volkswagen Polo provide, a car which Toyota claims compares directly with its new Yaris. Whereas the Polo feels like a car from 2018, the Yaris doesn't.
This again goes back to the use of normally aspirated engines and overall feel of the car. This wouldn't be a bad thing if price was on the Yaris' side, but it's not. An entry-level Yaris will cost you R230 800, whereas an entry-level Polo will set you back R235 900. The sweet spot in any vehicle range is generally in the middle. In the new Yaris' range that would be the Xs version, which we drove on launch. This derivative offers you more tech and features at a cost of R253 400. The middle spec Polo Comfortline, on the other hand, will cost you R264 700. So, there's approximately R11 300 between the two.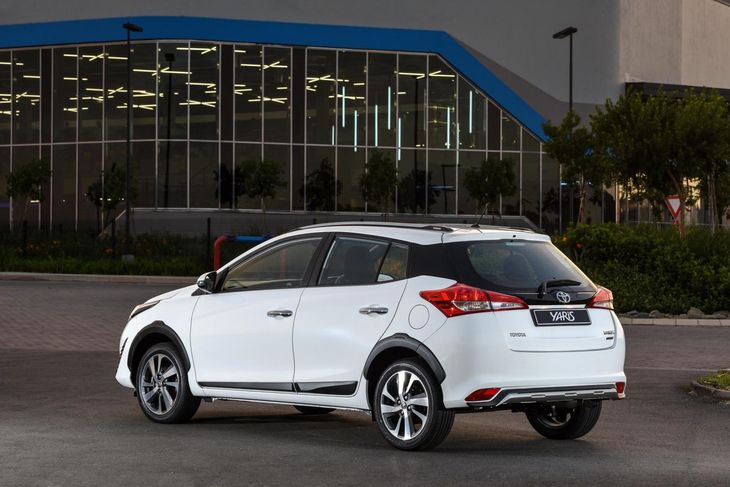 The Yaris Cross is an intriguing addition to the range's line-up, but does it offer enough of a purposeful crossover look?
A spec-against-spec analysis shows that the new Yaris does offer more in terms of standard features at Xs level compared to the new Polo Comfortline, such as the infotainment system. Is it enough to choose it over the Polo? In my opinion, I don't think so.
As mentioned before the car may be new, but it doesn't feel all-new. It may be the better value proposition compared with the Polo (in Xs specification), but it's not the better car. If you added the infotainment system to the new Polo, the price gap widens to R16 500, which is significant. However, the majority of the buyers in this segment will be financing their car. When that is the case, the monthly repayment difference between these cars will be approximately R450 a month... Need I say more?
Summary
The new Toyota Yaris is attractive, built well and offers generous space. It will do exactly what it's meant to do, that's the Toyota way. Unfortunately, in the modern world we live in, it feels dated compared to the competition, namely the new Volkswagen Polo, a car that was launched locally two weeks ago.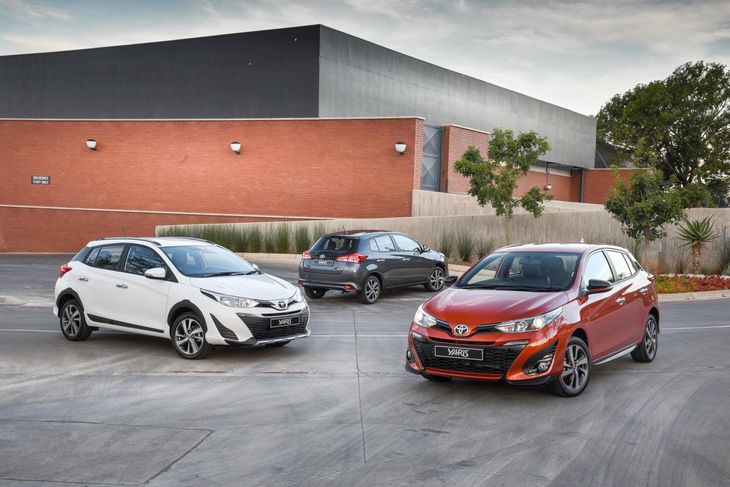 With pricing starting at R230k, the Yaris range offers a wide choice of derivatives, certainly more than the outgoing range...
I fear that young individuals looking to buy a new car in this segment may not get what they want from the Yaris, because the market has progressed too drastically: "It's not the car, it's us," they might say. "It simply doesn't fulfil all our wants compared to what's out there".
Then again, for older buyers (especially those who are looking to buy down), the Yaris seems as substantial a proposition at it has ever been. Backed by a 3-year/45 000 km service plan and 3-year/100 000 km warranty (customers additionally have the option of upgrading the above to a longer term/and or higher mileage through Toyota Value added services) the Yaris is a safe bet. If only the younger set could be won over by its charms, then surely Toyota's fortunes in this segment would tick up...
Toyota Yaris (2018) Prices in South Africa
1.5 Xi MT R230 800
1.5 Xs MT R253 400
1.5 Xs CVT R268 500
1.5 Cross R268 500
1.5 Sport R286 000
Prices were correct as published in February 2018.
Further Reading
Toyota Yaris (2018) Specs and Pricing
3 Reasons Why Toyota Yaris is #CarsAwards Finalist
Toyota Yaris 1.5 Pulse (2017) Quick Review
Toyota Yaris GRMN (2017) International Launch Review
Want to buy a Toyota Yaris?