Can Toyota successfully produce a hot hatch to rival the likes of the Polo GTI, Clio RS and Fiesta ST? The Japanese brand has come up with a world rally championship-inspired 157 kW Yaris GRMN and international correspondent Dan Prosser finds out if the newcomer is on the right track.
For the past 20 years, car manufacturers competing in the World Rally Championship haven't really known how to draw a tangible link between their road cars and their mud-splattered competition machines. Not since the late 1990s have they been required by the rules to build road-going versions of their special stage weapons, which has meant that, for the most part, rally cars and road cars have shared scarcely any DNA.
The Yaris GRMN is Toyota's attempt to make the bewinged beasts that fly over Finnish crests at 160 kph seem more closely related to the showroom models. Unlike its rallying sibling, however, the Yaris GRMN isn't four-wheel drive, it doesn't have bundles of power and it isn't particularly fast.
What is a GRMN?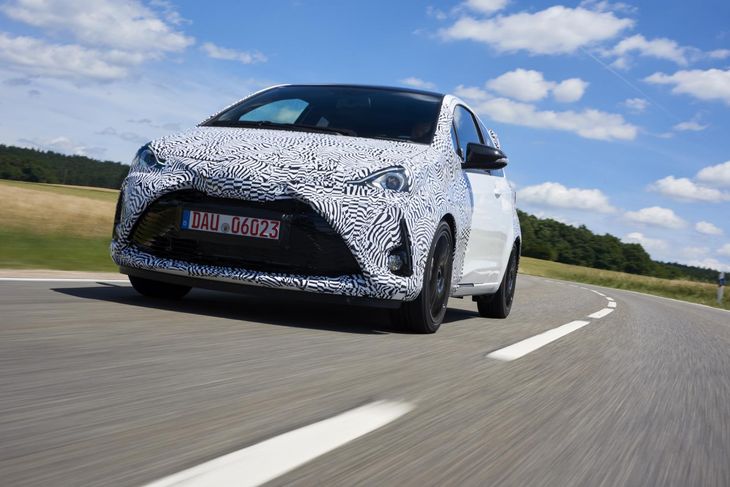 Still under wraps, the Yaris GRMN is in the final development stages before it goes into European production later this year.
To you and me, GRMN is as unfamiliar as it is clumsy to say aloud. It has actually been around in Japan for several years already, but now Toyota is launching the performance brand in Europe. The badge will be reserved for its sportiest, range-topping models. Toyota won't confirm anything for the time being, but GRMN versions of the 86 and forthcoming Supra might well be on their way.
Those four letters stand for Gazoo Racing Meister of Nürburgring, which probably sounds more poetic to a native Japanese speaker than it does to the rest of us. Gazoo Racing is the in-house division that runs Toyota's LMP1 and to some extent, Dakar programme, while 'Meister of Nürburgring' refers to the Nordschleife wizards who will test and develop the cars, working partly out of the company's permanent facility near to the 'Ring.
Is it coming here?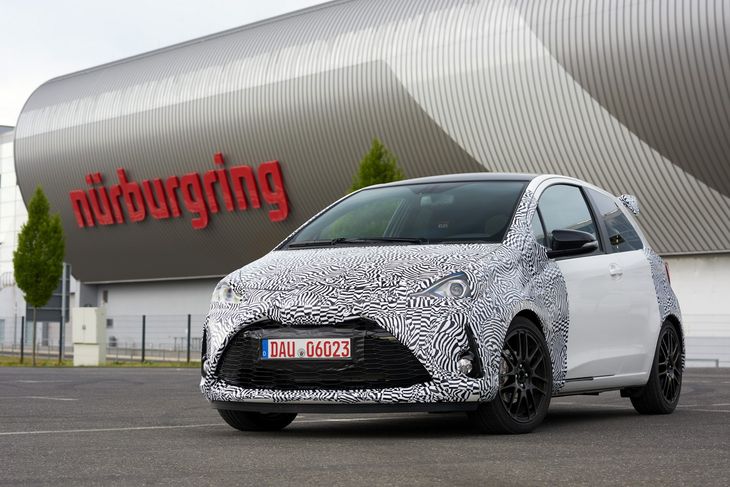 The MN in GRMN stands for Meister of Nurburgring. Many laps have been clocked up in the spicy Yaris' development.
The Yaris GRMN will be limited to just 400 units in Europe, with no units destined for SA. It will cost 29 900 euros (R450 000) and uses a 1.8-litre supercharged 4 cylinder that will develop about 157 kW. Toyota South Africa isn't all that keen on the model anyway as it sees Yaris as a value-based all-rounder in the B-segment. That's not the only deterrent, however, fuel quality issues in South Africa prevent the Yaris GRMN's engine from breathing as cleanly as the Japanese require.
Toyota's stated objective for the Yaris GRMN is bold: for it to be the lightest, fastest and most powerful car in its class. It remains front-wheel drive, although the body structure has been stiffened and the springs and dampers are bespoke. There is even a Torsen limited-slip differential.

"Every single day people told us this project was too challenging," says project leader Stijn Peeters. "They told us to stop, but we always had the support of the management."
Nonetheless, a company the size of Toyota is simply not structured to develop, build and sell a very limited- edition car that's so different to the base model. Inflexible long-term product strategies and factories that are run with millimetric precision don't leave much room for short-run projects like this one. In fact, for Peeters and chief engineer Yoshinori Sasaki, the entire project has been a battle from start to finish. You get the feeling that had they pitched four-wheel drive and 200 kW to the board, the idea of a Yaris GRMN wouldn't have survived the first meeting.
How does it drive?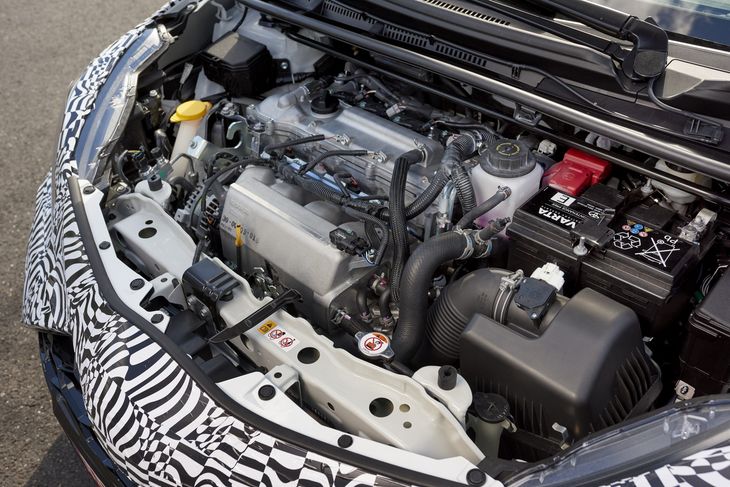 Toyota has chosen to supercharge its 4-pot rather than turbocharge like many of its competitors. This means instantaneous throttle response.
Production won't begin until late 2017, which means the car isn't quite finished yet. Even at this prototype stage, though, it is a huge amount of fun to drive. The Sachs dampers are fixed rate and there are no complicated driving modes or adjustable parameters. The exhaust barks out a snorty, tinny tune, rather than the contrived parping and popping score that accompanies so many small hot hatches. The Yaris GRMN is brilliantly simple.
The specially developed sports seats offer lots of support, although they're set a little high and the 86- sourced steering wheel doesn't extend quite far enough. The pedals are also spaced a little awkwardly for heel and toe downshifts. Those things are all determined by Toyota's unbendable global standards, which means the engineers' hands were tied. In some ways, an independent garage would be better placed to build this sort of car.
The chassis is just about as focused as they come in this sector. It feels firm, with lots of support at each corner, but there's enough quality in the damping to deal with most road surfaces. It's properly taut, this Yaris; it feels just a set of knobbly tyres and some bucket seats away from being a junior rally car.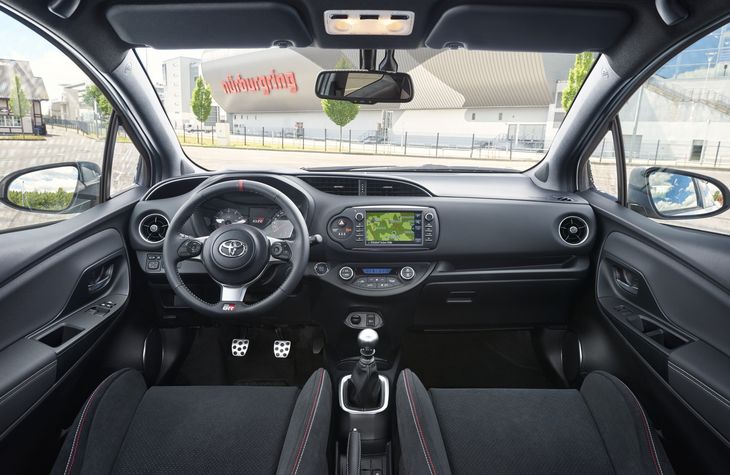 Bar the bucket seats, the interior isn't as racy as the engine and exhaust. Toyota 86 steering wheel is transplanted into this GRMN.
The Bridgestone tyres don't generate huge grip, which means the car's limits are well within reach on the road. That makes it a real blast to drive but, before too long, those modest grip levels might well become a frustration. It might not deliver the strong, boosty acceleration of a turbo unit, but the supercharged engine feels potent enough and very sweet. It also offers instantaneous throttle response, which no turbo engine does, while the LSD works subtly but effectively to give good traction away from corners. The manual gearbox is reasonably slick, the steering is decent enough and the four-pot brakes feel strong.
No matter the price, driving doesn't get a whole lot more amusing than this. The Yaris GRMN isn't the lightly detuned WRC monster some will have been hoping for, but it's a very promising hot hatch...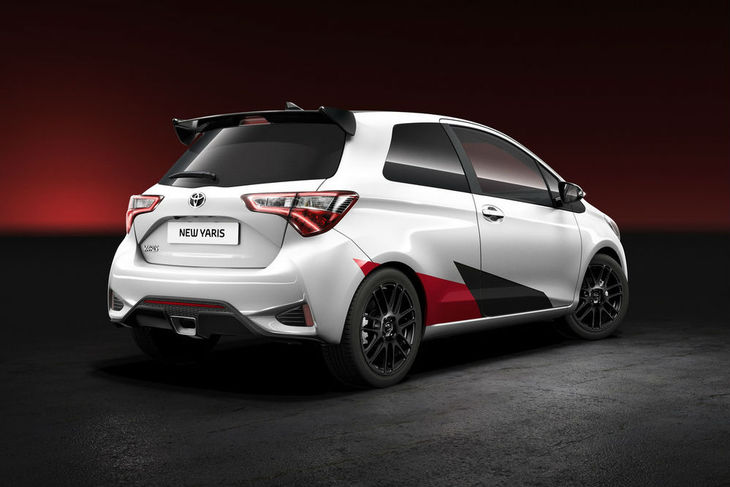 The sportiest iteration of the Yaris to date lays down a marker for where the Toyota brand is headed.
Spec comparison
| | | | | |
| --- | --- | --- | --- | --- |
| | Toyota Yaris GRMN | Ford Fiesta ST200 | Renault Clio RS220 Trophy | Volkswagen Polo GTI Auto |
| Power/torque | 157 kW/250 Nm | 147 kW/290 Nm | 162 kW/260 Nm | 141 kW/250 Nm |
| 0-100 kph | 6.3-6.5 s | 6.7 s | 6.6 s | 6.7 s |
| Top speed | 230 kph | 230 kph | 235 kph | 237 kph |
| Weight | 1 135 kg | 1 170 kg | 1 170 kg | 1 272 kg |

Toyota says the "Yaris GRMN brings the rhythm of rally to the road", and the Japanese firm "created the performance to prove it". The following clip, named The Dance combines the car and professional dancers "choreographed to match its power and precision". Have a look:
Related content
Preview: 2018 VW Polo GTI vs 2018 Ford Fiesta ST

Top 10 Most Fuel Efficient Budget Cars
6 Rivals 2018 Volkswagen Polo Needs to Beat
Toyota Yaris Pulse (2017) Launch Review
Suzuki previews Swift Sport, Extends Warranty
Renault Clio RS (2017) First Drive
Searching for a used Yaris?