Toyota has refreshed its Yaris for the 2017 model year. While cosmetic changes were expected, an all-new powerplant has made its debut and it bucks the "turbocharged downsized engine" trend. We test the all-new Toyota Yaris in 1.5 Pulse specification.
We like: Willing powerplant, standard specification, refinement
We don't Like: uninvolving to drive, touchscreen infotainment is clunky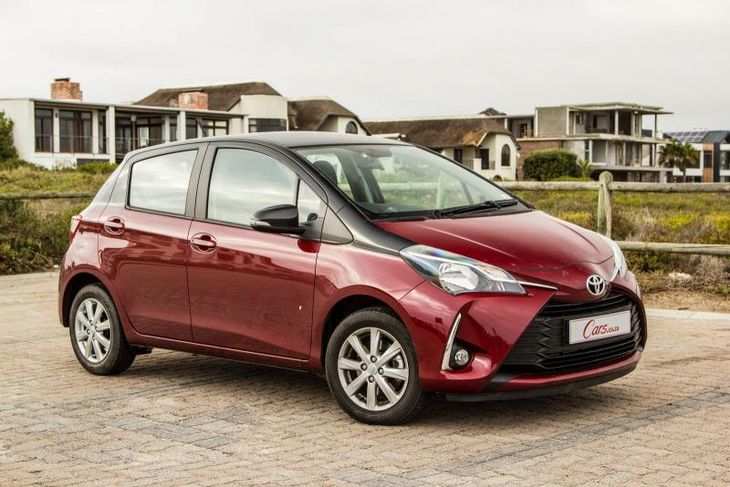 The Yaris Pulse sports the funky (Cinnabar Red) 2-tone look that debuted with the Aygo X-Play. The front end is a lot more distinctive.
Alternatives
The fashionable Frenchman: the Renault Clio sports handsome looks and injects some much-needed personality into this segment. It's brimming with features and safety tech, but its 66 kW turbocharged engine lags behind the punchier Toyota motor.
The segment leader: Volkswagen's Polo brings a modern compact turbocharged motor and excellent build quality. It's down on spec considerably when compared to the Toyota and you'll need to dive into the options to bring it up to spec.
How about a popular Hyundai? The Hyundai i20 has an excellent warranty, good build quality and it's a keen choice in the segment. It offers a fairly refined and uncomplicated driving experience, but does not excel in any particular area.
Looking for a bargain? The Ford Fiesta is due for replacement in 2018, so perhaps now is a good time to bag a bargain. The award-winning 1.0 turbo engine is excellent and the Blue Oval's hatchback arguably has the best chassis in the segment.
This segment is well populated, so also consider: Kia Rio, Opel Corsa, Suzuki Swift, Peugeot 208, Mazda2 and Honda Jazz.
Compare the Toyota Yaris to its rivals here.
Facts & figures
Price: R228 700 (August 2017)
Engine: 1.5-litre, 4-cylinder naturally-aspirated petrol
Transmission: 6-speed manual
Power: 82 kW @ 6 000 rpm
Torque: 136 Nm @ 4 400 rpm
Claimed Fuel Consumption: 5.0 L/100 km
Top Speed: 175 kph
0-100 kph: 11 secs
What's new?
Toyota has improved the purchasing proposition of its compact hatchback offering, which gained a Pulse suffix to coincide with a recent model update. From an aesthetic point of view, there are redesigned bumpers, while the tailgate and -lights are revised. The cabin received some updates in the form of trim and colours, while the fascia has had a makeover too.
The headline change is the addition of a new 1.5-litre 4-cylinder motor which replaces the below-par 1.3-litre. Interestingly Toyota SA claims this new motor not only offers more power and better performance, but is also thriftier than its predecessor. You have the option of either a manual transmission (as tested) or could go the clutchless route with a CVT.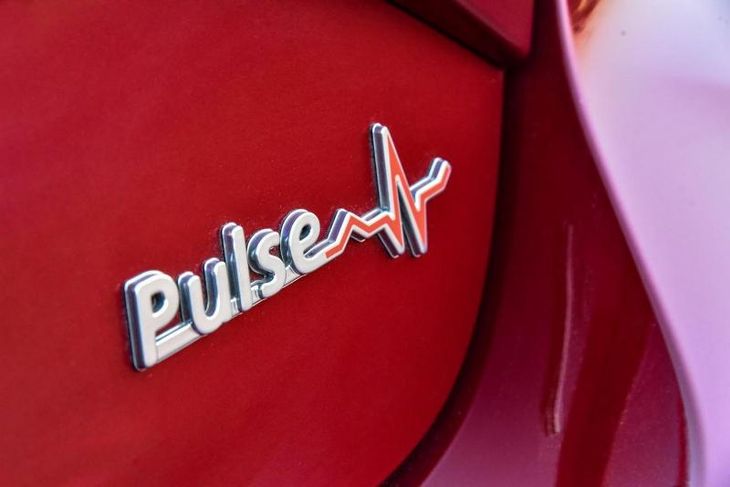 The Good
Perky new engine
As far as automotive technology is concerned, when 1 or 2 manufacturers move in a certain direction and start a trend, the rest follow soon thereafter. Consider the compact car market, for example... Gone are the days when you got a choice of either a 1.4-litre naturally-aspirated motor, or if you're feeling adventurous, a 1.6-litre. With the downsizing turbocharged trend, we're now presented with an assortment of engines ranging from 0.9 litres to 1.2 litres. Several 4-cylinder powerplants have lost a cylinder and these have become the norm.
Toyota took the compact turbo motor direction only relatively recently: a 1.2-litre turbocharged that made its debut in the C-HR baby SUV. But in the Yaris application, natural aspiration persists for now; perhaps the installation of a high-tech turbo motor would push the Pulse's price up too far anyway and the relative simplicity of the motor bodes well for reliability.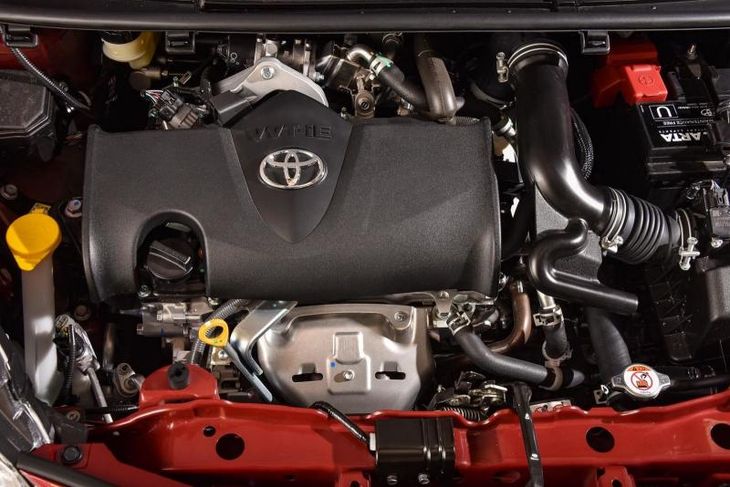 The normally aspirated motor at the heart of the Pulse... levity aside, it's an impressively smooth and willing motor.
Whatever the reason for Toyota's decision to persist with a naturally aspirated engine, it's a cracking motor that evokes memories of eager, free-revving Toyota powerplants of yesteryear. Look, it's not a performance powerplant by any stretch of the imagination, but it's great to see that new-generation non-turbo motors are still being produced. The 1.5-litre unit produces 82 kW and 136 Nm. That torque output may seem a little low, but the motor is pretty responsive and delivers some surprising shove when you need it. In the interest of low cost of ownership, the engine is fairly light on fuel, with Toyota claiming a combined fuel consumption figure of 5.0 L/100 km. During its tenure in our fleet, the test unit's fuel readout hovered in the low 7s.
Standard specification
Toyota has strategically positioned the Yaris at the value end of the compact hatchback market and endowed it with a credible amount of standard specification to keep it ahead of its rivals. While it's a tall order to match the Renault Clio pound-for-pound in terms of spec, the 1.5 Pulse derivative offers just about enough to keep both old and young customers happy. Highlights include a 7-inch touchscreen infotainment system, leather-wrapped steering wheel and gearknob, electric windows, air conditioner, front fog lights and 15-inch alloy wheels.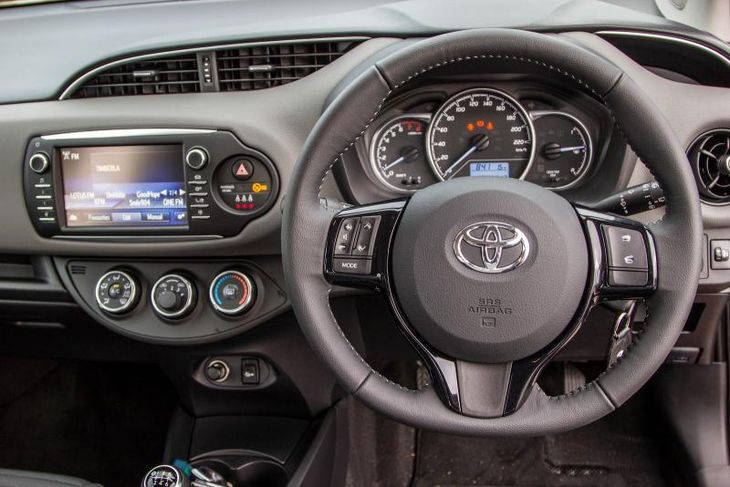 Although the Yaris' instrumentation is very generic, the leather-wrapped gearknob and steering wheel (with piano black inset) feel posh.
As standard, the Toyota Yaris has a reasonable array of safety features such as an anti-lock braking system (ABS) with brake assist (BA), hill assist control and vehicle stability control (VSC) and dual front and side airbags. Up-spec models gain a few more safety features, but their prices jump substantially. For its asking price, the Yaris satisfies contemporary safety requirements easily. It's also usefully practical, with a big-for-this-class luggage capacity of 286 litres with additional utility capacity thanks to a 60:40 split in the rear seats.
Pleasant to drive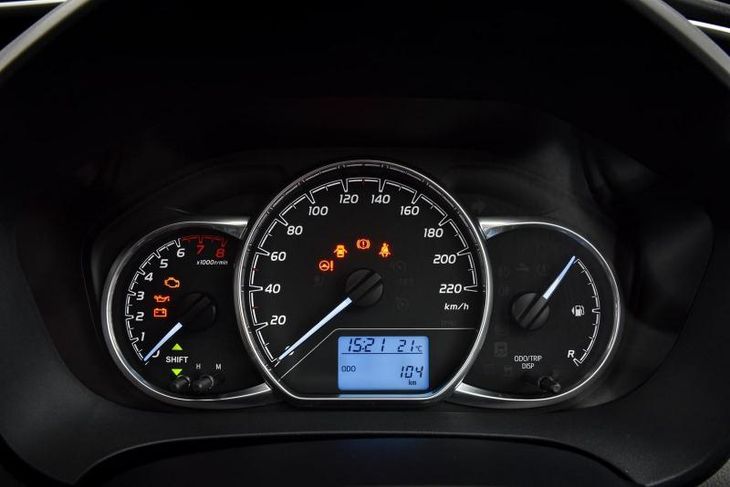 The Yaris' motor is eager to rev right up to its redline, but up/downshift indicators help drivers adopt a more frugal driving style.
Tipping the scales at around 1 000 kg, the Yaris performs eagerly courtesy of its perky 1.5-litre engine. The gearbox-clutch action is light, which is great as you'll be switching cogs often to keep the engine in its sweet spot. It's not down on power per se, but you'll need to rev it a bit to deliver its best. It's a punchy and satisfying motor, so it's a pity that the driving experience is a bit anodyne – it's not for a lack of road-holding and the body control is fair, but the steering wheel is very light, which, in the Toyota's defence, is ideal for city driving.
In this segment, comfort and refinement are pluses and these are areas where the Toyota Yaris delivers admirably. The seats are well cushioned and the ride quality is pleasingly forgiving, while we were substantially impressed with the road-, engine- and interior noise suppression too; only on the harshest of tarmac does road noise became intrusive.
The Bad
The infotainment system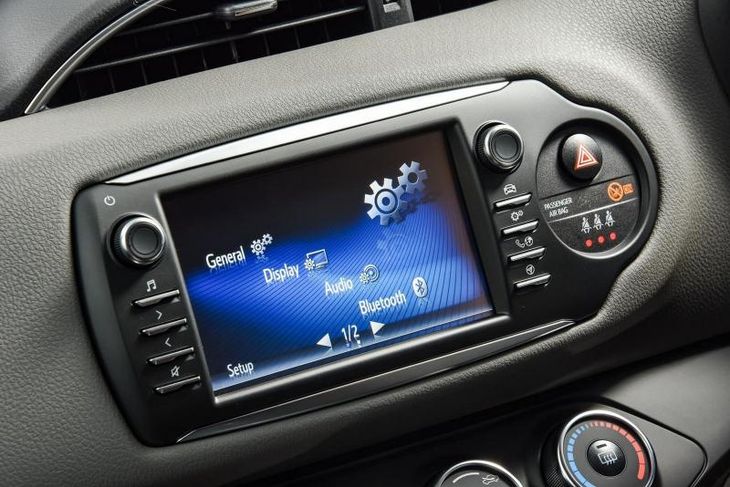 The infotainment system's menu is neat enough, but its functionality is rather basic.
In this corner of the market, where ease-of-use functionality and fascia interfaces reminiscent of mobile phones are key, it's a trifle disappointing to see such a bland setup in the Yaris. The Renault Clio, for example, comes equipped with a tablet-like arrangement that brims with features and is wonderfully easy to use. The Toyota's setup, however, offers only the basic operations and despite its neat graphics and handy size, is largely devoid of any character or features that the tech-savvy generation demand. To be fair, it does the basics right, but in this youthful segment, people now want features such as Apple Carplay and Android Auto, something which Kia picked up on and made available in its (admittedly all-new) Rio.
Verdict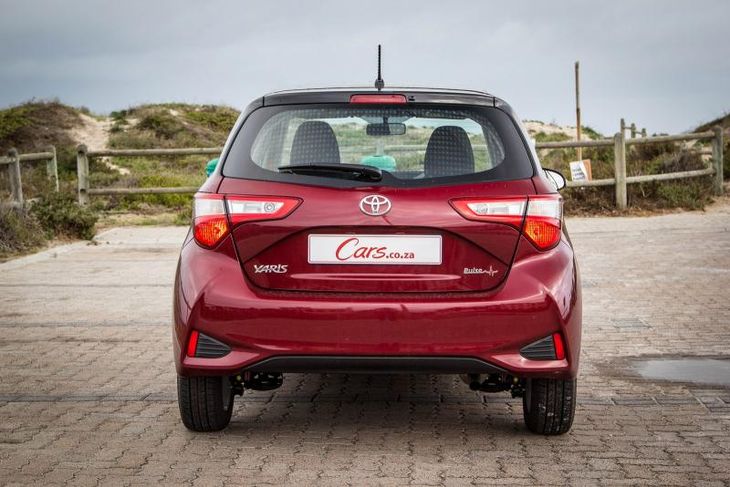 Although the current iteration of the Yaris still doesn't have the charm of its predecessor, it looks less dowdy and bland than before.
In this jam-packed segment, we find the new Toyota Yaris to be a middle-of-the-road offering. In terms of packaging, build quality and performance/efficiency the Japanese hatchback covers all the bases, and its refinement and comfort are surprisingly good as well, but its willing powertrain is the only thing that sets it apart from the crowd. Unlike its rivals, which have outright strengths, but some obvious weaknesses too, the Yaris is virtually faultless, but it's not exactly class-leading in any department, either.
However, for someone who is purely in the market for an affordable compact hatchback that is well-made and reasonably equipped, the Yaris is a good fit. Affordability is the ace up its sleeve as the Yaris is on sale for less money than many of its key rivals. In a cash-strapped market such as ours, it'll make financial sense to pick the Yaris over its rivals as Toyota products generally have robust resale values. But, if you're a millennial who has opted for personal mobility and freedom as opposed to being at the mercy of Uber and other forms of public transport, there's a real possibility you'll find the Yaris dull and appliance-like. If you couldn't care less about image and just want a solid set of wheels, then it'll do nicely.
Related content:
Toyota Yaris Pulse (2017) Specs & Price

Toyota Adds 2-tone Paint Option To Yaris Line-up

Hyundai i20 1.4 Sport (2016) Review

Opel Corsa 1.0T Enjoy (2015) Review

Peugeot 208 GT Line (2016) Review

Spy Shots: Volkswagen Polo for 2018 (Video)
Want to buy a Toyota Yaris?