Toyota has introduced limited-edition Dakar derivatives of its Hilux, replete with factory-fitted accessories that bring a fresh, new look to South Africa's bestselling bakkie. We headed to Upington's Goera Pan to find out more about the new Hilux that bears the most prestigious name in off-road racing.
Toyota has used the Dakar label on its limited-edition bakkies since 2013, and rightly so. The manufacturer has earned (and, without putting too fine a point on it, paid) for the right by clinching multiple podiums over its 6-year involvement in the gruelling event. Hilux still sits atop the hill when it comes to new vehicle sales in South Africa and sells about 500 units more (a month) than its nearest competitor, the Ford Ranger. So not to mess with a winning formula, the Toyota Hilux Dakar comes with no mechanical upgrades, but a host of cosmetic enhancements.
On the outside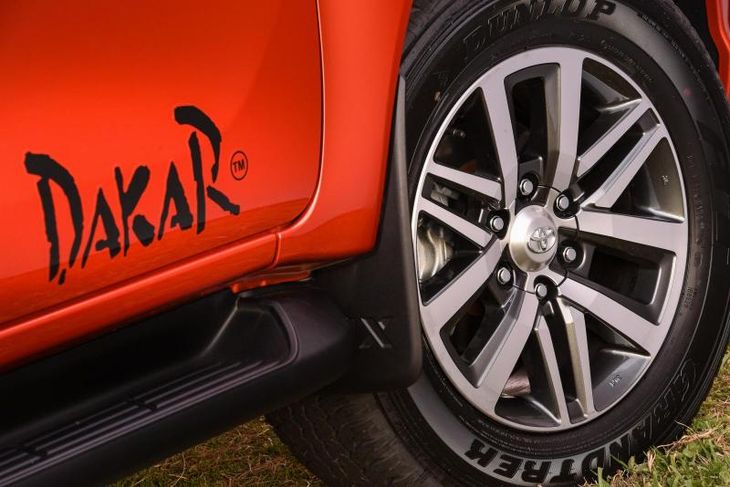 The key visual changes are the orange paint job and Dakar branding.
The upgrades are mainly visible externally, with Dakar editions sporting a new face with a larger, gloss black grille. The inner grille has a metallic grey border, and black accents take pride of place all over the front bumper, as well as the front LED fog lamp housings. The skid plates and rear bumper are also finished in metallic grey, and Dakar body decals have been positioned on the sides of the bakkie and on the rear tailgate with the latter also sporting new Hilux branding.
Toyota has done some research to find out what typical buyers of Raider-spec (or equivalent) Hiluxes would prefer as standard options. It's with that information in mind that Dakar has been equipped with power-retractable side mirrors and gloss-black door handles.
The bakkie is exclusively available in 4 colours: Graphite Grey, Glacier White, Chromium Silver and my personal favourite, Inferno Orange, which coincidentally looked quite like the bright orange desert sand we traversed on our off-road drive. The Glacier White also looks quite fetching as those black accents really "pop" on the lighter paint finish.
On the inside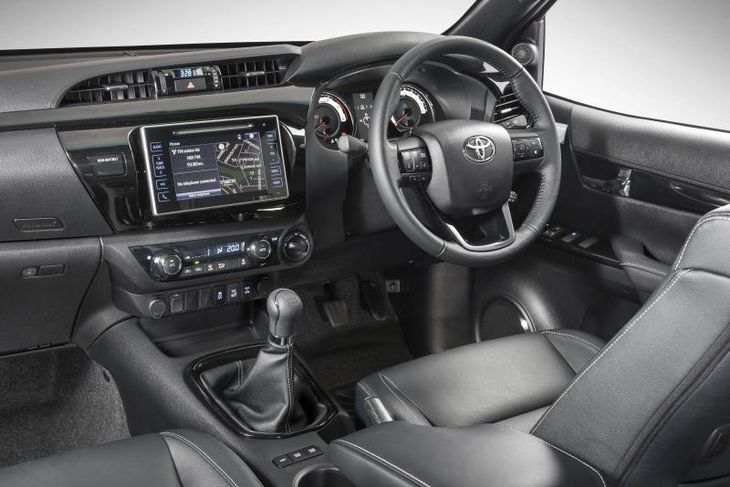 The cabin of the Toyota Hilux Dakar has been changed slightly and now features satnav.
The interior has been darkened with little details, such as the black roof liner, metallic black interior accents, Dakar-branded floor mats and leather seats. The instrument cluster is unique to the Dakar Edition, and is now white, with orange needles. The Dakar Edition still has the usual USB and Bluetooth features, but now comes with a touchscreen satnav system. This proved quite tricky to use and is certainly not the most modern or user-friendly navigation system available on the market. Having said that, with more practice I'm sure I would have gotten the hang of it.
On the road
To reiterate, the Dakar Edition features no mechanical changes, so our on-road experience merely reaffirmed why the Hilux is so popular among South African buyers. On the long, open road to the Goera Pan 4x4 facility, the Hilux once again demonstrated its ability to cruise long distances in sure-footed comfort. Our test units were 6-speed manuals, which might be the most popular option on the platteland, but, personally, I would have preferred the 6-speed auto for its ease of use around town.
... and off it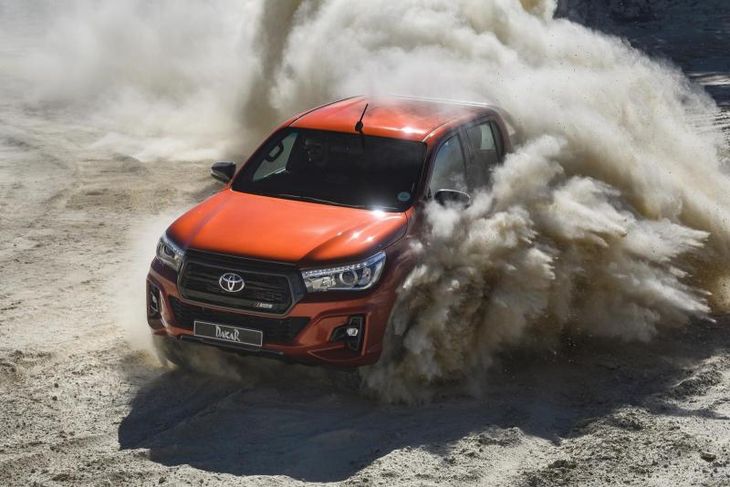 It's going to take a lot of ham-handedness to get a Toyota Hilux stuck in an off-road scenario.
Engage 4-Low, drop the tyre pressures and the Hilux becomes virtually unstoppable on anything but the most demanding of off-road courses. Our test vehicle was the double cab 2.8 GD6 derivative, and with its peak torque of 420 Nm and ultra-short gear ratios, getting stuck on the loose Northern Cape sand was simply not an option. Truth be told I did fail to make it up a few hills, but that was purely down to driver error and, as my driving partner kept pointing out: "Not enough momentum!"
Summary
At R17 666 on top of the standard derivatives' list prices, the Dakar Edition is effectively a refreshed Raider. Those who are looking to customize the Dakar further have the option of bull bars, roll bars and various other tidbits, all of which, of course, cost extra. With only 5 000 Double Cabs and 1 000 Xtra Cab units of the Dakar Edition being made available for the next few months, exclusivity is guaranteed. At least until the new look is applied to other Hilux derivatives (Toyota confirmed that it might apply the new front-end treatment to Raider versions in future, but that remains to be seen). The updated grille looks fresh and modern, and you still get that same dependability that's so integral to Hilux. Just make sure to take some time to figure out the satnav...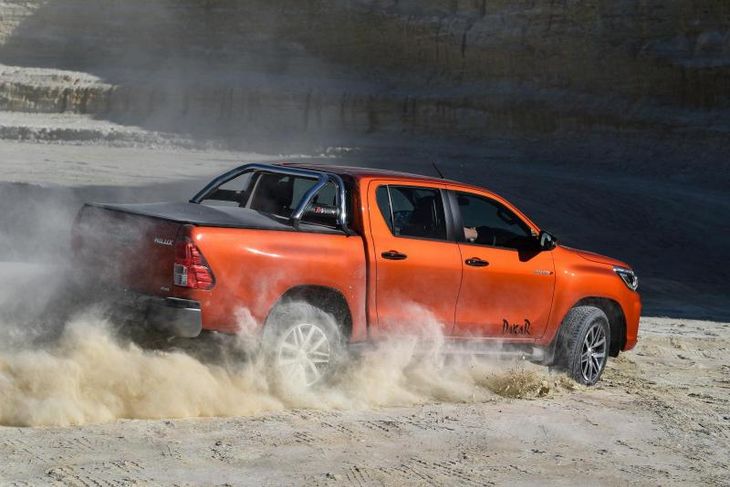 The Toyota Hilux Dakar looks good and reminds why it is still one of SA's most popular bakkies
Further reading: