We recently compared Nissan's Navara 2.3 4x4 LE Automatic and Ford's new Ranger Fx4 4x4 Automatic to determine which one is more deserving of your attention and ultimately, your money. This comparative review will help you decide which is the better buy.
At a glance
| | | |
| --- | --- | --- |
| | Nissan Navara 2.3 4x4 Auto | Ford Ranger 3.2 Fx4 Auto |
| Price: | R597 900 (with leather and heated seats) | R608 900 |
| We Like: | Solid engine performance, fuel efficiency | Styling kit, Sync3 infotainment, powerful |
| We Don't Like: | Poor infotainment system, rough engine note at high revs | Thirsty engine, turbo lag |
What are we comparing?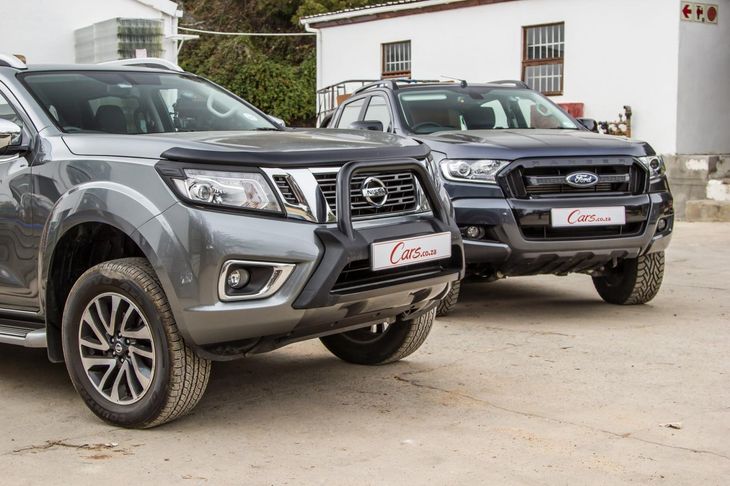 Both the Navara and Ranger are hugely capable and these particular derivatives are closely matched in terms of specification.
Earlier this year, Ford introduced the stylish new Ranger Fx4 to its lineup, which slots in under the range-topping Wildtrak derivative. Wearing black design details seen on the grille, side mirrors, door/tailgate handles, fog lamp bezels, roof rails, side steps, sports bar and Panther Black 17-inch alloy wheels, the Fx4 offers added visual appeal to what is still essentially a Ranger 3.2 4x4 XLT. For the image-conscious 4x4 double-cab bakkie buyer, the Ranger Fx4 is a treat for the eyes…
But, perhaps the new Nissan Navara 2.3 4x4 double cab automatic will pique your interest, too. The new Navara is far from ugly and it's R11 000 cheaper than the Fx4 when fitted with leather upholstery and heated front seats. Apart from the visual enhancements found on the Fx4, both vehicles are quite evenly matched in terms of specification and capability. Is there merit in forking out an additional R21k for the Ranger Fx4 or is the Navara the more sensible purchase? We put them to the test…
How do they fare in terms of…
Comfort and safety features?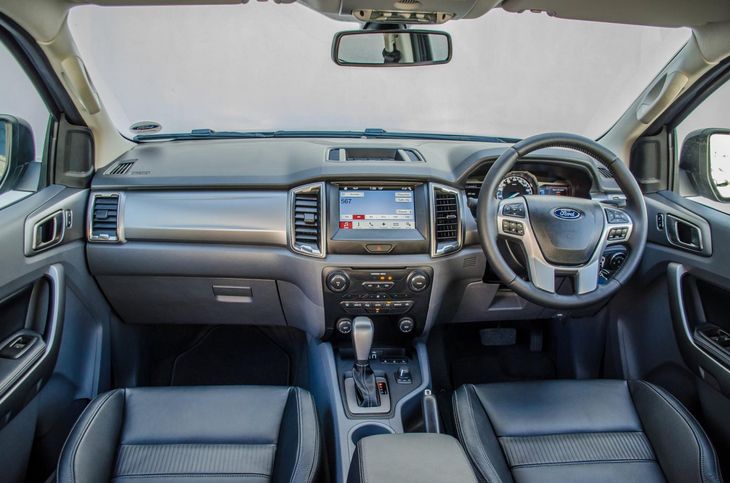 The Ranger Fx4's main interior attraction, apart from its styling, is its SYNC3 infotainment system.
In terms of interior specification, both vehicles are equipped with similar features such as dual-zone climate control (automatic air conditioning), cruise control, front park distance control with a reverse-view camera, electric windows and electrically adjustable mirrors and a multifunction steering wheel. The Navara, as tested here, is fitted with optional leather upholstery, heated front seats, and an electrically adjustable driver's seat. These added comfort features are definitely worth the extra spend.

View a detailed specification comparison between the Ford Ranger Fx4 and the Nissan Navara
The key differences, however, relate to interior execution. The Ranger Fx4 has the more attractive interior... it's steering column is adjustable for rake and reach (the Navara's only for angle), there's more attention to detail and although the Nissan's also spacious inside, the Ford offers slightly more leg- and knee room than its rival.
The Fx4 is also equipped with Ford's latest Sync 3 infotainment system, which is Apple CarPlay and Android Auto compatible and features integrated navigation. The updated 8.1-inch touchscreen has a chunky interface and is very easy to use. Furthermore, a pair of USB ports is availed for charging and/or connecting devices.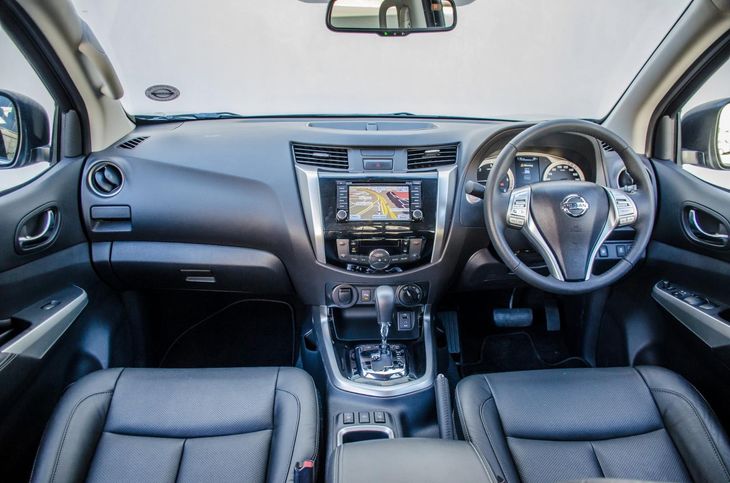 The Navara's interior is solidly built, but the smaller, more finicky infotainment system was a letdown.
The Navara's cabin features a few more metallic accents and in terms of soft-touch surfaces, there is a little to choose between the bakkies. However, the Ford's (primarily digital) instrument binnacle is more car-like than the Navara's (admittedly neat) cluster and the latter's touchscreen system pales in comparison with the Ranger's unit.
Yes, the Japanese bakkie's infotainment system offers a navigation function, but the screen is frustratingly small and the interface is not as easy to use as the Ranger's. It also has an annoying glare in bright light which decreases its legibility and, when the reverse camera view is displayed, it's a largely blown-out (white) image with only the guidelines being easily visible. It's a pity, because Nissan offers commendable infotainment systems on its other products. A USB and auxiliary ports are provided.
In terms of safety features, both bakkies have 7 airbags, ABS with EBD, stability control and traction control. The Navara is additionally equipped with brake assist.
Engine performance?

The Ranger Fx4 is powered by Ford's familiar 3.2-litre turbodiesel engine that produces 147 kW and 470 Nm of torque and is coupled to a 6-speed automatic transmission. Although this engine suffers from a fair degree of turbo lag when you plant your foot flat, when the power arrives, it comes with a surge that results in brisk acceleration (by bakkie standards). The engine, although audible in the cabin, is relatively refined and the smooth-shifting transmission is well-matched to this engine.
Buyers will appreciate the powerful performance offered by this Ranger Fx4, but will have to be willing to compromise when it comes to fuel efficiency. Ford claims 9.0 L/100km and during our test, the Fx4 returned an average fuel consumption figure of 11.5 L/100 km, which is middling.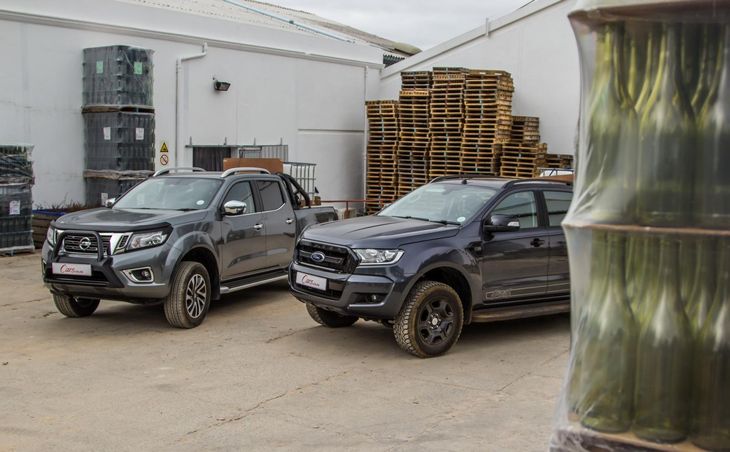 The Navara's engine is less refined high in the rev range but it's more fuel efficient than the thirsty Ranger.
As for the Navara, you'd be forgiven for thinking that it's powered by a larger turbodiesel engine because it performs so strongly on the road and in the dirt. It's a 2.3-litre turbodiesel unit that punches above its weight with 140 kW and 450 Nm of torque and for the most part, it's a really good engine. It is, however, much noisier higher in the rev range and exhibits an agricultural engine note under harder acceleration, which is something that buyers will have to live with.

The 7-speed transmission is good too and marginally better and smoother than the Ranger's automatic 'box. Buyers considering the Navara will also be happy to know that it's more frugal than its Ranger Fx4 rival. Nissan claims 7.0 L/100 km, but the trip computer returned figures in the region of 10.0 L/100km during our test.
Ride quality?

The Ranger and Navara are closely matched in terms of on-road ride quality and both vehicles offer a comfortable ride on tar. But when loaded, we discovered that the Ranger actually delivered a smoother ride on tar compared with the Navara. Although the Navara's controversial rear 5-link coil suspension has helped to improve overall rear-end stability and to a degree, alleviate unladen "bounciness", we are not convinced it's significantly superior to a conventional leaf spring setup. When driven over rougher surfaces, however, the Navara's suspension seems to settle quicker than the Ranger's, making it slightly more forgiving, especially when driving on gravel roads.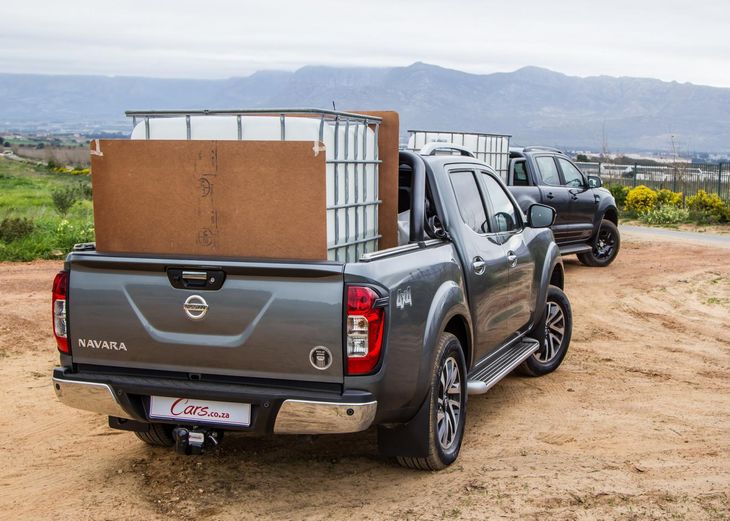 The Navara's suspension is more forgiving in the dirt, but the Ranger's ride when laden proved to be superior.
During our test, we subjected both vehicles to a heavy load and tested them on the same off-road route. The results were surprising. When laden, the Ranger proved to offer the best ride and maintained its composure well. The Navara, however, felt more unsettled with the heavy load and the ride was not as smooth as we expected it to be. Having said all that, if you consider that many owners will rarely engage in serious offroad driving and that these vehicles will spend most of their time on tar, then we think the Ranger and Navara are quite evenly matched in terms of on-road ride quality; the Ranger is simply more comfortable with a heavy load on the back.
Off-road capability?
Both the Ranger and Navara are hugely capable when taken offroad and buyers won't be disappointed by what these vehicles have to offer and during our test, neither of them skipped a beat. The Ranger has better ground clearance at 237 mm than the Navara with 229 mm and both vehicles have a braked towing capacity of 3 500 kg.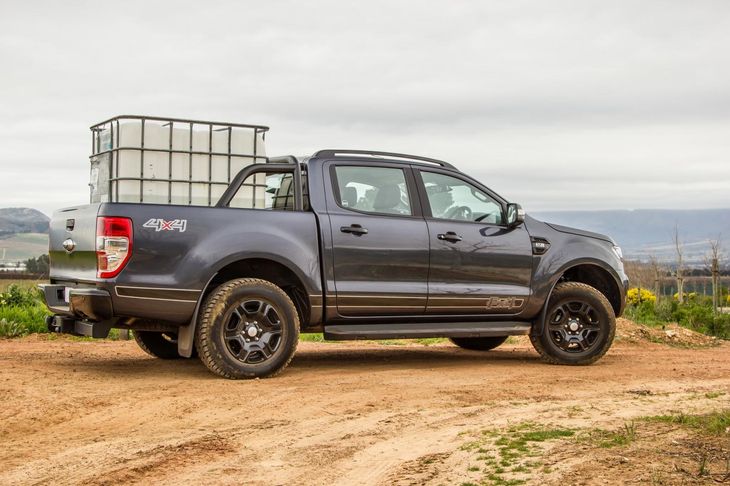 The Ranger and Navara are strong offroad performers, but the Ranger's early delivery of power makes off-roading a cinch.

In the case of the Navara, the mechanical transfer case is easily operated using a knob where the driver can select between 2H, 4H and 4L, depending on the terrain. The Navara is also equipped with an active brake limited slip differential system (ABLS) that manages power delivery and wheel braking between the front and rear axles, which, in conjunction with the Vehicle Dynamic Control (VDC) system, ensures the best possible performance in tough terrain.

Similarly, the Ranger Fx4 is equipped with an electronic rear differential and the driver is also easily able to switch between 2H, 4H and 4L using the knob next to the transmission lever.The offroad capability of the Ranger and Navara is impressive. However, during our test, we found the Ranger's off-road performance to be marginally better, partly because of the laden ride quality and the fact that Ranger's powertrain sustains momentum better, making it slightly more effective at tackling tough terrain.
Price and Warranty
The Ford Ranger 3.2 4x4 Fx4 automatic is priced at R608 900 and is sold with a 4-year/120 000km warranty and a 5-year/100 000km service plan. Service intervals are set at 20 000km.
Find a new or used Ford Ranger on Cars.co.za
The Nissan Navara 2.3 4x4 LE automatic is more affordably priced at R587 900 and is sold with a 6-year/150 000 km warranty and 3-year/90 000km service plan. Service intervals are set at 15 000km. If you opt for leather upholstery, which includes heated front seats the price comes to

Find a new or used Nissan Navara on Cars.co.za
Verdict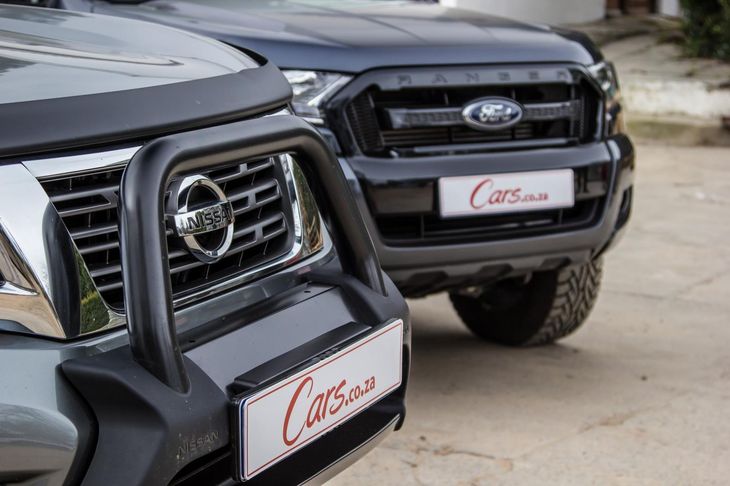 We would buy the Ranger Fx4, but the Navara's 6-year/150 000km warranty can swing the buying vote.
Although these double-cab bakkies are closely matched in terms of specification and both offer impressive overall capability, we are of the opinion that the Ford Ranger 3.2 Fx4 4x4 automatic is the better buy compared with the Nissan Navara 2.3 4x4 LE automatic and here's why:
We feel that the combination of the Ranger Fx4's added exterior visual appeal, better interior execution (not to mention slicker Sync 3 infotainment system) and overall packaging, justifies the R11k premium over its Japanese rival. Even though the Ranger is thirstier, its engine is quieter at high revs and its power delivery feels more linear than that of the Navara. The Navara, as specified, claws back with its seat warmers, the convenience of an electric driver's seat and the advantage of a longer warranty.
Furthermore, in terms of off-road ability, there is very little that separates these vehicles. For buyers who will be loading up their bakkies regularly, the Ranger (according to our test) delivers a more composed ride under heavy load. As urban-based family vehicles, however, both bakkies offer admirable ride quality on tar and although the Navara may hold a slight edge in this regard (rear passengers will especially appreciate the added ride comfort) it is a testament to the Ford's resolved design (its on-road refinement is still impressive) that despite the age disadvantage of the Ranger platform, the newer Nissan cannot eclipse the all-round abilities of the venerable Ford.
Watch Part 1 of our Ranger vs Navara video comparison:

Watch Part 2 of our Ranger vs Navara video comparison:

Related content:
Nissan Navara 2.3D 4x4 LE (2017) Review
Why Navara shakes up the double-cab market
Ford Ranger Fx4 (2017) – a Raptor Kit with a Warranty
Toyota Hilux Raider Black Limited Edition (2017) Specs & Price
Toyota Hilux 2.8GD-6 DC 4x4 Raider Auto (2016) Review
6 Most Fuel-Efficient Double-Cab Bakkies in SA
Most Powerful Double-Cab Bakkies in SA
2016 Toyota Hilux vs Ford Ranger – Offroad & Review
Ford Ranger 2.2 XLS 4x4 Automatic (2016) Review
Ford Ranger 3.2 4x4 Wildtrak (2016) Review
Ford Ranger 3.2 XLT (2016) Review
Mitsubishi Triton (2017) Video Review
Mitsubishi Triton 2.4DI-D Double Cab 4x4 (2017) Quick Review
Mitsubishi Triton 2.4DI-D Double Cab 4x4 Auto (2017) Review
Volkswagen Amarok 3.0 V6 TDI (2017) Video Review
Volkswagen Amarok 3.0 V6 TDI Highline Plus (2017) Review [with Video]
Fiat Fullback Double-Cab 2.5 Di-D 4x4 LX (2017) Review
Isuzu KB 250 X-Rider 4x2 Double Cab (2017) Quick Review
Isuzu KB300 LX 4x4 Extended Cab (2017) Review