It's the most anticipated comparative test of the year. How good is the latest Toyota Hilux and how well does it compare with its turbodiesel four-wheel drive double cab rivals from Ford, Isuzu and Volkswagen? Here are the answers...
Now that the majority of private buyers in this segment use their bakkies mostly for leisure purposes, and automatic transmissions are increasingly preferred to manual gearboxes, we decided to pit the top-level turbodiesel double cabs from the best-selling brands in the country against one another at the Klipbokkop 4x4 Academy near Worcester.
This contest features the recently updated Ranger 3.2 TDCi XLT 4x4 auto, Isuzu KB 300 D-TEQ LX 4x4 auto and the VW Amarok 2.0 BiTDI 4Motion Highline auto (courtesy of Tavcor VW in George). We had requested a Hilux 2.8 GD-6 4x4 Raider in automatic guise, but Toyota could not allocate us one, so settled for the manual version. The lineup includes three products that are regularly among South Africa's top 10 sellers and one of the country's most underrated double cabs – the Amarok.
Ford Ranger 3.2 TDCI XLT 4x4 Auto
Isuzu KB300D-TEQ LX 4x4 Auto
Toyota Hilux 2.8 GD6 4x4
Volkswagen Amarok 2.0 BiTDI 4Motion Auto
Price (no options)
R567 900
R563 500

R529 900 (man)

R547 900 (auto)

R558 200
We like

Performance

Interior quality

Feautures

Ride quality

Build quality

Off-road ability

Info-tainment system

Smooth drivetrain

Interior quality

Off-road ability

Fuel consumption

Transmission

Cabin quality

Performance

We don't like

Fuel consumption

Overly light steering

Expensive

Coarse engine, drivetrain

Unrefined interior

Rear legroom

Ride still on the firm side

Expensive options

No low reverse
But before we start, we feel there are five things you need to know about the new Hilux...
Exterior design
The merits of exterior aesthetics are always subject to personal taste, so to try and justify a preference isn't a very useful exercise.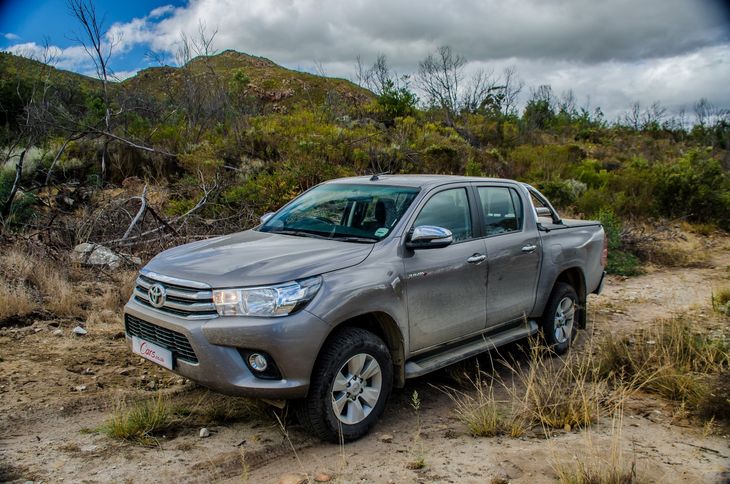 Hilux's awkward "overbite" is there mainly for off-roading reasons.
As far as the new Hilux is concerned, suffice to say that this latest incumbent proudly carries the illustrious Hilux bloodline forward. Yes, its prominent snout did receive some negative, and a couple of downright derogatory comments (on social media it was immediately dubbed the "Hiluff"…), but there's actually method in its long-nosed madness.
Not only does it aid engine bay cooling, it also simplifies maintenance, and the shape of the protruding bumper, giving the Hilux a powerful stance, ensures a good approach angle in off-road conditions. The grille with strong horizontal bars and wrap-around headlights immediately distinguishes the newcomer as a Toyota and viewed from the side the wheel flares tie in with the line which flows from front to rear.
The slanted side window and cabin silhouette give the Hilux a much more modern look and the shaped roof with aerodynamic "pagoda"-style V-shape helps to channel air over and off the sides of the vehicle, rather than into the load area, which reduces both turbulence and drag. Small protrusions on the bases of the side mirrors also assist to channel air flow and lessen wind noise, a persistent problem with its immediate multi-facelifted ancestor.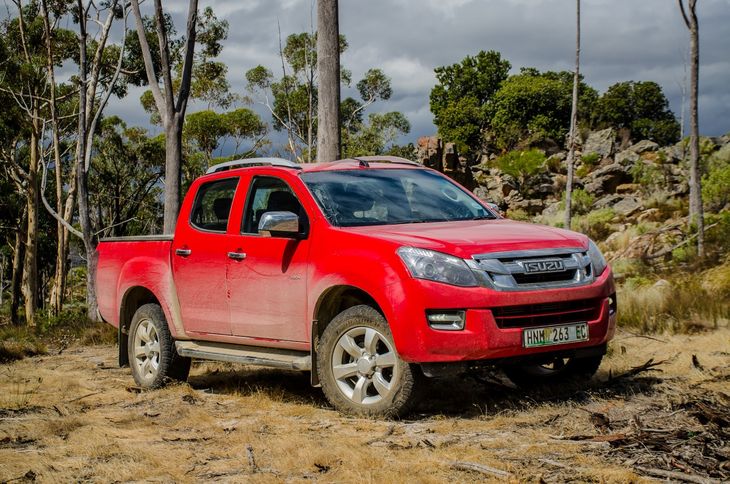 Certainly not unattractive, the Isuzu KB is due for a cosmetic update later this year.
Besides the styling of its grille and headlights the Isuzu, bears an uncanny resemblance to the outgoing Hilux, and seen at an angle from the rear you can be forgiven if you confuse it with the previous generation D-4D. Our test unit, finished in bright red paintwork, was rather striking and those narrow LED strips and silver roof rails further neaten up the appearance.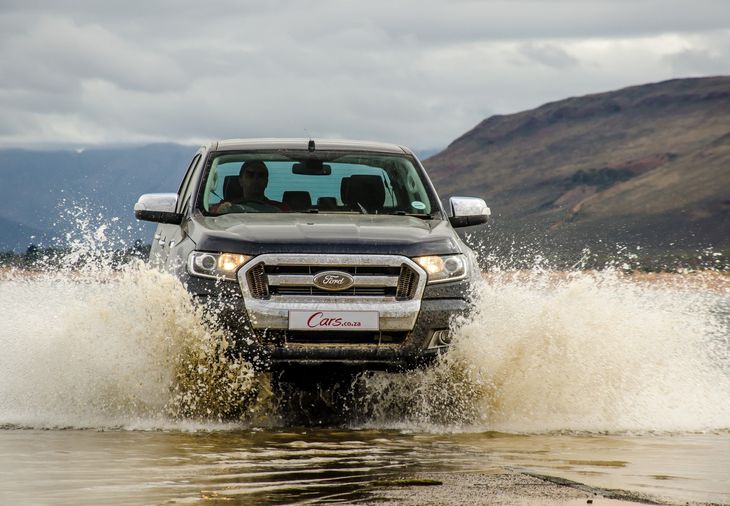 Recent facelift has made Ford's macho Ranger even more handsome.
As generic as the KB's styling is (but not unpleasantly so, it must be added), the Ranger's is, comparatively, well-defined and distinctive. It was generally considered the best-looking beast in our group. The large, chrome-laden grille is styled to remind of Ford's American F-series pick-ups. It remains the most macho of the four.
The more angular Amarok provides a welcome contrast to its curvier rivals and the fact that it still appears modern after five years (with only the headlights and grille slightly updated) is a testament to its design integrity. Our test unit featured an aftermarket (VW approved) Seikel suspension lift.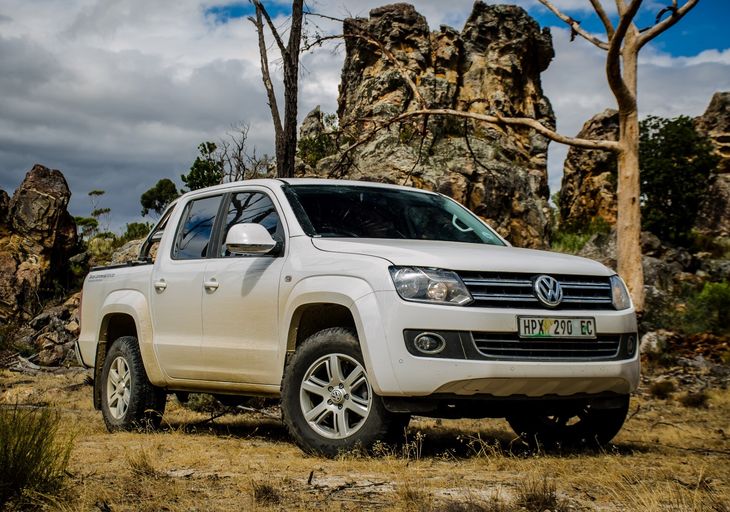 Still handsome after all these years, the Amarok has dated well. This one has an optional lifted suspension
Interior layout and features
The sleek and modern interior of the Ranger redefined the standard of appointment expected in the leisure bakkie market in 2010 and the car-like cabin of the refreshed up-spec XLT is comfortable and contemporary, and features stylish and attractive yet durable materials and trim - it is the only bakkie here that offers leather upholstery as standard. Some testers found the layout of the central controls too fussy, but the instrument layout, with a central 8-inch touchscreen and new dual-TFT cluster behind the steering wheel, provides all the necessary information at a glance. Sync2, the latest generation of Ford's in-car connectivity systems (with voice command control) and a 240-volt power socket are now standard, while improved insulation results in one of the quietest cabins in this class.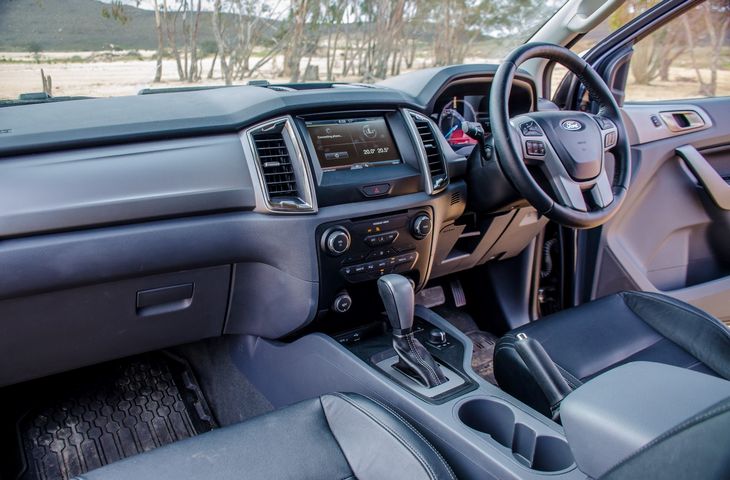 Upgraded Ranger facia boasts lots of tech. Steering can only adjust for rake.
Similarly, the Amarok's interior exudes an ambience of spaciousness, Teutonic quality and class. In true VW fashion the layout is unpretentious and uncomplicated, good quality materials abound. Standard features on the Highline include a radio/CD (MP3 capable) with 6 speakers, automatic air-con, storage drawers under front seats, cruise control and 12-volt sockets in the centre console, dashboard and load box. A communication package (with multi-function steering wheel, Bluetooth 'phone preparation, PDC) and Vienna leather seats are optionally available (bringing it close to Ultimate spec).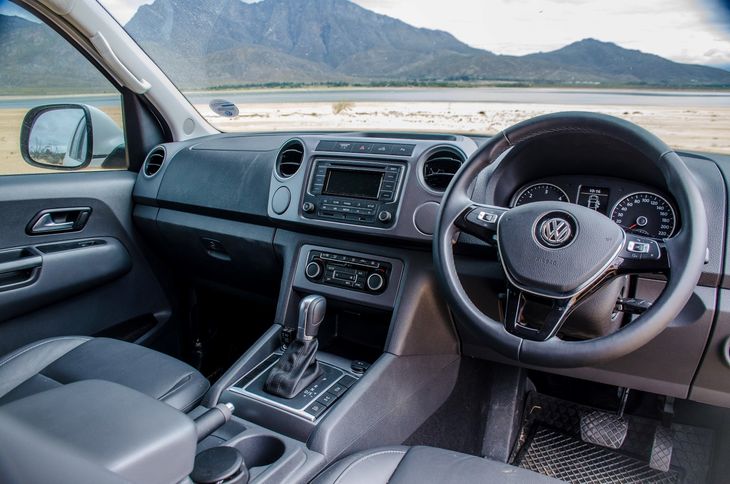 Amarok cabin is typically Volkswagen - very car-like and comfortable.
So, in terms of interior fit and finish, how does the new Hilux measure up against these two?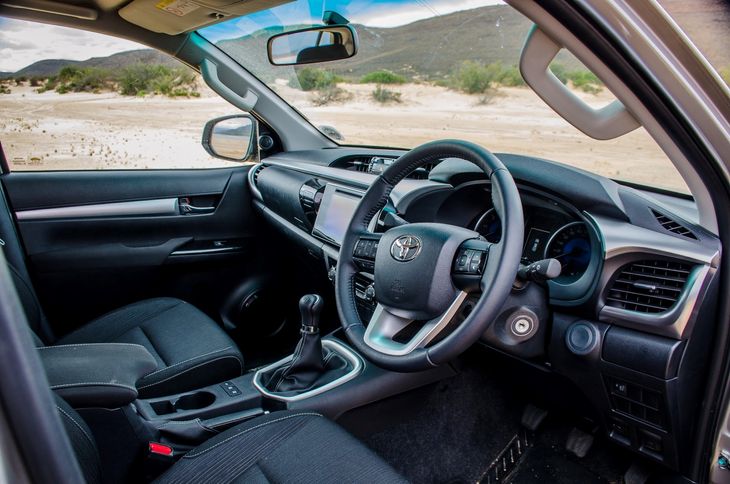 Hilux cabin represents a major improvement - steering wheel is rake/reach adjustable.
Well, what was immediately evident is that in terms of stylistic execution and refinement it's a major step up from its predecessor. A new floating flat-panel touchscreen audio system above the centre console has a smart, modern feel and a full colour, Lexus-like TFT multi-info driver display allows access to multiple info menus by manipulating the buttons on the smaller, newly designed steering wheel. The thicker rimmed wheel, adjustable for rake as well as reach, provides good comfort and feel, and the cool blue illumination throughout the cabin heightens the sense of luxury and (dare we say it?) elegance. The patterned black material seat upholstery may not be to everyone's taste (leather is optionally available), but the front seats are really well designed: they're supportive, yet comfortable.
Other features are a handy storage compartment recessed into the floor, a coolbox that uses the air-con system to cool or heat items, two 12-volt power outlets, a "ceiling hook" above the rear seats and grab handles for the rear passengers. According to Toyota the driver's seat height adjustment range has been increased by 15 mm, as well as head- (8 mm) and shoulder room (19 mm), while rear occupants now have 10 mm more legroom.
However, we found the rear seating position quite upright while affording average legroom – it's on par with the Volkswagen, but inferior to the space available in the Ford and Isuzu.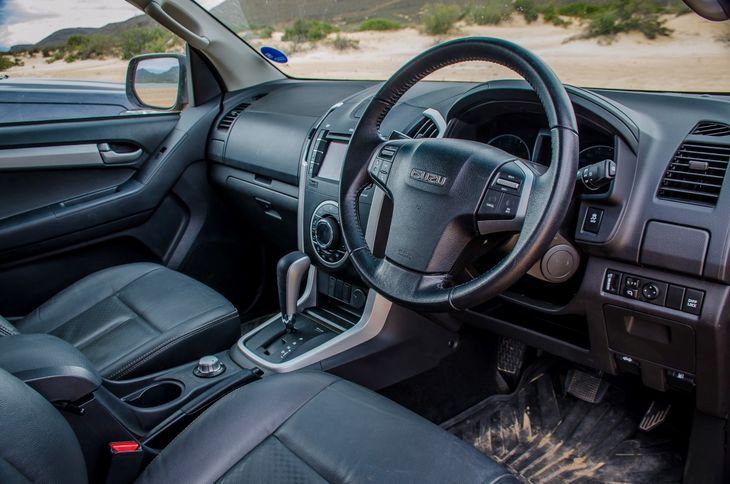 Isuzu cabin lags the others in refinement and finishes, but there's no doubt about its solidity.
Compared to the other contenders, the interior execution of the KB is disappointing. Sure, it has all the bells and whistles (such as a user-friendly touchscreen satnav and key-less entry with engine stop/start button), but with its hard plastic trim and outdated graphics of its instrumentation panel, it lacks refinement. Yes, the rear is roomy and the fit and finish good, but the cabin now just doesn't have the upmarket air to compete at this level. An update that comes later this year may well address these drawbacks. Our test unit featured optional leather upholstery and electric seat adjustment.
Dimensions and powertrains
Size matters in this segment, but too much bulk is undesirable because it undermines a performance/efficiency as well as dynamic ability, let alone manoeuvrability in tight and congested urban areas.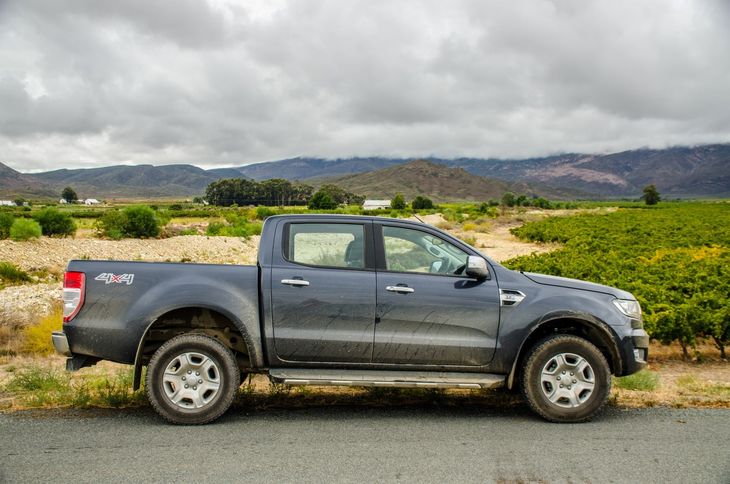 The Ford Ranger has the slightly larger and deeper load box, and is bulkier overall.
In terms of dimensions all four bakkies stand about 18 hands high (from 1 815mm to 1 851mm) and they're also quite similar in length, width and track, but the Ford has a 200 mm longer wheelbase compared with the others. The slightly heavier Ranger also has a slightly larger and deeper load box, but when it comes to payload it lags behind the Isuzu. However, all of our rivals, except for the Amarok (3 000 kg) are now rated for a towing capacity of 3 500kg (braked) and 750 kg (unbraked) – a facet Toyota is promoting strongly.
| | | | | |
| --- | --- | --- | --- | --- |
| | Ford Ranger | Isuzu KB | Toyota Hilux | VW Amarok |
| Length (mm) | 5 354 | 5 294 | 5 335 | 5 254 |
| Width (mm) | 2 163 | 2 132 | 1 855 | 2 228 |
| Height (mm) | 1 851 | 1 851 | 1 815 | 1 834 |
| Wheelbase (mm) | 3 220 | 3 095 | 3 085 | 3 095 |
| GVM (kg) | 2 910 | 3 100 | 2 910 | 2 910 |
The Ranger's impressive outputs (147 kW, 470 Nm) come courtesy of the latest 3.2-litre Duratorq TDCi five-cylinder turbodiesel engine and the bakkie has a power to weight figure of 65W/kg. Upgrades on the engine include a new exhaust gas recirculation system for improved fuel efficiency (by up to 18%, Ford claims) and better emission figures (236 g/km).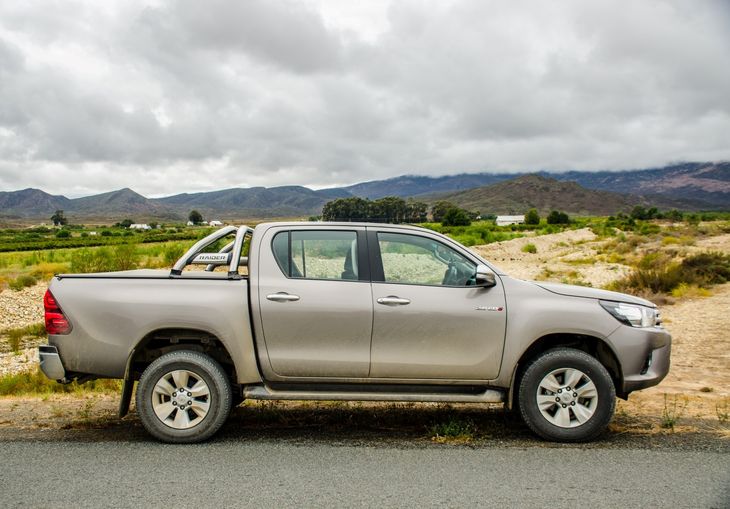 The longest bakkie here, but the wheelbase of the Hilux is shorter than the Ranger's and impacts rear cabin space.
The new Hilux is powered by the automaker's new "global diesel" series, which was developed from the ground up. Serving in the lead diesel is the 2.8-litre DOHC 16-valve four-cylinder inline GD engine with VNT (variable nozzle turbocharger) that delivers compressed air through a new front-mounted intercooler. It offers a stout 130 kW and 420 Nm of torque from 1600 to 2400 rpm (in manual guise, and 450 Nm when mated with the 6-speed auto transmission). This may only be 10 kW more than the trusty 3.0 D-4D, but the smaller, lighter powerplant produces over 100 Nm more lugging power than the old 3.0-litre mill…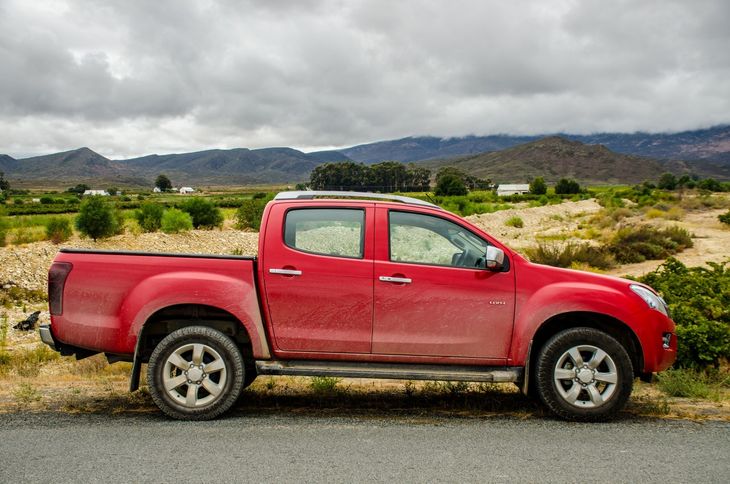 One upshot of the Isuzu's engine is that it's relatively unstressed, which should boost reliability.
Also interesting to note is the reduction in compression ratio (by 13%) compared with the outgoing D-4D, which contributes to a smoother, quieter running engine, lower consumption (by 9%, according to Toyota) and a reduction in emissions to a class-leading 199 g/km. The Toyota's power to weight ratio of 61.2W/kg also compares favourably with the rest – the hi-output 3.0-litre 4-cylinder inline turbodiesel mill (130kW/380Nm) in the Isuzu lending it a ratio of 63W/kg, which is similar to that of the Amarok…
However, in contrast with the Japanese and Aussie way of power generation the Amarok relies on a small-capacity double-turbo unit to produce 132 kW at a high 4 000 rpm and 420 Nm of torque. Besides being lighter and smaller, the engine also employs BlueMotion Technology – including a stop-start system and regenerative braking – to improve fuel consumption and CO2 emissions (to 219 g/km).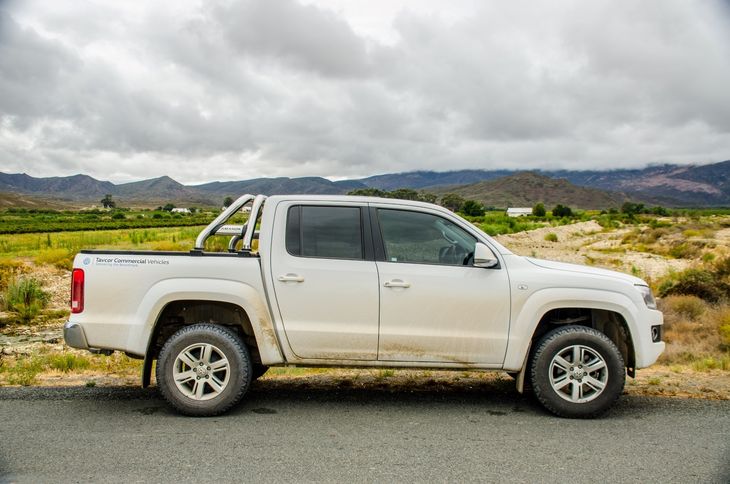 Lighter and with the smallest capacity engine, the Amarok has the lowest tow rating of the four.
Performance and economy
Although our test team did not perform any official acceleration runs (due to the fact that not all our contenders had automatic gearboxes), our impromptu sprints on the stretched-out sand strip at Klipbokkop provided the team with useful insights to the differences between the divergent drivetrain combinations.
From the runs it was clear that the rates of acceleration of the Ranger, Hilux and Amarok were very similar; the trio ran each other very close – and the one that made the better getaway normally crossed the line first.
| | | | | |
| --- | --- | --- | --- | --- |
| | Ford Ranger | Isuzu KB | Toyota Hilux | VW Amarok |
| Power (kW/rpm) | 147/3 000 | 130/3 600 | 130/3 400 | 132/4 000 |
| Torque (Nm/rpm) | 470/1 500 - 2 750 | 380/1 800 - 2 800 | 450/1 600 - 2 600 | 420/1 750 |
| 0-100 kph (sec) | 10.3 | 12.3 | 11.2 (man) | 10.9 |
| Fuel consumption (L/100km) | 8.5 | 7.9 | 7.6 (man) | 8.3 |
The KB, on the other hand, was disappointing. Even after a good start it soon lagged behind, despite appearing to have enough hauling power on paper. So why couldn't it keep up? The answer lies in the Isuzu's outclassed drivetrain – consisting of a comparatively unrefined, coarse turbodiesel mated with a basic five-speed auto transmission. While cog-swopping was quite smooth, the long gear ratios resisted any attempt at rapid progress.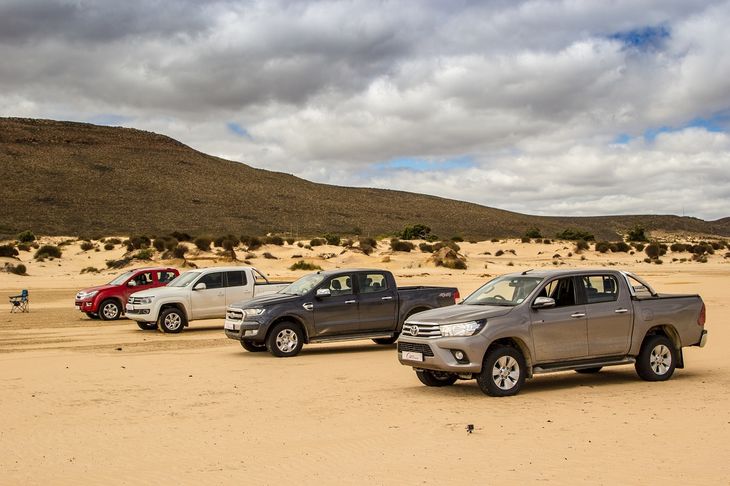 Lined up for a race, but the Isuzu lags behind in this test. The others are evenly matched in this setting.
As expected, the Ford performed well: its slick and advanced automatic drivetrain quickly overcame the weight disadvantage of its bigger five-cylinder mill, but the Amarok and Hilux surprised all with the eagerness of their powertrains. The well-spaced ratios of the VW's 8-speed ZF transmission extracted the most from its smaller displacement engine, while the Power mode and well-timed snap-changes with its smooth new manual 'box kept the Hilux in the hunt. The manual's performance also means the 6-speed auto (with an extra 30 Nm to unleash) should be even quicker…
Our test analysis is supported by manufacturers' claims – their 0-100 kph times range from 10.3 sec for the Ranger, 10.9 sec (Amarok) to 11.2 sec (Hilux, 10.8 sec for the auto version) and 12.3 sec for the KB.
The engine and drivetrain combinations of the Ranger, Hilux and Amarok ensure excellent driveability, while the KB's 5-speed transmission tends to hunt too much; making it difficult to drive smoothly. Intelligent control programmes for the auto transmissions ensure optimal shift points, not only improving driving comfort but also aiding consumption – Ford and Volkswagen claim 8.3 L/100 km in the combined cycle, and Isuzu 7.9 L/100 km.
In manual form the Hilux now also benefits from rev-matching technology and a Drive Mode switch with Eco and Power modes. Toyota claims a consumption of 7.6 L/100 km for this derivative (but only 8.5 L/100 km for the auto model). While these figures may well be attainable in ideal conditions, we averaged around 9-10.5 litres/100km (including sprint and high-speed runs) on all the vehicles during the test period.
Ride quality and comfort
In this segment sprinting prowess, seen in context of what customers expect from their bakkies, does not count for much – their performance and style on (and off) road is much more important. Perhaps most significant of all is ride quality and comfort, as these vehicles will, besides long-distance trips, spend most of their time being used for the daily commute or doing family chores. Their workhorse origins dictate sturdy ladder-frame underpinnings, and all the bakkies utilise a double-wishbone front suspension and leaf-spring type rear suspension.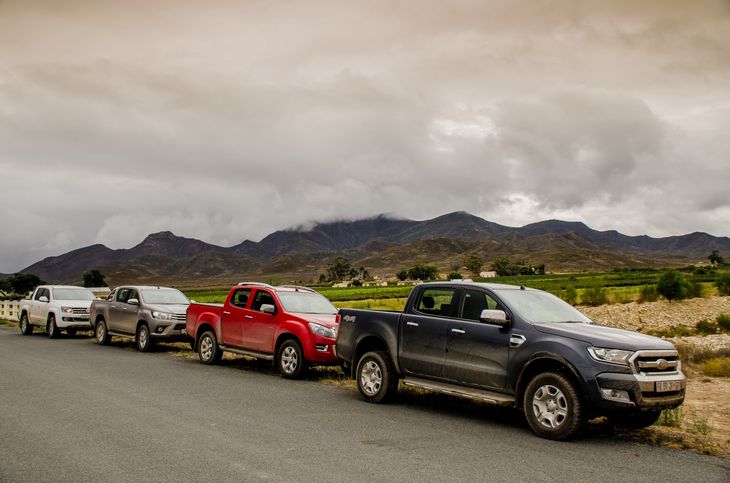 The Ford Ranger continues to offer a ride that's more comfortable over a wider variety of surfaces.
The new Hilux now rests on a new frame with 30 mm thicker side rails and cross members for 20% greater torsional rigidity. To enhance steering stability the spring has been lengthened and its attachment point moved forward by 100 mm and lowered by 25 mm. The Hilux now also utilises an innovative pitch and bounce control system that in response to road conditions adjusts engine torque automatically to reduce body pitch and roll. The end result is a noticeable difference in the Toyota's ride comfort when referenced against its predecessor's hard, sometimes unforgiving, ride quality, and now measures up to that of the Ranger and Amarok. It's still firm, though, and slightly more bouncy over rutted surfaces than its rivals.
And the others? The KB, always acknowledged for its ride quality, is now losing its edge – particularly on-road. Low levels of cabin and engine noise in the Ranger further contribute to its drive comfort; the slightly uneven rumble of its five-cylinder is barely audible at idle and well suppressed at highway speeds. The Amarok shares these traits, but its small turbodiesel motor is noisier at high revs, while the coarse clatter of the KB's mill sabotages any attempt at noise elimination in the markedly rattle-free cabin.
However, it's the drastically improved NVH levels of the Hilux, backing up its enhanced interior ambience and augmented by the new, smaller GD-motor's smooth and quiet operation, which really stands out.

Hilux's shorter wheelbase hampers rear legroom, and headroom is relatively limited, too.
In terms of handling there's not much difference between the contenders. They're all competent (the Amarok obviously benefitting from its permanent 4WD system) and despite their size, quite nimble in the corners.
The foursome's steering assistance and input are accurate enough, but steering feel is still numb and remote. The Ford's steering felt too light at slow speeds (due to over-assistance from its EPAS system), while on the KB initial reaction to steering input was quite slow. The other two were more responsive, with better weighted systems over the speed band, but the VW's turning circle is massive compared to the rest.
Our rivals are also closely matched on safety; all of them endowed with a cluster of airbags and a compatible list of acronyms for systems such as ABS, ESP, EBD and more. And when it comes to braking, they all employ ventilated discs up front and drums at the rear.
Off-road ability
Hilux has become an off-road legend in own right and in its latest incarnation, the Toyota, like the Ford and Isuzu, uses an electronic rotary dial to select two or four-wheel drive, replacing the "second gear lever" as used in the D-4D, that allows selection of 4WD High at speeds of up to 50 km/h (88 km/h for the Ranger, and 100 km/h for the KB).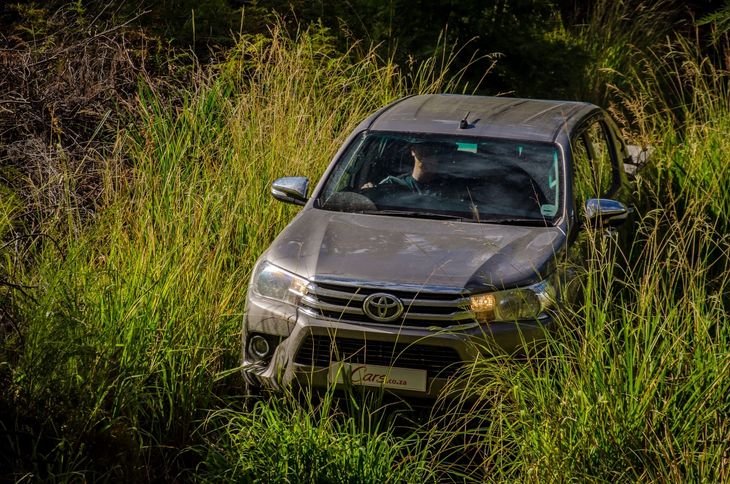 The Hilux is superb off-road, and more comfortable for the driver at the same time.
The Hilux, as its rivals, has a rear electronic differential lock, but unlike the others, the automatic Amarok, equipped with VW's 4Motion Torsen differential system, does not have low-range gearing. However, its 8-speed transmission allows for better response at low speeds and less slip resistance, and its first gear is configured as a low range gear. The system, while unconventional, works surprisingly well and the German contender's off-road ability shouldn't be underestimated. Still, we recommend that users switch off its off-road traction control and ABS systems in difficult conditions.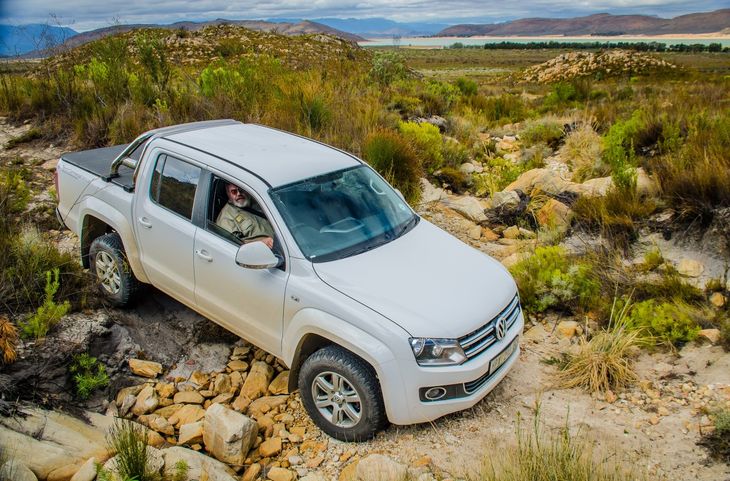 Amarok's clever transmission negates the need for low-range... but you need a suspension lift for the hardcore stuff.
With superior approach, departure and break-over angles, as well as good ground clearances and wading depths the quartet can handle extreme terrain with ease.
They're also equipped with a number of electronic driver support systems to make light work of any task, including traction control, hill launch assist, hill descent control (variable in the Amarok) and adaptive load control. The Isuzu, however, lacks downhill assist control.
Still, the Ranger's longer wheelbase and limited front wheel articulation (due to its heavier engine) can compromise it in extreme conditions. Its accelerator pedal was also too sensitive in low-range, making it difficult to modulate precisely.

The Isuzu KB is impressive off-road even though it lacks some of the latest off-road tec.
The KB and Hilux both showed impressive wheel articulation, further strengthening their off-road credentials, but judging by how they fared in our tests, all of our contestants will (when required) get you to some of the remotest destinations imaginable. And back. Confidently and safely.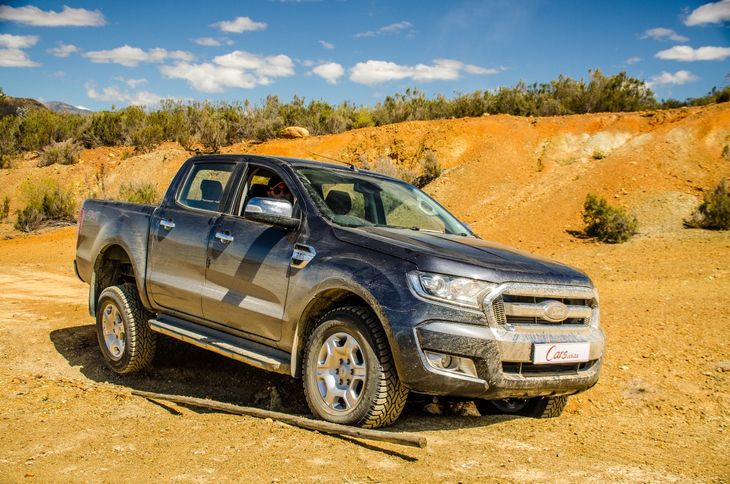 Ranger's articulation not quite as impressive as the Hilux and KB's.
| | | | | |
| --- | --- | --- | --- | --- |
| | Ford Ranger | Isuzu KB | Toyota Hilux | VW Amarok |
| Ground clearance (mm) | 237 | 220 | 286 | 244 (std) |
| Wading depth (mm) | 800 | 600 | 700 | 500 |
| Approach angle (deg) | 25.2 | 30 | 31 | 28 |
| Departure angle (deg) | 21.8 | 22.7 | 26 | 23.6 |
| Breakover angle (deg) | 18.5 | 22.4 | 23 | 21.4 |
Ownership considerations
A major contributor to Toyota's local sales success is the Japanese carmaker's extensive and widespread dealer and aftersales network – not only in South Africa, but also in other Southern African countries. This, combined with a comprehensive warranty and service plan, ensures peace of mind, also when your travels take you into neighbouring countries. Add to that the good resale value of the Hilux, and it's clear why so many bakkie buyers prefer the Toyota.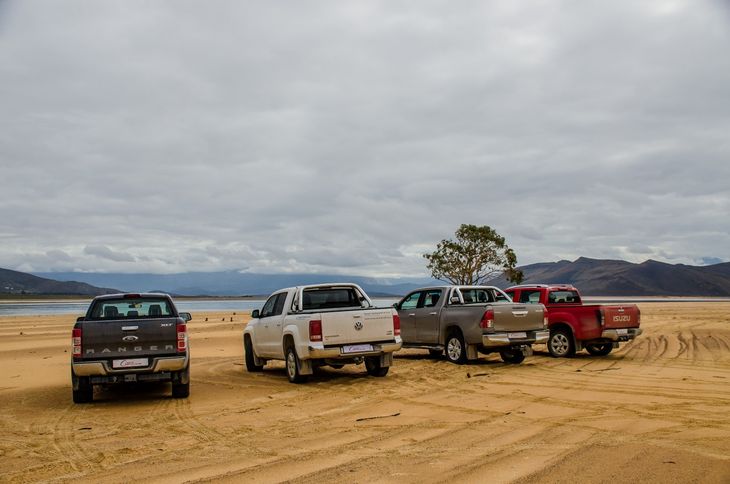 Four very solid vehicles, but Toyota still tops for after-sales back-up and owner satisfaction.
With Ford in South Africa now also responsible for most of Africa, availability of service parts and spares isn't really a concern anymore, and the Blue Oval also has quite an extensive dealer network. Add to this the Ranger's growing popularity and by default, resale value, plus increasing trust in the brand, then buying a Ford makes sense.
While service intervals for the Hilux are frustratingly set at 10 000km, the KB (and Amarok) only needs to go for service every 15 000 km. Ford, meanwhile, upped its service intervals to 20 000 km. Isuzu, through GM, offers the best warranty (5 years/120 000km) and Ford recently stretched its service plan to a leading 5 years/100 000 km.
| | | | | |
| --- | --- | --- | --- | --- |
| | Ford Ranger | Isuzu KB | Toyota Hilux | VW Amarok |
| Warranty (yr/km) | 4/120 000 | 5/120 000 | 3/100 000 | 3/100 000 |
| Service Plan (yr/km) | 5/100 000 | 5/90 000 | 5/90 000 | 5/90 000 |
| Service intervals (km) | 20 000 | 15 000 | 10 000 | 15 000 |
Volkswagen may not be the biggest player in the bakkie market, but it is renowned for quality products; the Argentinian built Amarok is no exception. It also boasts extensive dealership and aftersales coverage, and with the Amarok being somewhat of a niche vehicle, there won't be an oversupply in the used vehicle market, meaning resale and trade-in value will stay high. It also has to be said that early concerns about reliability of the small-capacity engine have not really become a reality.
Verdict
If this comparative test was the Durban July, the result would have been a photo-finish – the scores were that close when we tallied the final results… With the exception of one. The Isuzu lagged behind the rest.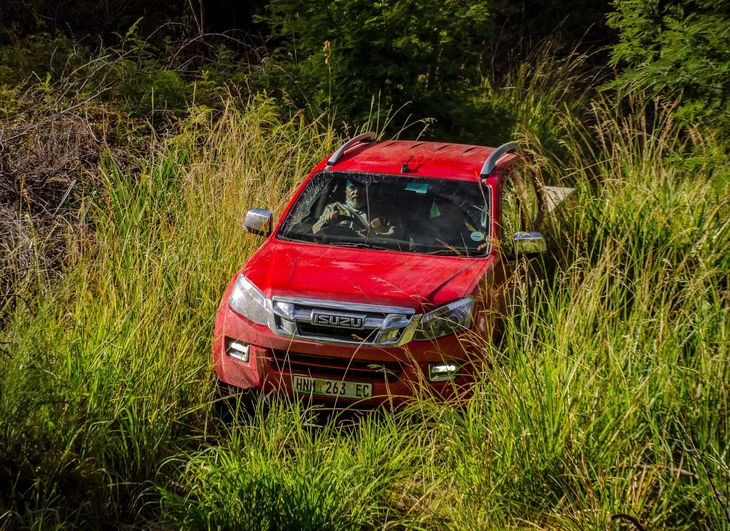 First to fall is the Isuzu KB: overpriced (at list) and unrefined in this company. It's solid and reliable, though.
The KB's performance in our test shows that the game has moved on quickly in the past few years. Isuzu has a strong and loyal following in South Africa and its bakkies has always been formidable contenders in the one-ton pickup segment. However, with its sixth generation KB Isuzu has not upped its game enough to stay in the leisure bakkie race. Sure, the latest KB is solid enough, but in current company it felt unrefined, unpolished and clumsy, nearly agronomic. A good workhorse perhaps, but not a leisure vehicle for a family. In most part it can be blamed on its older generation drivetrain.
The engine, while powerful enough, is coarse and loud, and our testers pondered the possibility of General Motors replacing it with the Duramax in the Chev Trailblazer (as has been done with the Chevy-badged S10 in Brazil). The outdated five-speed gearbox also doesn't help the KB's cause and its price tag (compared with its more accomplished rivals – even without adding leather and a power seat) is uncompetitive. The team's unanimous verdict was that only die-hard Isuzu fans or someone looking for a comfortable work-minded bakkie with added amenities will consider this model. And with big sales campaigns on the go, they can at least expect a good discount…
There is some good news too. The KB will receive a comprehensive facelifted by the fourth quarter of 2016. Whether that will be enough remains to be seen.
The underrated Amarok, while due for a revamp next year, is still very much in the running. It has the best transmission in the business and its powerplant, while small, is impressively willing. It appeals to a particular customer – someone who wants a versatile, high-quality vehicle mostly for town use, and the occasional visit to his smallholding or remote holiday pad – and who's willing to pay for such a vehicle.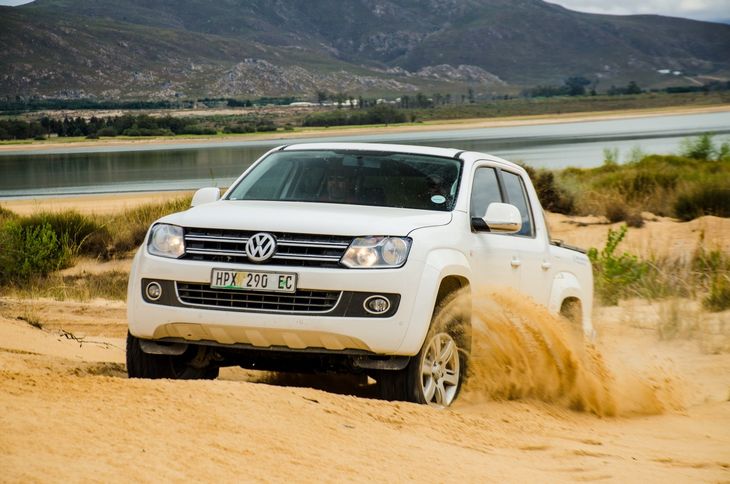 The Amarok impressed throughout the test and remains a worthy competitor.
Which brings us to the new Hilux.
This latest model demonstrates major improvements over the outgoing model in all aspects. It's more comfortable, much more refined, more dynamic and efficient, safer, has more features, and yes, it's still tough. What this means is that current Hilux-owners won't even consider anything else; they're going to replace their current Hiluxes with the new versions of the South Africa's top-selling bakkie. And initial sales will reflect this.
However, for the more discerning buyer, someone who's looking for an upgrade or those who want to move into the leisure market the final result won't be as clear-cut.
The top Ranger models, when launched locally, set a new benchmark in the leisure bakkie market, and with the latest upgrade, Ford has moved the bar up another notch.
The new Hilux has narrowed the gap substantially, but when it comes to a leisure application – and remember, that's the stated purpose of this test as set out in the preamble – the Ranger still has the edge. It still holds a slight space advantage, particularly when it comes to rear passengers, it has a slightly better ride quality on a wider variety of surfaces, and it's still the better towing vehicle due to its marginal power and torque advantage.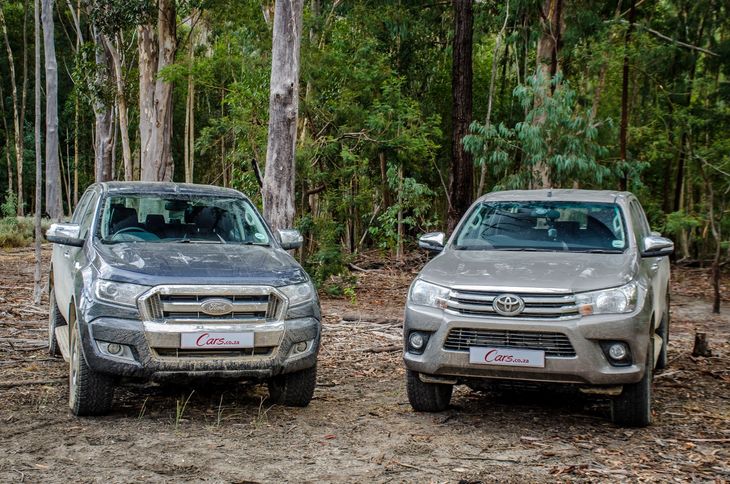 Choosing between the Ranger and Hilux is very tough, and likely will fall on brand preference, service etc.
In conclusion then, we feel that the Ranger continues to present the best leisure double cab product on the market, if only by a nose. It is quite an achievement, given the new Hilux's long gestation period. But, as ever, buying a new vehicle is about more than just the vehicle. Our Owner Satisfaction Survey highlights the fact that the perception of Toyota as the best when it comes to after-sales service and reliability holds very true. It saw off strong competition from the likes of Mercedes-Benz and Audi to win our inaugural Brand of the Year title in the first-ever Cars.co.za Consumer Awards. So, if you're not particularly brand aligned, and are more concerned about ownerhship considerations, the vote still has to go to Toyota.
Compare the specifications of these vehicles using our in-depth compare tool.