Toyota's launched a hatchback version of its Corolla, but it's not a derivative of the (current) sedan – it's all-new and based on the brand's New Global Architecture. As a result, it leaves its Auris predecessor well in the distance and, dare we say it, appeals strongly to young, fashion-conscious buyers. We review the entry-level manual Corolla Hatch.
We like: Styling, ride quality, refinement, excellent powertrain, well-specced.
We don't like: Only one engine in the range, the infotainment system is not the most modern, small load bay
Fast Facts
Price: R336 800 (April 2019, without options)
Engine: 1.2-litre i4 turbopetrol
Gearbox: 6-speed manual
Fuel economy: 6.1 L/100 km (claimed)
Power/Torque: 85 kW/185 Nm
Own a Toyota? Tell us about your experience here.
SERIOUS ABOUT BUYING?
Where does it fit in?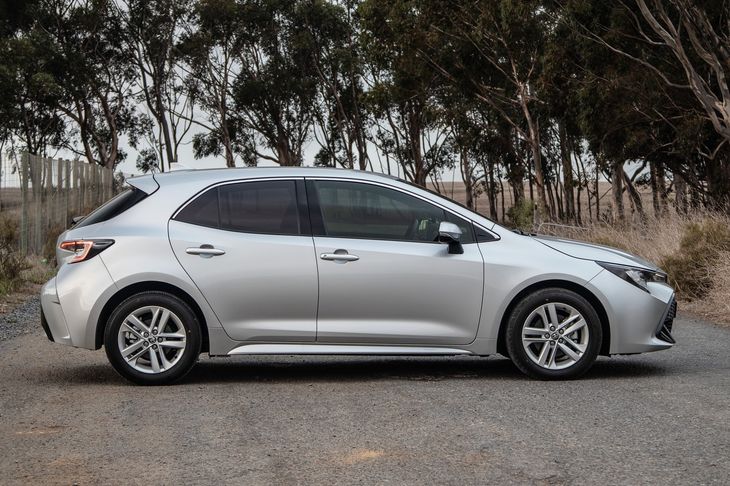 Even in "rental-car silver", the Toyota Corolla Hatch is one seriously good-looking compact car.
Traditionally the Toyota passenger car family has been split equally between hatches and sedans; in the C segment, it offered the Corolla sedan and Auris hatchback. The latter has now been dropped and replaced by what you see here, the Corolla Hatch(back). When we first saw images of this 5-door, we were gobsmacked. It was a fresh and inspiring design from the typically conservative Japanese brand... and a revelation, considering the car it replaced. It's not that revolutionary though, Toyota has introduced some striking vehicles of late: think of the C-HR and latest iteration RAV4.
In the run-up to the vehicle's South African launch, we spoke to Toyota SA extensively and the firm's representatives admitted that they couldn't introduce as broad a range as in overseas markets (where a 2.0-litre petrol, a hybrid, and some great-looking alloy wheel options are available). SA-spec Corollas, by contrast, have just the 1 engine, with the option of either a manual gearbox or a continuously variable (automatic) transmission.
The first thing you'll notice about the Corolla Hatch is its striking appearance – it's really a great-looking vehicle, even in an unflattering exterior paint finish such as silver. Given the success of the Corolla as both a brand and a product, it's critical that this new one is good. And, is it? Read on...
How does it fare in terms of...
Refinement and handling?

A fantastic platform and chassis combines beautifully with a modern suspension to make the Corolla an engaging drive
The short answer is: yes, it's very good. The Toyota New Global Architecture (TNGA), which also underpins the C-HR, RAV4 and Prius models, contributes immensely to the newcomer's overall quietness AND imbues it with excellent surefootedness. Because it has a more rigid bodyshell, an optimised weight balance, all-new multi-link rear suspension and a lower centre of gravity compared with the Auris, the Corolla Hatch impresses dynamically, without sacrificing everyday comfort. The 1.2T XS rides on 16-inch alloy wheels, which contribute to the low road noise.
The Corolla Hatch is particularly good at soaking up ruts and bumps in the road, but, should you wish to corner at a brisk pace it offers just enough firmness to deliver an engaging driving experience. While there's only 85 kW on tap, we feel that the chassis can cope with much more and this bodes well for future performance versions. The steering is pleasantly light and direct too, it balances performance driving and urban manoeuvring rather well. The Volkswagen Golf has long been the segment benchmark when it comes to comfort and ride quality and despite the competition's best efforts, all have come up short. Until now. We think this new Corolla can match its rival in terms of quietness and comfort – it's that good.
Performance?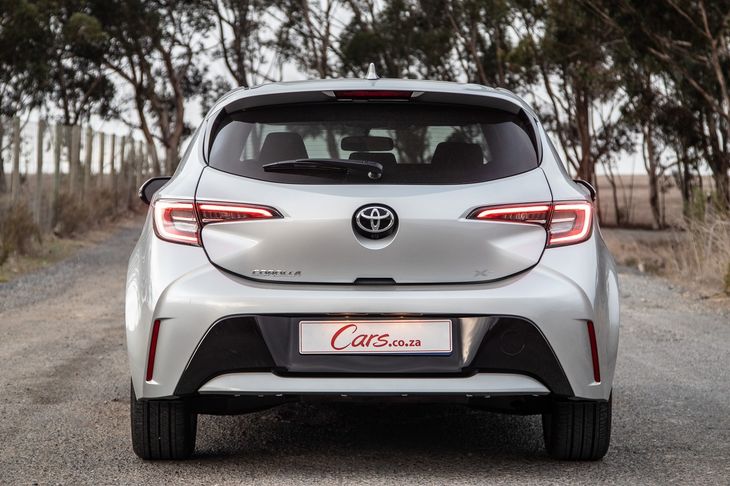 The distinctive LED tail-light clusters look fantastic, particularly at night.
By pairing the refined TNGA platform with a 1.2-litre turbocharged inline 4-cylinder engine, Toyota has produced a vehicle that offers not rapid, but spirited, performance and well-balanced road manners. While it only offers up 85 kW and 185 Nm, peak torque is available from only 1 500 rpm, which means it feels quite lively to pilot. Bridging the gap between engine and front wheels is a 6-speed manual gearbox, which is both light and direct to use. Toyota has cleverly fitted this manual gearbox with a smart rev-matching function, which is activated by a button near the gear lever. We'll admit that sometimes we don't nail those shifts every time, but with iMT engaged, the car makes every gear change feel virtually... perfect.
The 1.2-litre turbopetrol engine's outputs are on par with its rivals, but when you take on board 4 adults (including the driver), the Corolla Hatch's performance does lag a little, which is to be expected given the small capacity of its powerplant. Despite it having to endure some spirited driving antics during its tenure in our test fleet, the 1.2T XS repeatedly returned under 8 L/100 km. In fact, we estimate that it would break into the 6s if driven thriftily. The vehicle also features an electronic handbrake, which is unusual for a manual gearbox-equipped car. Fortunately, there's a Hill-hold function, which requires familiarisation, but once you get the hang of it, it works smartly to keep the vehicle in position on steep uphills.
Specification?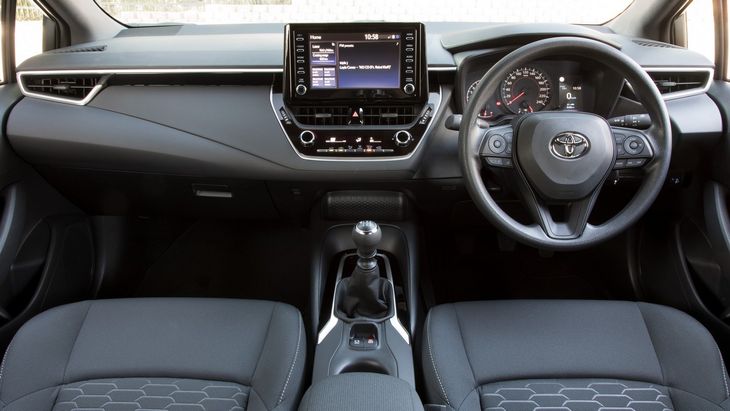 A minimalist approach to the Corolla's cabin. Build quality is top notch.
As it stands, there are only 3 Corolla Hatch derivatives available, with 1 engine, 2 gearboxes and 2 levels of trim. Kicking off the range (and tested here) is the manual gearbox-equipped 1.2T XS. Next step up is the XS CVT, which has a gearless automatic transmission. Finally, at the top of the pile sits the XR CVT. XR specification adds leather/suede upholstery, seat heating and lumbar support, as well as blind-spot monitoring.
Don't be dissuaded from buying the XS version though, as its standard spec is surprisingly generous (for an entry-level derivative). There are a number of comfort features fitted as standard, such as dual-zone climate control, the centrally-mounted touchscreen infotainment system, Bluetooth connectivity, LED lighting, keyless entry, a reverse-view camera, as well as cruise control. There's also USB connectivity, with the connection port mounted discreetly under the dashboard. There's no skimping on safety features either, as all derivatives come with stability control and 7 airbags.
Downsides? Well, we'd love a more modern infotainment system with Android Auto and Apple CarPlay compatibility. We'd also like to see a few more oddment spaces: 1 cupholder in the centre is just not enough for a phone, wallet, house keys and so forth... We also found the 1.2T XS' load bay a touch small compared with its rivals. This is easy to explain though as the vehicle comes with a full-sized spare wheel. Given the condition of South Africa's roads, we'd happily take this option and suffer from reduced carrying capacity, as opposed to fiddling with a tyre-repair kit.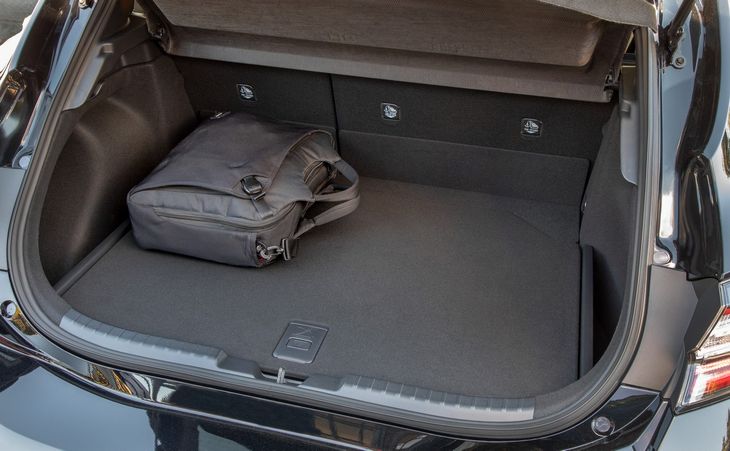 The Corolla Hatch's luggage space is not the largest, but there is the bonus of a full-sized spare wheel.
Price and after-sales support
The new Toyota Corolla Hatch comes with a 6-services/90 000 km service plan and 3-year/100 000 km warranty. Service intervals are set at 12 months/15 000 km.
Corolla Hatch 1.2T XS 6MT R336 800
Corolla Hatch 1.2T XS CVT R347 400
Corolla Hatch 1.2T XR CVT R367 100
Verdict
So, to put it plainly, the new Toyota Corolla Hatch is one impressive piece of kit. Not only does it look superb, but it represents commendable value for money, given how much specification is offered on even this, the bottom-of-the-range derivative. The engine and gearbox work well together, and while most Corolla Hatches are going to be used for commuting, the 1.2T XS can deliver surprising thrills when you want to press on. The chassis and handling are good, and with the rise of Toyota's GR/GR Sport/GRMN performance versions, this bodes well for an eventual Corolla (Hot) Hatch to rival the likes of the Megane RenaultSport and VW Golf GTI. If the Yaris GRMN was anything to go by, the Corolla GRMN should be sensational.
Plus the overall driving experience is excellent... After all these years, we finally have a product that can match the mighty Volkswagen Golf in terms of on-road manners and refinement. The bad news is that 2019 will see new segment entries from Mazda and Ford (all-new versions of the 3 and Focus are heading for Mzansi). Should you buy a Corolla Hatch, though? We think if you have a small family with an infant without significant space requirements and you don't feel inclined to go the SUV-route (yet), then Toyota's newcomer offers great value as a compact hatchback or as a 2nd car. Toyota is currently Brand of the Year in the #CarsAwards - powered by WesBank, and has a vast dealership network across South Africa.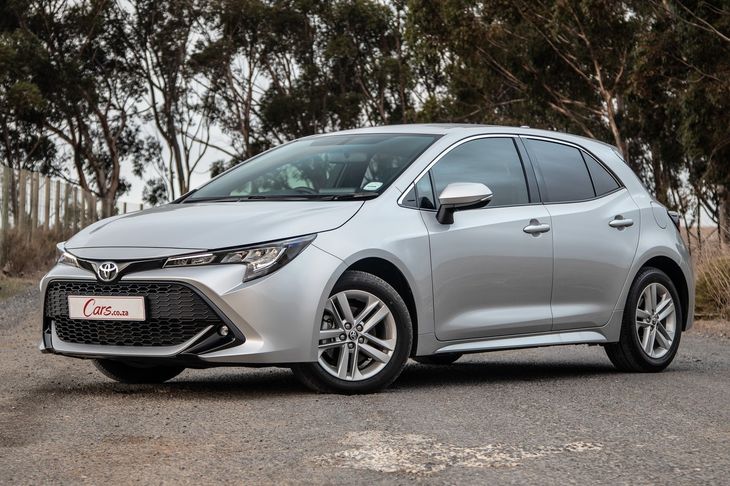 The new Corolla hatchback is one good-looking car. The bonus is it happens to be exceptionally good to drive too.
Looking to buy a new / used Toyota Corolla?
Find one on Cars.co.za by clicking here
Alternatives (click on the names for specification details)
The evergreen favourite. The GTI performance derivative may be the most popular version in the range, but the base-spec 1.0-litre is still an excellent car that offers impeccable on-road manners. However, there are many optional features that can substantially increase the asking price.
Opel is enjoying renewed support in South Africa thanks to Unitrans and the Astra, which is a great all-rounder, soldiers on. There is a choice of petrol engines, excellent standard specification and we're led to believe that the vehicle will receive some updates during the course of 2019.
The all-new Mazda3 is due to be released in South Africa this year, bringing a raft of updates both inside and out. It also happens to be one of the best looking vehicles in its segment...
We drove the all-new Ford Focus abroad in July 2018 and have been waiting for confirmation of when it will become available in South Africa. Apparently, its pricing has been an issue, but it should arrive in local showrooms towards the end of 2019.
Related content:
Toyota Corolla Hatch (2019) Video Review
New Toyota Sedan Corolla Revealed
Toyota Corolla Hatch (2019) Launch Review
Toyota Unveils Lukewarm Corolla GR Sport